Dame Lucie Rie, 1902 – 1995. A personal reminiscence.
By Penny Brittain •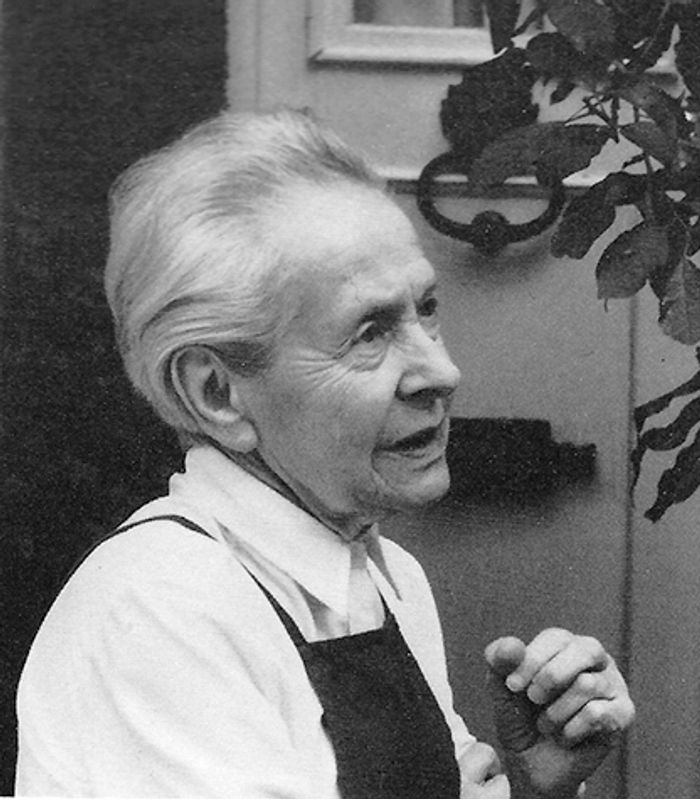 I spent two very happy hours recently, talking with a friend who knew Dame Lucie Rie and was fortunate enough to buy pots direct from her studio during the 1960's whilst he was working in London. Roger would visit her in Albion Mews just off the Bayswater Road, they would discuss his various commissions and on occasion, take lunch together. During our conversations I have to admit to feeling more than a little envious. I too greatly admired the work of Lucie Rie, since the first moment I held one of her bowls, delicate and fragile like a young bird, in my hand, the shape simple, light, elegant and to my eyes, perfect in every way. I would have loved to have met her!
Dame Lucie Rie (1902-1995)
1967, estimate £7000-10,000
Image courtesy of Woolly and Wallis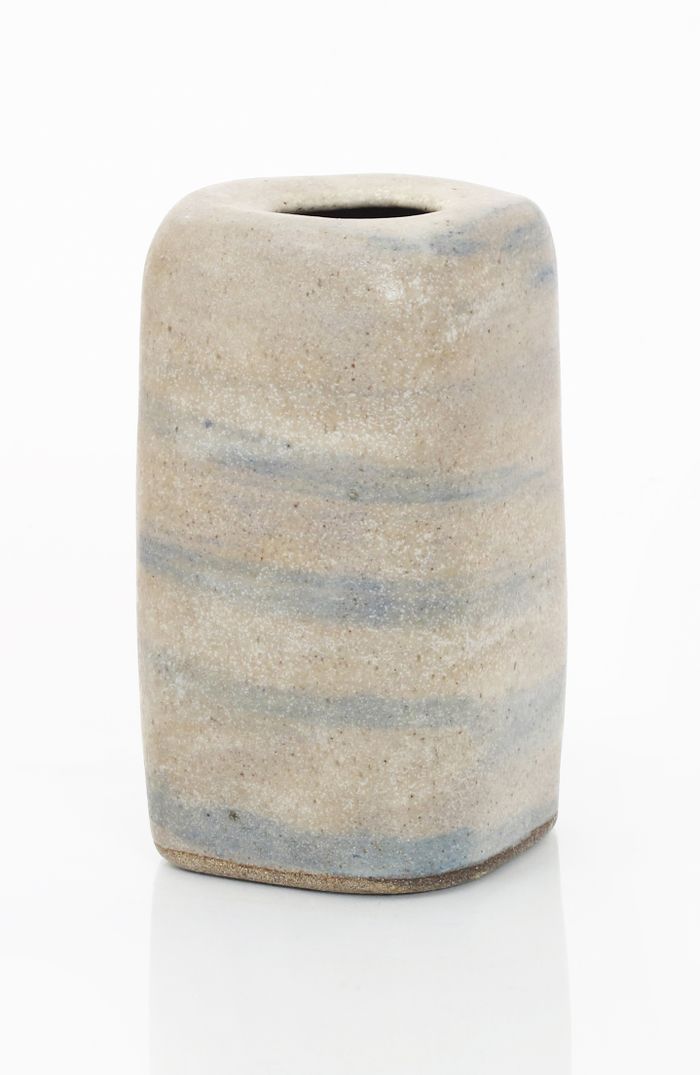 We talked about his London life in the 60's and in particular a passing but influential meeting that triggered his interest in pots. At the time he was married with two daughters and an interesting and highly demanding job which he describes as 'keeper' in the fast expanding offices of the Ove Arup Group. The architectural and structural engineers are famously known for the Sydney Opera House and the Penguin Pool at London Zoo. (I understand that he was 'supremo' manager of all things and all people!). His adored wife Patricia was a potter and interested in art. Roger remembers going to a John Piper exhibition in a Bond Street gallery taking one of their young daughters. From across the gallery the couple were spotted by a successful photographer Jane Gate who was at the time photographing Lucie Rie's pots whilst also searching for a child model to photograph, this was to be their young Melissa. This happy meeting led to a series of stunning portrait photographs, the subsequent connection with Lucie Rie and an introduction to Hans Coper, her studio companion and Jane's lifelong partner.
I was really keen to know what Roger's first impressions were of both Lucie Rie and the studio, as I had formed a mental picture of both from articles and books that I had read, but how much more interesting to hear his own recollections.
He first visited the studio in 1957 with an important commission - a series of inscribed and dated pottery beakers to be given to each volunteer member of the 'friends' choir who were to sing at his wedding (with one or two spares that he has kept). He recalls 'you came in from the mews to a ground floor room which would originally have been a stable. There was a vestibule that formed a waiting room with the pottery next door. The room had shelves all round housing Lucie Rie's collection of pots, mixed in with some Chinese examples as well as some of her own pots which were for sale'.
Dame Lucie Rie (1902-1995)
A small stoneware pouring vessel, covered in a manganese glaze, estimate £500-1000, sold for £1100 hammer
Image courtesy of Woolly and Wallis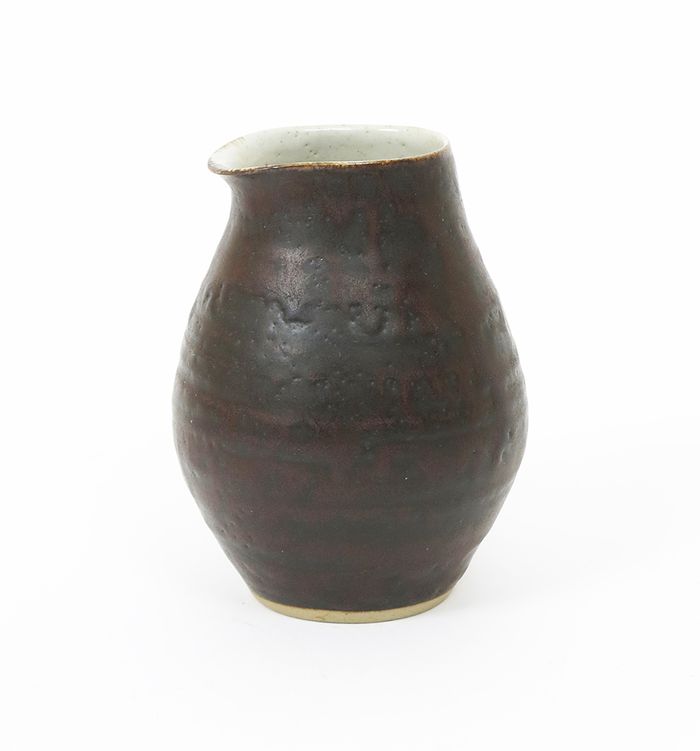 He describes Lucie Rie as being small and very neat and tidy like a bird, as she came out of the studio to greet him. Entering the pottery there were two kilns and kick wheels, and on the far side along the east facing wall, were several large windows that overlooked an abandoned burial ground. Now as productive allotments Lucie benefitted from the gifts of fresh vegetables passed through the window each morning, as she was known to be an eager and good cook. Upstairs there was one big open plan room where she lived and where on future occasions my friend was invited to take lunch sometimes alone or with his work colleague, collector and friend Ove Arup.
Lucie Rie shared her mews workshop with Hans Coper for thirty years. She had fled Europe as war clouds gathered and settled in England in 1938. At first she made buttons for the Bimini works because there was no market for her pots, moving onto making ceramic jewellery and mirrors. In 1946 Hans Coper also a refugee, joined her and the workshop started to produce pots and functional wares for everyday use. Roger recalls when as a teenager he first noticed a Lucie Rie black glazed coffee service for sale in a gift shop near where he lived. At that time earthenware was not appreciated, the taste being to take coffee from porcelain and Royal Worcester in particular, so the service mouldered on a shelf for ages - now he laughs 'it may well still be there'.
Hans Coper (1920-1981) Black Cycladic Pot circa 1972, with pinched rim and incised column impressed seal mark, 19cm. high
Provenance Barry Moore, (1941-2015) Economist at Downing College, Cambridge.
Estimate £8,000-12,000 sold for £17,000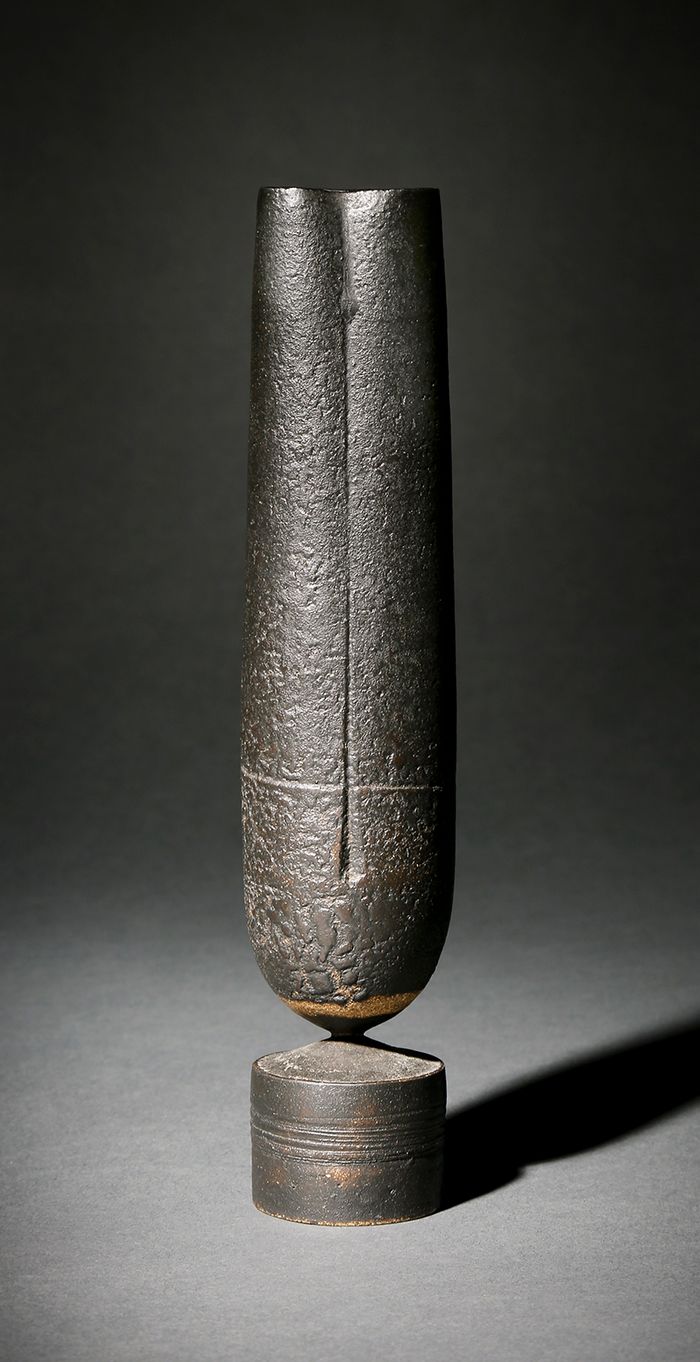 It seemed that post war England was not yet ready for 'Studio Pottery' but there were those professionals engaged in the reconstruction of London who connected with Lucy Rie's work and viewed it as an art form every bit as significant as paintings and bought the upcoming potter's work. But for Lucie Rie the pots were a livelihood. Hard working with a prodigious output, she loved to pot, and in later life despite her acknowledged success she is reported as saying 'I have been a potter for more than sixty years. I am a potter and I shall retire when I die'.
Roger tells me that he never spoke money to her. They would discuss a commission and when he called to collect a christening cup or black glazed coffee pot she would name a price "never very much, almost nothing" he tells me. She did not like to do lettering on a piece and often left this for Hans Coper to add any inscriptions, and when this occurred they both set their initials on the underside. In the late 60's you could buy a coffee set for £13 and even a large bowl for £48. Values today have soared to dizzy heights, but for the early collectors it was the pot and only the pot that was of interest, 'when you pick them up if you have got a good one, its right…good design good weight and so on'.
Dame Lucie Rie (1902-1995)
A stoneware bottle vase with ovoid body and flaring rim, covered to the foot with a pitted white glaze, the top rim with running bronze band impressed seal mark, 23cm. high
Provenance - Purchased for the vendor from Liberty & Co in the early 1980s.
Estimate £10,000-,15,000 sold for £13,000 (hammer)
Lot 368 from 25th November 2015 British Art Pottery auction.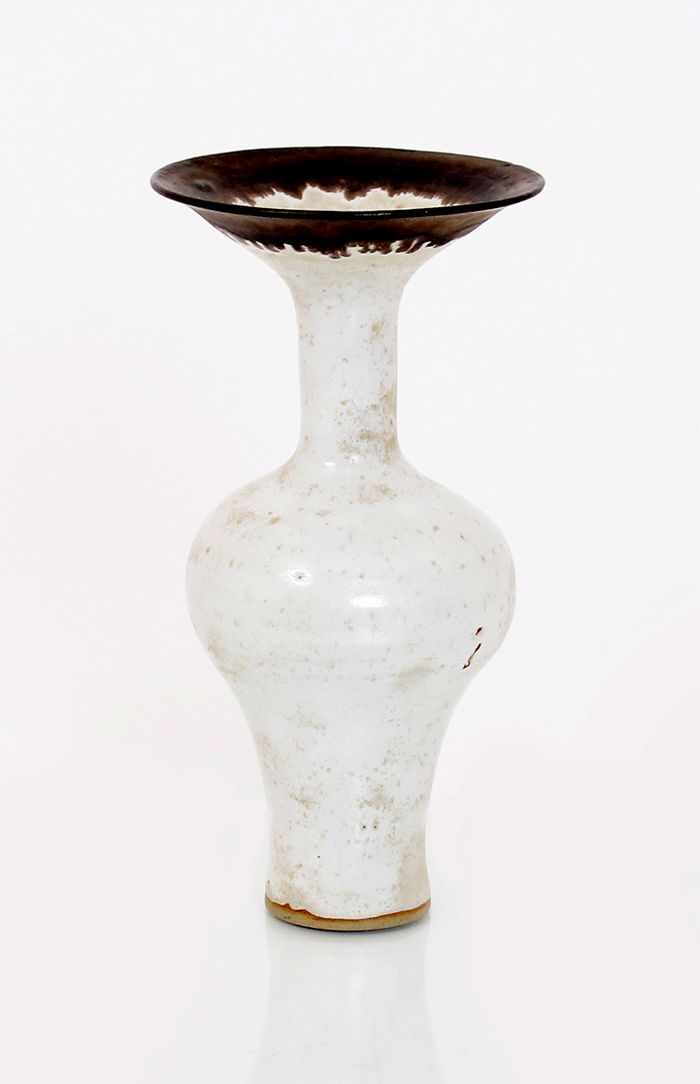 Roger prizes his collection, some now given away to family, but a few remain. His favourite that no one may handle, precious to him beyond anything I am told so I can but admire it through the glass of his collector's cabinet.
Michael Jeffrey (Head of Twentieth Century Design at Woolley and Wallis) comments
"The market for works by Lucie Rie and Hans Coper has always been strong, underlining their dominance of the studio pottery movement. Their work is appreciated across the globe being collected in their lifetime from Japan to America and of course throughout Europe. This market has continued to expand in the 21st century with growing interest in the Far East. Recent auctions have seen the prices rise for both domestic ware and also the one-off bowls and vases produced in post war Britain. This interest culminated in Woolley and Wallis setting an auction record for a bowl, when in November 2014 we offered a beautiful blue glazed bowl with bronzed rim, purchased by our client directly from Lucie Rie. Although amongst a good section of Lucie Rie pieces the bowl shone out and attracted several new collectors to the auction where it finally sold on the telephone for £47,000 (hammer price)."
Dame Lucie Rie (1902-1995)
A fine and large flaring bowl, covered in a matt blue glaze with manganese rim, 24.5cm. diam. estimate £4,000-6,000, sold for £47,000 hammer (then a world record for a Lucie Rie bowl)
Lot 393 British Art Pottery auction 3rd December 2014.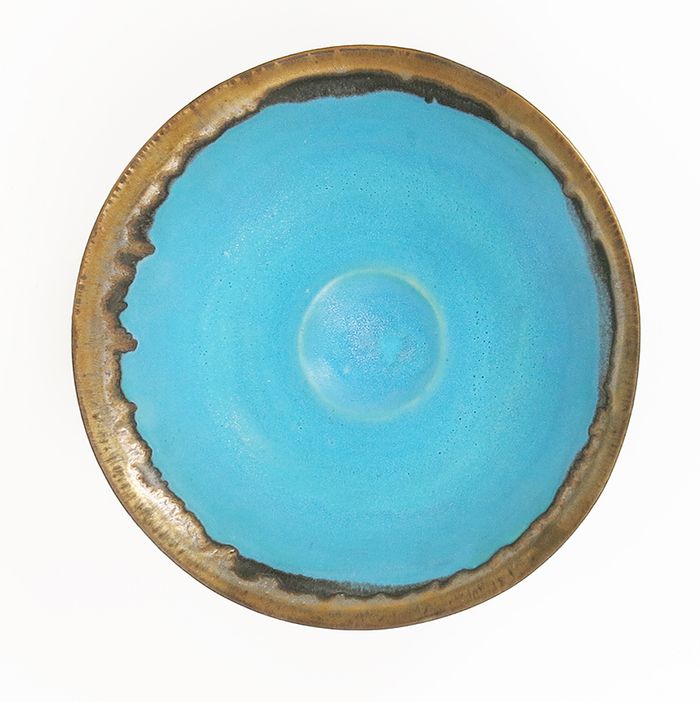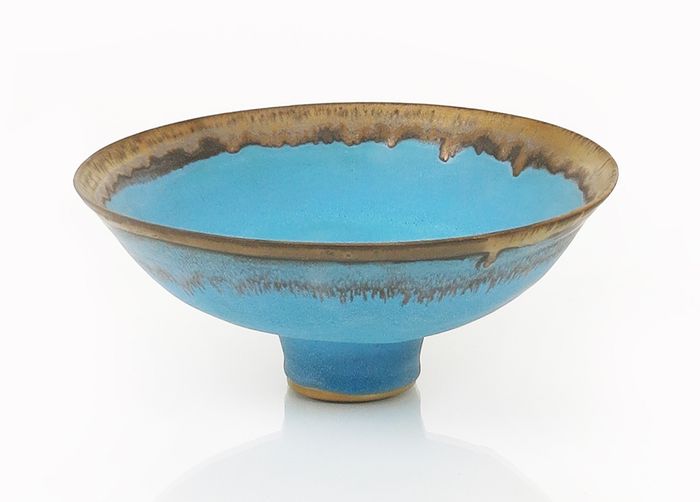 Lucie Rie was awarded an OBE in 1968, CBE 1981 and a DBE in 1990. She died in 1995 aged 93. Together with Hans Coper they have been acknowledged as the most influential potters in England of the post war period. Work can be seen at The V&A in London and The Fitzwilliam Museum in Cambridge.
Stay inspired
Get FREE Antiques tips and ideas from our experts in your inbox.