Last week I spent a day delving into a clutch of jewellery boxes, weeding out pieces that were unloved, old fashioned or damaged, from those that were loved and worn. Now here's an interesting fact that was quick to surface – we girls often feel ambivalent towards pieces of jewellery that we have not had a hand in choosing for ourselves…no surprises there then! So when we find we have been gifted a piece of jewellery in a will, most of us admit to never wearing it, but still paying the insurance premium whilst it languishes in a safe.
Now here's the rub. The insurance premiums for jewellery can be costly and are postcode rated so London and suburbs will be higher than rural Wiltshire and often accompanied by stringent restrictions. Your insurance company may require the jewellery to be kept in a safe when not worn, along with an activated alarm in the house. You leave your ring on the sink and rush out to work -horror of horrors something happens and should the small print be ignored you might well find the claim is disallowed.
So having established that all that glitters is not necessarily loved, what are the options, do we keep it for old times sake or bin it!
First up for consideration a pair of inherited diamond stud earrings, very fashionable and easy to wear but in this case in an old fashioned heavy setting. The question – is it worthwhile doing anything with them? Could they be reset, as a solitaire stone in white gold perhaps? Yes, to resetting and although the work is potentially quite expensive, worthwhile if worn daily so a reasonable step to take. Here the advice is clear. Get yourself a professional valuation for sale and replacement purposes, and do your own research as to whether by selling the proceeds would be sufficient to buy another pair of your choosing. Finding a reputable workshop can be tricky, but worth the effort - make enquiries with friends and professionals to signpost you somewhere good and affordable.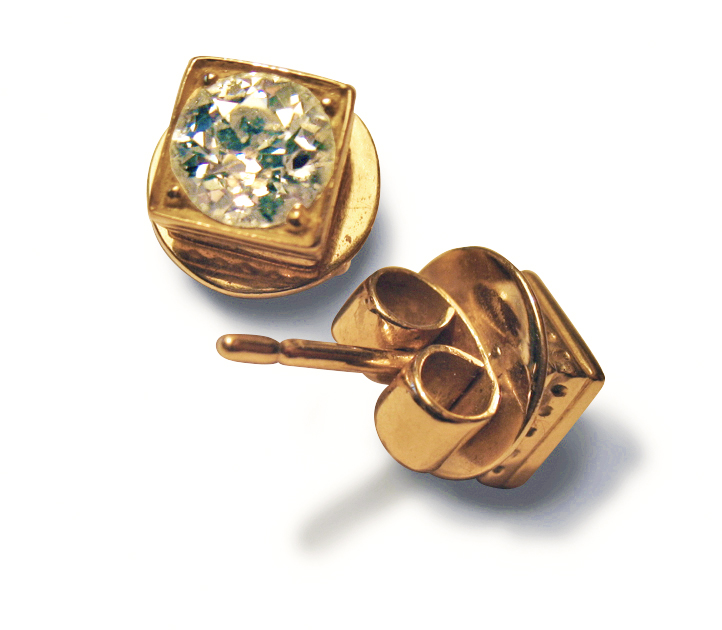 A pair of diamond ear studs, each old-mine, brilliant-cut diamond, each diamond weighs approximately 0.65cts, in a square box, collet yellow gold mount with dimpled gallery. Value for insurance £4,000 with a potential sale value of about half this
Next up the pearl necklace universally owned, but not often worn or at least no longer worn as part of our British identity! Natural pearls are currently commanding high prices. Whilst a cultured pearl necklace is worth a few hundred pounds, the natural pearl equivalent will be several thousands of pounds.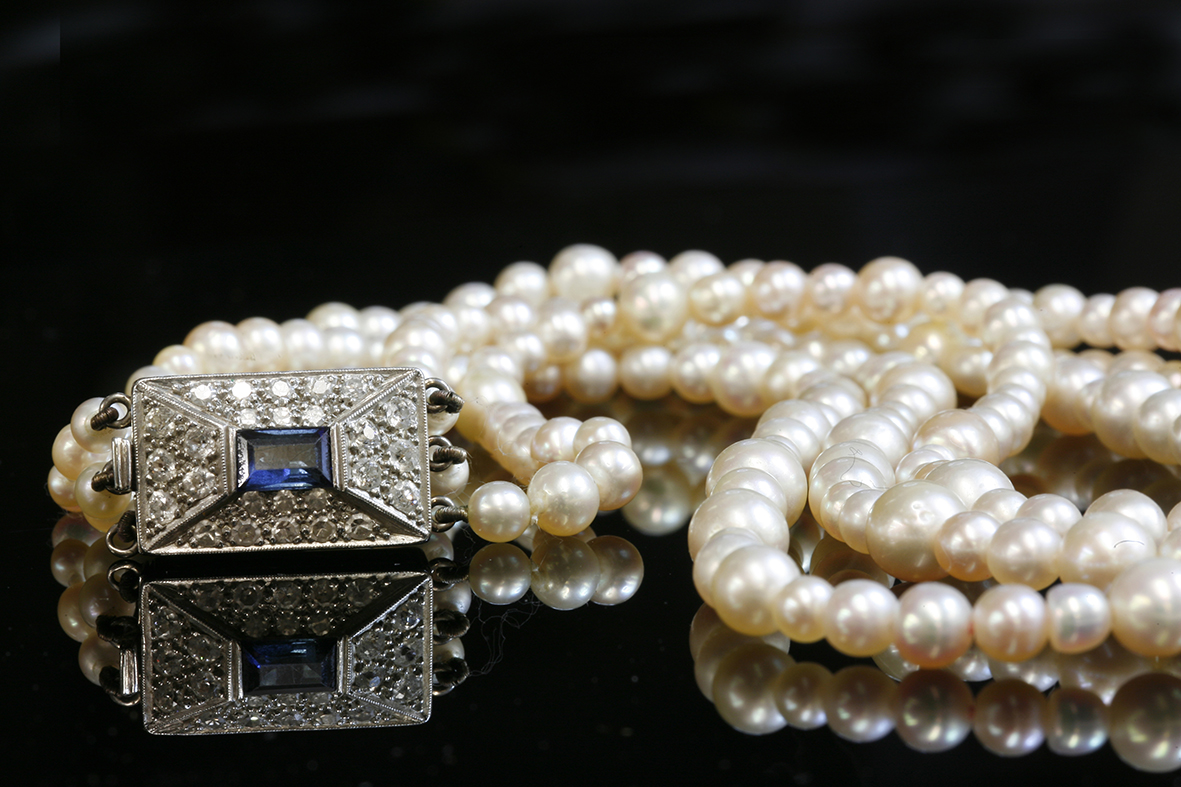 A three row graduated natural saltwater pearl necklace

Sold £32,000 Sworders Fine Art Auctioneers www.sworder.co.uk
Be sure of what you own, the natural pearl necklace will need to be sent for testing by x-ray to establish whether they are natural or cultured pearls. There is a good specialist laboratory in Hatton Garden in London that certificates pearls. This can cost in the region of £100 plus VAT and can take up to a fortnight, essential if you plan to sell. The natural string and the cultured string may look similar to the lay person, but the value differential makes getting a professional assessment the safe step to take.
A dress ring set with a precious stone…or is it? Again very hard to tell whether you have the real thing or a synthetic look alike which can greatly alter the value. Our example looks to be a good period ruby ring set within a circle of diamonds, a classic and easy to wear. On closer examination the ruby is assessed to be a pink sapphire with good clarity, commercial and worth more than expected, so smiles all round. But the expertise required to make this assessment is what is important. The London and good regional salerooms have specialist departments that will give an over-the-counter verbal valuation for sale, but you should aim to get more than one valuation before making a decision.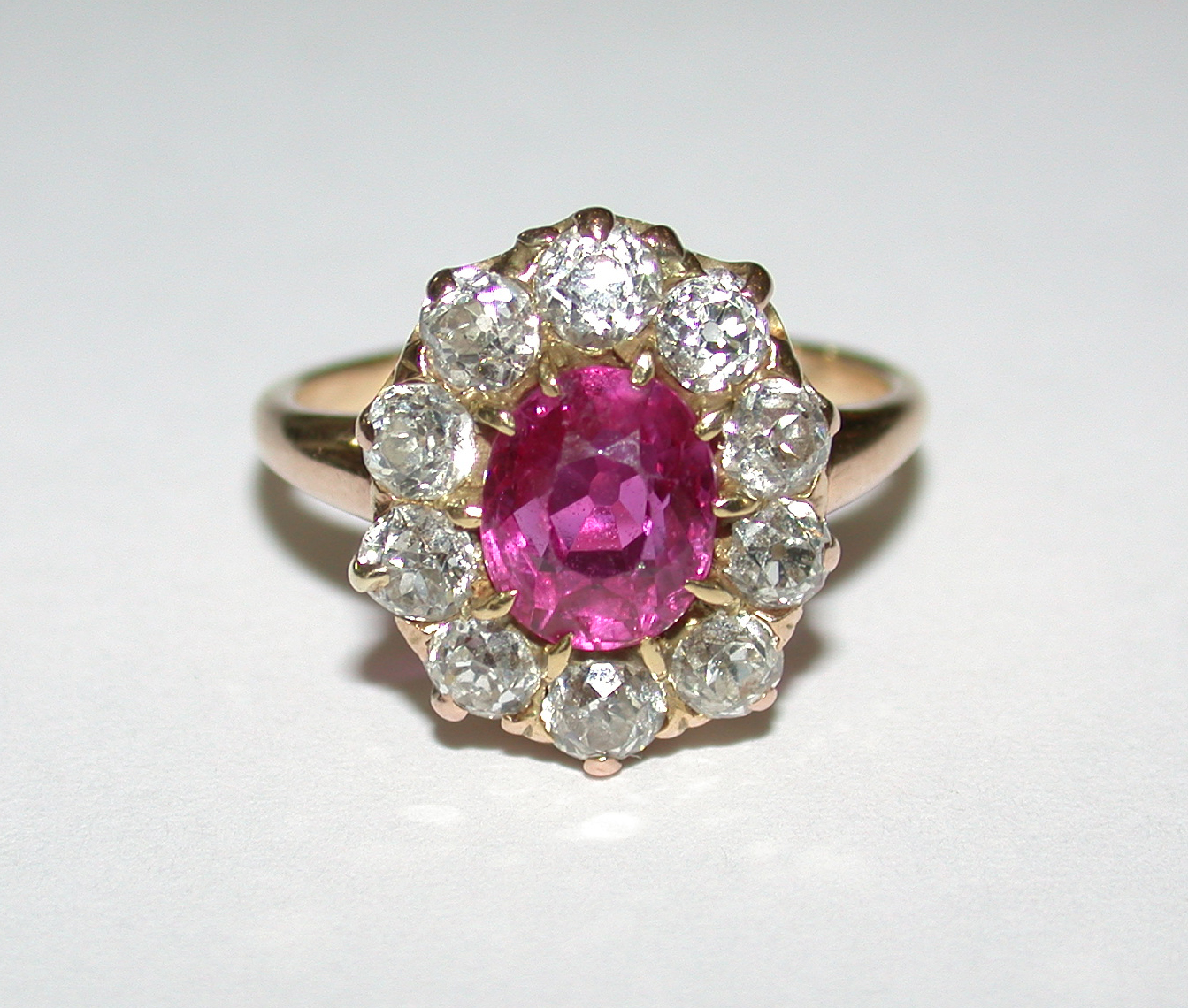 A Pink Sapphire and Diamond Cluster Ring c 1895

The deep magenta-pink sapphire estimated to weigh approximately 2.00 carats in a multi-colour gold setting, surrounded by ten old-mine brilliant-cut diamonds on a polished gold hoop. Value for insurance £7,500 to sell £3,000 -£3,500
Notice the big value differential between buy and sell, something to bear in mind when shopping. Be a bit savvy when going jewellery shopping and look at the wonderful pieces that come up for auction offering real value for your money. Saleroom experts are always happy to advise when you view a sale, but be sure you know your ring size to avoid disappointment down the line.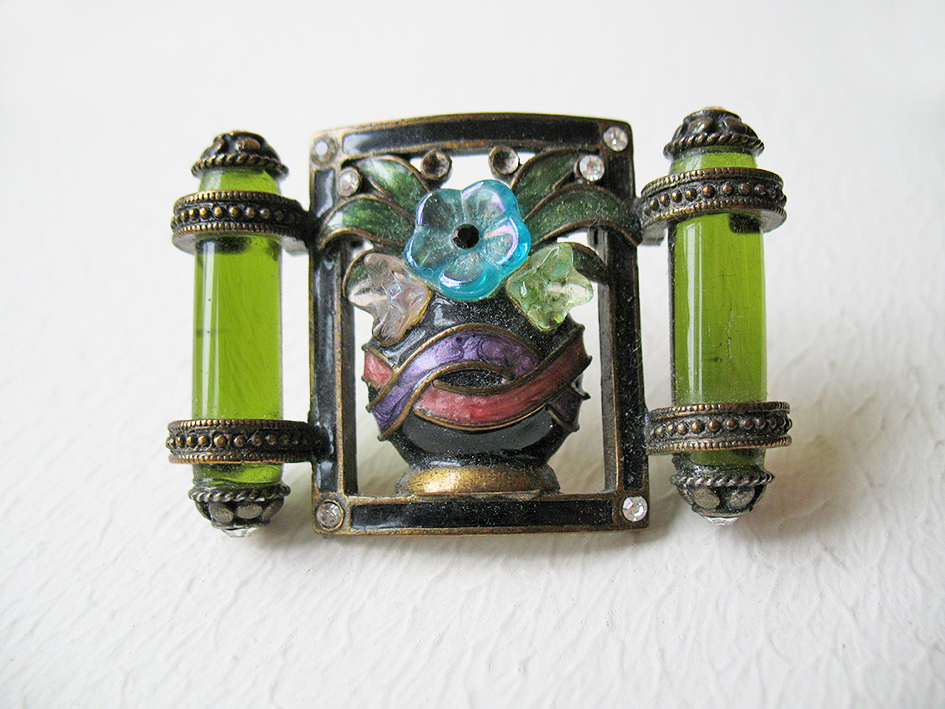 An unusual American Art Deco style costume jewellery brooch, eye catching and about ten years old. Easy to wear, guaranteed to provoke a conversation and will enhance a black jacket but will look good whatever you wear it on. New £65.00 a steal in my view

Old insurance valuations are very useful and can signpost you to what is good. But value is not the only factor for consideration. Costume jewellery especially designer named, has made good ground in the past few years and poses less risk to wear, can be really original and stylish and is mostly affordable. Which really leaves the damaged and frankly not very nice bits and pieces that we all own and never wear. My best advice here is to bag it up into an interesting job lot and either sell it for its melt down gold value or put it in a local sale where there is a good market for these oddments that usually sell pretty well. In the end it all boils down to lifestyle and fashion, if you are lucky enough to own some nice things I suggest you wear them a lot, after all jewellery is made to wear and be admired and I get a great deal of pleasure from the few things I own. I insure them for use everywhere and am happy to pay the premium. If I lost something would I replace it? Probably not, but I quite like the idea of having something nice to leave to my grandchildren, just to remember me by……!

Stay updated
Receive free updates by email including special offers and new courses.