The Lumber Room: Unimagined treasures curated by Mark Hearld
By Penny Brittain •
The York Art Gallery reopened on August 1st after an £8million redevelopment which has been carried out over the past two years. The expansion undertaken by York Museums Trust now provides seven galleries in which to display their collections of British studio ceramics, paintings, works on paper and sculpture, in stunning new light-filled spaces. CoCa or the Centre of Ceramic Art is a ground breaking new centre displaying over 5,500 pieces of Studio Pottery representing over 600 artists. It includes works by Dame Lucie Rie, William Staite Murray, Bernard Leach and more, together with an inspiring long-term loan exhibition curated by Anthony Shaw, of his personal collection of ceramics, brilliantly displayed in a domestic setting to recreate his home, complete with fireplace, bookshelves and displays, complemented by pieces of antique furniture and paintings.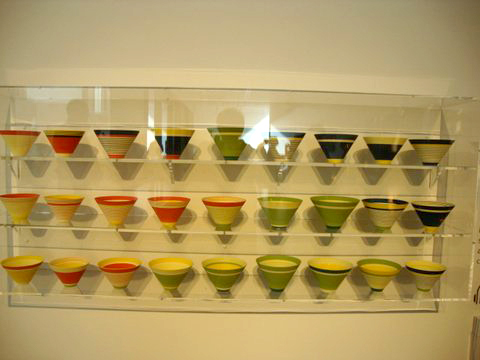 Ceramic rainbow by Bernard Leach 1975. 'A good potter is like a good cook' Courtesy of York Museum Trust.

For thousands of years, potters have strived to create beautiful, vibrant, colourful glazes with which to decorate their pots. Like the world's great chefs, potters develop their own recipes for glazes and clay bodies, experimenting with ingredients and techniques until they get the perfect result. Recipes are often closely guarded secrets that are taken to the grave.
The colour of a pot is determined by the type of clay, surface texture, the glazes applied and the way the pot is fired. Firing the pot in the kiln is the moment of truth; the point at which a piece can be destroyed in the blink of an eye, or emerge transformed into a work of art.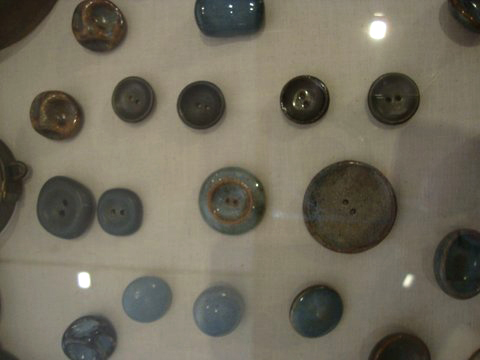 Lucie Rie buttons 1945-1949 stoneware on loan from the Anthony Shaw Collection on display in the Lumber Room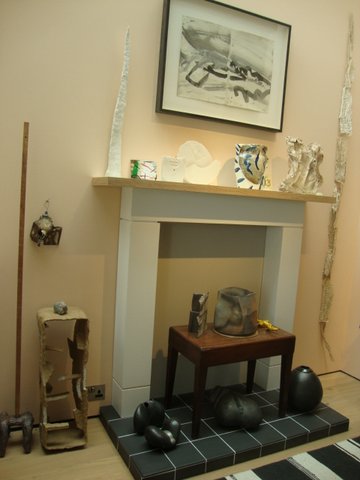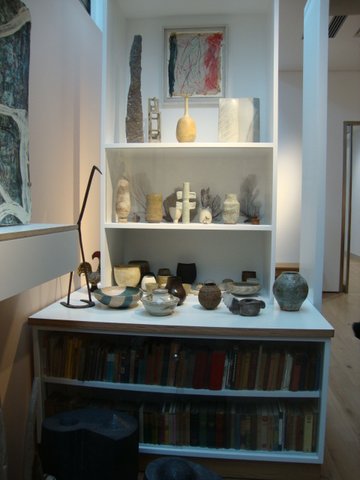 Room settings to recreate the Pink Room at Billing Place, West London home to Anthony Shaw
Anthony Shaw says 'My passion for clay started early: foreign travel, picking up pot shards strewn amongst Roman ruins, beautiful objects in museums, a toy building set with hundreds of red bricks. Clay is a marvellous medium for drawing out the character of the maker. The basic technique of throwing and hand-building a form has produced sophisticated outlines from the earliest times.
Kettles Yard in Cambridge, first mentioned to me by Henry Rothschild was an early and very strong influence, that art in domestic spaces was important…..The display in York echoes this, showing that clay art is best suited to domestic spaces where it can be mixed with paintings and other two and three-dimensional works. There should be no barrier between different mediums in art".
The artist in residence is Mark Hearld (b1974), no stranger to the modern day collector and greetings card buyer. A prodigious artist, Mark's work is easy to identify with its bold colourful images reflecting Nature in all its glory seen through the eye of an artist of great originality and wit. His current exhibition, The Lumber Room is inspired by a short story written by Saki that was read to him at school as a young teenager. The hero 'Nicholas' deprived of a family's fun day out by a beady- eyed aunt discovers a locked room, the lumber room 'secure from unauthorised intrusion' holding within the gloomy interior a panoply of stored objects and 'unimagined treasures'.
Over the past two years Mark has trawled through the storerooms of the Yorkshire Museum, the York Castle Museum and the York Art Gallery to select and research the material for his exhibition. And what an exhibition it is, the weird and wonderful, the quirky and the every- day arranged as a modern day art form with consummate flair and panache.
A traditional Long Gallery dimly lit, with somewhat ghostly, light flooring, has an end wall papered with 'Squirrel and sunflower' in angus red, a Mark design for the fabric and wallpaper collections retailed through the online gallery St Jude's.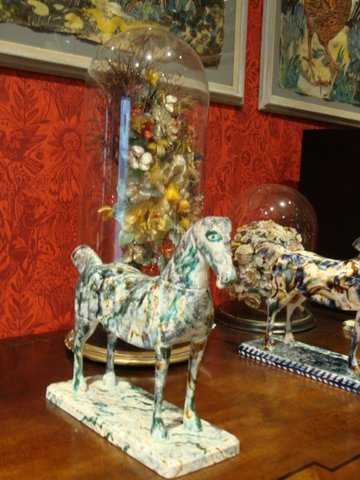 A York horse modelled by Mark Hearld stands on a 19thC mahogany and inlaid table displayed alongside a very popular Victorian collectable, the Ornamental glass dome containing here a vase of artificial flowers made of silk and wire another smaller basket of flowers stands beside, this time the flowers are made of wired tinted sea shells 1870-1900 all against the wallpaper designed in four colourways.
Bright spots of lighting fall on cases of stuffed birds, a Great Bustard, a Ruff in summer plumage, a golden sea horse displayed on a brilliant pillar- box red plinth, a row of disbanded carousel horses are overhung by a 'flight of black Victorian capes' and military jackets. Mark has assembled paintings, objects ceramics, textiles and toys (a particular passion), which he collects for his displays at home. Running down the centre of the gallery are several traditional glass cases shelved with rows of 18thC Staffordshire pottery, Leeds horses, jugs, mugs and more, characterful with their naïve decorations a source of inspiration that Mark refers back to in many of his collages and paintings. A striking old shop display is the real eye catcher, the niches filled with Mochaware mugs commissioned for the exhibition by Mark and potted by Terry Shone. They flank a display of wonderful ceramic slip cast York horses made by Mark in response to those in the collection, dappled variously in yellow blue and dark green, with wild eyes and heads held high the tails modelled like a brush, and at floor level Mark has included one of his own paintings of a small black dog.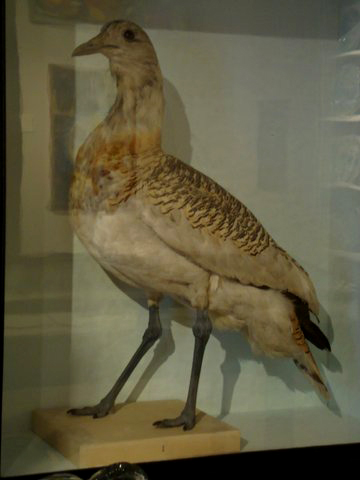 The Great Bustard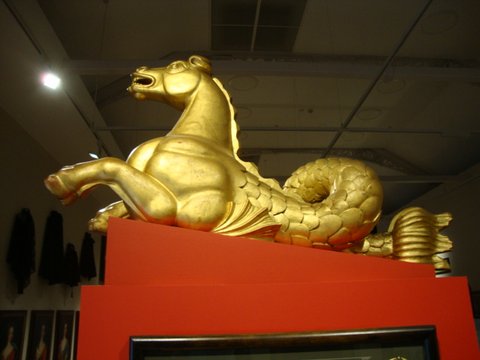 The golden carved wood seahorse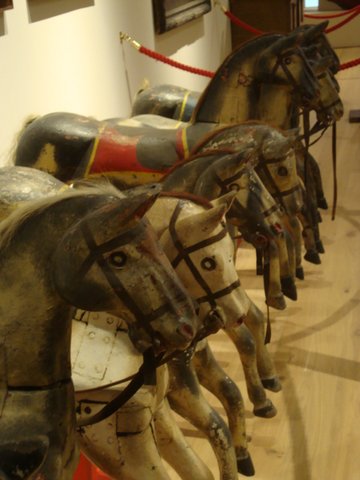 Disbanded carousel horses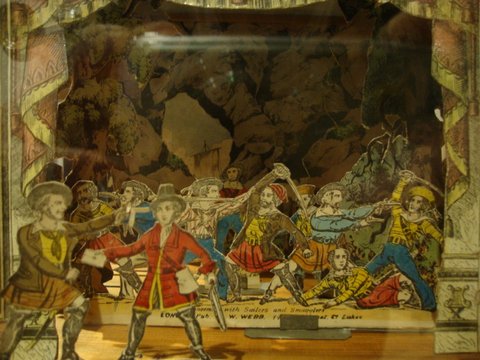 Close up of a paper toy theatre 1860-1890 published by W Webb showing a fight between sailors and smugglers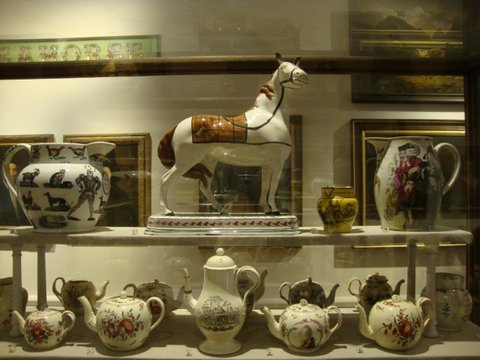 The glass display case contains examples of 18th C English pottery teapots, coffee pots and ceramics, in particular a lovely Leeds pottery horse that inspired Mark to make his York horses for The Lumber Room.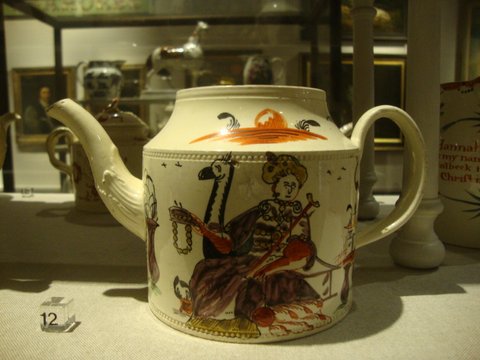 The creamware teapot c1780 made by the Leeds Pottery Company is decorated with a crazy looking turbaned man leading what can only be described as a cross between an ostrich and a llama. The decorators at the pottery factories relied on printed images from books or newssheets for inspiration and reproduced them each in their own naïve way.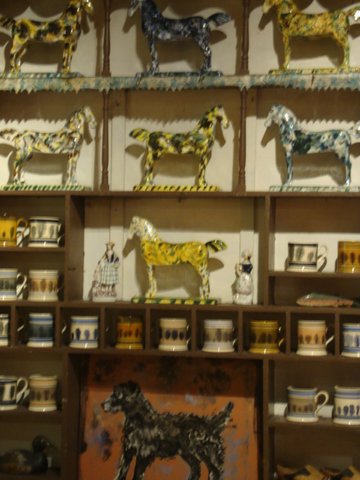 The shop display contains the Terry Shone Mochaware (2015) and York horses amongst which are dotted ephemera from Mark's own collection and …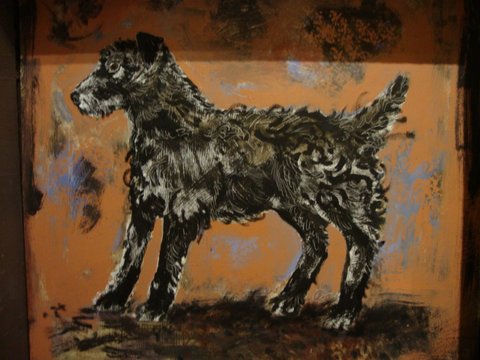 ...the small dog 'Feste' on the painted screen at floor level
But for my money the stars of the show are Mark's own paintings and collages. Art school trained Mark studied illustration at Glasgow School of Art and went on to complete his MA in Natural History Illustration at the Royal College of Art. His work reflects so well his love of the natural world, bold birds and animals criss-cross the paper and the collage of the Visitors' exhibition souvenir is a triumph. Mark has been inspired by the artists of the 1930's and their sense of the 'joie de vivre' of life as it was. Principal amongst the many were two artists, part of the Bardfield Group which included both Eric Ravilious and Edward Bawden who, like Mark, were able to work across the artistic disciplines. Ravilious designed ceramics for Wedgwood, painted stirring landscapes and was employed as a War Artist whilst Bawden illustrated books and painted with Ravilious as friends. A picture in the exhibition, 'Blue striped Table Cloth' by the more contemporary artist Mary Fedden,(1915-2012), whose work Mark much admires, continues the thread of 'placing objects' colours, textures and favourite carefully selected things, a recurring subject for her paintings throughout her long career.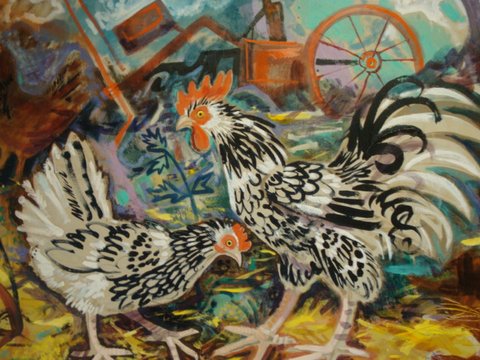 Hen & Cockerel, Mark Hearld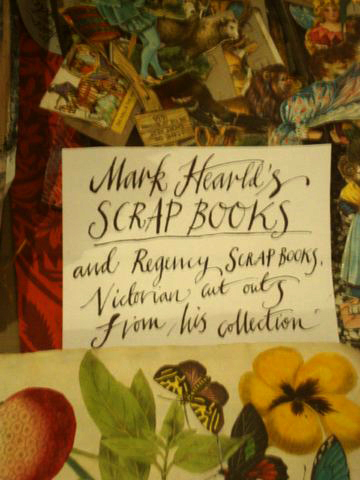 Victorian scrapbooks displayed alongside his own. The souvenir for the Lumber Room exhibition is illustrated with a vibrant collage of paper scraps, some Victorian, others leftover fragments playfully encapsulating the spirit of the exhibition '….it was a storehouse of unimagined treasures'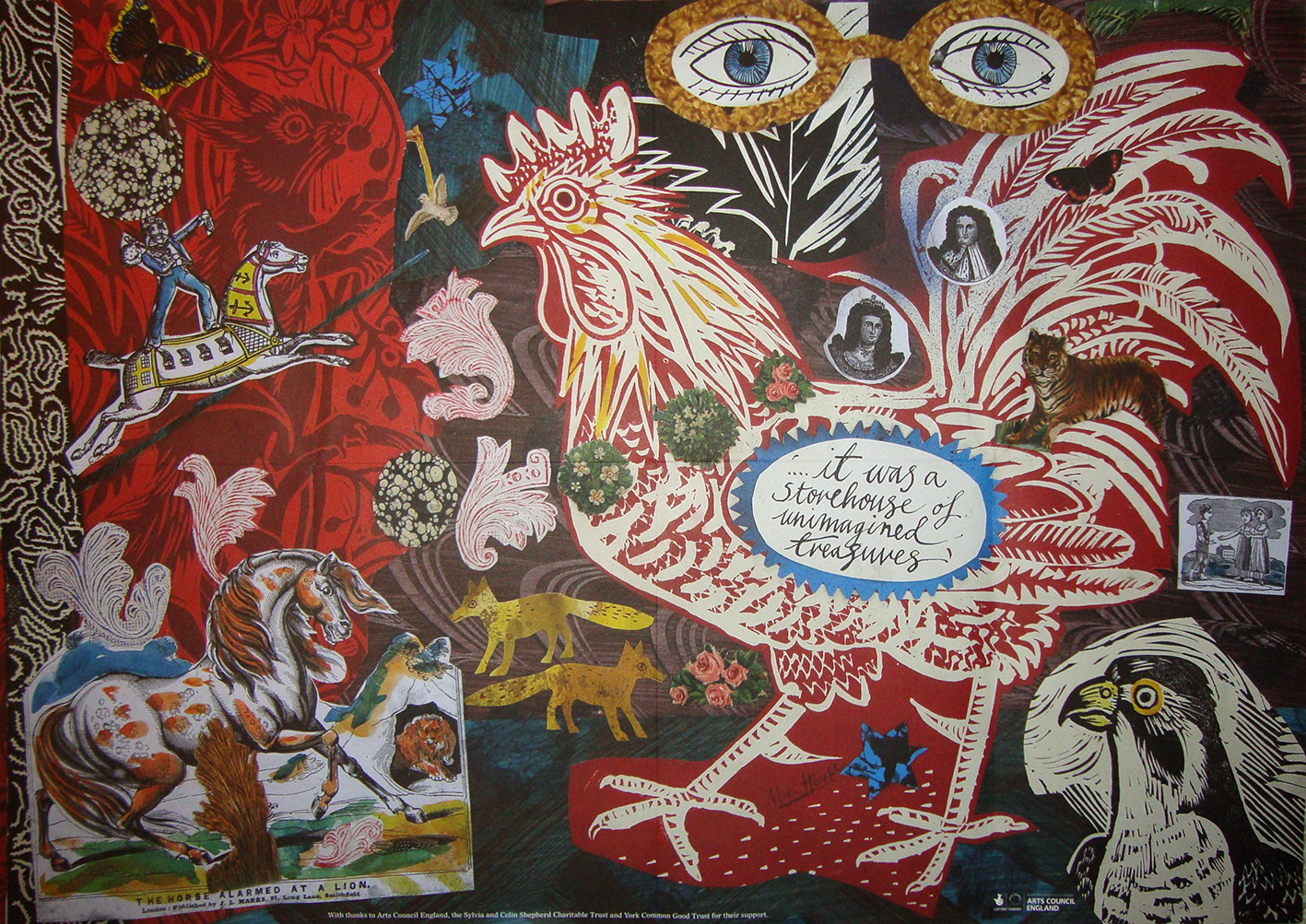 Souvenir catalogue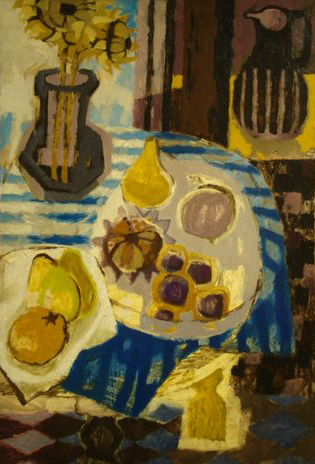 Mark admires the application of paint in the early works by Mary Fedden, painted in the 1960's the thin underpaint shows through and delineates the forms.

In his home life Mark has been an avid collector of all manner of things, the sourcing and paying for them being as vital a component as the placing of the objects to make, in his terms ' a visual 3D collage'. He lives, as he works, in his world of creative genius shared with us through the exhibition. Whether it be a greetings card, a limited edition print or the St Jude's textiles and wallpapers, we can all now enjoy a little something of his creative talent at home.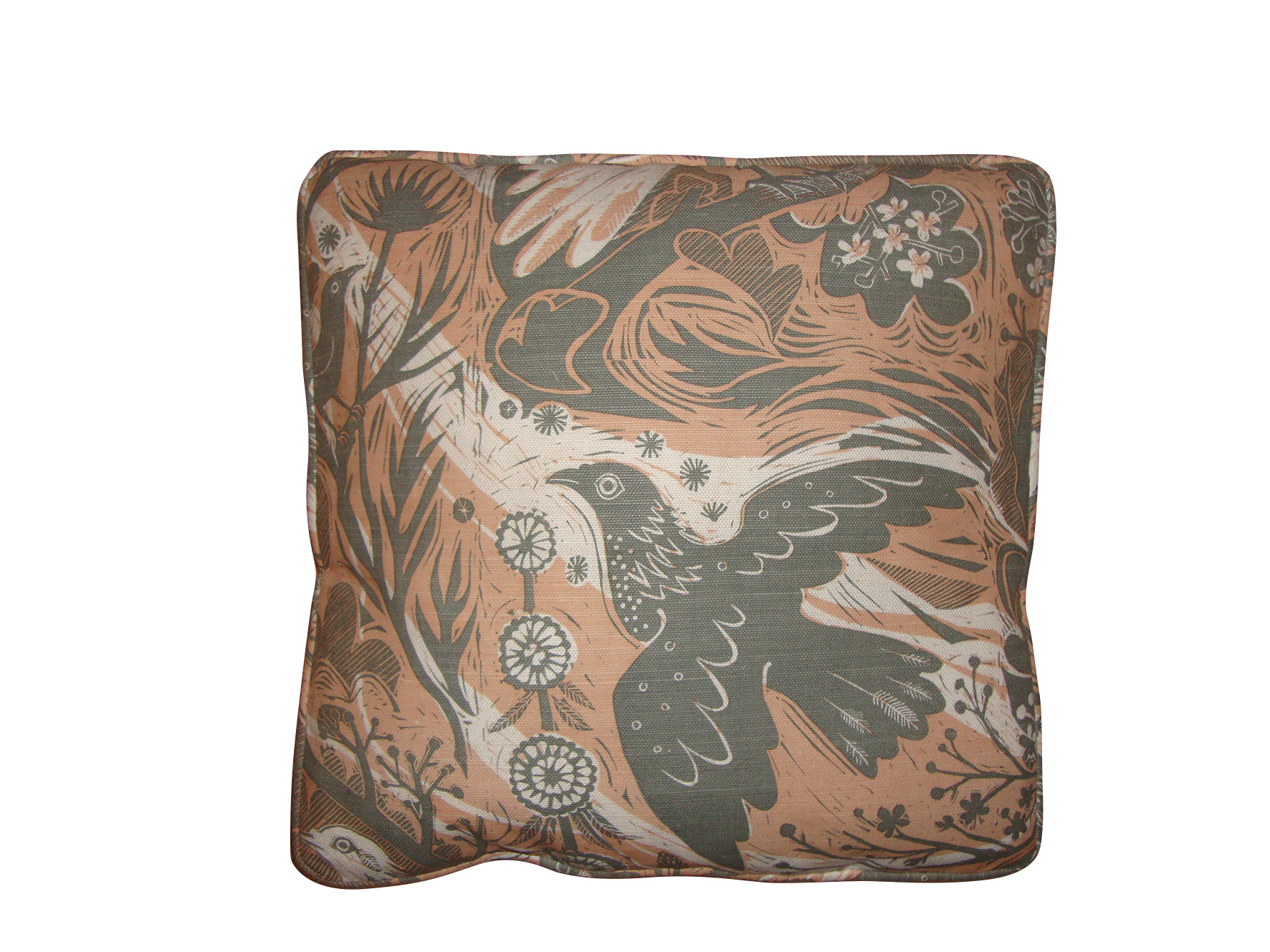 Cushion covered with 'Dove flight' in grey pink linen in one of three colourways


Tryptic greetings card
Stay inspired
Get FREE Antiques tips and ideas from our experts in your inbox.