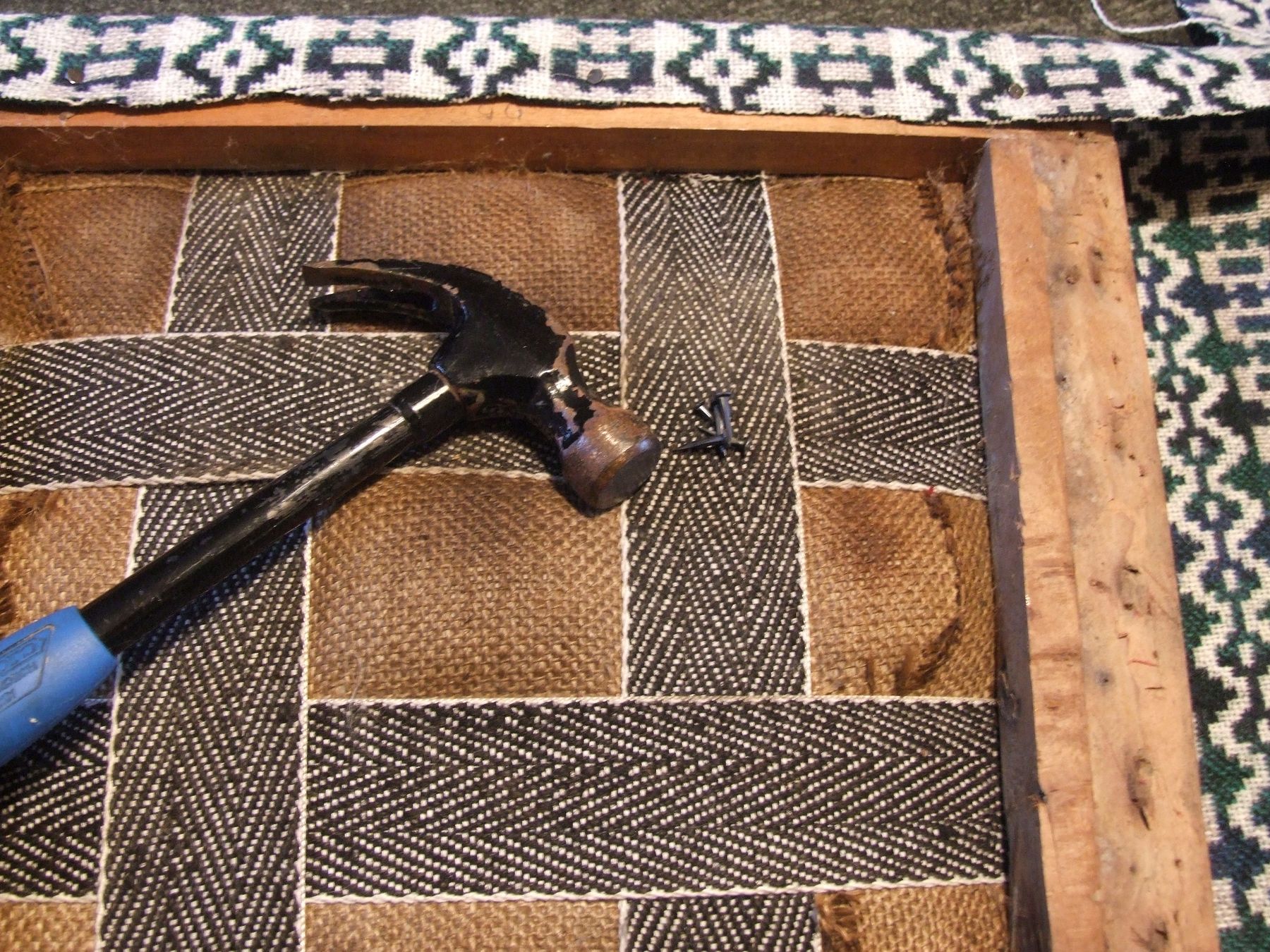 Upcycling Furniture
Learn decoupage, how to re-cover a chair and creating designer vintage cushion covers
Upcycling Furniture Online Course
How our courses work▲ TOP
You're going to love learning with us!
After you buy, you can start the course whenever you're ready
You'll have 1 weeks to complete 1 lessons, study at your own pace
You'll likely need 2 1/2 hours per lesson, but you can study whenever it suits you
You'll get expert critique from your tutor Juliette Goggin (you'll be able to ask them questions too)
We'll pair you up with a group of like-minded classmates from around the world
You'll have access to the classroom, content and your classmates for life
You'll also gain certification
More questions? Take a look at our frequently asked questions.
Watch a short preview▲ TOP
About the course▲ TOP
During this one week furniture upcycling course you will learn how to do several projects with step by step video instructions and personal guidance from expert upholsterer and author Juliette Goggin. You will learn how to use decoupage to transform anything from an old jewellery box to a chest of drawers with ordenance survey maps or botanical illustrations. You will learn to recover a drop-in seat chair to transform a piece of second hand furniture. Lastly you will learn how to create designer vintage cushions. Your tutor Juliette is an author and broadcaster and is on hand to answer all your queries and help with your own project throughout the week.
If you frequent auctions, second hand shops, car boots fairs and street markets, you'll know how inexpensive good second hand furniture can be. With this in mind you will learn a few projects you can tackle to bring some upcycled furniture into your home.
Lesson Plan▲ TOP
Each lesson starts with a 30 minute video from your expert tutor, which you can watch whenever you like.
After each lesson, practice what you've learned with an assignment and receive personalised feedback from your tutor. Each of which should take no longer than 2 hours.
1. Upcycling Furniture

Project 1 Decoupage is a fun and creative way to transform anything from an old jewellery box, or toy trunk to an entire cupboard. The item can be themed by the choice of paper, such as vintage children's comics, or story book illustrations for a toy box. Ordnance survey maps, or postage stamps work well for an old trunk. Botanical illustrations from second hand books work extremely well on drawer fronts or any kind of storage box. The course begins with some general advice on simple repairs which can be carried out to fix damaged furniture, following on with a guide to stripping varnish and paint before either repainting, or adding wax to protect the surface and enhance the grain of the wood. Tips are offered for getting an authentic antiqued and weathered look for your chosen piece and advice on individual, creative touches such as unusual handles and drawer pulls. The technique of decoupage is illustrated in several options, adding decoration to some wooden drawer fronts, papering an old filing drawer and recovering a folding card table. Project 2 Drop-in seat chairs are very easy to come by, and the seat covers can be made in less than 30 minutes with just a few simple tools, transforming the most unpromising charity shop, auction or car boot find. Furthermore, the chairs can be reupholstered with a different fabric whenever you fancy a change of look. Juliette will inspire you with a variety of options so that you can choose a modern, woven wool textile for a contemporary Scandinavian look, a vintage linen tea towel, ideal for a kitchen chair, or even an old oil painting for something really different.Juliette takes us through the process of selecting fabric through to completed chair. Project 3 The original chesterfield sofa used for this project is a perfect example of a piece of furniture that has become rather sad and down-at-heel through years of use. However, its traditional solid construction means that it still has plenty of life left. All that is needed to restore the sofa to its former glory is a revamp with new cushion covers - this final project takes you through how to create designer vintage cushions. With a choice of textiles from tweedy patchwork, to repurposed vintage grain sacks, accented with a blue piped edging, the finished result is both eye catching and entirely rewarding. Furthermore this technique is adaptable to many other projects within the home
Requirements▲ TOP
• Fabric for Seat
• Tailor's chalk
• Tape measure
• Scissors
• Wadding (optional)
• Masking tape
• Pushpins, small tacks and a hammer, or staple gun