Ten Daffodil Varieties For Four Months Of Flowers.
In milder areas the first daffodils are already in flower. It might still be winter but Narcissus 'First Hope' (formerly known as 'January Gold') has been in bloom for a couple of weeks.
Of course the flowering time depends on the season and some have been enjoying another mild winter, so far at least. In colder areas I expect the daffodils are keeping their heads firmly below ground.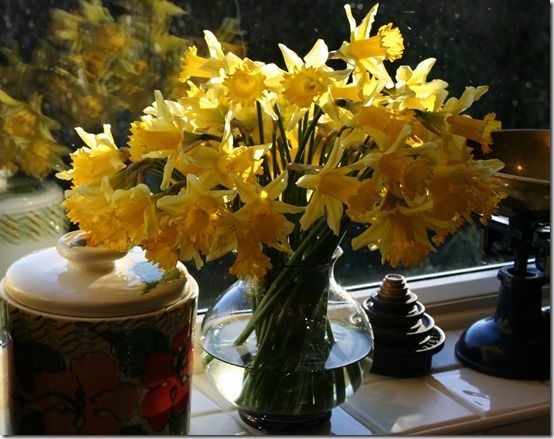 The sight of these early blooms has prompted me to pick my top ten daffodil varieties for continuity of flowering. Although you will have to wait until autumn to plant, spring is time to assess the blooms and make your choices for planting.
Personally I like yellow daffodils at the beginning of the season, then softer shades later on. I am not fond of the large yellow flowered daffodils; I like them in a vase, but not in the garden
The difference between daffodils and narcissi
Firstly I should just mention the difference between daffodils and narcissi. All daffodils are really narcissi; that is their botanical name. The term daffodil is usually applied to those with long trumpets or large double flowers.
The term narcissus is usually applied to those with shorter cups or several flowers on a stem; single or double.
1. Narcissus 'Rijnveld's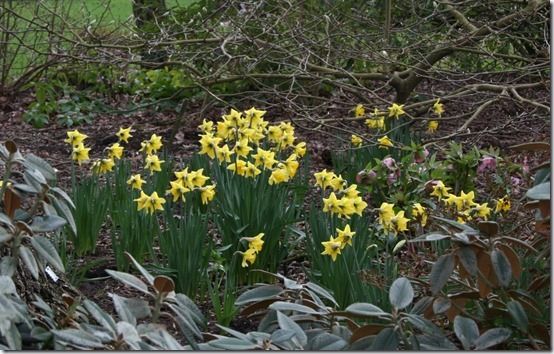 Early Sensation' is recognised as one of the earliest daffodils to flower; in many areas it is often in bloom for Christmas. It is a classic yellow-flowered variety of normal daffodil stature.
Groups of them planted between deciduous shrubs or amongst perennials are a welcome sight in depths of winter. I notice that it is regarded as one of the first to bloom in Madison Square Park http://www.madisonsquarepark.org/wp-content/uploads/2013/03/early-blooming-daffodils.pdf
2. Narcissus 'February Gold'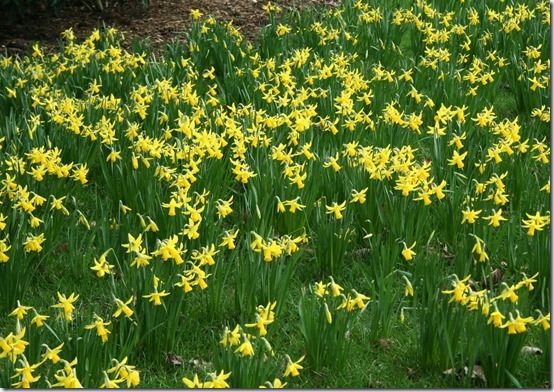 is smaller and more graceful, less than 1ft (30cm) in height. It is wonderful for naturalising or planting in large drifts. It's clear golden-yellow flowers are very long lasting and light up the world famous Royal Botanic Garden, Kew from late January through to early March.
3. Narcissus pseudonarcissus subsp. pseudonarcissus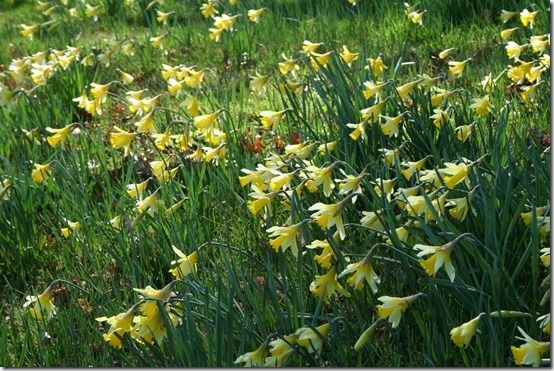 Is the wild daffodil made famous by the poet Wordworth: "a host of golden daffodils". This is a graceful little creature with bulbs not much bigger than a snowdrop and leaves and flowers around 8inches (20cm) in height.
The blooms paler petals and a darker trumpet; both more shades of primrose than "golden". My favourite sight in March under the light shade of trees.
4. Narcissus 'Jet Fire'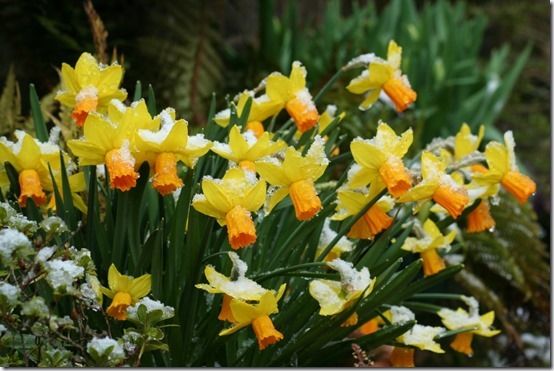 is my last blast of strong narcissus colour. Usually in bloom by early March and flowering into early April 'Jet Fire' is one of the most weather and wind resistant dwarf daffodils with bright yellow, slightly reflexed petals and a glowing orange trumpet.
Growing to 10inches (25cm) I think it is at its best in pots or small colonies under trees and shrubs
5. Narcissus 'Ice Follies'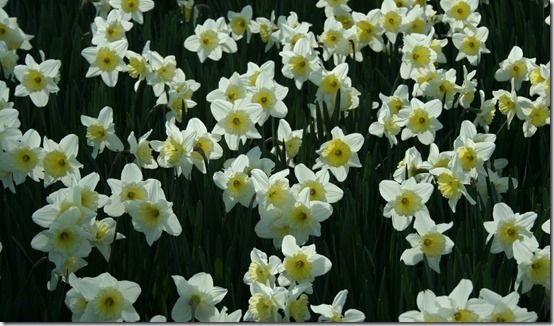 is just one of those varieties I have always known as a garden plant and as a cut flower. Large, open, flat, creamy blooms with a large, flattened, pleated, primrose cup on tall stems around 14inches (35cm) or more.
This is one large flowered narcissus that I quite like in large drifts, not necessarily in my garden.
6. Narcissus 'thalia'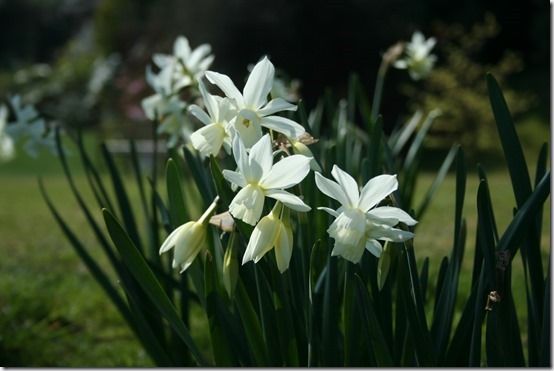 is a beautiful multi-headed narcissus with exquisitely poised blooms on stems up to 12inches (30cm).
Emerald green leaves and sparkling white flowers make a delightful partnership. Plant in small colonies under trees, grow it in pots or underplant with blue muscari. Simply my favourite.
7. Narcissus 'Cheerfulness'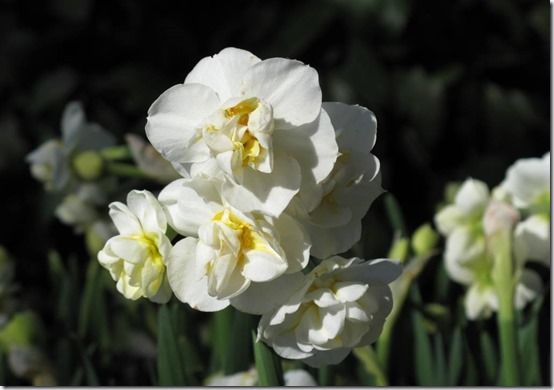 Rather stiff and upright in habit, multi-headed with double flowers. There is a yellow form and a white one; both are really shades of cream with deeper details.
The blooms are gardenia-like and open in April on stems 12inches (30cm) or more in height. The fragrance is sweet, spicy and superb: one sniff and you are addicted. Grow it and pick it or plant it with forget-me-nots.
8. Narcissus 'Salome'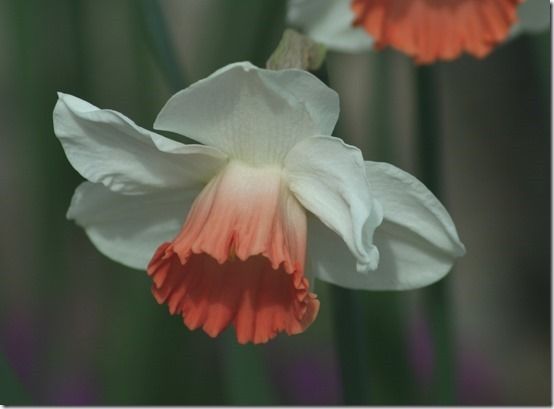 I always allow myself one "pink" daffodil. These were always the latest of the season when I worked in a florist shop as a boy.
They have a lovely, light fragrance and the combination of warm-white petals and a salmon pink cup is delightful. 'Salome' is enduringly popular: 16inches tall (40cm). Grow her on the edge of the veg plot for cutting.
9. Narcissus 'Hawera'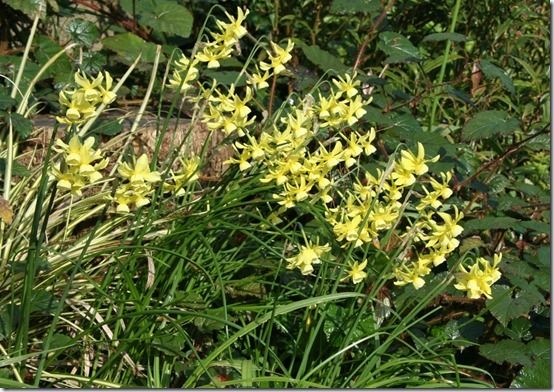 is a tiny multi-headed narcissus growing to 8inches (20cm). The pale primrose flowers are long lasting and delightfully scented.
The flower stems are fine and the foliage grass like – perfect if like me you hate just how long it takes narcissi to die down. Ideal in pots and containers or with pulmonarias, vincas and ivies in shade.
10. Narcissus poeticus var. recurvus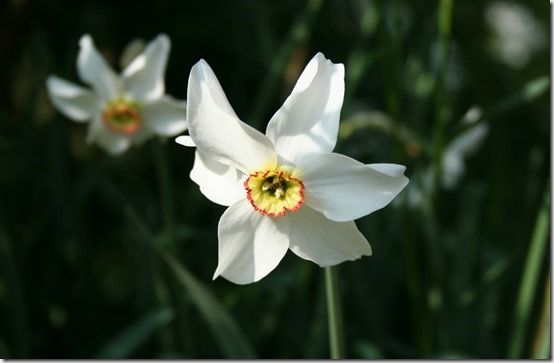 This wonderful old cottage garden gem, known as Pheasant Eye is very late to bloom. In a cold spring in shade I've known it to be as late as mid-May or early June.
It has tall, slender grey-green leaves and fine flower stems around 16inches (40cm) tall. The pure white blooms have slightly swept back petals and deep orange and gold eyes. The scent is superb; for me it is jasmine-like and totally appropriate for the onset of summer.
I think we all think of daffodils as spring flowers: but when it comes to it, they span the seasons: from winter through to early summer. Enjoy them.
Stay inspired
Get FREE Gardening tips and ideas from our experts in your inbox.