As days shorten and leaves colour and fall our attentions move towards the areas close to the house, rather than the far reaches of the garden. What a great excuse to liven up the porch or doorstep and celebrate fall, one of the most colourful times of the gardening year.  Whether you celebrate Halloween or not it's a great time to make the front porch warm and welcoming. Seasonal colours glow in the berries and fruits of the season.  A little exploration in garden and hedgerow will reveal all sorts of treasures you can use. Seasonal plants at the garden centre and nursery can liven up pots and containers from now well into winter if you choose wisely.

[caption id="attachment_9473" align="alignleft" width="550"]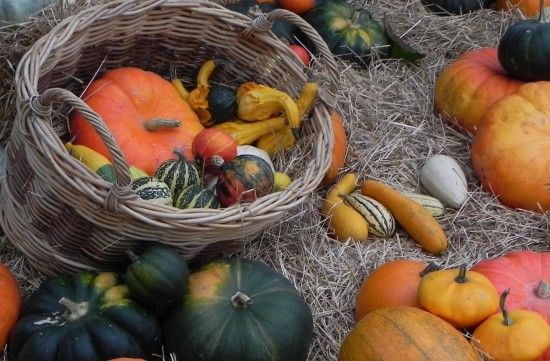 Gourds and squashes[/caption]

Pumpkins, gourds and squashes abound; this is their season. The small ornamental gourds are often available from florists and market stalls.  These will dry successfully if they are undamaged and kept in a warm, well-ventilated place.  Larger squashes and pumpkins are just as useful for decoration.  We often gather them, group them and use them with pots on the porch. Then they gradually make their way into the kitchen.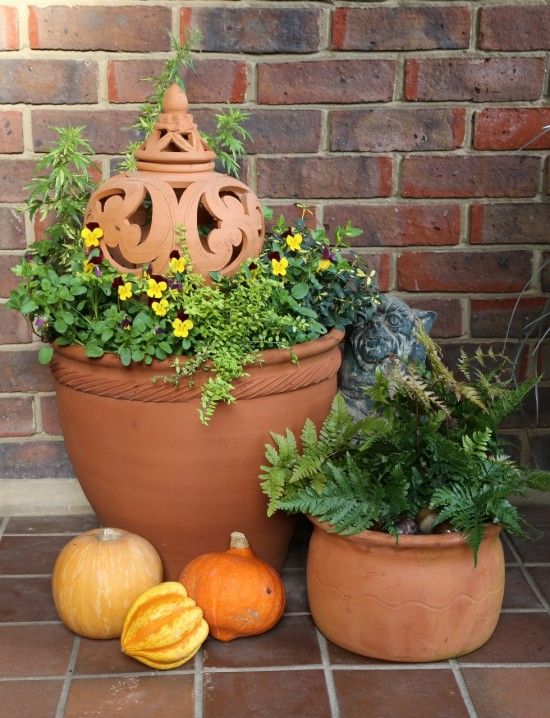 I've also got a couple of terracotta lanterns which work rather well with violas and evergreens at this time of year.  One can take the place of a pumpkin lantern through Halloween, especially when teamed up with one of my stone gremlins. Violas do not stay in flower for too long if the situation is very shady, however they are easily replaced to freshen up the display.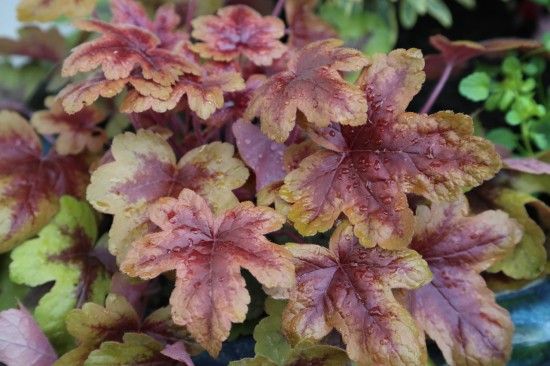 Heucheras are popular for their interesting and colourful foliage which retains its good looks throughout the winter. Heucherellas, hybrids between heucheras a tiarellas are almost surpassing them in popularity and are better subjects for shade. I am very taken with Heucherella 'Brass Lantern' with its lovely copper coloured foliage.  A plant I used in a basket arrangement last autumn is still looking great on the garden table.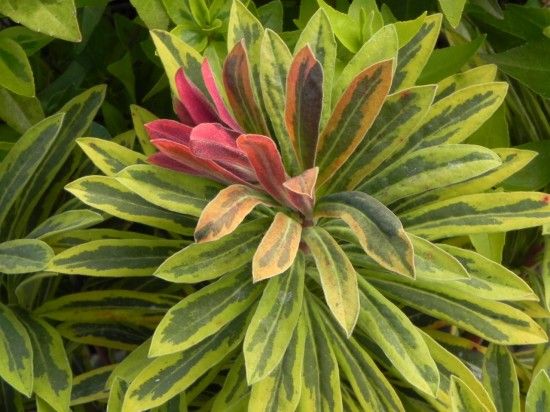 Euphorbia 'Ascot Rainbow' is also a good long-term container subject. Its colour is at its best at this time of the year and it will really liven up your doorstep for months. The loose spikes of green flowers in spring are charming but for me the best time is now when the leaves at the tips of the stems glow flame.

[caption id="attachment_9477" align="alignleft" width="550"]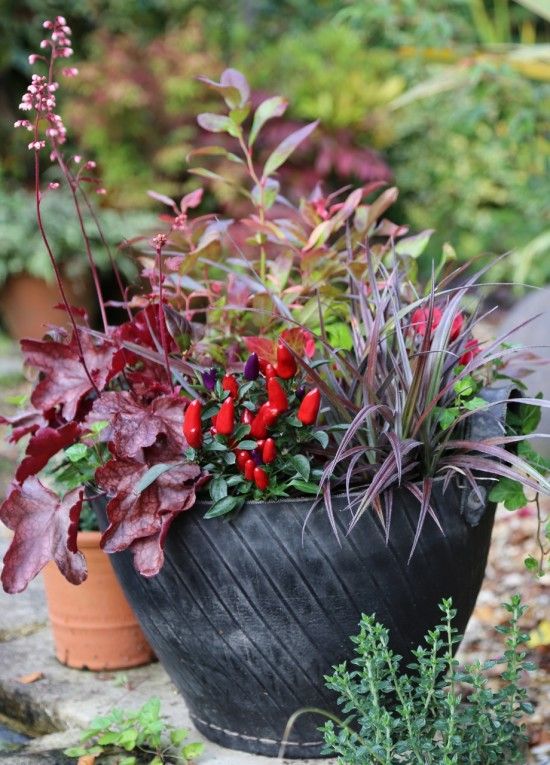 Chillies, astelia and heucheras[/caption]

Although they are not hardy the ornamental capsicums or chillies look the part at this time of the year, particularly in this cauldron planter with spiky astelia and wine-leaved heuchera.  If you've grown chillies this season you might well be able to utilise them on the porch where they will get some protection from the onset of colder weather.

[caption id="attachment_9478" align="alignleft" width="550"]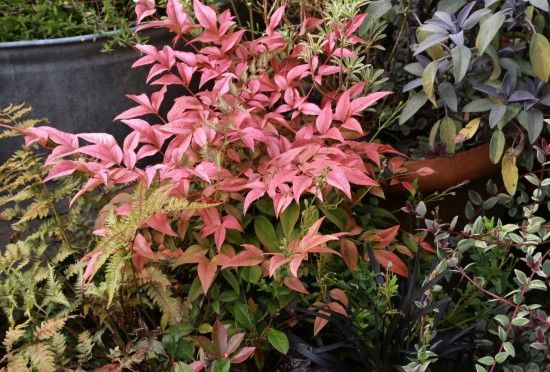 Nandina 'Obsession'[/caption]

One of my favourite shrubs at the moment is the dwarf sacred bamboo, Nandina domestica 'Obsession'. I put this one into this container last fall. It has looked good throughout the year and is now turning vivid flame-scarlet in its upper leaves. What great value to have plant that performs year-round.

[caption id="attachment_9479" align="alignleft" width="550"]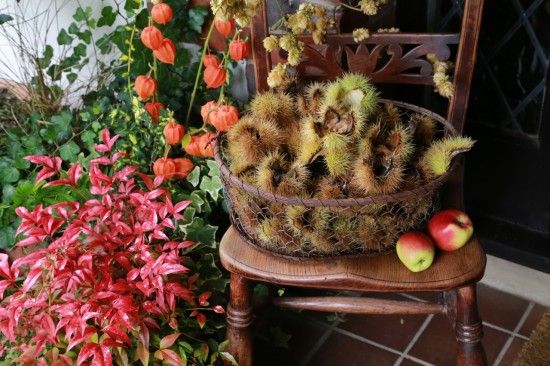 Chestnut seed cases and apples[/caption]

I used the nandina container as part of my front porch decoration. I love the seed cases that litter the lawn at this time of year so I collected a pile of sweet chestnuts and put them into a wire basket on this old chair with a few blushing apples.  The sweet chestnuts do produce nuts but the squirrels always get there first.  I have a few clumps of Chinese lanterns, physalis in the garden. These look better with the leaves removed. I cut a few and arrange them in pots of evergreens. They last a few weeks and certainly add that vibrant Halloween orange.

[caption id="attachment_9480" align="alignleft" width="550"]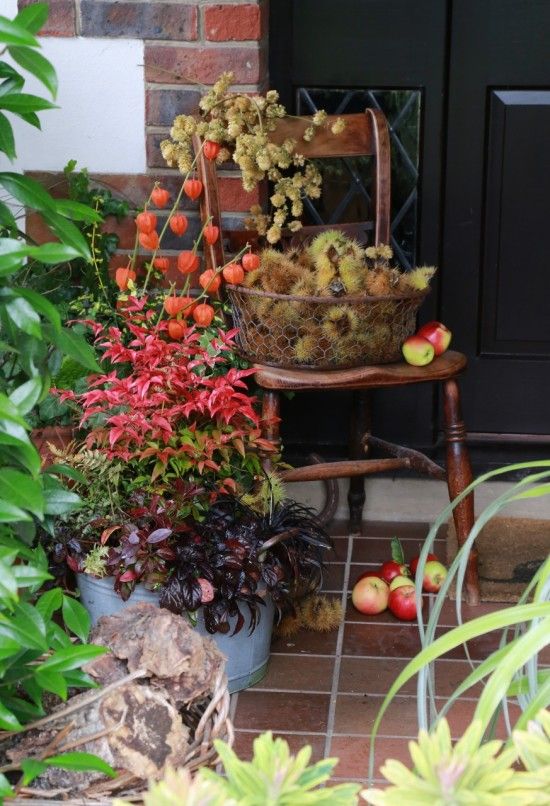 Fall Front Porch[/caption]

There's certainly something cheering about livening up the entrance to your home at this time of year. It's easy to shut the garden out as the days get shorter and colder. Bringing those fall colours closer where you can enjoy them really helps to turn autumn into a celebration.  So throw out the summer bedding and liven up the pots with some lasting seasonal colour.

[caption id="attachment_9481" align="alignleft" width="550"]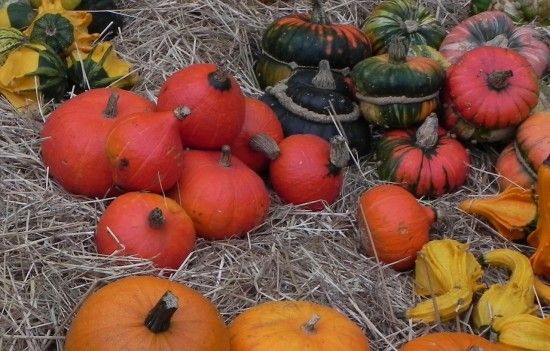 Pumpkins and squashes[/caption]