I have wanted to visit Tintinhull Garden, nr. Yeovil, Somerset (UK) for quite some time. In fact, ever since I spent many a happy hour pouring over 'Colour in your Garden' by the garden designer Penelope Hobhouse. Although she wasn't responsible for creating the garden at Tintinhull, she and her husband Prof. John Malins were tenants there from 1980 to 1993. As a great gardener and plantsman she undoubtedly influenced the planting, and certainly aspects of the garden featured in the book.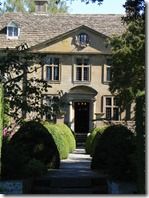 I have passed the turning to Tintinhull so many times, on my way to and from Cornwall. With a car full of reluctant children, and then teenagers, a detour to the garden has not been an option. Then last week, in glorious late summer sunshine, on one of the warmest afternoons of the year, I found myself driving alone a stonesthrow from Tintinhull. The village is quite beautiful: warm mellow stone, appealing pubs and narrow lanes. Abelia grandiflora, Hydrangea villosa and Fuchsia magellanica adding welcome late colour to the sandy walls as I followed the signs. The car park is in a field on one side of the lane, Tintinhull House is on the other side, a short walk through an old orchard and through a gateway into a courtyard at the side of the house.
This property feels welcoming, homely and warm. It is far removed from the larger National Trust Gardens which sometimes feel preserved, rather than alive and growing.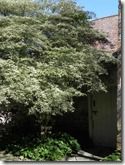 I declined to go in though the three rooms of the house that are open, I thought I would save those until last; not because I love houses, but because I wanted to get straight into the garden. The first plant to greet me was a rather fine specimen of Cornus mas 'Variegata' growing over a doorway. I think this is one of the finest variegated plants.
Tintinhull garden is laid out as a series of rooms – in other words in the style of Hidcote. It even has its token white garden surrounded by yew hedges. The layout was developed by Phyllis Reiss around 1930, and she eventually handed the garden over to the National Trust in 1954, but she continued to live there until her death in 1961. What's great about this garden is that you really feel the presence of the gardener. I think that only happens when someone creates something that's very personal to them: a garden that works with the property and the surrounding countryside, and one that they clearly loved. Gardeners that have contributed to it since do not try and leave it unchanged, but they try and maintain the spirit of the planting. It's not too perfect; it's really too beautiful to be perfect. There were other visitors in the garden, wandering, sitting and just soaking up the atmosphere.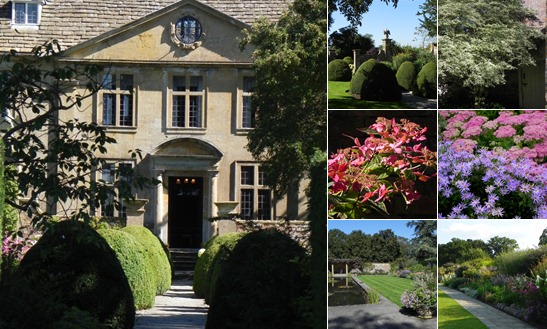 Tintinhull Gardens
VIEW SLIDE SHOW
DOWNLOAD ALL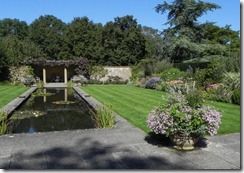 So what are the highlights? For me the domed topiaries leading up to the house; these help to create a vista through two magnificent eagle-topped columns. The stone urn against a wall draped with Hydrangea quercifolia. The long formal pool studded with waterlilies. The stone pavilion at the end of the pool draped with Vitis vinifera 'Purpurea': delicious! The sedums and asters alive with bees. The shady narrow border alongside a path behind the yew hedge just crammed with Helleborus orientalis foliage. The vegetable garden glowing with purple beans and ruby chard – just too depressing to go home to my miserable veg. plot!


I could go on – I loved it all and my visit was worth the wait. Will I drive past again on my way to Cornwall? Yes I will but in future I'll stop and visit Tintinhull garden.




I would love to hear your thoughts on Tintinhull and gardens you have visited and admired, especially gardens that reflect the spirit of the gardener. Let's share some favourites and start making plans for next year's diary.................
Stay inspired
Get FREE Gardening tips and ideas from our experts in your inbox.