I never understand why anyone is stuck for a present for a garden owner. As Christmas creeps up on us there is a great array of garden themed gifts and gadgets to choose from: string on a stick, gardener's hand cream, garden journals and record books, gardener's radios and tea mugs. Over the years I've had them all, and I can honestly say that I haven't used any of them. They clutter up bottom draws waiting for gift recycling; eventually to be passed on to another bottom, draw or a brick-a-brack stall. For me the most useless are the journals; those beautifully bound books in which you can record when you acquired a plant, when you planted it, the colour of the nurseryman's eyes who sold it to you, and so forth. I'm sure some love them, but I doubt many use them.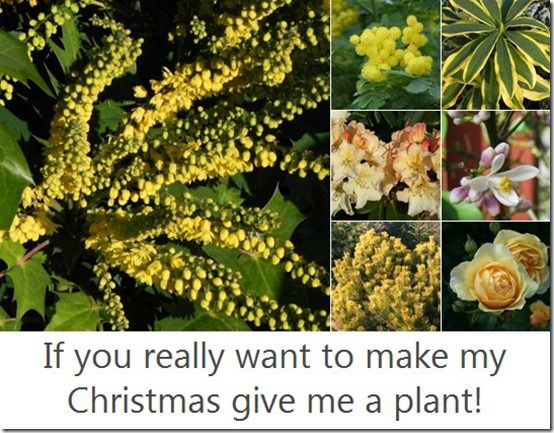 Contrary to what you may be thinking I'm not bah humbug about Christmas. Give me a roll of flexitie, a pair of Felco secateurs or some proper gardening gloves and I'll be delighted. Give me a few seeds or an amaryllis bulb and my eyes light up. But if you really want to make my Christmas give me a plant! After all that's what nearly every gardener secretly loves most: a plant for the garden. Something he or she can look forward to planting after Christmas; a plant with a future. If you want to make it seasonal why not give gold? Here are a few suggestions:
Top of my list would be the lovely Daphne odora 'Rebecca'; a stunning form of Daphne odora with broad gold margins to the leaves which are carried in bold rosettes on the regularly branched stems. In late winter clusters of mauve-pink, sweetly fragrant flowers appear in the centres of the rosettes. 'Rebecca' is a small compact shrub which is surprisingly vigorous considering its variegation. It is an excellent hardy foliage plant with the bonus of fragrant winter flowers.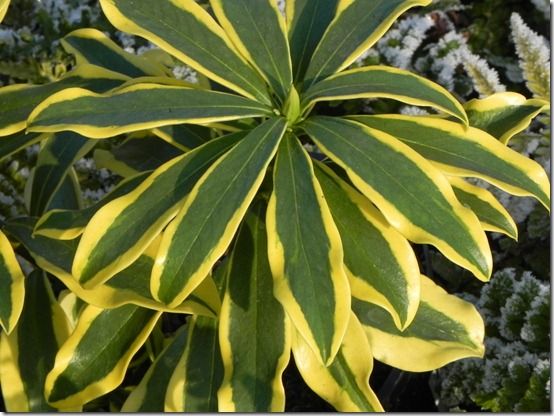 A mahonia would also be a good choice for the gift of winter fragrance. The earlier flowering varieties have been blooming already for several weeks; these mostly have quite upright flower stems of bright golden yellow blooms displayed against the deep green holly-like leaves. Mahonias are easy to grow, thrive in shade and are a great choice for new gardens where the soil may be less than ideal. Mahonia 'Charity' and 'Winter sun' are both early flowering varieties which are upright in habit and extremely low maintenance.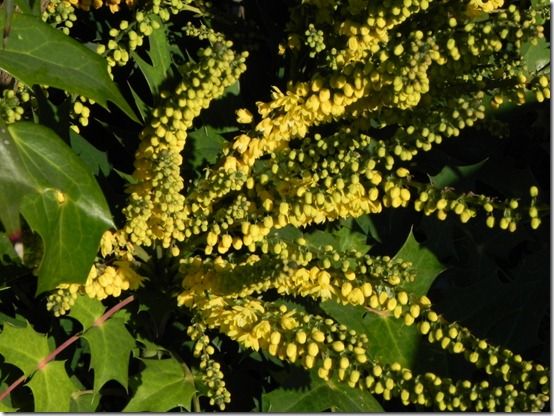 Obviously evergreen shrubs look more attractive than most deciduous ones in winter, and none more so than camellias. Shining emerald leaves and swelling flowerbuds with the promise of exotic blooms will delight any plant lover. The great thing about a camellia as a gift is that it is a great subject for a patio pot: therefore it will fit into the smallest courtyard, patio or balcony. My personal favourite is the lovely Camellia 'Jury's yellow'. This is a compact upright shrub with blooms the colour of clotted cream; delicious.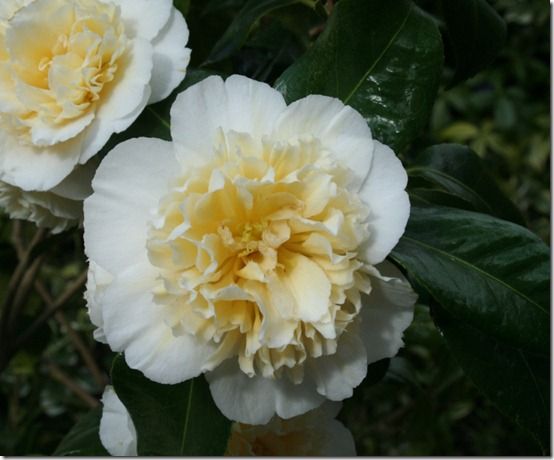 Along a similar theme: how about a rhododendron? No need to worry about the soil; if the soil is alkaline it can be grown in a large pot or tub of lime free loam-based compost. Rhododendrons and evergreen azaleas look particularly good at this time of the year and display plump flowerbuds promising extravagant spring flowers. The lovely Rhododendron 'Horizon Monarch' would be an excellent choice. This grows to form a large dome-shaped shrub with softly shining, deep green leaves; olive on the reverse. These are rounded at the tips and are carried in bold whorls on tan coloured stems. The buds are orange as they open, unfurling into waved, creamy-yellow blooms carried in large clusters. A lovely variety and one that mixes well in any colour scheme.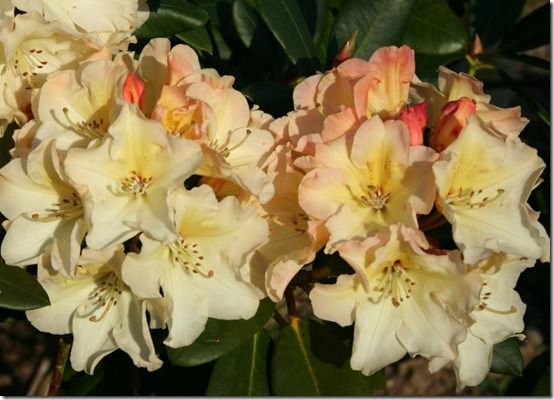 Most gardeners are naturally collectors and we all like something new. If you want to give the gift of gold then the new Choisya 'Aztec Gold' is a great choice. This has narrower leaves than the popular Choisya 'Sundance' and the promise of more profuse flowers. The foliage is bright gold, green in the heart of the shrub. It is certainly an eye catcher and is good in sun or shade on most soils, so it is a safe bet for most gardens.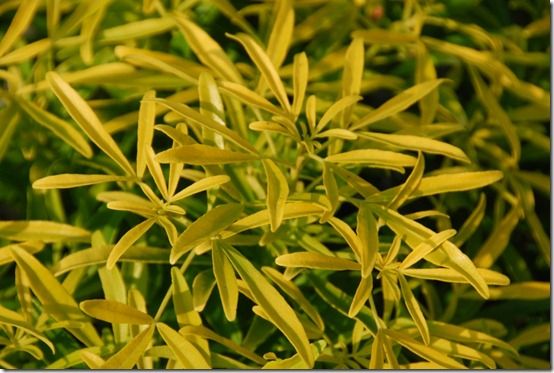 For those gardening in colder regions, and for those with a love of the architectural, the lovely Pinus mugo 'Wintergold' would be a good choice. This is a small, bushy pine which ultimately grows to 1.5 metres (5ft) with a similar spread. The branches are upright and the foliage olive green through summer turning rich gold in winter. It is a lovely choice with heathers grown for their winter foliage, low growing evergreens, or as a specimen amongst rocks or scree.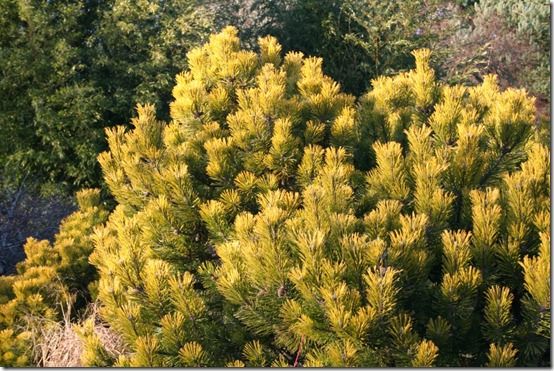 Everyone loves a rose, and although a containerised rose is little more than a few stems and thorns any recipient will already be imagining its fabulous blooms and latent fragrance. I think Rosa 'Golden Celebration' is one of the finest English Roses. The large soft gold blooms are wonderfully scented and the plant is strong and disease resistant. It will grow and bloom in semi-shade and can be trained as a climber. There you are, you can spend all Christmas deciding where to plant it and how to grow it.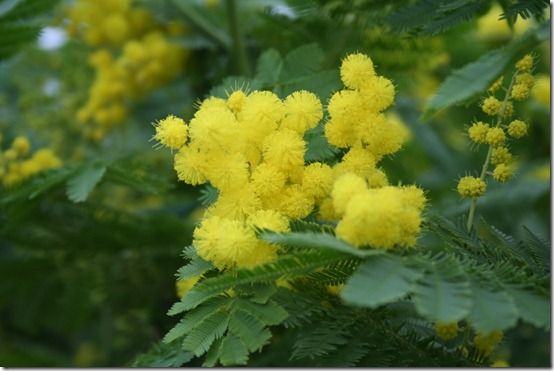 For those growing in milder regions or with the benefit of a Mediterranean climate how about the golden wattle of Florist's mimosa? Acacia dealbata is a small evergreen tree with fern-like leaves and fluffy marzipan-scented golden yellow flowers in late winter. It is a great choice for a sheltered costal garden and some varieties make great shrubs for pots. The variety 'Gaulois Astier' is more compact and flowers from an early age. Give a plant now and it will be covered in flowerbuds and you are delivering a fragrant early spring bouquet for years to come.
Somehow citrus are at the heart of the holiday season. Give me a lemon tree and I can already taste a gin and tonic. Okay purist's I know some brands recommend lime, but I'd rather have an unwaxed lemon straight from the plant. For a cold conservatory, or for those of you in warmer climates, a lemon tree makes a great gift: spicily aromatic scented flowers, wonderfully fragrant juicy fruits and the ultimate talking point. Which would you rather have, a poinsettia or a lemon tree? For me it's a simple choice.
Well I hope that I've dropped enough hints, and maybe given you a few ideas. Of course one of the best presents is always the one that you go out and buy for yourself; and why not? Let's hear what's on your Christmas list. Please feel free to tell me what you don't want too. Perhaps you'll tell me that you love a good garden journal? – May be coming your way................
Stay updated
Receive free updates by email including special offers and new courses.