Behind the scenes at RHS Chelsea Flower Show 2015
By Andy McIndoe •
The Build Up to  RHS Chelsea Flower Show 2015

Whichever flower show you visit, you go to see the finished picture, whether your interest is in the show gardens, or in the floral exhibits showcasing plants and flowers.

It is impossible to imagine the amount of work and effort that goes into creating the exhibits in preparation for the show. I've been building exhibits for 25 years and it is hard to find words that describe the process: challenging, creative, stimulating, frustrating, futile and rewarding.

A whole progression of emotions happen to all of us during build up.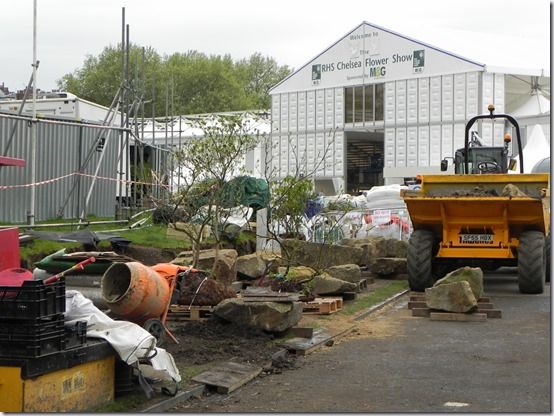 I thought I would give you a look behind the scenes a few days before RHS Chelsea Flower Show 2015 opens to the public.
It is hard to envisage that the apparent chaos will ever evolve into a spectacle; however it always does. One thing is certain: during the run up all involved have a common goal and focus, not to win, but to reach the finishing line in time.
And this is not something you can practice for. I am often asked if I have a trial run beforehand; a total impossibility. The flower show world is a fantasy land that we all drop into for a few weeks before returning to the day job and the real world.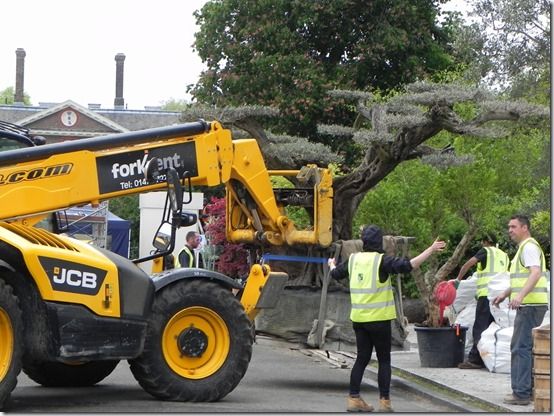 At RHS Chelsea Flower Show, and other major shows where outside space allows garden construction involving excavation and full foundations the build starts around three weeks before the Show.
However, most of the planting happens in the last week, apart from any major structural planting, especially large trees which need to in position before other structures are built, or hard surfacing is put in place.
A week before the show opens some gardens can be looking quite green, while those featuring mainly perennials, grasses and softer subjects are just hard landscaping.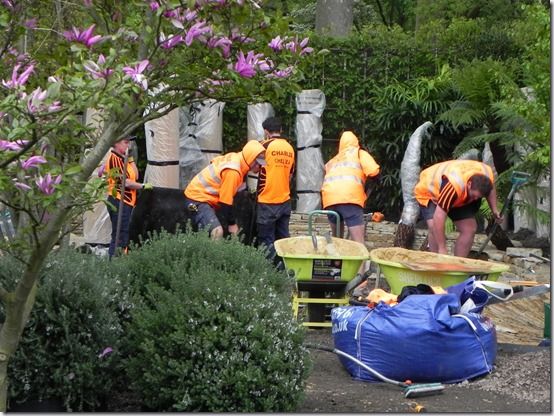 Over the years the scale of exhibits, particularly the Show Gardens has changed beyond belief. Budgets are bigger and construction more and more ambitious. Heavy machinery is needed to move mature plants, huge rocks and extravagant sculptures.
Engineering feats include amazing buildings and dramatic water features. Apparently this year's Cloudy Bay garden features a contemporary garden building that moves across the garden.
A way to follow the sun I suppose, without moving your chair.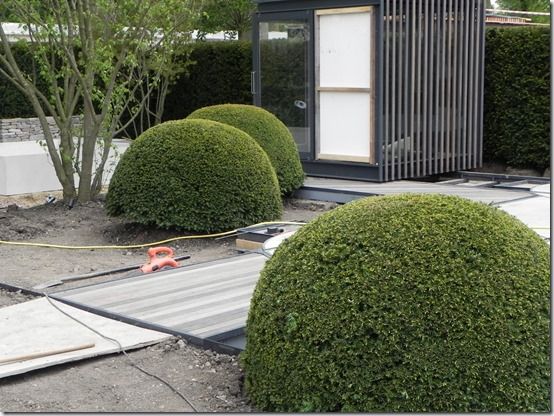 I am always impressed by the Show Garden briefs. As a show garden designer you have to live the story. I caught up with designer Matt Keightley a week before the show. Matt was happy and relaxed, pleased with progress and "at just the right stage to allow plenty of time to get the planting right.
His garden 'Hope in Vulnerability' is in partnership with Sentebale, Prince Harry and the HRH Prince of Wales Foundation. The garden aims to raise awareness of Sentebale's work in providing education and healthcare to Lesotho's most vulnerable children.
His design reflects the culture and natural surroundings of Lesotho: quite a challenge in a potentially chilly Chelsea spring.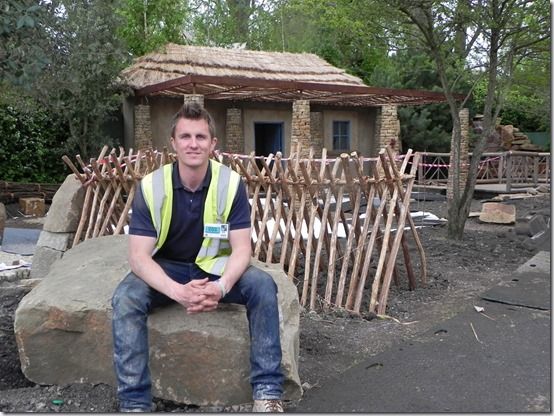 A fine specimen of Quercus suber, the cork oak in the foreground is an inspired choice. Fabulous bark and striking structure will draw the visitor's eye.
However the real genius is using a large tree like this in the foreground because it changes the whole perspective, making the plot appear larger and framing the picture. Even at this stage the garden has loads of interest hand some distinctive areas.
A strong interesting building as a backdrop, dramatic cascading water and a deck space and still water where the privileged few will be able to admire the garden from, and undoubtedly the television presenters will hold court.
A successful show garden has to consider the practical details of sponsorship and media, along with a passion for and involvement in the design.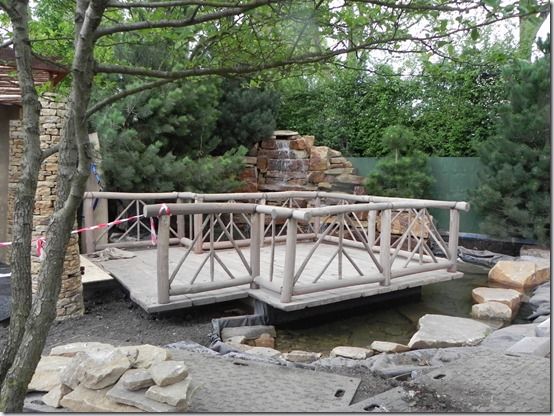 Jo Thompson's garden for M&G features a major two level summerhouse; that's probably an understatement for something that's bigger than most modern homes.
This is alongside a natural water swimming pond amidst naturalistic planting. A week to go and the focus is still very much on the structure. Let's hope these builders stay on schedule and the scaffolders turn up on time to clear the decks.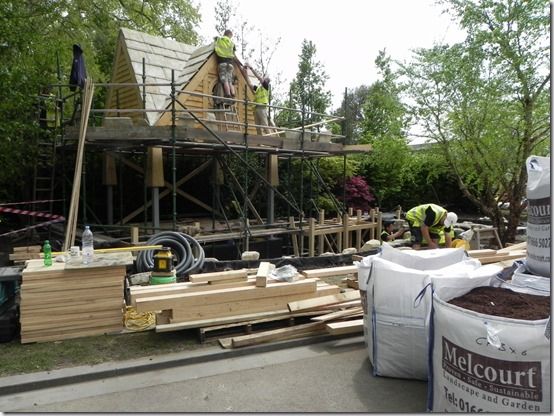 Dan Pearson returns to RHS Chelsea Flower Show this year as designer of the Laurent-Perrier – Chatsworth garden. This is on the island rather than on one of the main avenues. A nice open space, but challenging because of its visibility.
Major rock work is certainly impressive. It must have taken big machinery and great skill to get those in place. Typically Dan is using a rich palette of plants, familiar and obscure.
Some vast multi-stemmed laburnums were waiting to move into place; in contrast, on the other side of the garden Dan was planting lily-of-the-valley.
This will be an interesting one: maybe a preview of some of the planting we can expect to see on The London Garden Bridge?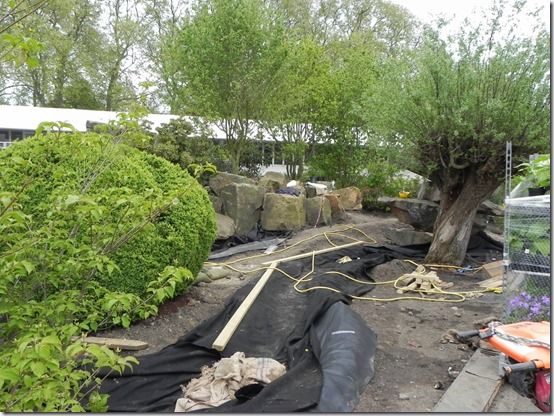 The indoor exhibits happen in the last week. At Chelsea this has to be after The Floral Pavilion is completed. Exhibits of larger plants and any involving construction happen first, while those of cut flowers happen in the last couple of days, or even last few hours before the show opens.
This would be the same time scale as any indoor flower show held in exhibition halls and the build would be similar. Everything has to be built above ground.
All pathways, patios, lawns hand ponds have to be raised up to allow the plant material to be dropped in around them to create a garden effect. I am lucky. On the Monument site we are nearly always the first in with our big trees and building materials.
As the biggest exhibit in the Pavilion, and in the midst of it all we need to be in place before the others. The trees make an instant impact, however it will take another 4,000 plants to create the exhibit: all to move into place in the following few days.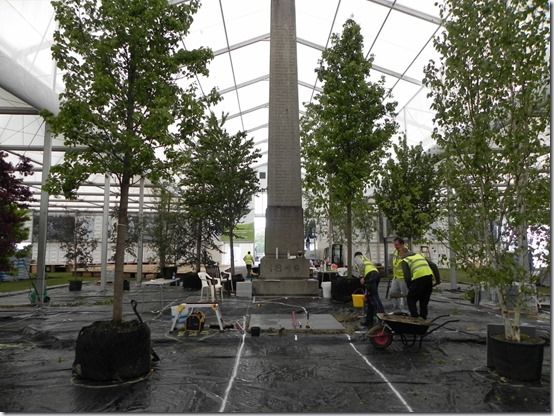 Follow the build-up of the Hillier exhibit on my Journal at http://hillieratchelsea.co.uk/
If you want tickets for Tuesday or Wednesday you will need to be an RHS member. Tickets cost £69 for Tuesday or £59 for Wednesday.  Afternoon and evening tickets are also available from £29 and £27 respectively.
The first public day is Thursday and a day ticket costs £46 for members and £99 for non members
You can still buy tickets from the RHS website here ==> https://www.rhs.org.uk/shows-events/rhs-chelsea-flower-show/tickets
Stay inspired
Get FREE Gardening tips and ideas from our experts in your inbox.