Fall color or Autumn colour (depending on where you nest) is a wonderful thing. We tend to think of deciduous trees and shrubs such as maples as the best for autumn colour but some climbers excel in this department. They reliably produce the most spectacular display, lighting the walls of our houses and painting brilliant brushstrokes through supporting trees and shrubs.
When leaves start to colour one of the most striking plants is what we know as Virginia creeper; or is it really Virginia creeper? More confusion occurs over this plant than any other I know, but that's the problem with common, rather than botanical names as I was saying in my last post.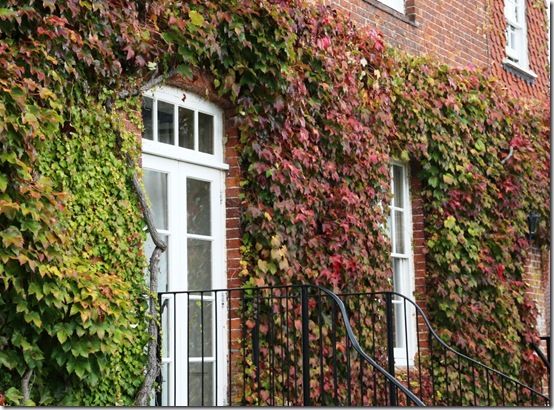 What most British gardeners refer to as Virginia creeper is the self-clinging climber Parthenocissus tricuspidata. This is more correctly referred to as Boston ivy in the UK and Japanese Creeper or grape ivy in the US. It is easily distinguished by its shining lobed or toothed leaves. This excellent climber effectively covers a wall with shining dark green leaves throughout the summer. These turn to deep scarlet as autumn advances and few plants achieve such depth and intensity of colour.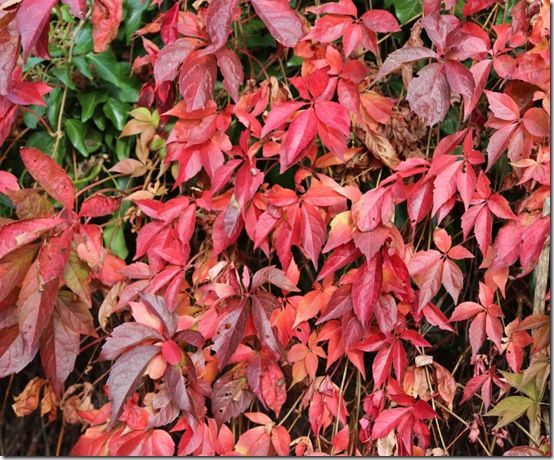 The true Virginia creeper, often called woodbine in the US is Parthenocissus quinquefolia with leaves composed of five pointed leaflets. This is also to be seen ablaze gracing the walls of buildings but Parthenocissus quinquefolia is at its best grown through a tall tree, draping it in a cascade of scarlet ribbons each autumn. In the wild in its native habitats of the eastern U.S. and Mexico this plant reaches the tops of the loftiest trees. Here in England it is especially at home against the dark green foliage of yew. It will happily scramble across low shrubs or through ground cover and its presence goes unnoticed until autumn arrives.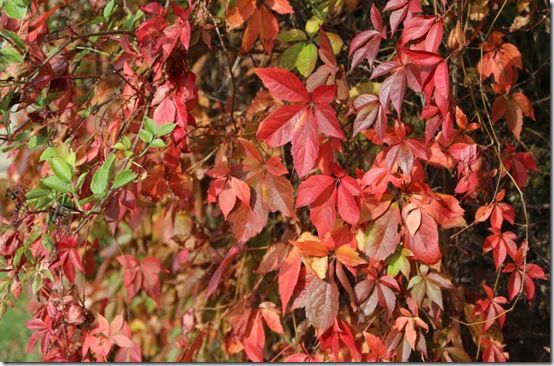 To add to the confusion between the two climbers the juvenile leaves of Virginia creeper are different from the adult foliage. The leaves of young plants are entire and maple-like; the larger leaves divided into five leaflets develop as the plant matures. This often leads to suspicion that a plant is Boston ivy when first planted, rather than Virginia creeper which shows its true colours as it matures. If planting a new one its best to be patient before you jump to the wrong conclusion.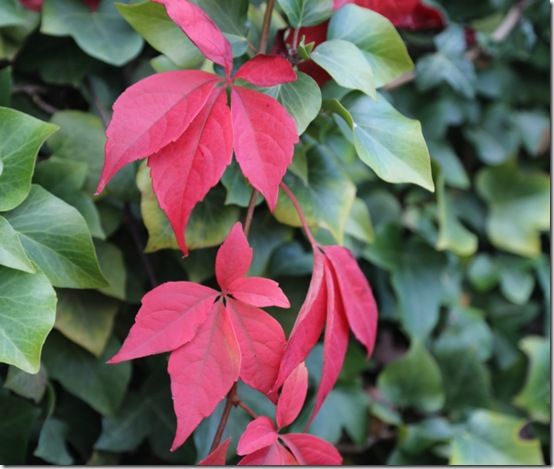 Parthenocissus henryaa, silver-vein creeper, is a less vigorous and very beautiful species that is eye catching throughout the year. It has smaller foliage than other species; velvety dark-green leaves divided into three to five leaflets. These are sometimes quite bronze in colour, especially when young. They have beautiful silver veins which are even more defined when the plant grows in shade. As with the other species the leaves turn rich red in autumn. Parthenocissus henryana is however much happier growing against a wall, rather than through other plants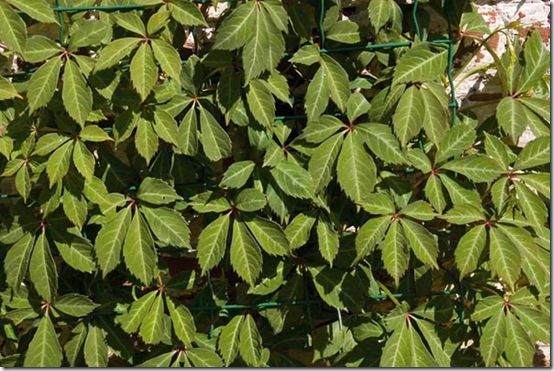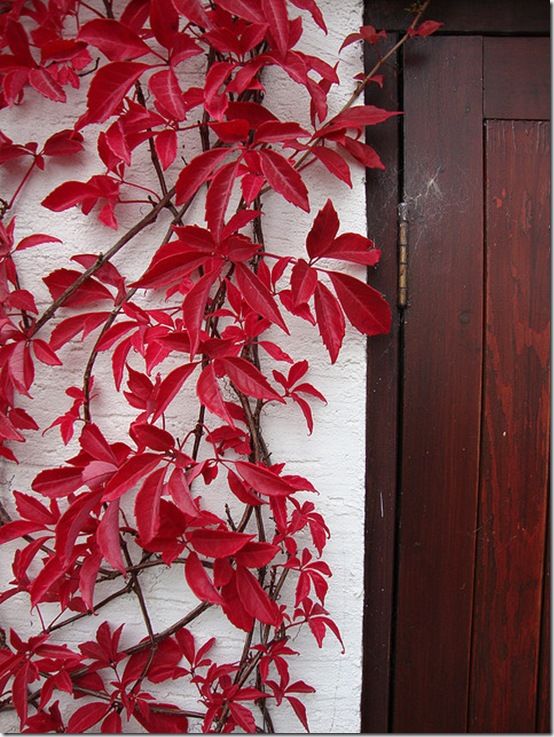 All three parthenocissus are eventually self-clinging to walls and fences. However they do appreciate some help when they are first planted. Wall nails or vine eyes can be used for this purpose.
Vitis coignettiae is the largest growing vine there is for our gardens. I have written about it recently but make no apologies for extolling its virtues once again. Huge architectural leaves are carried on stout stems that bravely scale the tallest wall or pergola. This magnificent vine will romp into tall trees and can be quite smothering in its enthusiasm. The leaves are deep green all year; textured and veined. Tints of amber develop in late summer then richest ochre, orange and russet as fall progresses. At my last house it scaled two storeys and then scrambled over the roof. At Sandhill farm it scrambles through large shrubs and over a berry-laden sorbus.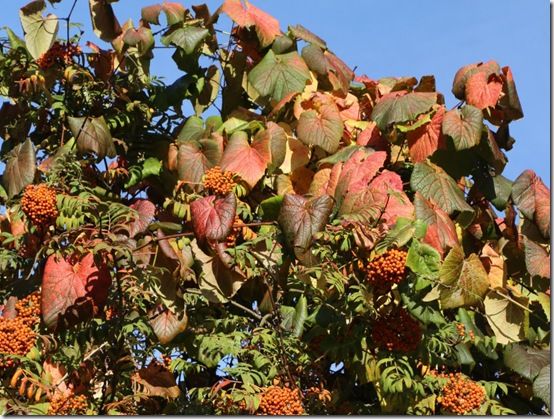 As with all vines I prune to restrict its size and this must be done before midwinter. Leave pruning too late into early spring and the plant will bleed, possibly fatally. Few gardeners ever believe how much sap can pour from the plant if it cut when the sap has started to rise. The long woody stems are flexible and can be twisted into a natural wreath. With the addition of a trail or two of hedera and some holly or cotoneaster berries it will make a lovely seasonal door decoration.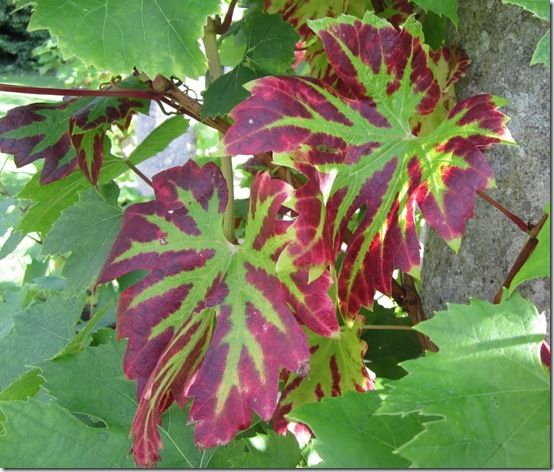 Some forms of Vitis vinifera, the wine grape are highly ornamental and produce good autumn colour. Vitis 'Brandt' is hardy and easy to grow and will produce bunches of dark purple-black grapes that are sweet, when ripe. They are not the most deliciously succulent fruit, but ornamental and suitable for the home wine enthusiast. The autumn colour is rich and warm: purples, reds and orange. Another ornamental grape worth looking out for is Vitis 'Claret Cloak'. The young leaves of this cultivar are rich coppery purple turning green as they mature. The autumn colour is a spectacular cocktail of vivid scarlet and crimson.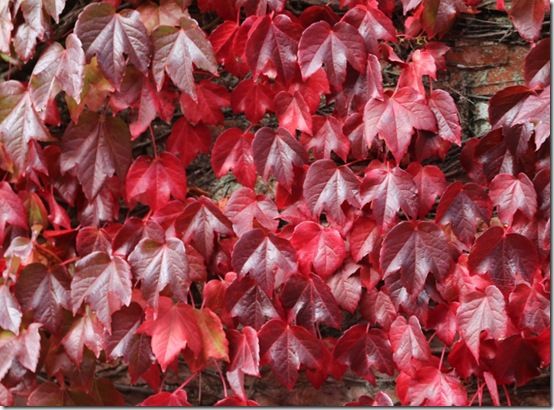 Vitis vinifera 'Purpurea' is the purple-leaved vine. This has small velvety grey-purple leaves in sun. Small bunches of dark grapes appear in autumn. A slow plant to establish it is worth patience and is a lovely choice for a sunny wall where it makes a superb backdrop for silver foliage plants and lavender and will create a soft Mediterranean effect. It also combines well with pink and purple clematis if the two are grown together. It holds its sophisticated colour into fall. Tthere is no better planting partner for this vine than the wonderful Nerine bowdenii. The shocking pink of this beautiful autumn bulb is such a surprise as the days shorten and become cooler. Nerines like a sunny, well-drained spot: the base of a south or west-facing wall is ideal. Plant bulbs with their necks above ground and be patient. It may take a year or two for them to establish and flower well.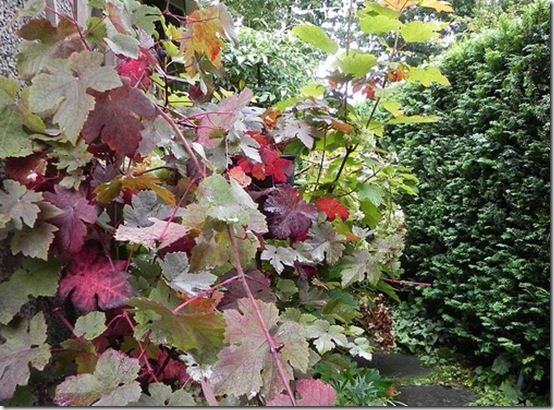 Stay updated
Receive free updates by email including special offers and new courses.