Crossing Continents: a muliti-cultural society of plants in a garden
By Andy McIndoe •
RHS Chelsea Flower Show 2015 has been a fantastic experience as ever. This was my 25th year of designing and coordinating the Hillier exhibit in The Great Pavilion at the heart of the show. Bringing together 4000 plants in the largest exhibit in the show is an inspiring and creative process. I don't work with a planting plan: I allow the plants to take the lead with their great variety of shape, colour and texture.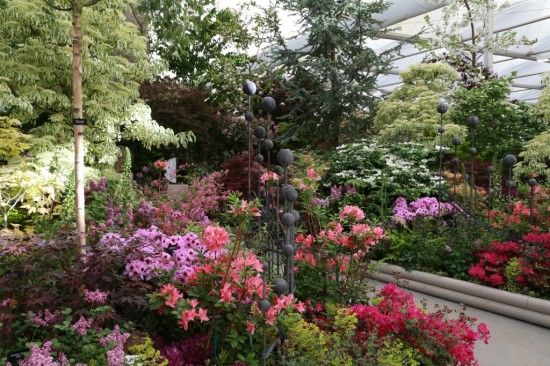 Through this year's theme, Crossing Continents, I wanted to highlight how plants come from all over the world to make up the palette of plants we work with. Often those that we regard as familiar garden favourites are long term residents, rather than native. A garden is a cosmopolitan society, a melting pot from all five continents. I find it fascinating that however long a plant has been grown in a garden it's appearance often harks back to its roots, wherever in the world they are.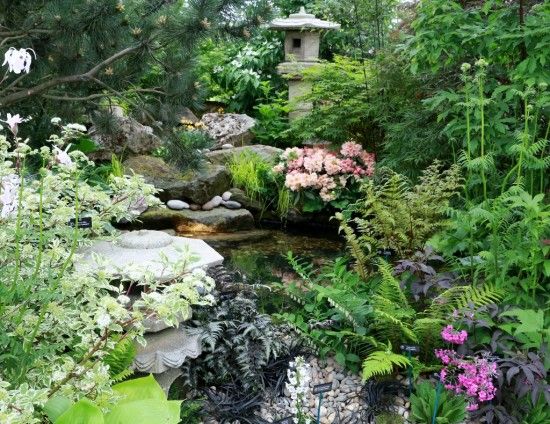 The Japanese maples may disclose their origin through their name, however there is more to it than that. Even a young Acer palmatum has a maturity and presence that evokes the illusion of age and space in a Japanese garden. They associate wonderfully with stones, water and rocks and are ideal for small gardens and pots. In the open ground they add delicate foliage interest that changes with the seasons. I like to see them under planted with low ground cover to show off their branch framework and form.

The lovely Acer palmatum 'Red Wine' has small leaves flushed with copper red, particularly at the tips of the shoots. It is small in stature and perfect for a pot. Contrary to popular belief Acer palmatum does not need acid soil. It will grow happily in neutral to acid conditions. It dislikes dry conditions which cause browning at the tips of the leaves and can be damaged by cold winds early in the year.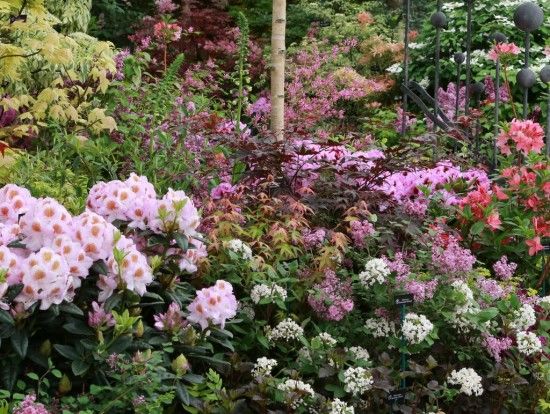 Rhododendrons hail from Asia and associate beautifully with the Japanese maples. To get the look I might use one of the large flowered, compact hardy hybrids to add solid, dark green form and a seasonal highlight of exotic blossoms. I would lighten it with the foliage of the maple. Acer palmatum 'Red Wine' picks up the copper flare in the flower of Rhododendron 'Mrs T H Lowinsky'

America has so many climatic zones and offers so many ornamental plants that have found their way into gardens throughout the world. The evergreen forms of ceanothus, the Californian lilac is one of my favourites the sapphire blue flowers light up gardens around the time of RHS Chelsea. For a warm, sheltered situation Few other shrubs produce such an eye catching display.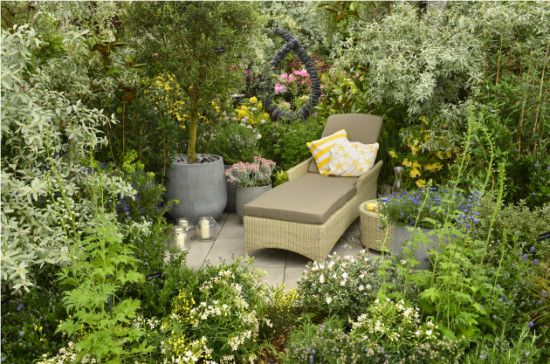 The Mexican orange blossom, Choisya ternata has become one of the most widely planted evergreen shrubs throughout Europe. The hybrid Choisya x dewitteana 'Aztec Pearl' was raised at Hillier Nurseries and made its debut at Chelsea nearly thirty years ago. It is lighter in habit with narrow leaflets and sparkling white flowers. The Californian tree anemone, Carpenteria californica and Magnolia grandiflora are too more familiar garden plants that hail from the Southern States,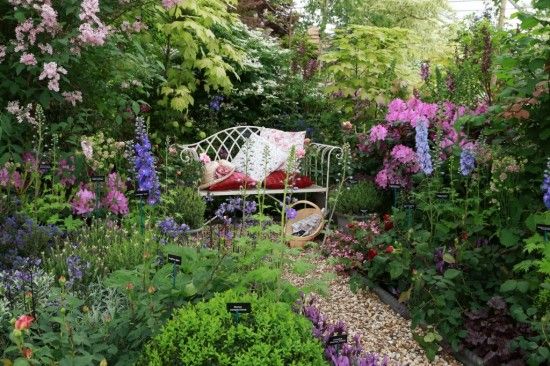 An English country garden with a pretty seat and gravel pathway edged with box and flanked with boxwood balls represents Europe. Roses, lavender, delphiniums, aquilegias and lilac are all plants that we associate with the English garden; although few native. Common box, Buxus sempervirens was probably introduced by the Romans, lavender is from Southern Europe and North Africa. Garden roses are a blend of species from all over the world.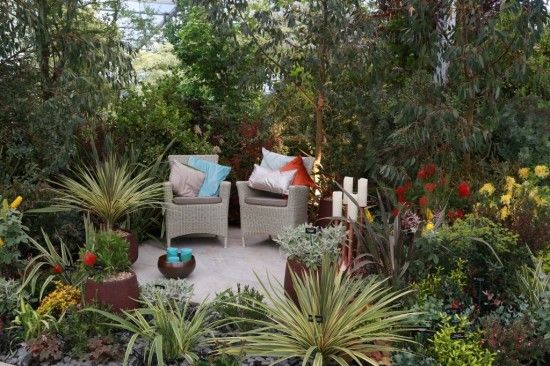 Many Australasian plants are widespread in gardens throughout the world. The eucalyptus is one of the most familiar evergreen trees in temperate and Mediterranean climates. They say there are so many species of acacia, wattle, that there is one in flower somewhere on every day of the year. Phormiums and cordylines are spiky architectural subjects, popular for pots and containers and for coastal gardens in milder zones. The New Zealand Ti Tree, leptospermum is light and feathery with small jewel-I've flowers that provide the nectar that becomes Manuka honey. Brought together these plants create a surprisingly retrained and pleasing palette, brought to life with the addition of Callistemon, scarlet bottle brush blooms.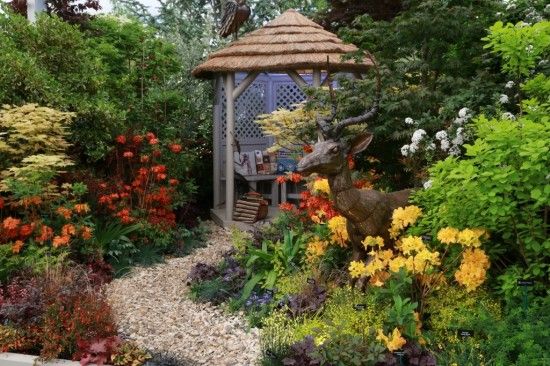 Like America, Africa has many climatic climates and it's difficult to feature many plants that are hardy in our gardens at a spring flower show. However the look is easier to create using hot colours and African animal sculptures to help to tell the story. I set the thatched gazebo, accessorised with animal cushions and African baskets against a large Cedrus atlantica 'Glauca' from the high Atlas Mountains. Blue Agapanthus 'Charlotte' and the pineapple scented yellow flowers of Argyrocytisus battandieri, the Moroccan broom added colour at the front of the garden. Melianthus major, one of my favourite architectural plants with wonderful blue-green leaves added foliage interest.

Her Majesty the Queen visited on Monday evening, always a highlight of exhibiting at the RHS Chelsea Flower Show. She showed great interest in the theme of the exhibit and congratulated us on the display around the Monument. We talked about the challenge of putting the garden together and our hopes for the 70th consecutive Gold Medal for Hillier Nurseries.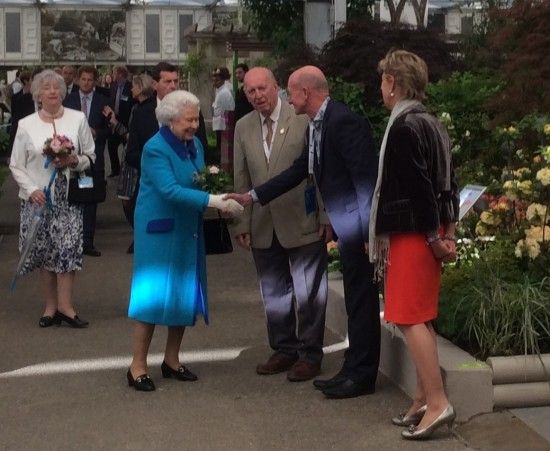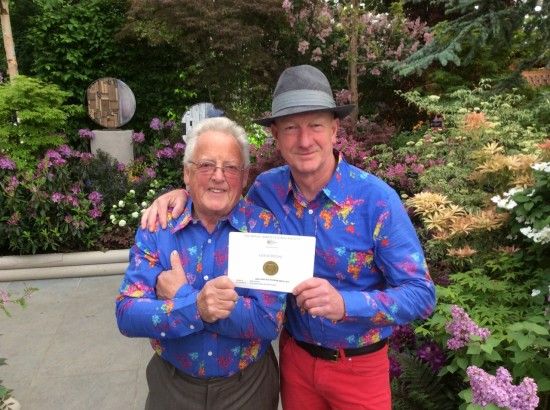 Tuesday morning brought delight and relief. It always seems like you've reached your goal when you know the results: but of course it is only the beginning. The gates open soon after and the Show really begins as the visitors arrive. Their reaction, interest and enthusiasm makes the effort all worth while and reinforces our belief in the power of plants and gardening. Whether it is cold or wet, hot or windy nothing can dampen the enthusiasm or dull the smiles of delight. Chelsea is an International show with visitors from all over the world: a global audience amidst a world of plants; truly crossing continents.

 
Stay updated
Receive free updates by email including special offers and new courses.