Cutting back perennials  – hostas, geraniums, alchemilla and prairie flowers

Most gardeners love pruning, a task that can be beneficial or devastating, depending on your approach or the time of year! For the inexperienced gardener herbaceous perennials present less opportunity for a permanently damaging cut, as the underground part of the plant will generate new stems next season.  Early autumn is an obvious time for cutting back perennials as the summer growth starts to lack lustre, and in some cases does little for the overall appearance of the garden.

 

 






Cutting Back Perennials




VIEW SLIDE SHOW
DOWNLOAD ALL




 






 

 

Cutting Back Perennials – Hostas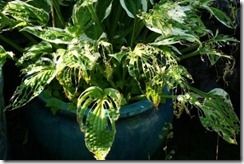 Those herbaceous perennials with soft, non persistent stems and leaves, such as hostas, are easy to deal with. They quickly collapse at the first frost, and leaves and stems fall into decay. After a plague of slugs and snails the leaves of my hostas are already displaying a filigree effect and I won't be sorry to see the back of them. Tidy gardeners remove the leaf waste of hostas and commit it to the compost heap.  This can be done at any time between late autumn and early spring.

 

 

 

The Beauty of Seedheads

Some herbaceous perennials have persistent stems and seedheads. Although dead, and usually devoid of their deciduous leaves the stems and seedheads stand proud in the winter garden.  They are a feature in the border, especially when etched with frost on winter mornings; many are appreciated by birds that search out their ripe seeds.  Prairie flowers such as rudbeckia and echinacea for example retain straight stems with cone shaped seedheads, particularly attractive against the fine waving leaves of parchment winter grasses.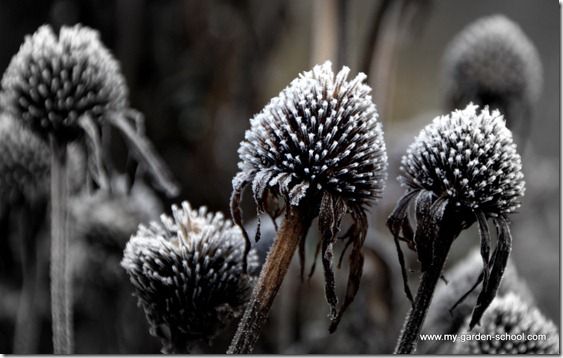 Sedum spectabile retains its drying fleshy stems and dark purple-pink fading flowers that simply become more sophisticated as they turn to chestnut. The impatient, over tidy gardener will miss these delights if the secateurs come out before late winter.

Alchemilla mollis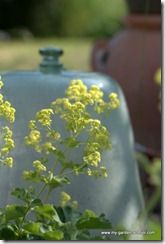 Most gardeners bemoan the spreading antics of Alchemilla mollis. The secret of success is the shear the plants back as the lime green flowers start to turn mustard yellow.  They will soon produce new foliage and a few late flowers.  If you haven't done so already I would cut back now. There is still time for new foliage to emerge before winter.

Cutting Back Perennials

Cutting back perennials before autumn is not always the right thing to do, some display wonderful colour if their foliage is left alone.  Euphorbia griffithii 'Fireglow' is a good example. After its spectacular spring display of glowing bracts 'Fireglow' can become a rather untidy mass of stems and narrow green leaves. The temptation may be to cut it back at this point but this will sacrifice a superb display of orange and red autumn shades that lasts for several weeks.

 

Geraniums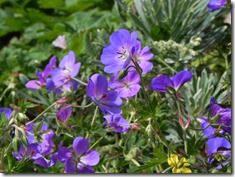 Cutting back perennials that fade earlier, especially herbaceous geraniums has usually happened in my garden by now. A few geraniums produce some autumn colour but most just flop and look untidy.  If new leaves are emerging in the heart of the geraniums leave them intact and cut back the longer flowerstems.  If not chop the plants back as I've recommended for the alchemilla.  Geranium 'Rozanne', also known as 'Jolly Bee' is still blooming profusely.  This is an excellent plant but it can be a rather enthusiastic grower.  I have cut some of the longest growth back during the course of the year and the plants are better for it. I intend to be more ruthless with this and other geraniums next year to prevent neighbouring plants from being swamped.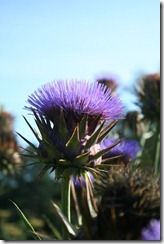 Cynara cardunculus, the artichoke is a magnificent and statuesque plant, declining after the flowers have produced their mauve thistle-like stamens in late summer.  A short time after if the plant is cut to ground level at that point, new silver leaves emerge that will remain on the plant throughout the winter surviving all but the most severe weather.

So what do you do about cutting back perennials to keep the garden looking good over winter?  Share your knowledge – let's hear your tips and advice……
Stay updated
Receive free updates by email including special offers and new courses.