Cutting back perennials and pruning shrubs in midsummer
By Andy McIndoe •
Once the flush of early summer has passed it is time to cut back to encourage new growth and possibly further flowers, if not for this season then in preparation for next. In some cases I'm trimming before flowers have faded, to keep plants in shape and performing as I want them to. Beds and borders are billowing, so often the removal of some of the growth is barely visible.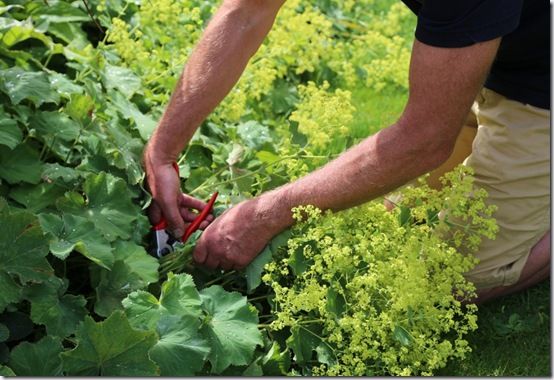 In some cases low growing perennials are encroaching onto the grass making mowing difficult. Alchemilla mollis, Lady's mantle is a good example. I love its soft leaves and frothy green flowers which mix so well with other flowers and foliage. I try to plant it far enough back in the border to keep it in the planting area, but some always escapes onto the lawn. Cutting back early enough means it soon produces new growth and a few more flowers later in the season. I'll give all the alchemilla a more drastic chop in about a month to remove the fading flowers and prevent seeding. If you let it seed it can become invasive and the colour turns to a less attractive shade of mustard later in the year.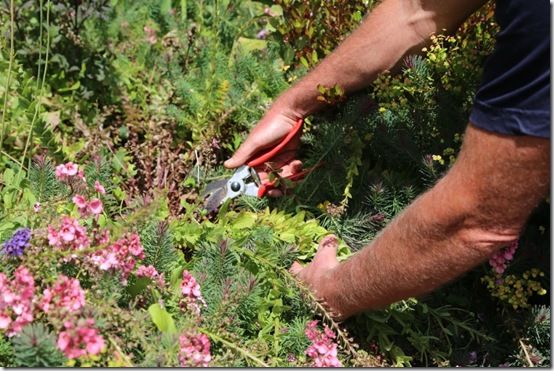 I cut Diascia rigescens before the final flowers fade, because it becomes very straggly and loses impact if you leave it. I did the same last year and it produced strong new shoots and more flowers later. It is really important to give plants like this a thorough watering and a general purpose fertiliser after cutting back to encourage new growth.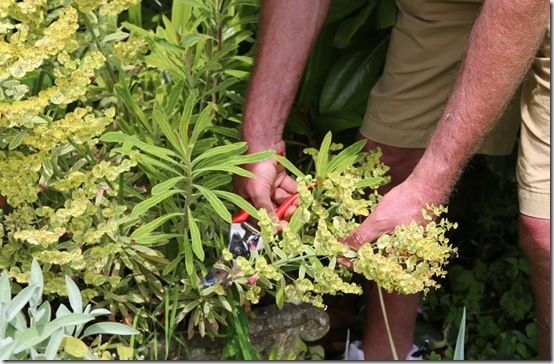 Euphorbias are already producing new growth from the woody base of the plants. By midsummer the flowers or bracts are looking tired and sometimes showing signs of mildew. Now is the time to cut out the flowered shoots and allow the new growth to develop. Be careful when cutting euphorbia; the milky sap is irritant and burns the skin. Wear gloves, or just handle carefully. Here I am cutting out the flowered stems of Euphorbia 'Ascot Rainbow'. This plant has been really superb since it was planted last autumn and already the new leafy stems are well advanced.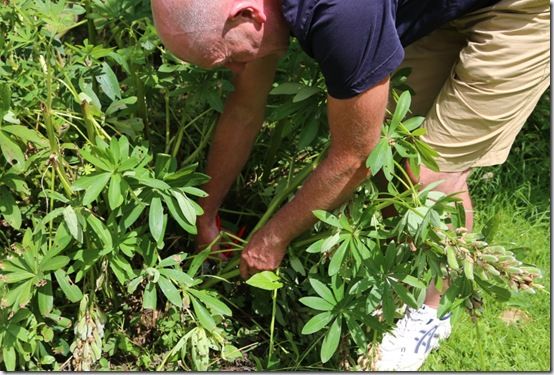 My lupins have been excellent this year. I always cut off the first flower on each stem as soon as it starts to my fade to encourage the secondary blooms to develop. These have also now gone over so it is time for a more drastic cut back, right to soil level; then a good clean up of any dead foliage. New shoots are starting to emerge and with a good feed and water there might be some late blooms, at least there should be some good looking new leaves to fill the gap in the border for the rest of the season.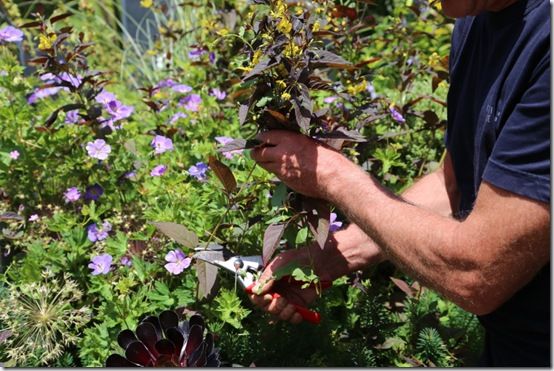 Lysimachia 'Firecracker' is rather an invasive perennial which runs around the beds. I love it for its red- brown leaves that add colour from mid spring. By now the foliage is paler and the plants are producing small yellow flowers, the stems are also floppy and unruly. I cut back to around 20cm, 8" and it then reshoots and the stems stand upright.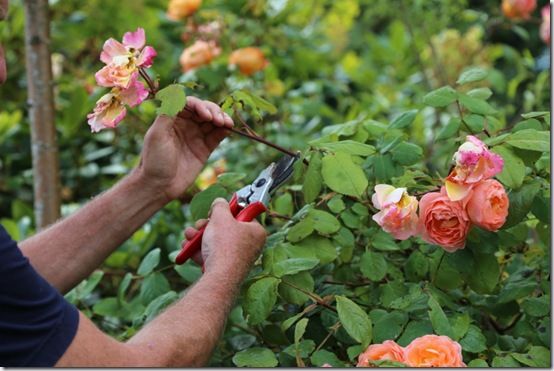 Of course now is the time to dead-head and reboot the roses. It is important to cut back to two or three leaf buds behind the faded flowers; often you can see a nice fat growth bud waiting to grow. If you just remove the flower head they are often reluctant to produce new flowering shoots. Get rid of any diseased leaves at the same time. Now apply a generous helping of rose food and water thoroughly. This is the most important step you can take to keep the plants disease free and encourage a good second crop of flowers.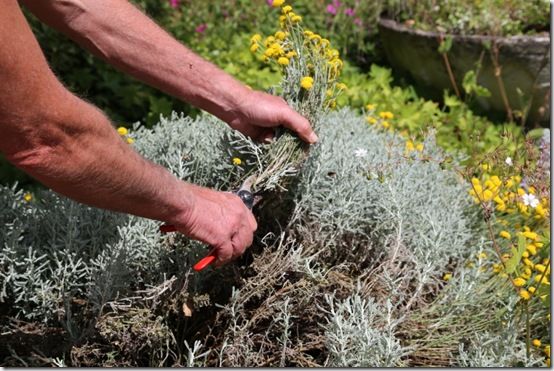 Santolina and helichrysum are blooming beautifully. Most have rather strong yellow flowers which are not a feature of great beauty. It's a good moment to cut them back to encourage plenty of new silver growth. If the flowers are left on the plants they often flop, look unsightly and detract from the appearance of the foliage. Cut back to just below the flower stems and don't be afraid to cut a little more drastically on older plants. As a good guide, cut back to wherever you can see tiny new shoots emerging on the branches.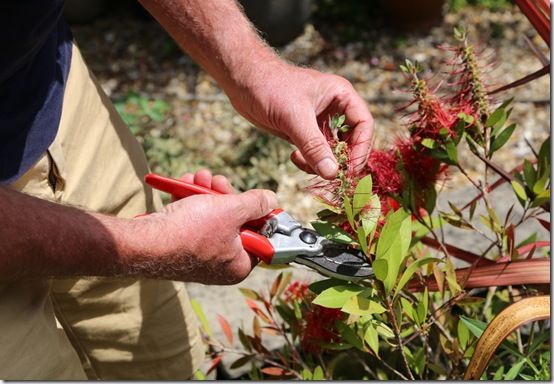 Callistemon, the bottlebrush, in a pot on my patio has flowered well and still is producing blooms. As the flowers fade I cut back to behind the flower heads. This means those nutty brown seed heads never develop and the plant stays compact and bushy. If you leave Callistemon to its own devices it becomes leggy, lax and sprawling.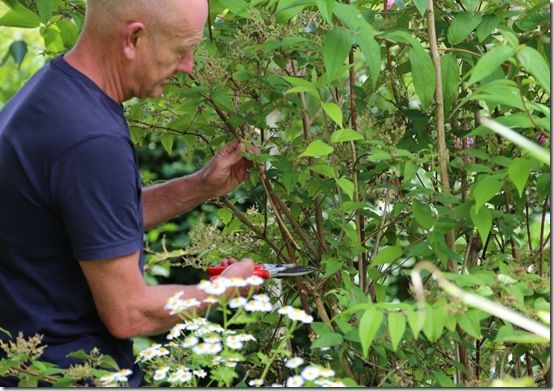 Probably the most important task to ensure a peak flowering performance next season is to tackle pruning those early flowering shrubs, including deutzia, philadelphus and weigela. Now is the time to cut back some of the shoots that have flowered to encourage those new shoots that are already emerging lower down on the plants. The great thing about these shrubs is that they tell you where to cut. The new growth that will bloom next year starts to grow early, so those shoots are the ones to keep and encourage. You do not have to cut out all of the flowered shoots, just look at the plant and remove the oldest and any which are not enhancing the shape of the shrub. Then feed, water and leave them alone. Resist any temptation to tidy up the ends of the shoots later in the year: your shrubs will be much more attractive if you retain and encourage their naturally graceful, arching habit.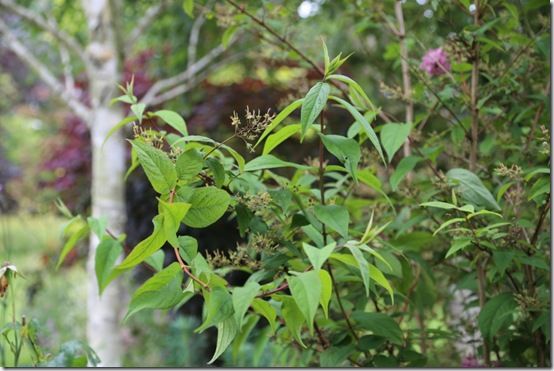 I've also cut out the flowered stems of my phormiums. Although these can still be architectural and attractive as the long slender seed pods develop I think the plants look better in mixed planting without the old stems. Somehow removing them makes the border less like the season is over.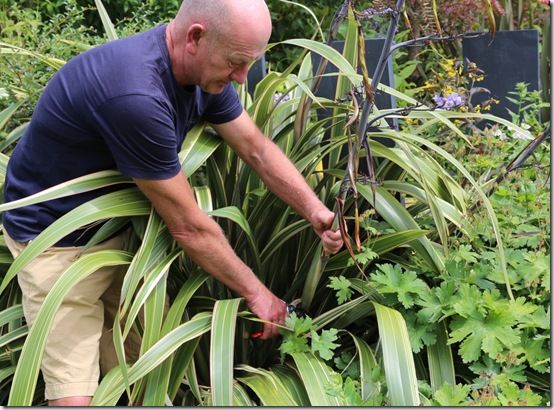 Stay inspired
Get FREE Gardening tips and ideas from our experts in your inbox.