Christmas Decorating Ideas With Poinsettias
By Andy McIndoe •
Primping the Poinsettia

The poinsettia is surely the ultimate floral symbol of Christmas. Its vibrant star-shaped head of leaf-like bracts, most commonly a flaming red, have made the poinsettia a Christmas tradition since the early 16th century. The poinsettia is a classic, and with a little imagination and creative flair you can create designs to ensure the Euphorbia pulcherrima lives up to its literal translation: "very beautiful".

A job for the experts

The poinsettia growing season starts in the summer months with the first finished plants rolling off the nursery beds in late fall. Bringing a poinsettia into flower is no mean feat and is best left to the experts! Poinsettia like a nice warm cosy temperature of 16-20C (61-68F), strictly controlled 12 hour periods of total darkness and a well managed watering system to perform at its best and bring out its colour. Growers even claim that they can tell the temperature a plant has been grown at by the size of the bracts and the flowering leaves.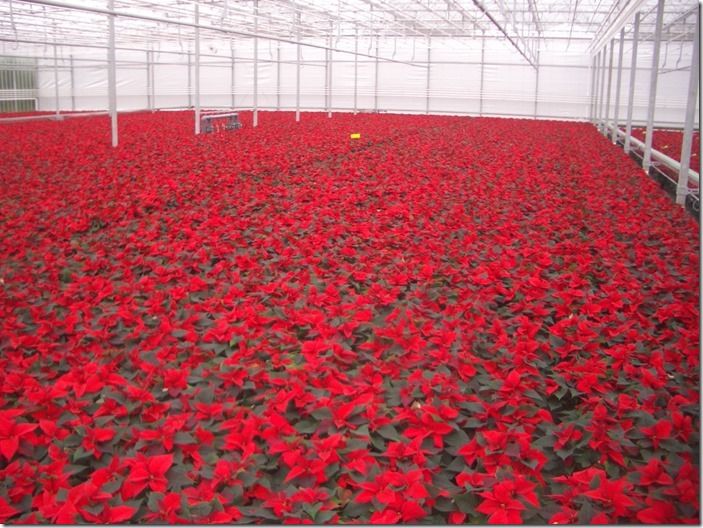 Design Inspiration

Every year, the EU's Stars for Europe campaign reveals new and exciting ways to show the versatility of poinsettia in decorating the festive home or as gifts. Poinsettias come in one or two litre pots as standard but you can also find them as column grown plants up to 2 metres tall. Or, at the opposite end of the spectrum, as miniature Tiny Tots in cute 5cm pots. Wrapped simply in red felt and arranged on a cake stand with ribbons and ruby-red cranberries, these little gems make a fun centerpiece for the Christmas table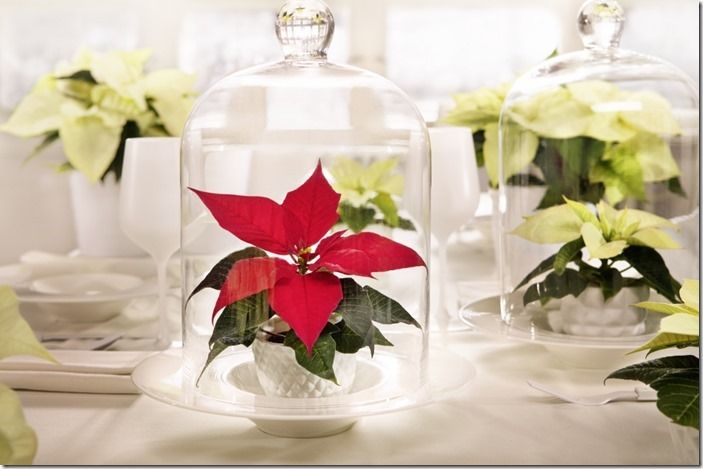 A standard poinsettia in a simple white pot becomes an object of beauty under a collector's bell jar on the Christmas table, or lined up three in a row in star-adorned pots on the sideboard or even inverted in dramatic sky-planters suspended from the ceiling:





Whilst poinsettia are traditionally associated with the colour red, you can find literally dozens of varieties in good garden centres, florists and departments stores in shades of white, pink and salmon-pink or red with a marbled or spotted effect. These lend themselves to all manner of creative Christmas colour schemes from the subtle to the dramatic.

This elegant silver urn, for example displays a messed grouping of planted white poinsettias to perfection, creating a fresh modern twist on the classic poinsettia arrangement.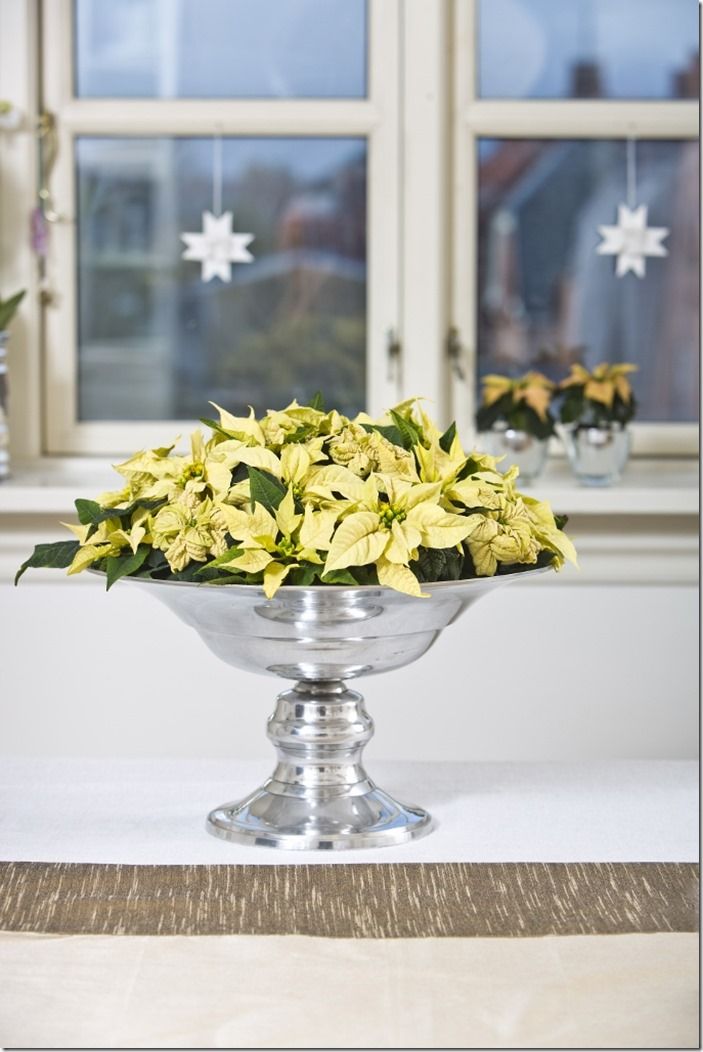 A little madcap playfulness is thrown into the mix here with pink poinsettia seemingly bursting out of a wooden cabinet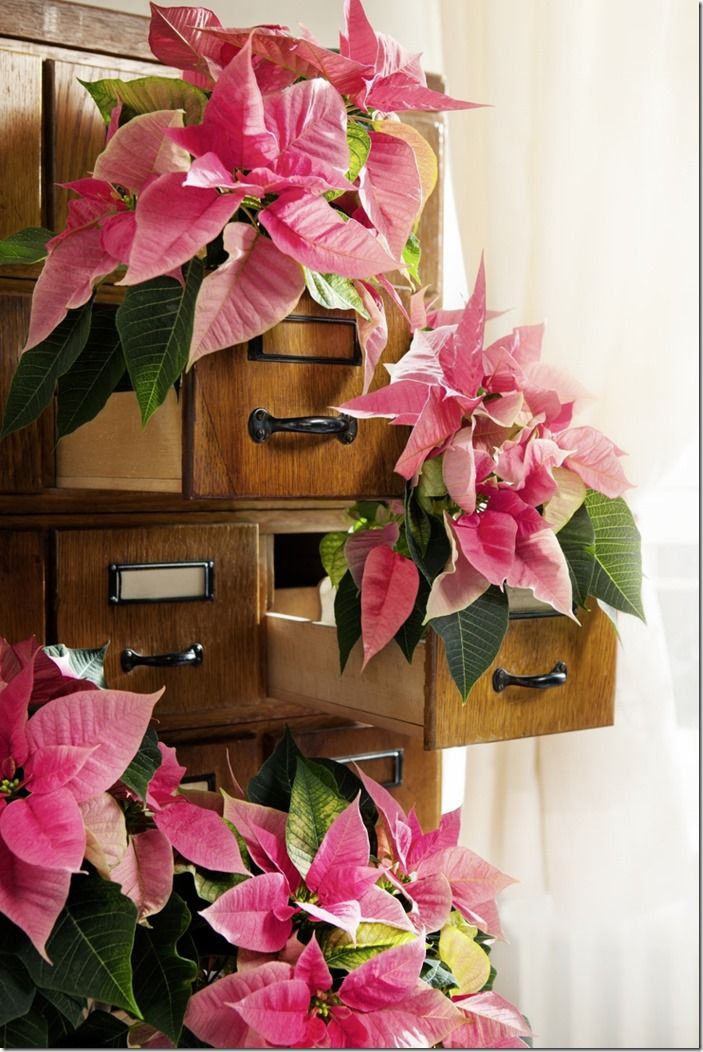 Your step-by-step guide to making a Chair Back poinsettia design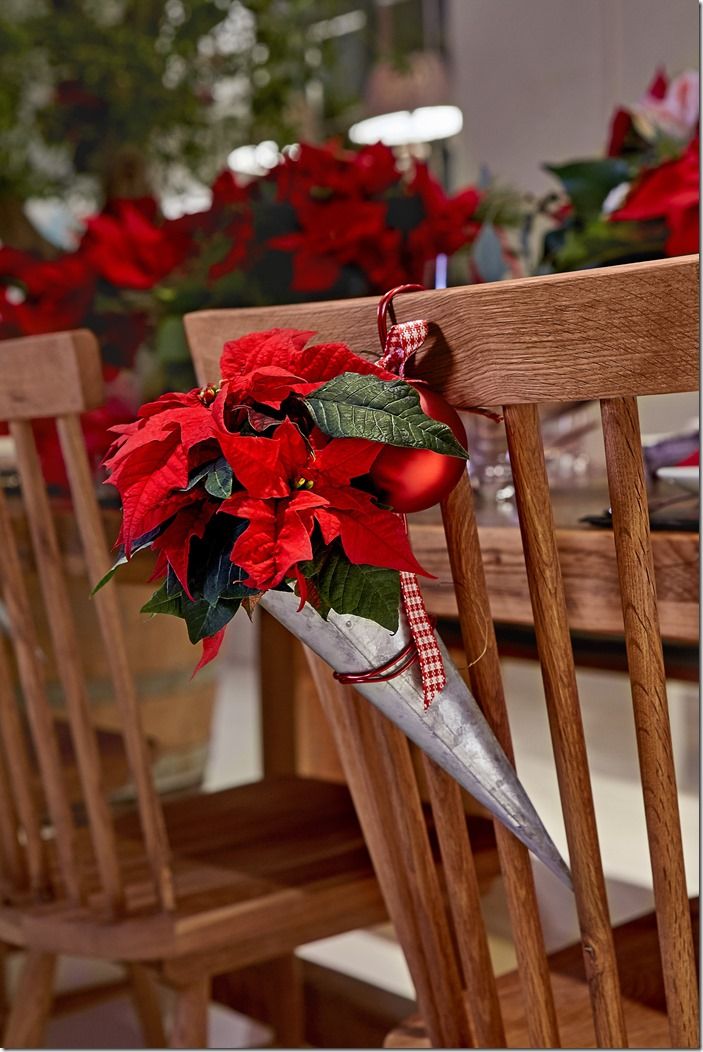 Fancy trying your hand at designing with poinsettias? This chair back design is deliciously simple to make and will start you on the creative path with poinsettia!

You will need;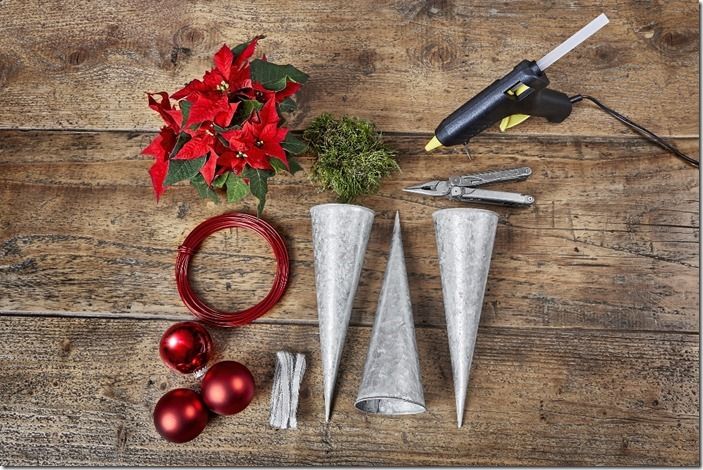 · A Tiny Tot poinsettia

· A little clump of sphagnum moss

· A galvanized metal cone

· A real of wire

· A pair of pliers

· A glue gun

· Some silver ribbon

· And some baubles

Step one:

Take your poinsettia out of its plastic pot, top dress it with moss and place it gently into the metal cone.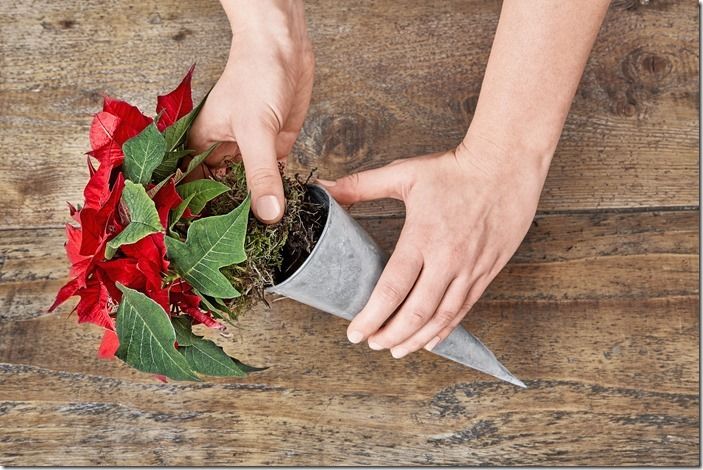 Step Two:

Wind one half of the wire to wrap around the body of the cone and attach the baubles to the wire using the ribbon and tie a bow.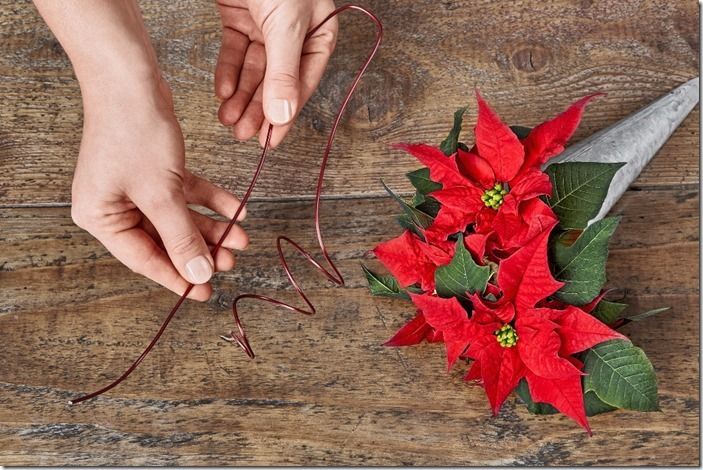 Step Three:

Double over the remaining half of the wire to form an arch shape and hoop it over the back of the chair.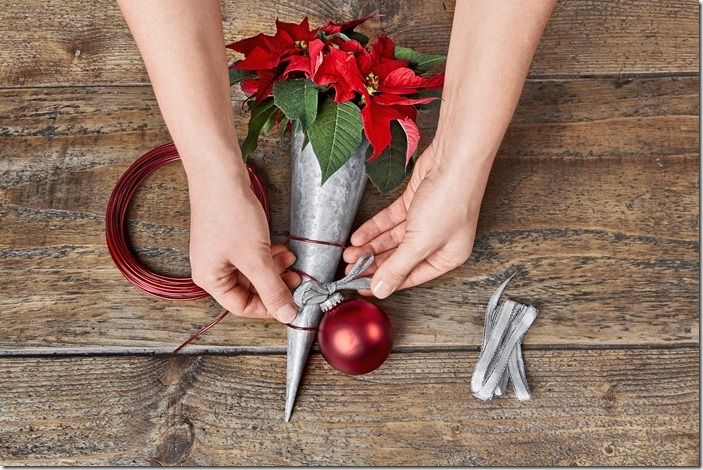 And that's all there is to it!

Two essential tips to Christmas Star in sparkling health!

 

1. Keep your poinsettia warm and out of drafts at all times. 14-18C (57-64F) Cold temperatures and drafts make poinsettias drop their leaves from the bottom up.

2. Water your poinsettia enough to wet the soil but do not let the roots sit in water as they will rot. Allow the plant to dry out between waterings.

Check out more poinsettia primping ideas at www.christmas-star.info

Watch out for our next blog on Poinsettia, but next time as cut flowers…
Stay updated
Receive free updates by email including special offers and new courses.