Devon; Damien Hirst, Verity, Glorious Gardens and Tree Hugging
By Andy McIndoe •
I timed my trip to the West of England perfectly. Despite recent heavy rain and storms I picked two glorious days of mellow autumn sunshine, fall foliage colour at its peak and Damien Hirst's Verity in position in Ilfracombe harbour.  The reason for my visit: I was invited to speak at West Downs Gardening Club on spring flowering bulbs: a subject close to my heart as you know.  On the way down I managed a late afternoon walk in the sunshine on the beach at Combe Martin: Damien Hirst's home.  I had forgotten just how beautifully rugged that North Devon coastline is, and just how unspoilt and quiet it is for the visitor coming from the central south.
I had a wonderful evening with the Devon Gardeners, sharing our knowledge and enjoying some fantastic home-made cakes. Great British Bakeoff, eat your heart out! I judged their competition: an arrangement of autumn leaves and berries.  There were many superb entries, far more that you would see at many gardening club competitions.  Why is it that these remote village communities do it better and really get into the spirit of things?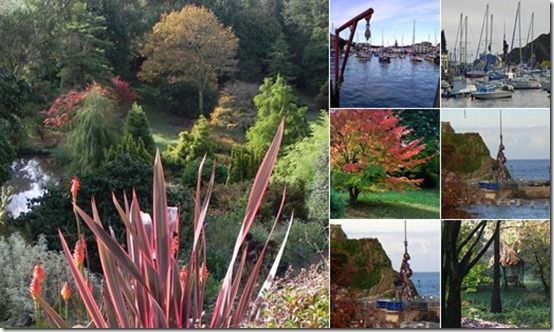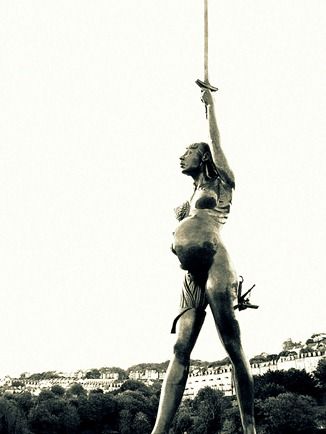 I tore myself away from Verity and the coast with the thought that Damien Hirst's sculpture will breathe new life into Ilfracombe. We will look at this picturesque harbour in a new light because of Verity's presence – just like planting a new tree in the garden picture.
Roger then tempted me with an early walk around Marwood Hill garden, between Ilfracombe and Barnstaple.  I have visited this little piece of paradise before, so took little persuasion.  The garden is the work of the late Dr. Jimmy Smart and is now in the care of plantsman and master gardener Malcolm Pharoah.  It is a plantsman's and a tree hugger's dream and contains many Champion trees. A  Champion tree is the largest recorded specimen of a particular species in any garden in the British Isles.
This garden is a hidden gem and one of Britain's best kept secrets.  The approach down narrow, quiet Devon lanes and the humble entrance give no clue to the treasures that lie within.  The garden is low and wet and contains the National collection of astilbes. But for me it is the birches, parrotias, stewartias, willows, conifers, acers, magnolias and a host of other incredible trees that steal the show.  My favourite part: a grove of birch and eucalyptus grown on a slope bejewelled with cyclamen: almost too beautiful to breathe!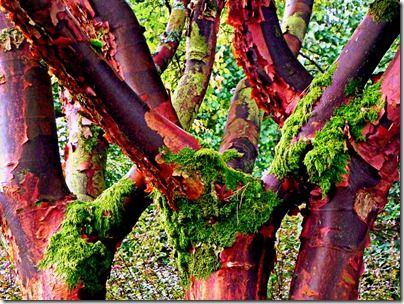 The sight of a glorious Acer griseum with its shining mahogany bark gilded with a little moss recalled the image of Verity standing in the harbour with her arm upstretched. Concentrate on the trees.....  The sight of the shining banded bark of Prunus serrula var. serrulata (a champion tree) recalled the sculptor's details.  Concentrate on the trees............ The focal points created by the changing fall foliage mantle in shades of gold and flame recalled the presence of Verity in the harbour picture.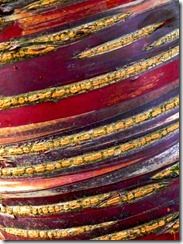 Interestingly Dr Jimmy Smart was a ship's doctor for the six years of World War 2. Three of his ships were respectively mined, torpedoed and bombed. He was awarded the MBE after swimming from raft to raft treating survivors when HMS Hermes was sunk.  When he settles in Devon and created his garden paradise at Marwood Hill life must have seemed suddenly peaceful.  He had vision, like Damien Hirst: as a man of the sea I wonder what he would have thought of Verity?  As I drove on to RHS Rosemoor I came to the conclusion that he would have approved. What do you think?
Visit Marwood Hill only if you really feel beautiful gardens, love trees and have an eye for real natural beauty.  The gardens are wonderfully labelled, there is a great tearoom, and there are plant sales. For details check their website: http://www.marwoodhillgarden.co.uk/index.php
Stay inspired
Get FREE Gardening tips and ideas from our experts in your inbox.