Tulips: Double delights
As you know probably know I have a real passion for tulips, mostly the sleek, simple, single varieties like 'Queen of Night' and 'Ballerina'. However, like any enthusiast for a particular group of plants, my focus has swayed towards other varieties, from the small and delicate species, to some of the most flamboyant and outrageous characters.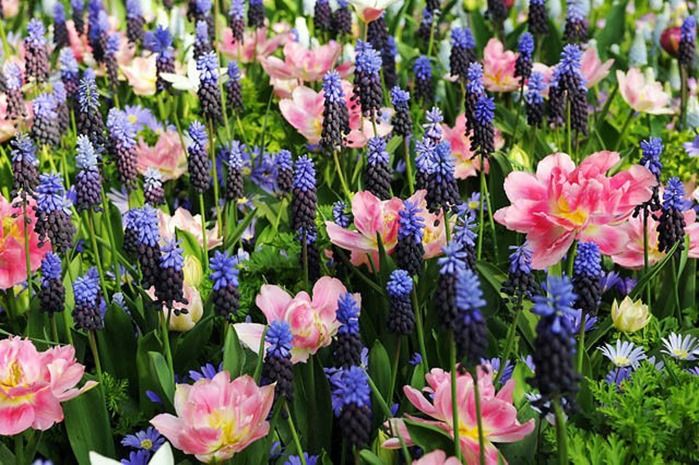 I have never been a great fan of double tulips, apart from the fragrant pink Tulipa 'Peach Blossom' I remember growing as a boy. I always recall loving its rather odd fragrance: somewhat pungent but still interestingly appealing. Since then I've always loved the smell of tulips, even as cut flowers. The double pink 'Peach Blossom', with its pointed tissue paper petals is a great choice for pots, especially when teamed up with blue forget-me-nots. Sorry if you think that pink and blue is a bit of a cliché, you have to admit it's pretty.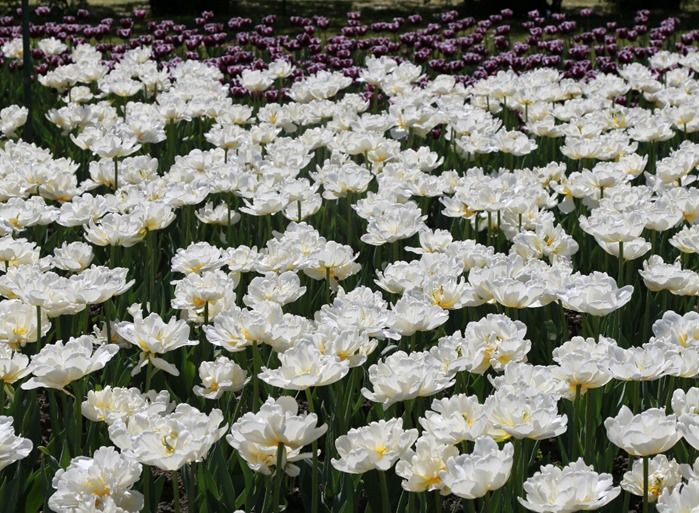 The larger blooming doubles have always struck me as rather fragile; ready to be damaged by wind and rain. However on a visit to Villa Taranto, alongside Lake Maggiore, last spring my opinion changed. The tulip festival here would rival some of the displays at the Keukenhof and we visited in the last few days of the event. Following days of hot sunshine the sensational double flowering 'Blue Diamond' and white 'Mount Tacoma' looked just perfect. While others were flagging and shedding their petals these two showed no signs of stress. I checked them out a couple of weeks later, here at home in our cooler, damper climate and they were equally outstanding; both are definitely on my planting list this autumn.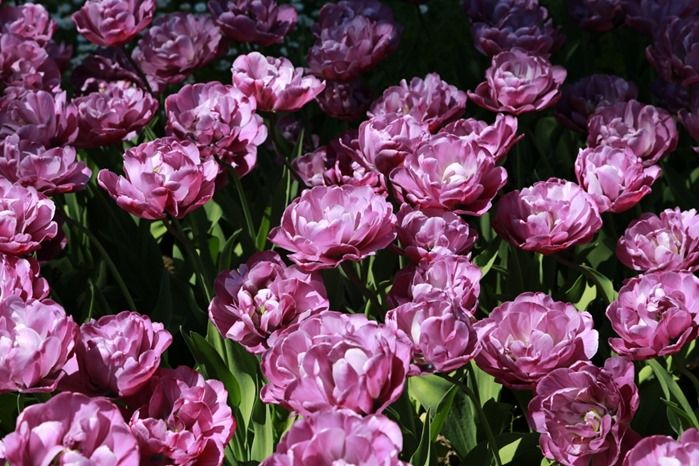 Tulipa 'Blue Diamond' is that lovely vintage shade of lilac, with enough grey to make it the perfect partner for silver foliage or deep purple leaves. I'm planting it with purple sage and the darkest heucheras I can find. I might mix it with purple black 'Queen of Night' to carry those dark shades into the flowering zone. Tulipa 'Mount Tacoma' is ideal in any green and white planting scheme, I think it is at its best against plain evergreen foliage, especially the fresh green of emerging perennials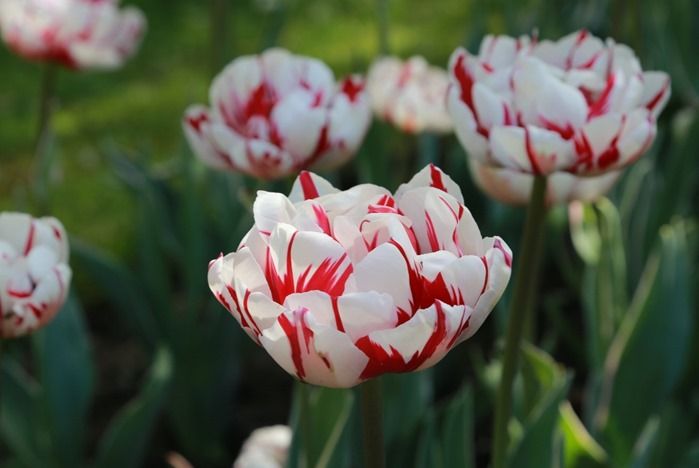 The amazing Tulipa 'Carnaval de Nice' is such an attention grabber, with its double white blooms streaked with crimson-scarlet. They blush a little as they age and open like peonies. As the stems relax they can take on the character of a Rembrandt painting. This may be a tulip you think you hate, then grow to secretly admire.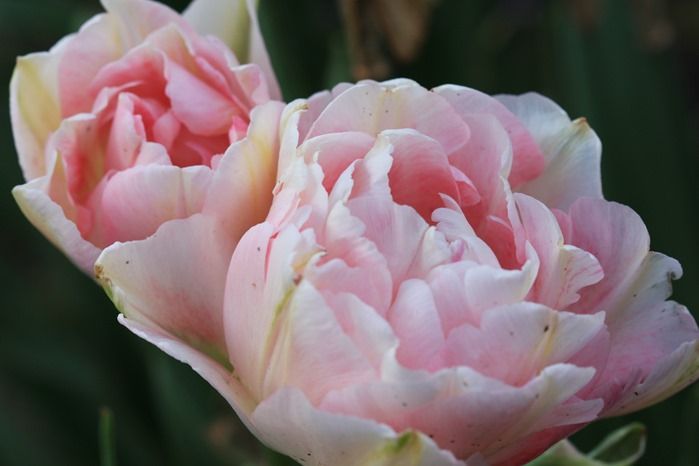 In contrast the lovely tulip Tulipa 'Angelique' is a dreamy double with almost translucent petals of the palest pink, even paler towards the edges. The blooms are full and ruffled and beautiful when used as a cut flower. I first came across this variety in France and grew it every year, before its place in my pots was taken by a new passion. Now I've rediscovered double tulips I may return to it again.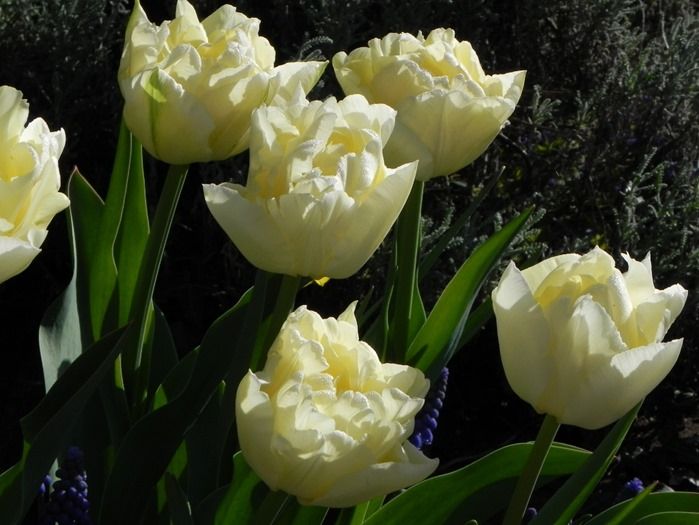 Earlier I mentioned the white Tulipa 'Mount Tacoma', a very rounded bloom with rounded petals. Although its performance was impressive when I saw it in Italy I think I prefer the double white Tulipa 'Cardinal Mindszenty'. I can't help feeling that this one has never become as popular as it could because of its name. I have to check the spelling every time I write about it, and I still can't pronounce it. Nonetheless it is a double tulip of great refinement. Opening cream, with a little green, then opening fully to white with beautiful gently ruffled petals, slightly pointed and elegantly cupped. The flowers last too; it is not too tall and excellent in pots.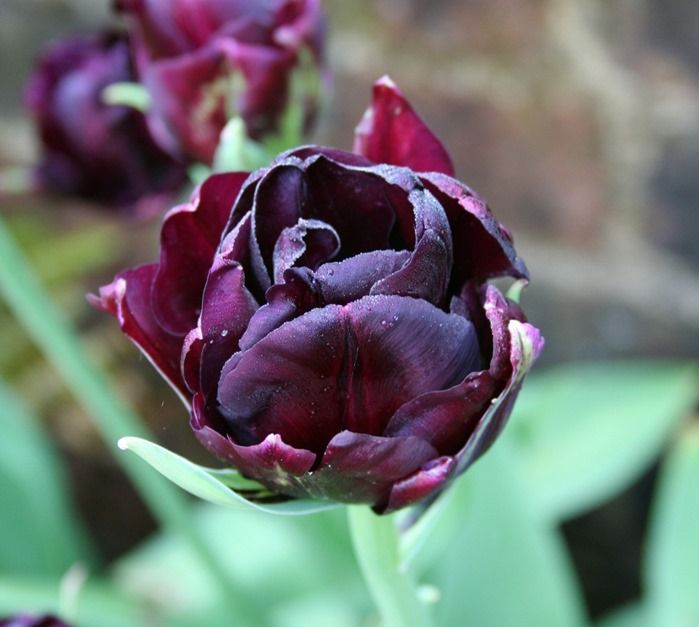 If you like the purple-black flowers of Tulipa 'Queen of Night', you will love Tulipa 'Black Hero'. Just as dark and delicious it has tightly double blooms of the same colour carried on strong stems. The petals are very incurved and the blooms are long lasting, the petals often fading on the stems without falling.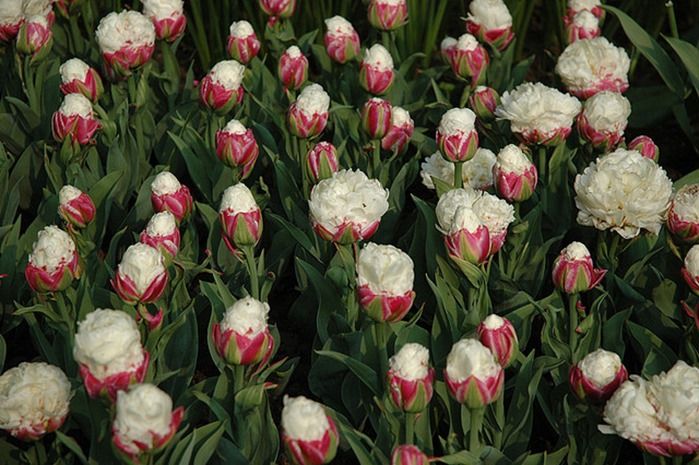 I have to say that the world of double tulips isn't all positive. When Tulipa 'Ice Cream' became available a few years ago the bulbs were frighteningly expensive and supposedly sought after. To me this tulip, with its tight pink petals on the outside and pure white tightly packed point of petals in the centre, looks curiously deformed. I still think it's one of the ugliest flowers I've ever seen and I wouldn't accept it as a gift.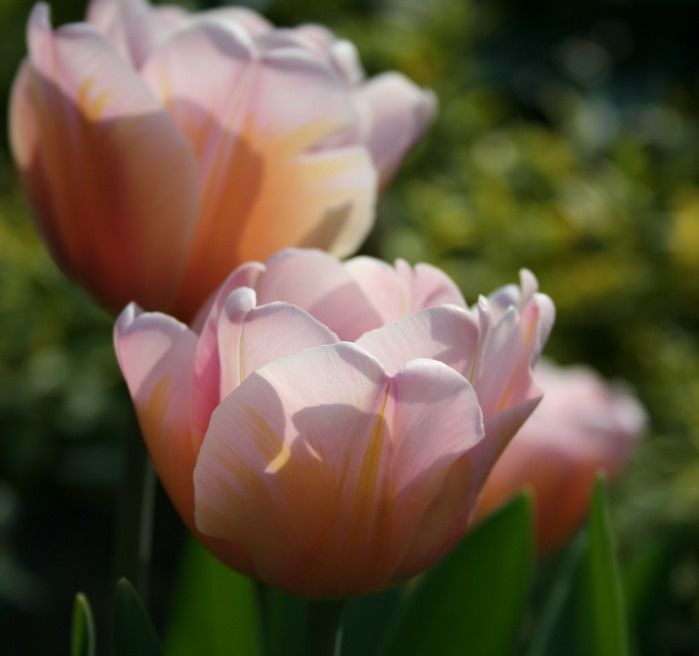 I suppose beauty is in the eye of the beholder. A gardener who was asking my advice about planting in her garden was complaining about the dull "brown" tulips she had inherited. She wondered why they had gone like that and lost all their colour. On investigation it transpired they were the ravishingly beautiful Tulipa 'Belle Epoque'; one of my all-time favourites. I would swap a field of scarlet 'Apeldoorn' for just 10 bulbs of 'Belle Epoque' any day – but that's tulipomania for you.
Top Tip:
Don't plant your tulips too early. Store them in a cool place until late autumn or early winter. Planting too early can lead to disease and frost damage.
Plant with three times the depth of the bulb of soil or compost over them.
They don't usually do well in pots for a second season. To ensure success, start with new bulbs every year.
Further Study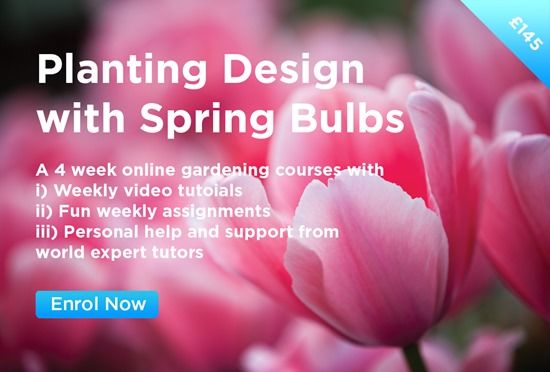 Stay updated
Receive free updates by email including special offers and new courses.