Evergreens for the winter garden: conifers learn to love them
By Andy McIndoe •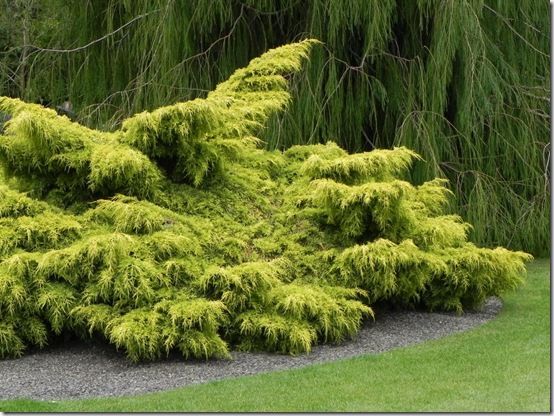 What is it a about conifers that have turned people against them? Why is it they are so "non-u" in British Gardens? How can a group of plants that were recently regarded as essentials for hedging, containers, rockeries and specimen planting become so reviled and rejected? Perhaps it's because in the past we took advantage of their versatility, by using them to hide manhole covers, and to leave them year after year neglected in the middle of plastic Grecian urns on dreary doorsteps.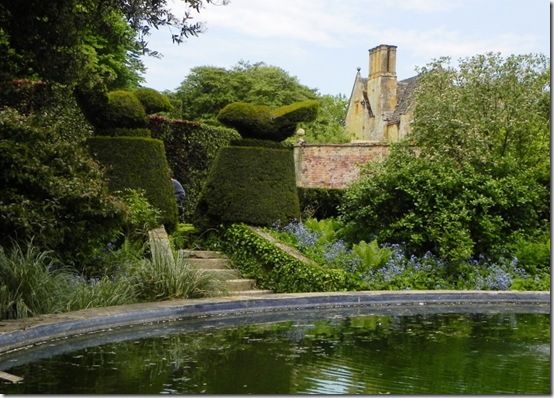 But conifers have long been the mainstay of gardens great and small. Taxus baccata, common yew is the vegetable masonry of our Grand gardens. It forms the structure of mazes, frames vistas, backs grand borders, is clipped into formal living sculptures and divides gardens into formal outdoor rooms. Can you imagine the garden at Hidcote Manor, England without its crazy topiaries and yew hedges?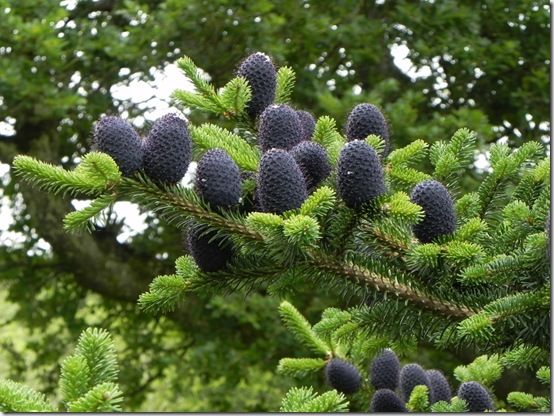 Here in the UK and in milder areas of the Northern Hemisphere we are spoilt for choice when it comes to evergreens for year round interest. In colder climates broad leaved evergreens are not an option and conifers dominate the winter landscape. We still love our Picea abies and Abies nordmanniana, in other words the main species of conifers we drag across the threshold once a year to decorate for the Christmas or Holiday season. But it's just a coat-hanger for lights and bling rather than a beautiful evergreen conifer. Perhaps we have learnt to overlook what conifers can contribute to the garden in winter and as part of the planting throughout the year.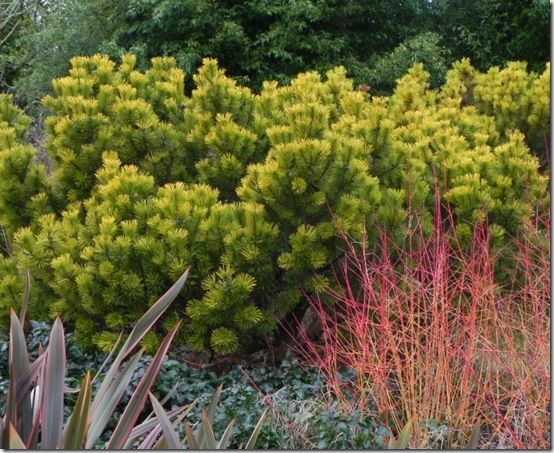 Take Pinus mugo 'Wintergold' for example; a dwarf pine with upright branches and bristling olive green needles. As the days get colder in winter the foliage turns to a warm shade of old gold. It makes a stunning planting partner for winter stems such as the flame wands of Cornus sanguinea 'Midwinter Fire'. In a gravel garden it works well with the plumes of miscanthus and fine fronds of carex and stipa. Maybe we don't think of this one as a conifer? At the very least we should never pigeon hole it as a plant we don't like.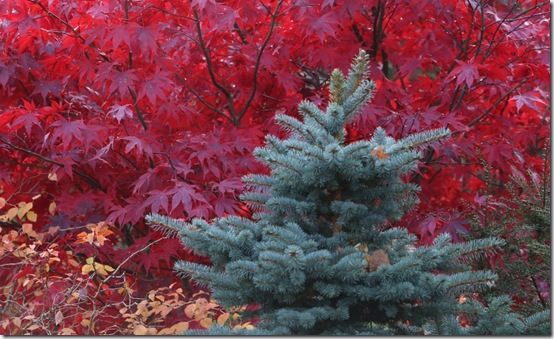 When I made the large pool at the end of our level lawn I made a rock bank behind it with large pieces of slate. We garden on slightly acidic sand; well drained and low in nutrients. Conifers generally do well here, as do heathers (another group of plants shunned by the cognoscenti), so I planted a few to provide some structure and variety of foliage colour and texture. I always liked the bristling blue foliage of Picea pungens 'Globosa', one of the more manageable varieties of blue spruce. They remind me of my time working on a North German nursery where we grew thousands of them. There they were prized; a statement symbol no garden should be without. My blue spruce may not be the shape and form I expected but it certainly provides a striking contrast to the red-leaved Japanese maple alongside it.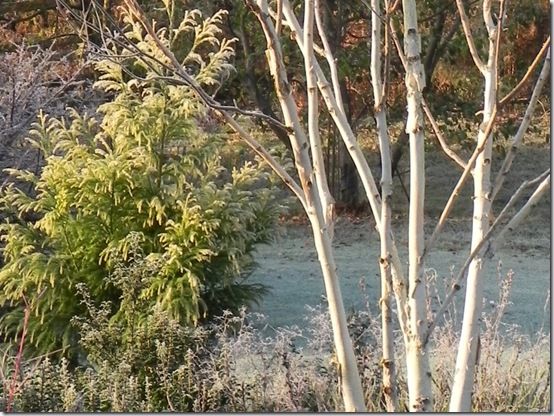 At the top of the bank, by a multi-stemmed birch I planted Cryptomeria japonica 'Sekan Sugi'. I chose it for this situation as many gardeners do: it was lying around by the back doorstep and this was an available space. I didn't even buy it for the garden; I think it just arrived with some samples I had for photography. It's ended up being one of the most admired and asked about plants in the garden. I have to admit its cream and green foliage and unusual habit are captivating. Those that know it worry about its eventual size and I think this is a barrier to many conifers being chosen; if it says eventual size 10 metres or 30ft on the label then it must be a plant to avoid. As you know I am never one to encourage pruning at the expense of natural shape, but this is a conifer that can be controlled or even shaped to keep it in bounds.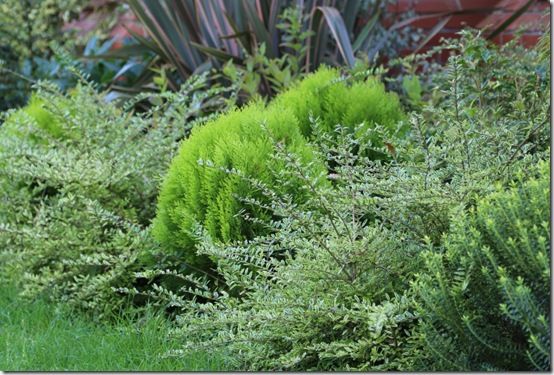 I think we are most afraid to use our conifers as we would any other garden plants. Even garden centres segregate the conifers into a section on their own rather than displaying them with other shrubs. If you can bring yourself to use them as part of planting schemes you may be surprised how well they work. I am really pleased with the way these three specimens of Thuja occidentalis 'Aurea Nana'work in this lightly shaded yellow border. This is ideal planting for a small, low maintenance garden.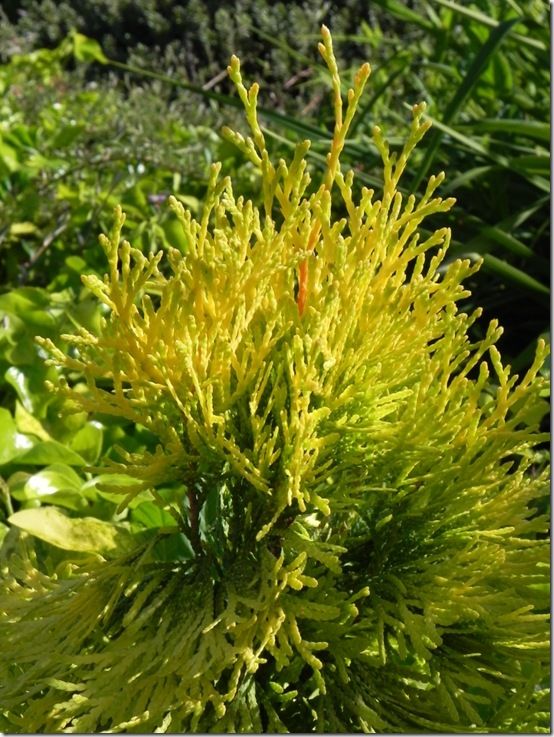 One area where conifers have scored is in their nomenclature. It is quite obvious that conifer growers and breeders have a real sense of humour. I love the idea of calling your new blue spruce Picea pungens 'Fat Albert'. One cannot help but wonder what inspired Thuja occidentalis 'Filip's Magic Moment'. Whatever it was it has clearly been immortalised in this little yellow conifer.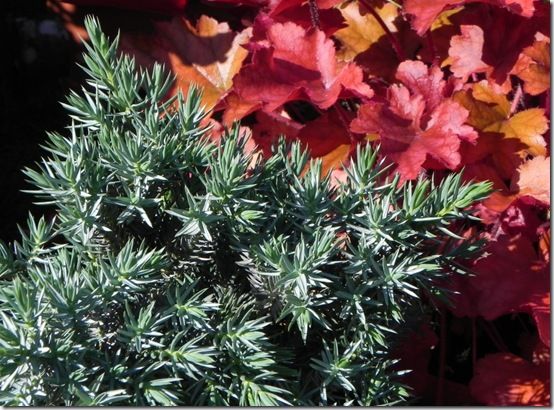 In my opinion, despite their rather revolting use as "centre plants" in unattractive containers, dwarf conifers do come into their own in pots. The sea-urchin like Juniperus squamata 'Blue Star' is a prime example of a good container subject, particularly if you position it alongside a warm, caramel-coloured heuchera. This is a striking twist on the classic combination of blue and orange using texture as well as colour. Imagine these giving colour through winter and then accompanying a pot of orange tulips for spring.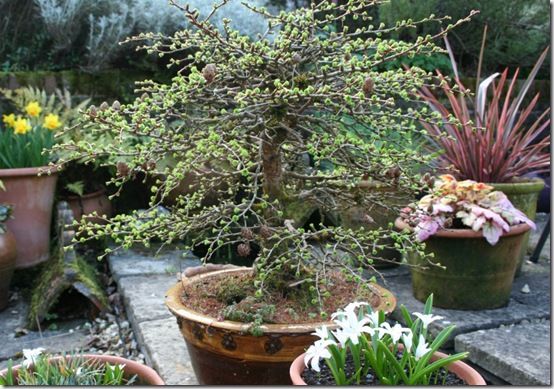 Of course conifers in pots are not an invention of suburban gardens of half a century ago. The art of bonsai goes back thousands of years. My apologies to the bonsai purists, but I think many conifers make excellent long-term subjects for pots and give you the effect of a bonsai without the devotion. I am particularly fond of my "bonsai" larch, Larix decidua. A friend gave me this about 12 years ago and it has been a feature of the terrace ever since. I've repotted it a couple of times and I do some selective pruning. It may not be a classic, but it has presence and I love the way it changes with the seasons.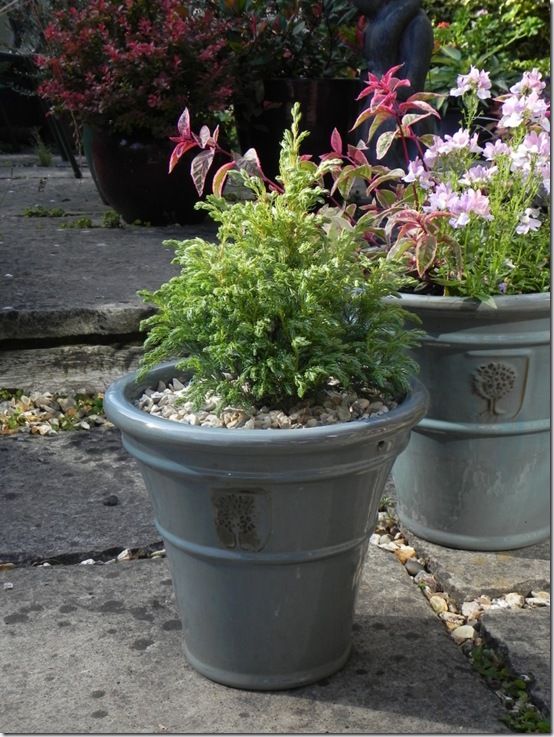 As with any plant in a pot it is the marriage of the plant with the right container that compliments it that makes the difference. Even a simple little specimen of Chamaecyparis pisifera 'Boulevard' bought for a modest sum can look quite stunning in the right coloured pot that picks up on the colour of its foliage.

As you can probably tell I am a conifer supporter; not a fanatic but I like what they can do. So what do you think? Let's have your comments. Conifers: love them or loathe them?
Stay inspired
Get FREE Gardening tips and ideas from our experts in your inbox.