Fruit Tree Specification & Rootstocks Guide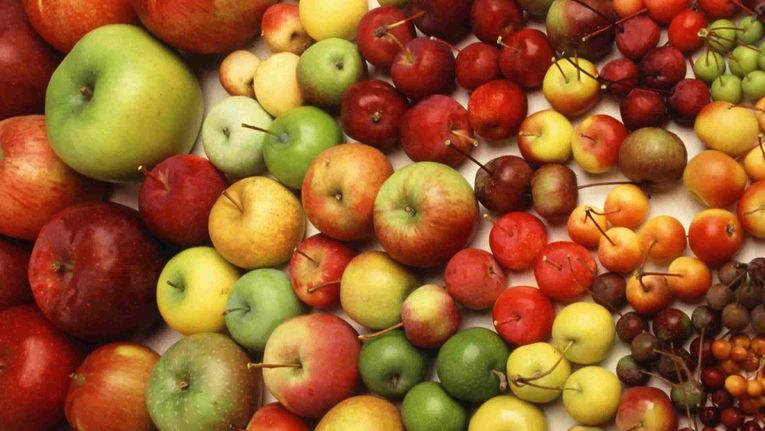 When specifying fruit trees, variety and rootstock are the two most important factors. Almost all fruit trees are grafted onto rootstocks. The rootstock is the most important factor in determining the vigour and eventual size of the tree.
The choice of rootstock will therefore determine the suitability of the tree for the position and the form in which you intend to grow it. Please find below a list of rootstocks and their characteristics, including mature height, spread, Planting distance, yield and form types.
Apple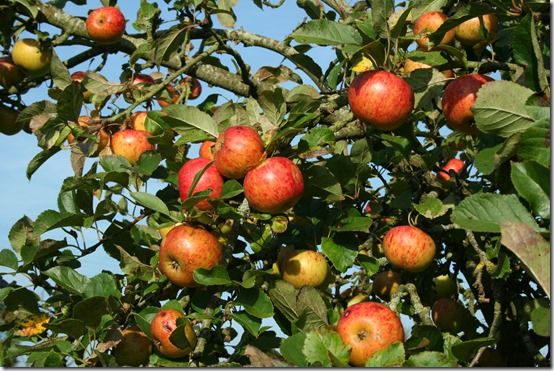 Apple:  M27  (Very dwarfing )

Requirements: Good soil conditions. Ground should be clear of weeds and grass. Permanent staking required. Water in dry conditions.

Mature height: 4-6ft (1.2-1.8m)

Spread: 5ft (1.5m)

Planting distance: 4-5 ft (1.2-1.5m) apart, 6ft (1.8m) between rows

Mature yield: 10-15lb (4.5-7kg)

Bearing age: 2 years

Suitable forms: Dwarf pyramid, centre leader, step-over

 

Apple:  M9  (Dwarfing )

Requirements
Good soil conditions. Ground should be clear of weeds and grass. Permanent staking required. Water in dry conditions.

Mature height: 6-8ft (1.8-2.4m)

Spread: 9ft (2.7m)

Planting distance: 8-10ft (2.4-3m) apart, 12ft (3.6m) between rows

Mature yield: 25-50lb (11-23kg)

Bearing age: 2/3 years

Suitable forms: Bush, pyramid, centre leader, cordon

 

Apple:  M26  (Semi-dwarfing )

Requirements: Can be grown in all reasonable soil conditions including grass orchards. Stake for the first 5 years.

Mature height: 8-10ft (2.4-3m)

Spread: 12ft (3.6m)

Planting distance: 8-12ft (2.4-3.6m) apart, 15ft (4.5m) between rows

Mature yield: 30-80lb (13.5-36kg)

Bearing age: 2/3 years

Suitable forms: Bush, pyramid, centre leader, cordon, minaret, espalier, container

 

Apple:  MM106  (Semi-vigorous )

Requirements: Suitable for a wide range of soils including grassed orchards and relatively poor soils. Stake for the first 5 years.

Mature height: 10-13ft (3-4m)

Spread: 13ft (4m)

Planting distance: 12ft (3.6m) apart, 15ft (4.5m) between rows

Mature yield: 50-100lb (23-56kg)

Bearing age: 3/4 years

Suitable forms: Half standard, bush, cordon, espalier, container

 

Apple:  MM111  (Vigorous )

Requirements: Suitable for a wide range of soils including grassed orchards and poor soils. Staking preferable but not necessary if planted as a one year old. Stake for first 3 years if planted as 2/3 year trees.

Mature height: 13-15ft (4-4.5m)

Spread: 15ft (4.5m)

Planting distance: 15ft (4.5m) apart, 20ft (6m) between rows

Mature yield: 100-400lb (45-180kg)

Bearing age: 4/5 years

Suitable forms: Standard, half standard, large espalier

 

Apple:  M25  (Very vigorous )

Requirements: Suitable for a wide range of soils including grassed orchards and poor soils. Staking preferable but not necessary if planted as a one year old. Stake for first 3 years if planted as 2/3 year trees.

Mature height: Over15ft (4.5m)

Spread: 20ft (6m)

Planting distance: 20ft (6m) apart, 25ft (7.5m) between rows

Mature yield: 200-400lb (90-180kg)

Bearing age: 5/6 years

Suitable forms: Standard
Pear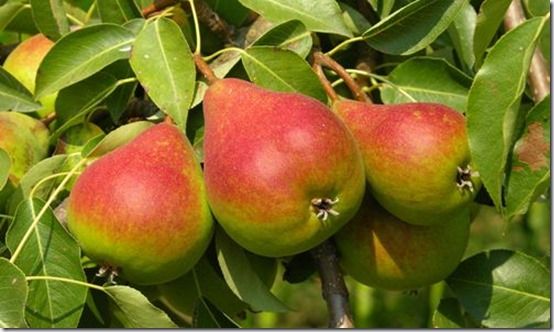 Pear:  Quince C  (Dwarfing )

Requirements: Good fertile soil. Ground should be clear of weeds and grass. Stake for at least the first 5 years and preferably permanently.

Mature height: 8-10ft (2.4-3m)

Spread: 9ft (2.7m)

Planting distance: 9ft (2.7m) apart, 12ft (3.6m) between rows

Bearing age : 3/4 years

Suitable forms: Bush, pyramid, centre leader, cordon, espalier

 

Pear:  Quince A  (Semi-dwarfing )

Requirements: Suitable for a wide range of soils including relatively poor soils. Stake for the first 5 years.

Mature height : 10-12ft (3-3.6m )

Spread: 12ft (3.6m)

Planting distance: 12ft (3.6m) apart, 15ft (4.5m) between rows

Bearing age: 4/5 years

Suitable forms: Suitable Forms: Half standard, bush, cordon, espalier, container

 

Pear:  Pyrodwarf  (Semi-vigorous )

Requirements; A new relatively dwarfing pear rootstock. Can be used for most soil conditions including relatively poor soil and grassed orchards. Stake for the first 5 years.

Mature height: Over 15ft (4.5m)

Spread : 15ft (4.5m)

Planting distance: 15ft (4.5m) apart, 20ft (6m) between rows

Bearing age; 4/5 years

Suitable forms: Half Standard

 

Pear:  Pyrus  (Very vigorous )

Requirements: Suitable for a wide range of soils including poor soils and grassed orchards. Staking preferable for the first 3 years.

Mature height: Over 20ft (6m)

Spread: 15ft (4.5m)

Planting distance; 20ft (6m) apart, 25ft (7.5m) between rows

Bearing age; 5/6 years

Suitable forms: Standard
Plum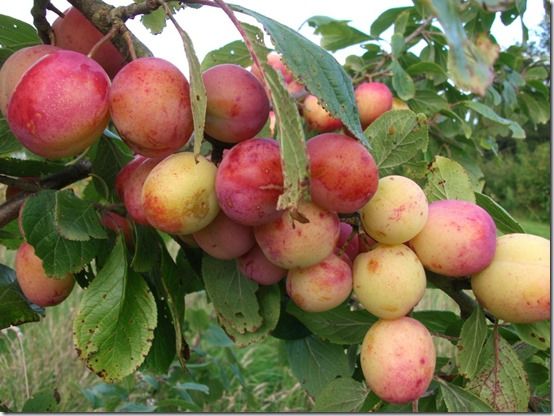 Plum:  VVA-1  (Dwarfing )

Requirements; A new dwarfing rootstock for plums. Requires good fertile soil and ground cleared of weeds and grass. Stake for the first 5 years. Requires watering in dry conditions.

Mature height: 7-9ft (2-2.7m)

Spread; 9ft (2.7m)

Planting distance: 8ft (2.5m) apart, 12ft (3.6m) between rows

Bearing age: 3 years

Suitable forms: Bush, pyramid, small fan

 

Plum:  Pixy  (Semi-dwarfing )

Requirements: Requires good fertile soil and ground cleared of weeds and grass. Stake for the first 5 years. Requires watering in dry conditions.

Mature height: 8-10ft (2.4-3m)

Spread; 10ft (3m)

Planting distance; 10ft (3m) apart, 12ft (3.6m) between rows

Bearing age; 3 years

Suitable forms: Bush, pyramid, small fan

 

Plum:  WA-VIT  (Semi-dwarfing )

Requirements: A new semi-dwarfing rootstock for plums, damsons, apricots and peaches. Suitable for most soil conditions including relatively dry conditions. Stake for the first 5 years

Mature height; 9-11ft (2.7-3.3m)

Spread: 11ft (3.3m)

Planting distance: 10ft (3m) apart, 15ft (4.5m) between rows

Bearing age: 4 years

Suitable forms: Bush, Half Standard, Fan

 

Plum:  St. Julien A  (Semi-vigorous )

Requirements: Suitable for most soil conditions including relatively poor soil and grassed orchards. Stake for the first 5 years.

Mature height: 10-12ft (3-3.6m)

Spread: 12ft (3.6m)

Planting distance: 12ft (3.6m) apart, 15ft (4.5m) between rows

Bearing age: 4/5 years

Suitable forms; Half standard, bush, fan

 

Plum:  Brompton  (Very vigorous )

Requirements: Suitable for most soil conditions including poor soils. Stake for the first 5 years.

Mature height: Over 15ft (4.5m)

Spread: 15ft (4.5m)

Planting distance: 20ft (6m) apart, 25ft (7.5m) between rows

Bearing age: 4/5 years

Suitable forms: Standard
Peach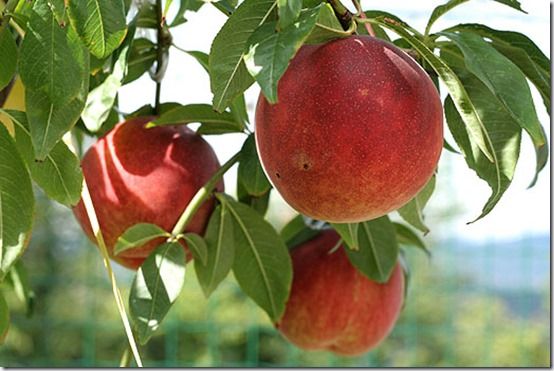 Peach:  VVA-1  (Dwarfing )

Requirements: A new dwarfing rootstock for plums. Requires good fertile soil and ground cleared of weeds and grass. Stake for the first 5 years. Requires watering in dry conditions.

Mature height: 7-9ft (2-2.7m)

Spread: 9ft (2.7m)

Planting distance: 8ft (2.5m) apart, 12ft (3.6m) between rows

Bearing age: 3 years

Suitable forms: Bush, pyramid, small fan

 

Peach:  Pixy  (Semi-dwarfing )

Requirements: Requires good fertile soil and ground cleared of weeds and grass. Stake for the first 5 years. Requires watering in dry conditions.

Mature height: 8-10ft (2.4-3m)

Spread: 10ft (3m)

Planting distance: 10ft (3m) apart, 12ft (3.6m) between rows

Bearing age: 3 years

Suitable forms: Bush, pyramid, small fan

 

Peach:  WA-VIT  (Semi-dwarfing )

Requirements: A new semi-dwarfing rootstock for plums, damsons, apricots and peaches. Suitable for most soil conditions including relatively dry conditions. Stake for the first 5 years

Mature height; 9-11ft (2.7-3.3m)

Spread; 11ft (3.3m)

Planting distance: 10ft (3m) apart, 15ft (4.5m) between rows

Bearing age; 4 years

Suitable forms; Bush, Half Standard, Fan

 

Peach:  St Julien A  (Semi-vigorous )

Requirements: Suitable for most soil conditions including relatively poor soil and grassed orchards. Stake for the first 5 years.

Mature height: 10-12ft (3-3.6m)

Spread: 12ft (3.6m)

Planting distance: 12ft (3.6m) apart, 15ft (4.5m) between rows

Bearing age; 4/5 years

Suitable forms; Half standard, bush, fan

 

Peach:  Krymsk 86  (Semi-vigorous )

Requirements: A new rootstock suitable for peaches, nectarines and almonds. Can be used for most soil conditions including relatively poor soil and grassed orchards. Stake for the first 5 years.

Mature height: n/a

Spread: n/a

Planting distance: n/a

Bearing age; 4/5 years

Suitable forms; n/a

 

Peach:  Brompton  (Very vigorous )

Requirements: Suitable for most soil conditions including poor soils. Stake for the first 5 years.

Mature height; Over 15ft (4.5m)

Spread; 15ft (4.5m)

Planting distance: 20ft (6m) apart, 25ft (7.5m) between rows

Bearing age: 4/5 years

Suitable forms; Standard
Nectarine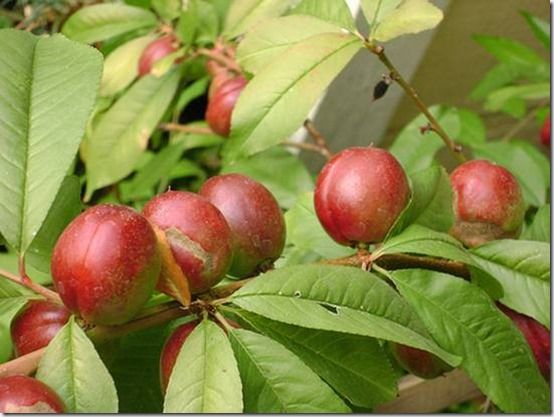 Nectarine:  VVA-1  (Dwarfing )

Requirements: A new dwarfing rootstock for plums. Requires good fertile soil and ground cleared of weeds and grass. Stake for the first 5 years. Requires watering in dry conditions.

Mature height; 7-9ft (2-2.7m)

Spread: 9ft (2.7m)

Planting distance: 8ft (2.5m) apart, 12ft (3.6m) between rows

Bearing age: 3 years

Suitable forms: Bush, pyramid, small fan

 

Nectarine:  Pixy  (Semi-dwarfing )

Requirements: Requires good fertile soil and ground cleared of weeds and grass. Stake for the first 5 years. Requires watering in dry conditions.

Mature height; 8-10ft (2.4-3m)

Spread: 10ft (3m)

Planting distance: 10ft (3m) apart, 12ft (3.6m) between rows

Bearing age: 3 years

Suitable forms: Bush, pyramid, small fan

 

Nectarine:  WA-VIT  (Semi-dwarfing )

Requirements: A new semi-dwarfing rootstock for plums, damsons, apricots and peaches. Suitable for most soil conditions including relatively dry conditions. Stake for the first 5 years

Mature height: 9-11ft (2.7-3.3m)

Spread: 11ft (3.3m)

Planting distance; 10ft (3m) apart, 15ft (4.5m) between rows

Bearing age: 4 years

Suitable forms: Bush, Half Standard, Fan

 

Nectarine:  St Julien A  (Semi-vigorous )

Requirements: Suitable for most soil conditions including relatively poor soil and grassed orchards. Stake for the first 5 years.

Mature height: 10-12ft (3-3.6m)

Spread: 12ft (3.6m)

Planting distance: 12ft (3.6m) apart, 15ft (4.5m) between rows

Bearing age: 4/5 years

Suitable forms: Half standard, bush, fan

 

Nectarine:  Krymsk 86  (Semi-vigorous )

Requirements: A new rootstock suitable for peaches, nectarines and almonds. Can be used for most soil conditions including relatively poor soil and grassed orchards. Stake for the first 5 years.

Mature height: n/a

Spread: n/a

Planting distance: n/a

Bearing age; 4/5 years

Suitable forms; n/a

 

Nectarine:  Brompton  (Very vigorous )

Requirements: Suitable for most soil conditions including poor soils. Stake for the first 5 years.

Mature height: Over 15ft (4.5m)

Spread: 15ft (4.5m)

Planting distance: 20ft (6m) apart, 25ft (7.5m) between rows

Bearing age: 4/5 years

Suitable forms: Standard
Apricot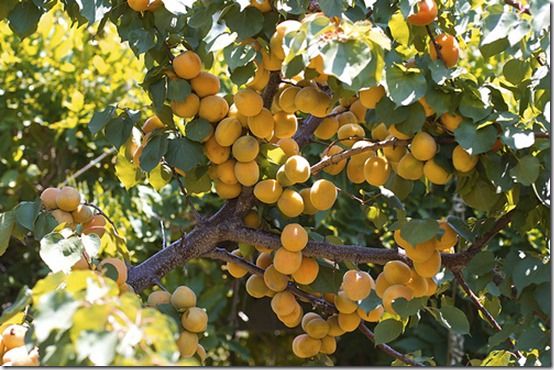 Apricot:  VVA-1  (Dwarfing )

Requirements; A new dwarfing rootstock for plums. Requires good fertile soil and ground cleared of weeds and grass. Stake for the first 5 years. Requires watering in dry conditions.

Mature height; 7-9ft (2-2.7m)

Spread; 9ft (2.7m)

Planting distance; 8ft (2.5m) apart, 12ft (3.6m) between rows

Bearing age; 3 years

Suitable forms; Bush, pyramid, small fan

 

Apricot:  Pixy  (Semi-dwarfing )

Requirements: Requires good fertile soil and ground cleared of weeds and grass. Stake for the first 5 years. Requires watering in dry conditions.

Mature height; 8-10ft (2.4-3m)

Spread; 10ft (3m)

Planting distance; 10ft (3m) apart, 12ft (3.6m) between rows

Bearing age; 3 years

Suitable forms; Bush, pyramid, small fan

 

Apricot:  WA-VIT  (Semi-dwarfing )

Requirements: A new semi-dwarfing rootstock for plums, damsons, apricots and peaches. Suitable for most soil conditions including relatively dry conditions. Stake for the first 5 years

Mature height: 9-11ft (2.7-3.3m)

Spread; 11ft (3.3m)

Planting distance: 10ft (3m) apart, 15ft (4.5m) between rows

Bearing age; 4 years

Suitable forms: Bush, Half Standard, Fan

 

Apricot:  Torinel  (Semi-dwarfing )

Requirements: A new rootstock suitable for apricots. Can be used for most soil conditions including relatively poor soil and grassed orchards. Stake for the first 5 years.

Mature height: 10-12ft (3-3.6m)

Spread: 12ft (3.6m)

Planting distance; 12ft (3.6m) apart, 15ft (4.5m) between rows

Bearing age; 4/5 years

Suitable forms; Half standard, bush, fan

 

Apricot:  St Julien A  (Semi-vigorous )

Requirements: Suitable for most soil conditions including relatively poor soil and grassed orchards. Stake for the first 5 years.

Mature height: 10-12ft (3-3.6m)

Spread: 12ft (3.6m)

Planting distance: 12ft (3.6m) apart, 15ft (4.5m) between rows

Bearing age: 4/5 years

Suitable forms; Half standard, bush, fan

 

Apricot:  Brompton  (Very vigorous )

Requirements: Suitable for most soil conditions including poor soils. Stake for the first 5 years.

Mature height: Over 15ft (4.5m)

Spread: 15ft (4.5m)

Planting distance: 20ft (6m) apart, 25ft (7.5m) between rows

Bearing age: 4/5 years

Suitable forms: Standard
Cherry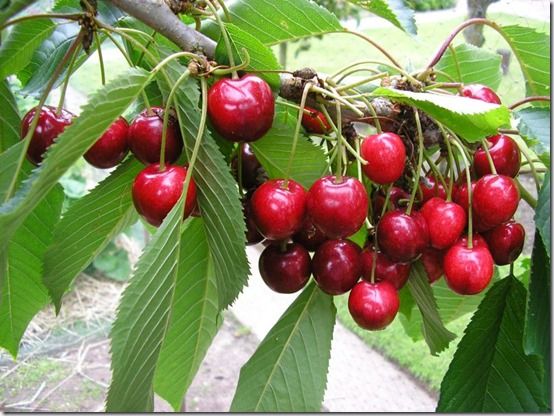 Cherry:  Gisela 5  (Semi-dwarfing )

Requirements: Good fertile soil. Ground should be cleared of weeds and grass. Staking required for the first 5 years. Very sensitive to systemic herbicides such as Glyphosate the use of which should be avoided around young trees.

Mature height: 8-10ft (2.4-3m)

Spread: 10ft (3m)

Planting distance: 10ft (3m) apart, 12ft (3.6m) between rows

Bearing age: 3 years

Suitable forms: Bush, small fan

 

Cherry:  Colt  (Semi-vigorous )

Requirements: Suitable for a wide range of soils including relatively poor soils and grassed orchards. Staking preferable but not necessary if planted as a one year old. Stake for first 3 years if planted as 2/3 year trees.

Mature height: 12-15ft (3-4.5m)

Spread: 15ft (4.5m)

Planting distance: 15ft (4.5m) apart, 20ft (6.5m) between rows

Bearing age: 4/5 years

Suitable forms: Half standard, bush

 

Cherry:  F12/1  (Very vigorous )

Requirements: Suitable for a wide range of soils including poor soils and grassed orchards. Staking preferable but not necessary if planted as a one year old. Stake for first 3 years if planted as 2/3 year trees.

Mature height: Over 20ft (6m)

Spread: 20ft (6m)

Planting distance: 20ft (6m) apart, 25ft (7.5m) between rows

Bearing age: 5/6 years

Suitable forms: Standard
Medlar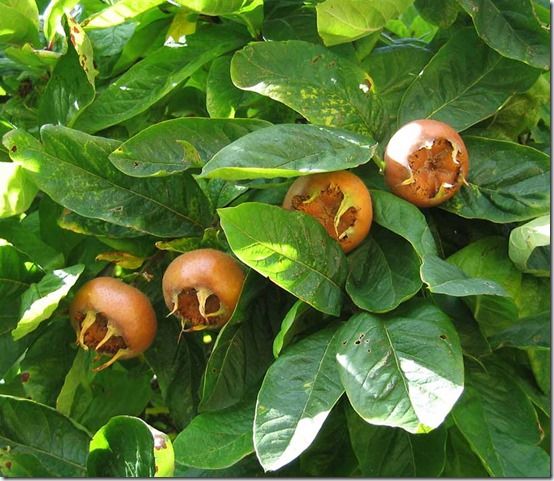 Medlar:  Quince C  (Dwarfing )

Requirements: Good fertile soil. Ground should be clear of weeds and grass. Stake for at least the first 5 years and preferably permanently.

Mature height; 8-10ft (2.4-3m)

Spread: 9ft (2.7m)

Planting distance: 9ft (2.7m) apart, 12ft (3.6m) between rows

Bearing age: 3/4 years

Suitable forms: Bush, pyramid, centre leader, cordon, espalier

 

Medlar:  Quince A  (Semi-dwarfing )

Requirements: Suitable for a wide range of soils including relatively poor soils. Stake for the first 5 years.

Mature height: 10-12ft (3-3.6m )

Spread: 12ft (3.6m)

Planting distance: 12ft (3.6m) apart, 15ft (4.5m) between rows

Bearing age; 4/5 years

Suitable forms: Suitable Forms: Half standard, bush, cordon, espalier, container

 

Medlar:  Pyrodwarf  (Semi-vigorous )

Requirements; A new relatively dwarfing pear rootstock. Can be used for most soil conditions including relatively poor soil and grassed orchards. Stake for the first 5 years.

Mature height: Over 15ft (4.5m)

Spread: 15ft (4.5m)

Planting distance: 15ft (4.5m) apart, 20ft (6m) between rows

Bearing age: 4/5 years

Suitable forms: Half Standard

 

Medlar:  Pyrus  (Very vigorous )

Requirements: Suitable for a wide range of soils including poor soils and grassed orchards. Staking preferable for the first 3 years.

Mature height: Over 20ft (6m)

Spread: 15ft (4.5m)

Planting distance; 20ft (6m) apart, 25ft (7.5m) between rows

Bearing age: 5/6 years

Suitable form: Standard

 

Medlar:  Crataegus  (Semi-dwarfing )

Requirements: Hawthorn (Crataegus monogyna) is commonly used as a rootstock for medlars. Suitable for a wide range of soils including grassed orchards and relatively poor soils. Stake for the first 5 years.

Mature height: 10-12ft (3-3.6m )

Spread: 15ft (4.5m)

Planting distance: 15ft (4.5m) apart, 20ft (6.5m) between rows

Bearing age: 3/4 years

Suitable forms; Bush, half standard
Quince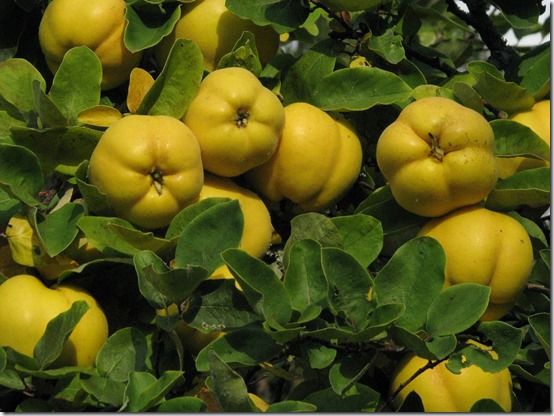 Quince:  Quince C  (Dwarfing )

Requirements: Good fertile soil. Ground should be clear of weeds and grass. Stake for at least the first 5 years and preferably permanently.

Mature height: 8-10ft (2.4-3m)

Spread: 9ft (2.7m)

Planting distance: 9ft (2.7m) apart, 12ft (3.6m) between rows

Bearing age: 3/4 years

Suitable forms: Bush, pyramid, centre leader, cordon, espalier

 

Quince:  Quince A  (Semi-dwarfing )

Requirements: Suitable for a wide range of soils including relatively poor soils. Stake for the first 5 years.

Mature height: 10-12ft (3-3.6m )

Spread: 12ft (3.6m)

Planting distance: 12ft (3.6m) apart, 15ft (4.5m) between rows

Bearing age
4/5 years

Suitable forms
Suitable Forms: Half standard, bush, cordon, espalier, container

 

Quince:  Pyrus  (Very vigorous )

Requirements: Suitable for a wide range of soils including poor soils and grassed orchards. Staking preferable for the first 3 years.

Mature height: Over 20ft (6m)

Spread: 15ft (4.5m)

Planting distance: 20ft (6m) apart, 25ft (7.5m) between rows

Bearing age: 5/6 years

Suitable forms; Standard
Almond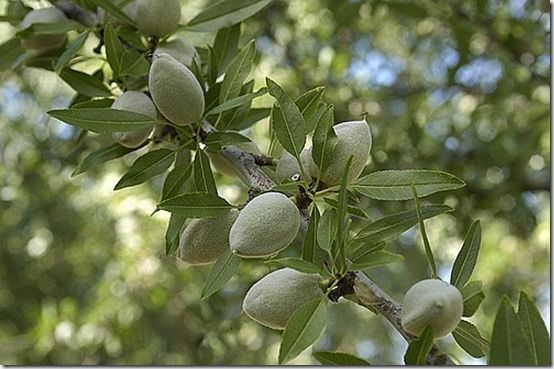 Almond:  St Julien A  (Semi-vigorous )

Requirements: Suitable for most soil conditions including relatively poor soil and grassed orchards. Stake for the first 5 years.

Mature height: 10-12ft (3-3.6m)

Spread: 12ft (3.6m)

Planting distance: 12ft (3.6m) apart, 15ft (4.5m) between rows

Bearing age: 4/5 years

Suitable forms: Half standard, bush, fan
Bullace

Bullace:  VVA-1  (Dwarfing )

Requirements: A new dwarfing rootstock for plums. Requires good fertile soil and ground cleared of weeds and grass. Stake for the first 5 years. Requires watering in dry conditions.

Mature height: 7-9ft (2-2.7m)

Spread: 9ft (2.7m)

Planting distance: 8ft (2.5m) apart, 12ft (3.6m) between rows

Bearing age: 3 years

Suitable forms: Bush, pyramid, small fan

 

Bullace:  Pixy  (Semi-dwarfing )

Requirements: Requires good fertile soil and ground cleared of weeds and grass. Stake for the first 5 years. Requires watering in dry conditions.

Mature height: 8-10ft (2.4-3m)

Spread: 10ft (3m)

Planting distance: 10ft (3m) apart, 12ft (3.6m) between rows

Bearing age: 3 years

Suitable forms: Bush, pyramid, small fan

 

Bullace:  WA-VIT  (Semi-dwarfing )

Requirements: A new semi-dwarfing rootstock for plums, damsons, apricots and peaches. Suitable for most soil conditions including relatively dry conditions. Stake for the first 5 years

Mature height; 9-11ft (2.7-3.3m)

Spread: 11ft (3.3m)

Planting distance: 10ft (3m) apart, 15ft (4.5m) between rows

Bearing age: 4 years

Suitable forms: Bush, Half Standard, Fan

 

Bullace:  St Julien A  (Semi-vigorous )

Requirements: Suitable for most soil conditions including relatively poor soil and grassed orchards. Stake for the first 5 years.

Mature height; 10-12ft (3-3.6m)

Spread; 12ft (3.6m)

Planting distance: 12ft (3.6m) apart, 15ft (4.5m) between rows

Bearing age: 4/5 years

Suitable forms: Half standard, bush, fan

 

Bullace:  Brompton  (Very vigorous )

Requirements: Suitable for most soil conditions including poor soils. Stake for the first 5 years.

Mature height: Over 15ft (4.5m)

Spread: 15ft (4.5m)

Planting distance: 20ft (6m) apart, 25ft (7.5m) between rows

Bearing age: 4/5 years

Suitable forms: Standard
Cherry Plum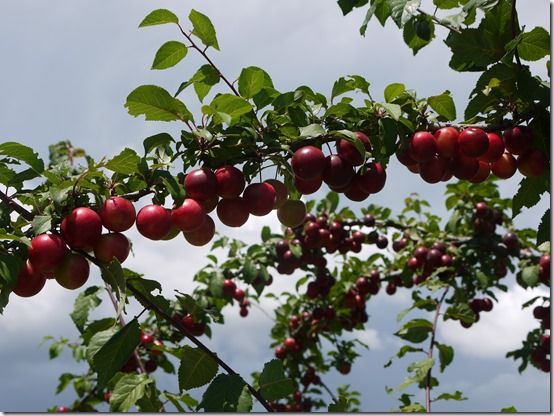 Cherry Plum:  VVA-1  (Dwarfing )

Requirements: A new dwarfing rootstock for plums. Requires good fertile soil and ground cleared of weeds and grass. Stake for the first 5 years. Requires watering in dry conditions.

Mature height: 7-9ft (2-2.7m)

Spread: 9ft (2.7m)

Planting distance: 8ft (2.5m) apart, 12ft (3.6m) between rows

Bearing age: 3 years

Suitable forms: Bush, pyramid, small fan

 

Cherry Plum:  Pixy  (Semi-dwarfing )

Requirements: Requires good fertile soil and ground cleared of weeds and grass. Stake for the first 5 years. Requires watering in dry conditions.

Mature height: 8-10ft (2.4-3m)

Spread: 10ft (3m)

Planting distance: 10ft (3m) apart, 12ft (3.6m) between rows

Bearing age: 3 years

Suitable forms: Bush, pyramid, small fan

 

Cherry Plum:  WA-VIT  (Semi-dwarfing )

Requirements; A new semi-dwarfing rootstock for plums, damsons, apricots and peaches. Suitable for most soil conditions including relatively dry conditions. Stake for the first 5 years

Mature height: 9-11ft (2.7-3.3m)

Spread: 11ft (3.3m)

Planting distance: 10ft (3m) apart, 15ft (4.5m) between rows

Bearing age: 4 years

Suitable forms: Bush, Half Standard, Fan

 

Cherry Plum:  St Julien A  (Semi-vigorous )

Requirements: Suitable for most soil conditions including relatively poor soil and grassed orchards. Stake for the first 5 years.

Mature height: 10-12ft (3-3.6m)

Spread: 12ft (3.6m)

Planting distance: 12ft (3.6m) apart, 15ft (4.5m) between rows

Bearing age: 4/5 years

Suitable forms: Half standard, bush, fan

 

Cherry Plum:  Brompton  (Very vigorous )

Requirements: Suitable for most soil conditions including poor soils. Stake for the first 5 years.

Mature height: Over 15ft (4.5m)

Spread: 15ft (4.5m)

Planting distance: 20ft (6m) apart, 25ft (7.5m) between rows

Bearing age: 4/5 years

Suitable forms: Standard
Damson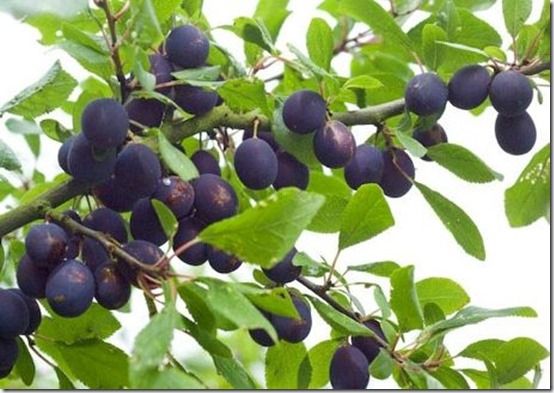 Damson:  VVA-1  (Dwarfing )

Requirements: A new dwarfing rootstock for plums. Requires good fertile soil and ground cleared of weeds and grass. Stake for the first 5 years. Requires watering in dry conditions.

Mature height: 7-9ft (2-2.7m)

Spread: 9ft (2.7m)

Planting distance: 8ft (2.5m) apart, 12ft (3.6m) between rows

Bearing age: 3 years

Suitable forms: Bush, pyramid, small fan

 

Damson:  Pixy  (Semi-dwarfing )

Requirements: Requires good fertile soil and ground cleared of weeds and grass. Stake for the first 5 years. Requires watering in dry conditions.

Mature height: 8-10ft (2.4-3m)

Spread: 10ft (3m)

Planting distance: 10ft (3m) apart, 12ft (3.6m) between rows

Bearing age: 3 years

Suitable forms; Bush, pyramid, small fan

 

Damson:  WA-VIT  (Semi-dwarfing )

Requirements: A new semi-dwarfing rootstock for plums, damsons, apricots and peaches. Suitable for most soil conditions including relatively dry conditions. Stake for the first 5 years

Mature height: 9-11ft (2.7-3.3m)

Spread: 11ft (3.3m)

Planting distance: 10ft (3m) apart, 15ft (4.5m) between rows

Bearing age: 4 years

Suitable forms: Bush, Half Standard, Fan

 

Damson:  St Julien A  (Semi-vigorous )

Requirements: Suitable for most soil conditions including relatively poor soil and grassed orchards. Stake for the first 5 years.

Mature height: 10-12ft (3-3.6m)

Spread: 12ft (3.6m)

Planting distance: 12ft (3.6m) apart, 15ft (4.5m) between rows

Bearing age: 4/5 years

Suitable forms: Half standard, bush, fan

 

Damson:  Brompton  (Very vigorous )

Requirements: Suitable for most soil conditions including poor soils. Stake for the first 5 years.

Mature height: Over 15ft (4.5m)

Spread: 15ft (4.5m)

Planting distance: 20ft (6m) apart, 25ft (7.5m) between rows

Bearing age: 4/5 years

Suitable forms: Standard
Crab Apple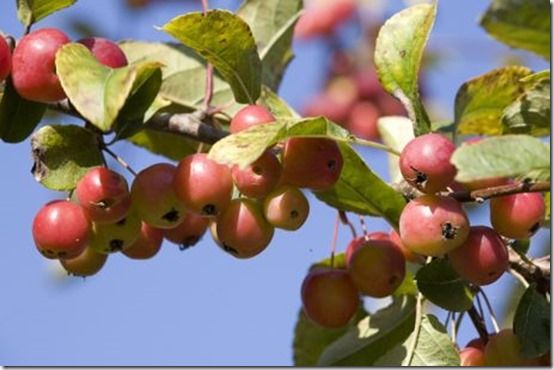 Crab Apple:  M27  (Very dwarfing )

Requirements: Good soil conditions. Ground should be clear of weeds and grass. Permanent staking required. Water in dry conditions.

Mature height; 4-6ft (1.2-1.8m)

Spread: 5ft (1.5m)

Planting distance: 4-5 ft (1.2-1.5m) apart, 6ft (1.8m) between rows

Mature yield: 10-15lb (4.5-7kg)

Bearing age: 2 years

Suitable forms: Dwarf pyramid, centre leader, step-over

 

Crab Apple:  M9  (Dwarfing )

Requirements: Good soil conditions. Ground should be clear of weeds and grass. Permanent staking required. Water in dry conditions.

Mature height; 6-8ft (1.8-2.4m)

Spread: 9ft (2.7m)

Planting distance: 8-10ft (2.4-3m) apart, 12ft (3.6m) between rows

Mature yield; 25-50lb (11-23kg)

Bearing age: 2/3 years

Suitable forms: Bush, pyramid, centre leader, cordon

 

Crab Apple:  M26  (Semi-dwarfing )

Requirements: Can be grown in all reasonable soil conditions including grass orchards. Stake for the first 5 years.

Mature height: 8-10ft (2.4-3m)

Spread: 12ft (3.6m)

Planting distance: 8-12ft (2.4-3.6m) apart, 15ft (4.5m) between rows

Mature yield: 30-80lb (13.5-36kg)

Bearing age: 2/3 years

Suitable forms; Bush, pyramid, centre leader, cordon, minaret, espalier, container

 

Crab Apple:  MM106  (Semi-vigorous )

Requirements: Suitable for a wide range of soils including grassed orchards and relatively poor soils. Stake for the first 5 years.

Mature height; 10-13ft (3-4m)

Spread: 13ft (4m)

Planting distance: 12ft (3.6m) apart, 15ft (4.5m) between rows

Mature yield: 50-100lb (23-56kg)

Bearing age; 3/4 years

Suitable forms; Half standard, bush, cordon, espalier, container

 

Crab Apple:  MM111  (Vigorous )

Requirements: Suitable for a wide range of soils including grassed orchards and poor soils. Staking preferable but not necessary if planted as a one year old. Stake for first 3 years if planted as 2/3 year trees.

Mature height: 13-15ft (4-4.5m)

Spread: 15ft (4.5m)

Planting distance: 15ft (4.5m) apart, 20ft (6m) between rows

Mature yield: 100-400lb (45-180kg)

Bearing age: 4/5 years

Suitable forms: Standard, half standard, large espalier

 

Crab Apple:  M25  (Very vigorous )

Requirements: Suitable for a wide range of soils including grassed orchards and poor soils. Staking preferable but not necessary if planted as a one year old. Stake for first 3 years if planted as 2/3 year trees.

Mature height : Over15ft (4.5m)

Spread: 20ft (6m)

Planting distance: 20ft (6m) apart, 25ft (7.5m) between rows

Mature yield: 200-400lb (90-180kg)

Bearing age: 5/6 years

Suitable forms: Standard