Garden Ideas: A Garden Style from 'The Garden of England'
By Andy McIndoe •
 An interview with Carol Bruce from OldBladBean Stud
Carol Bruce is a friend of MyGardenSchool who lives in Kent, (The 'Garden of England')  S.E. UK. She has created five amazing interlinked gardens spread over 3 acres. Although not professionally trained in horticulture or garden design the results are astoundingly beautiful and have featured in a number of magazines in the UK and Europe.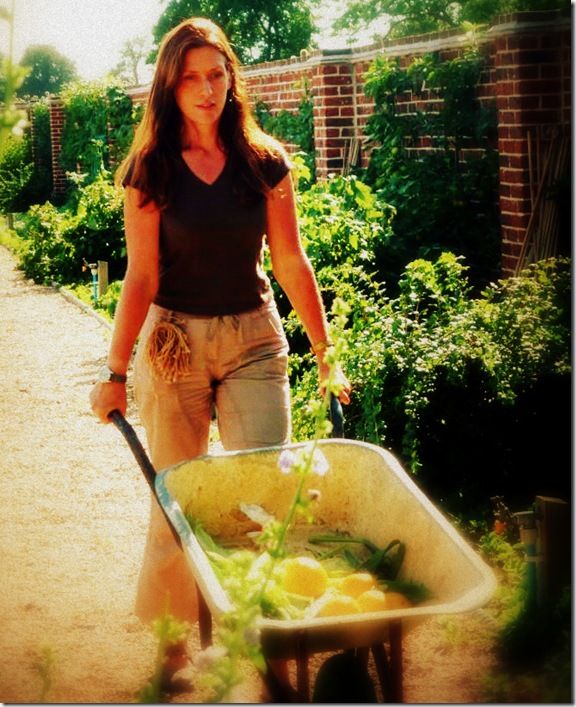 Carol opens her garden through The National Garden Scheme from early summer through to autumn.  For those of you not familiar with the NGS it is a charitable scheme that enables garden lovers to visit private gardens not always open to the public throughout the UK. For the garden owners it is a wonderful way of sharing their gardens with other gardeners.
I've invited Carol to share her garden with MyGardenSchool followers. I'm really delighted to welcome her as a guest to the MyGardenSchool blog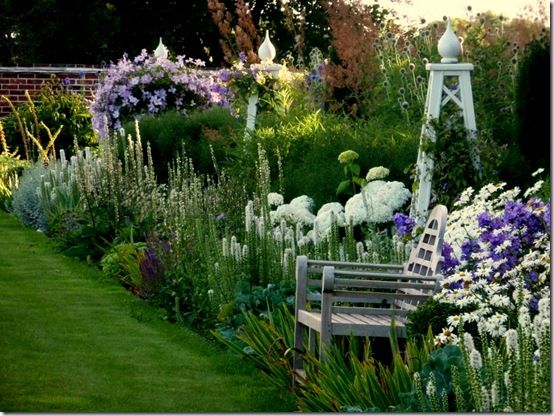 How did you get into gardening and designing a garden in the first place Carol?
I've always had a head full of flowers – my earliest memories are of poppies, primroses, foxgloves and as a kid my life revolved around picking, painting, drying, studying flowers. I also see imaginary places in my mind's eye like other people make up songs or write poems – they just billow up in my imagination like the memory of a place I've never been to, so when I found myself aged 33 on top of a hill with no job staring at 3 acres of wasteland I couldn't believe my luck!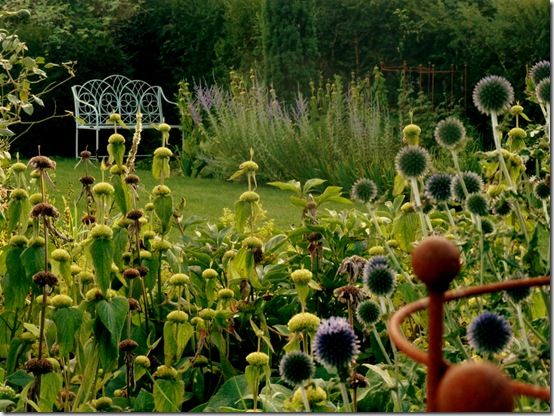 Translating Garden Ideas from Thoughts to Reality..
Tell us a little about how you went about planning the garden.
First I pace out the site and draw up a scale site plan on graph paper. Then I sketch layouts on tracing paper overlays. I try to run every thought experiment I can while it is still on paper – will this clash with that, will this fall on top of that, how does the colour balance work through the seasons, where do I get the lawnmower through, and so on.  I'm full of garden ideas, but I want to find all my mistakes on paper in the warmth of the kitchen, not outside on the ground in the mud and rain. I compile a plant list of everything that I feel belongs to the spirit of the place I am realizing, then the plant options are categorised by flower colour, flower shape, height, flowering season, leaf colour, and growing requirements.  Once I have decided on the layout and I have placed the structural elements I "decorate" the plan with flowers from my plant list.  The whole process takes place over a few months.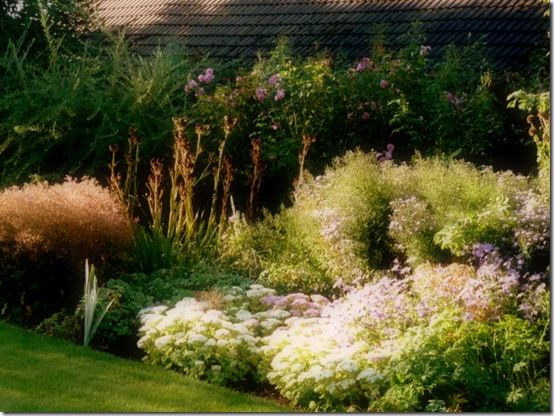 Do you do all the work yourself or do you have help?
I do everything myself and I love it – running my garden as a closed system is the ultimate challenge. I have to focus, be inventive, disciplined, organised, and highly efficient to allocate my time in the most effective way to get everything done.  It's like plate spinning with mother-nature, and removing the constraint would really take the wind out of my sails.
What aspects of the garden do you love most and have your preferences changed over the years?
That is an interesting question – for me it is a huge relief to get the thing out of my head and onto the ground, because I know thereafter it can survive without me.  Otherwise my greatest joys are when nature takes the initiative and things self sow and start to cross with each other.  After meticulous planning and military precision in laying out, it's wonderfully liberating to see nature take things back into her own hands
Is there anything about the garden you would like to change?  Any regrets?
Each time I've finished a garden, there is always something I regret that I had to leave out – a structural feature or plant I considered using and then decided against – and it's these that form the starting point of the next design as I can't bear to leave them rattling around in my head.  In this way the gardens form a chain, a journey, so it would feel wrong to change them. I would do it completely differently if I started again, but only as a consequence of what I've done already.
What inspired you to open your garden through The National Garden Scheme?
My husband! He saw something about it on TV and kept asking if we could open the gardens once I had finished laying them out, so I said yes to shut him up!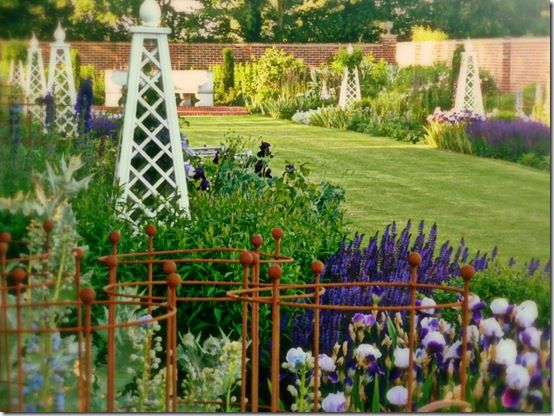 How many visitors do you get a year? How many are you hoping for this season?


We had around 1,000 in 2012, and 1,500 in 2013, but I have no idea how many to expect in 2014 – it really depends whether people in the immediate area have seen all they want to see or plan to visit again.  It's all good as far as I am concerned, as I get to spend a Sunday afternoon sitting under a maple tree meeting lovely people who share the same interests as me, and when it's quiet there's more time to chat.Except for immediate family no-one was allowed in until 2012, so I am quite used to working in the garden for its own sake. It's not a showpiece, it's my way of life and the satisfaction of a job well done on time and on budget is all the reward I need, so if people come, great, if they don't, also great!



If I you had to choose your three "Desert Island Plants" what would they be, and why?


Something I have discovered in making these gardens is context – no plant works in isolation and they add very different qualities to the mix depending on their neighbours, however, if I had to make a mini garden from just three plants, I think I would make it from Allium cristophii, Limonium platyphyllum and Phlomis russeliana.



What are your other guilty pleasures in life?


Oh that's easy - tea!  I run on the very English combination of 95% tea and 5% repressed fury.  My other great joy is walking the dog through the surrounding countryside, which is pure bliss. Every day brings different light, sounds, textures, shapes, and so many different ways of experiencing life and being alive. When I was a kid I wanted to be Grizzly Adams, the mountain man who lived in a forest with a bear, and to stand in a forest and feel the life force of nature running up through my feet is transcendent. Whatever gardens I dream up could never compare with a shaft of light through a pine forest, or a beech wood in the rain – it's this knowledge that simultaneously keeps my feet on the ground and my head in the clouds.


For details of opening through the National Garden Scheme http://www.ngs.org.uk/gardens/gardenfinder/garden.aspx?id=23222

Visit the website: www.oldbladbeanstud.co.uk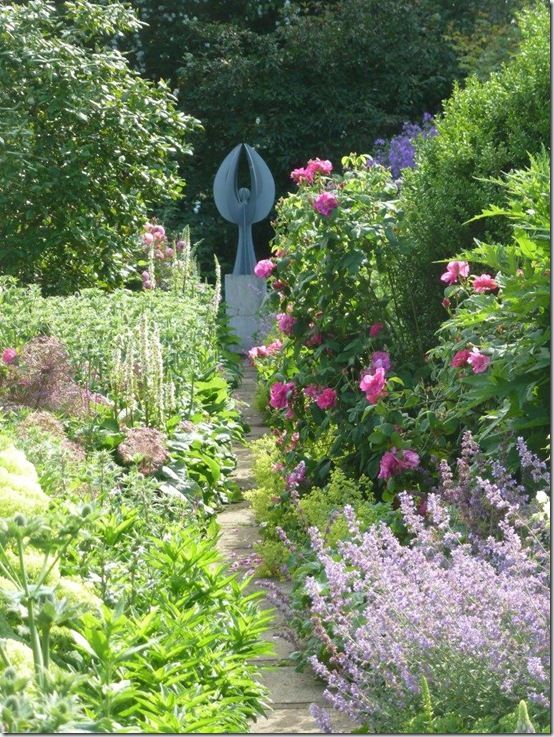 Stay updated
Receive free updates by email including special offers and new courses.