Girl Conquers Earth Episode IV
I learned two very important lessons over the past fortnight:
• It is very hard to keep things growing in ground that has not been looked after
• It is very hard to stop things growing in ground that has

[gallery]
So first to the allotment. The leeks, cabbages and ornamental spinach that Sharon gave me are growing, just not as fast as hers are (Sharon rotovated and tended and nurtured and loved her ground – we just dug it over and planted). In fact, the only thing that I can grow bigger, better and faster than Sharon are weeds.

To be fair she did warn me they might not do too well, but having a little patch of vegetables growing would keep us all motivated. She was dead right. After we double dug for Britain, we have just left the earth for a few weeks to settle before we plant potatoes (I think). If we didn't need to be going up to feed our little veggies, we wouldn't have been up to the allotment at all in the last few weeks. This would have invoked the universal law of out of sight, out of mind…. I am sure we wouldn't have made back up there for months.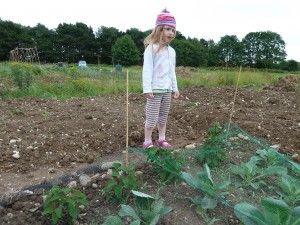 My little vegetables may be small, but they are perfectly formed, even if my son Samuel does keep arguing with me that the leeks are spring onions. He even Googled a picture of a spring onion in case I just wasn't making the connection. "Ah – that's a spring onion." I did say he would be eating his words when I made a big pot of Cook-a-Leekie soup (a favourite). I wasn't quite out of earshot before he replied: "Spring onion soup you mean.

Second to my garden. The lovely couple (Herbie and Julia) that used to own this house had lavished care and attention on the garden since the 1970s and as a result the ground is so fertile, I am convinced that it has miraculous properties. It brought 'Lazarus' back from the dead (a tomato plant that we forgot about and left to bake in the car for a long, hot weekend). Despite an approach to gardening that could best be characterised as 'neglect' it has been growing gangbusters. Apples, damsons, rhubarb, blackcurrants – they're all out there, somewhere. And rose bushes, and a bay tree and a blackcurrant tree "not suitable for small gardens" (which is unfortunate as my garden is very small and has two sheds in it).

I realised just how much I was ignoring my garden when I saw my next door neighbour, Rob, watering my garden over the fence. (I also have stone pots of plants that line both sides of my drive at the front of the house – again courtesy of Herbie and Julia – and this solved the mystery of why the plants on his side were doing so much better than those on the side of the neighbour that patently isn't a fan of guerrilla watering).

I have to say it was a bit of a shock to realise just how unkempt my garden was. I thought it was great to be honest – it looked very busy and very green. It has birds, bees and butterflies in it. I am used to spending time at the allotment which is very quiet and very brown so I thought my garden was pretty brilliant.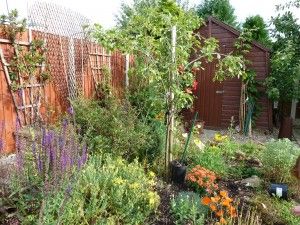 But Neil's parents confirmed the worst when they visited last weekend. I don't know what it is about parents born during the war and just after, but they just seem to accrue practical knowledge about everything. (Neil always says he was surprised that when he became a dad he couldn't immediately fix washing machines or know the perfect air-fuel ratio for the car). And they certainly know about gardening. Apparently the lovely purple flowers I had been watering were actually weeds. "Oh, but they look so delicate," I said to Ann as I reached out to gently to touch one. She put her hand over mine, looked me straight in the eye and said "It's a killer." This is a vicar's wife. She doesn't know the meaning of messing about. So we pulled them all up then and there. Then I asked Peter about the roses. "Pass me a scalpel. We can't have any growth below the graft," he said. Well, no, I don't think he asked for a scalpel but he definitely did say something about roses being grafted. I promised myself I'd look it up later and just writing this has reminded me that I haven't. I will do though, in case I have a rose-themed accident and can't get them to A&E in time.

I could carry on, but I really do have to get outside and continue pruning. Now it's been raining everything out there's growing bonkers conkers again. Why can't I have this problem up the allotment? (Yes, I know why – it's the earth). I have included some photos here which are definitely not 'before' shots, but also not quite 'after' so you can see my progress so far. As I think I killed a good 25% of the plants that were in the garden when I bought the house, if Herbie and Julia stumble across this blog, I really hope they're sitting down….


Blog Directory

Stay inspired
Get FREE Gardening tips and ideas from our experts in your inbox.