Grilled Mediterranean vegetables on the barbecue: healthy eating
By Andy McIndoe •
Barbecuing may be a way of life in many parts of the world, but it certainly only springs to mind when the sun comes out in the UK. I've been barbecuing for over 30 years and for us it's something we do all year round. You can still cook outdoors and get the barbecue flavour, even if you eat in. I've always found that the focus of barbecue cooking falls on meat: steaks, ribs, sausages. This is bad news for vegetarians, and it also means many miss out on one of the great pleasures of this type of cooking. For us meat is the accompaniment and the main focus of a meal is the veggies.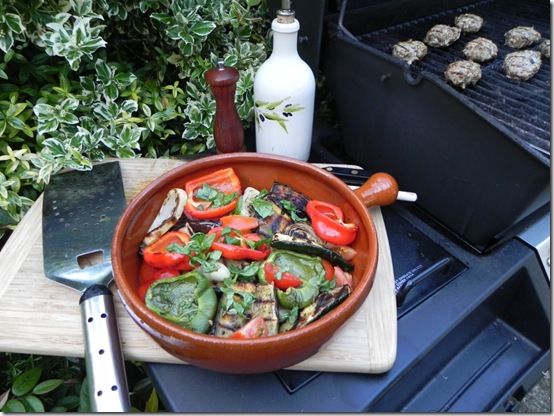 For those that are experienced barbecue chefs please forgive this simple post. I just want to highlight how easy it is to produce a really delicious simple dish using a few summer vegetables from the garden or from the supermarket; the result is healthy eating.
Bell peppers, aubergine or egg plant and courgettes or zucchini are regulars on the grill for me. Add garlic, grilled onion, olive oil, tomatoes and some fresh herbs and you have the essence of Mediterranean cuisine.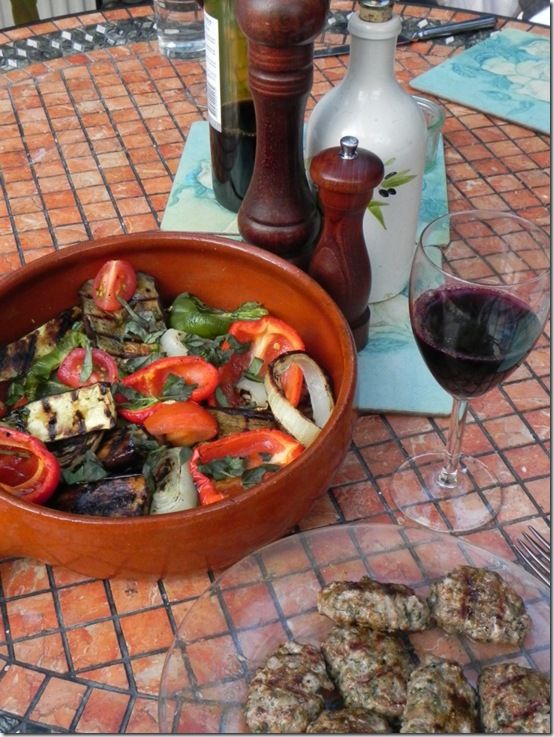 First I slice the aubergine (thick slices), peppers (halves or quarters), onion (slices half an inch/1cm thick) and courgettes (slices). I put them all into a heatproof ceramic dish. I love those Spanish cookware dishes that you can use in the oven, on the hob or on the barbecue. They hold the heat and continue to gently cook, even at the table. I drench them with good olive oil, freshly ground black pepper and herbs. I often use fresh coriander, parsley and chives. Personally I love leaf coriander, or green coriander seeds in ratatouille type dishes.
Then I get the barbecue really hot. I favour a good gas barbecue with cast grills. I never wash the grills; I keep them well seasoned and brush them off when they are really hot before I cook. If you are too clean and tidy your food will stick, sorry. Then I spread the sliced vegetables out on the grills keeping the peppers cupped side up to retain the juices. After a few minutes I turn the slices but leave the peppers alone. I then chop the tomatoes and a few basil leaves and maybe some chives. I never grill the tomatoes because I don't want them mushy. I then put the dish on the warming shelf of the barbecue, heat it up and transfer the vegetable slices into it as they cook.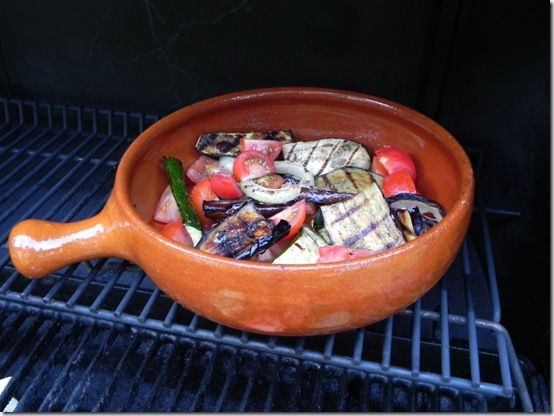 I served this with some aromatic lamb meat balls sprinkled with cumin and rasen al hanout (Moroccan spices with rose petals). These go onto the grill with the remaining peppers. After a few more minutes the peppers go into the dish with the other vegetables; take care not to spill the juices. Toss in the tomatoes and basil and mix. Then its meatballs turned for last two or three minutes and lid down to warm through the tomatoes and infuse the juices.
Rest the vegetables and turn off the gas,. If the meatballs need a little longer they will continue to cook from the heat produced by the hot cast grills. Serve with couscous and a bold red wine; Rioja perhaps.
Preparation time? A few minutes, cooking time 15 minutes or so. I don't time it, I just enjoy being out there with a glass of vino cooking something up in the garden. Fresh produce, no additives, no added salt: healthy eating. You have control over what you eat. Personally I've never bought a ready meal, and I don't intend to. Also I don't believe that good food needs to be complex or too mucked about.
Finally I would like to emphasise three things about barbecue cooking.
Firstly you only take off the grills what you put on. It is not true to think you can put any old cheap meat or stale veggies on a barbecue; the better and fresher the ingredients, the better the result.
Secondly it is a complete fallacy to think that barbecue food is black and burnt. Control the heat and don't cook on flames. Barbecue food should be cooked as perfectly as it can be any via any other method.
Thirdly barbecued food does not have to be covered in gluey, salt and sugar laden marinades and glazes. Great if you like them; personally I think they can easily mask the flavour of the food and don't make for healthy eating. Good olive oil is all you really need in moderation.
Anyway that's my opinion. I see my barbecue as another way that I enjoy being in my garden. What about you. Would love to hear from any other grillers that are out there in the mist...............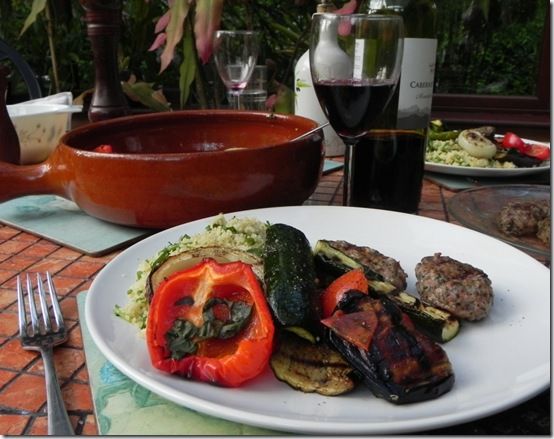 Stay inspired
Get FREE Gardening tips and ideas from our experts in your inbox.