Flower bulbs for naturalising – early spring flowers naturally
When it comes to naturalising bulbs many gardeners reach for bulk bags of mixed daffodils and narcissi. These work well if you plant a lot of them in big drifts. In smaller numbers the effect can be sparse, as different varieties bloom at different times. In any case they are hardly naturalistic and if you want to create a more naturalistic effect then bulbs with a lighter, daintier character are the ones to go for. We all love our early spring flowers so here are a few suggestions to light up your spring garden.
In short grass or around trees and mature shrubs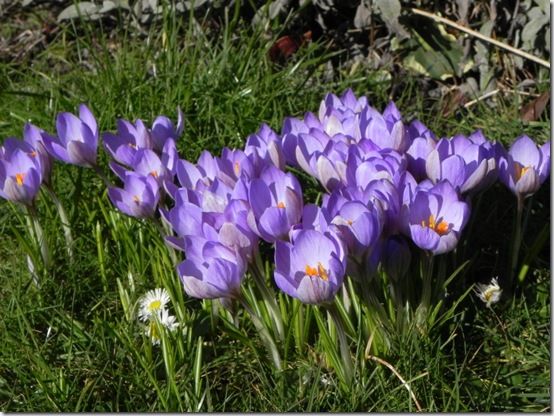 Crocus tommasinianus is one of the earliest bulbs to flower. It opens its delicate lilac blooms in the first warm sunshine of late winter or early spring. This crocus will spread and seed itself in the right situation. Visitors to the Royal Botanic Gardens, Kew will find it everywhere as its spread so prolifically over the years. It's a good choice for the wildlife friendly gardener because it's such a good early source of nectar and pollen.
Personally I am very fond of the cheery little flower bulb known as glory of the snow, Chionodoxa forbesii  Again its starry sapphire and white flowers open early in the year and they are remarkably long lasting. It's a bulb that you can grow in small groups amongst deciduous shrubs, plant in narrow borders or the rock garden, or you can naturalise it in short grass. I love seeing it spreading beneath the trees in the London parks in early spring.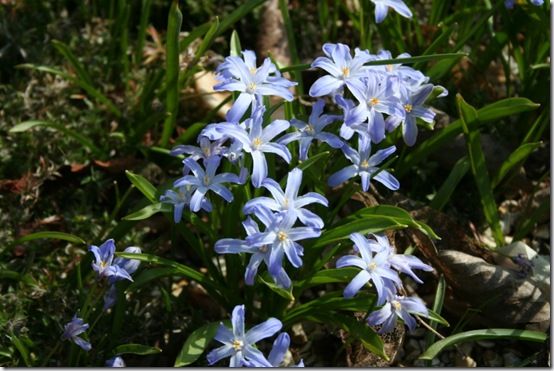 Snowdrops need no introduction; few gardeners can resist their simple charm. Galanthus nivalis is the best for naturalising and it is fairly easy to establish in soil that doesn't dry out with plenty of organic matter. I've been most successful with it planting in clumps along the base of or country hedge where there is plenty of leaf litter. It will establish in short grass and spreads freely where it is happy. Contrary to popular belief it is very successful grown from bulbs planted in the autumn as long as you plant as soon as you get the bulbs. Plant three times the depth of the bulb and about 2cm, 1 inch apart in groups of 10-20 bulbs.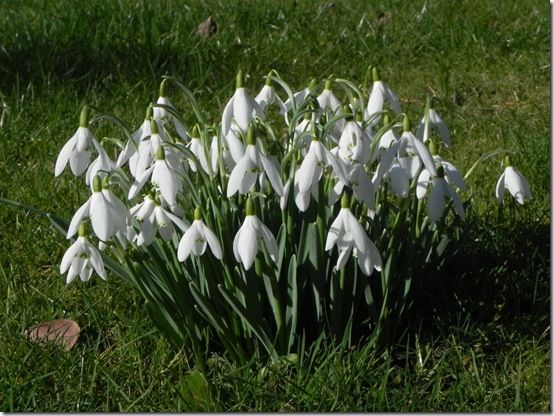 The wild daffodil, Narcissus pseudonarcissus subsp. lobularis is a delight once you get it established. It has a tiny bulb for a narcissus, more like that of a snowdrop. So buy in early autumn and plant immediately before the bulbs dry out and shrivel. Plant in groups of 10-15 bulbs spacing the bulbs a couple of inches apart at a depth of three times the depth of the bulb. Do not be tempted to plant too deeply. It will establish best in thin grass under the dappled shade of trees, in well drained conditions. After flowering, do not be tempted to remove the flowers, instead allow the seed heads to develop and ripen. In early summer they change to parchment, split and release black seeds. The plant will spread and multiply more by seed than by the bulbs multiplying. This is true of most of the small species bulbs including the snakes head fritillary.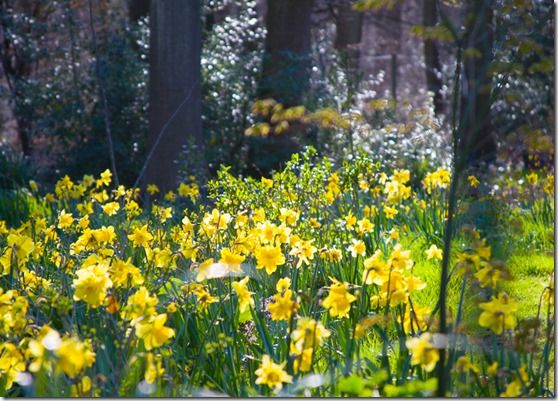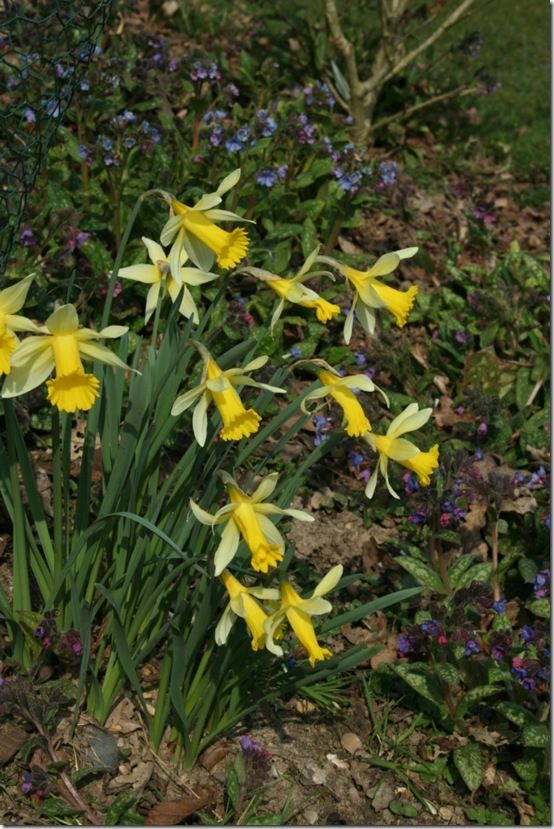 Fritillaria meleagris is a British native that once colonised water meadows. With the disappearance of wet meadows from our landscape this exquisite flower is seen less frequently in the wild. However it is grown widely in gardens, both in the open ground and in pots. It can be naturalised in grass where soil is moist, and never dries out completely. Because it prefers cool conditions it is often more successful in slightly shaded areas under large shrubs and trees. The bulbs are small and waxy, and like the narcissus should be planted as soon as possible after purchase at a similar depth and spacing.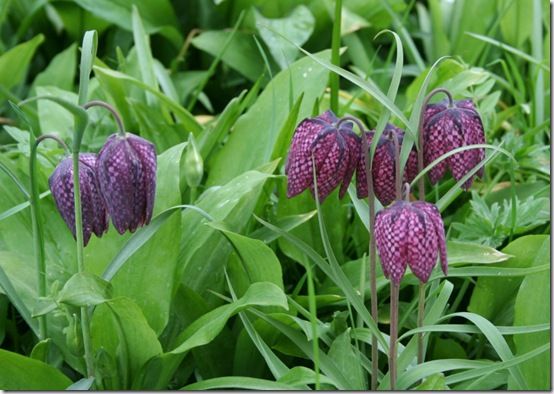 The dainty little Narcissus cyclamineus  likes similar conditions to the Snake's head fritillary. It grows best in a moist, semi-shaded spot where it will produce its dainty brilliant yellow blooms anytime from late winter. In my experience this is a good bulb to choose if you have moist, peaty soil; if not add plenty of leaf mould or garden compost when you plant it.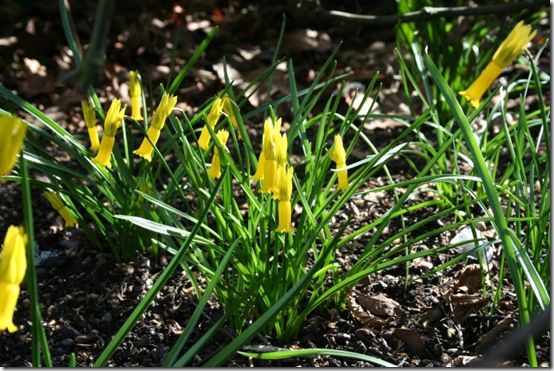 Hyacinthoides non-scripta,  the English bluebell is one of the great delights of the spring. Its deep sapphire blue colour makes it particularly visible under the shade of trees, and it blooms before the grass grows tall enough to obscure its delicate lines. Patient gardeners will find that they can build up large colonies of bluebells from relatively few bulbs by encouraging them to seed. Plant the bulbs individually with a dibber, 15cm apart and once the seed heads ripen in summer, brush through the fading stems to scatter the seeds across the whole area. Where bulbs are naturalised in grass under trees mow in autumn and remove the clippings, and mow again on a high setting in late autumn or winter to remove fallen leaves and top the grass. This will ensure that the blooms appear amongst fresh green grass blades the following spring.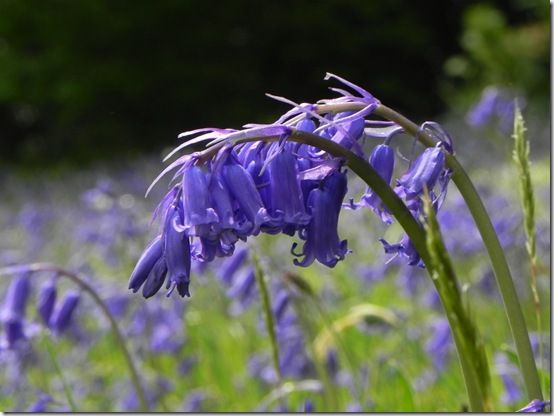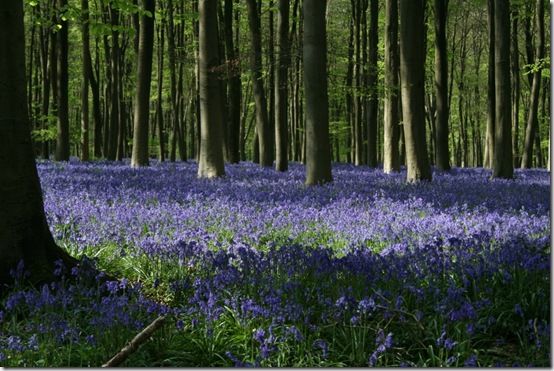 Camassia leichtlinii is a native of the North American prairies. It is a lovely subject to plant in a patch of longer grass under birch or apple trees. It flowers in mid to late spring, at the same time as the bluebells, and the starry flowers carried on upright stems are similar in colour. The bulbs are large, often four or five centimetres in diameter. They can be planted individually, or in groups of three or five, three times the depth of the bulb. The variety 'Blue Heaven' is a new one offered by Living Colour Bulbs and is a particularly good choice for any garden.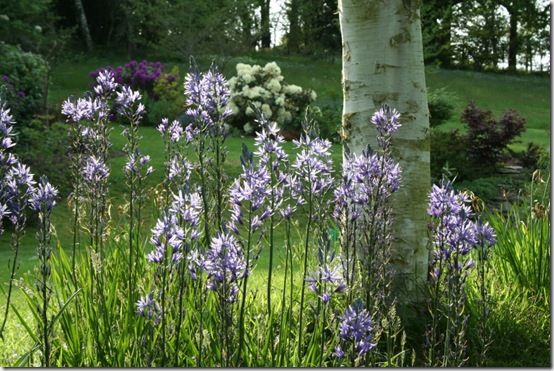 The lovely blue Anemone blanda is not a subject to try and naturalise in long grass. It is ideal however to naturalise in between mature shrubs, under deciduous trees, on rock banks or in gravel. This can be a tricky subject to get started on dry soils, especially if the tubers have become very dry. For best results soak them in water for 24 hours prior to planting in groups of around 10 tubers, about 3-4 cm deep. Keep them watered after planting if the ground is dry. If all else fails plant them in pots of multi-purpose compost, and get them going for a season, before planting them into their final position where you want them to naturalise.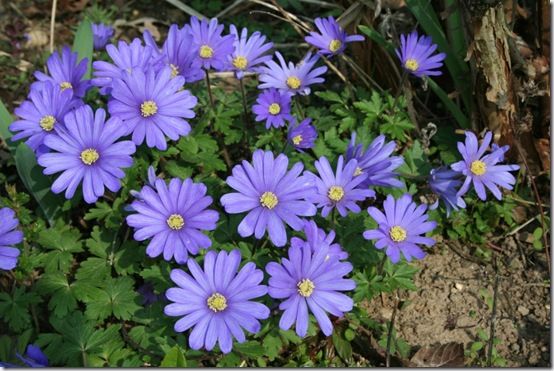 Important: If you are naturalising flowerbulbs in grass you must resist the temptation to mow that area of grass until the bulb foliage has died down naturally. If you remove it too early, the bulbs do not build up their food reserves sufficiently to perform well the following year.
Why not take a look at these flower bulbs for naturalising and the rest of the amazing range of flower bulbs offered by Living Colour right now. Living Colour bring you the Jacques Amand range of flowerbulbs, Gold Medal winners at the RHS Chelsea Flower Show.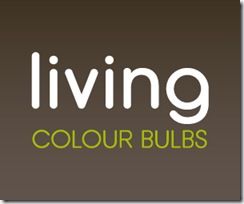 Stay updated
Receive free updates by email including special offers and new courses.