Top tips for pruning soft fruit
Winter is a time to tackle a number of pruning tasks, including pruning currants, various berries and grapes. However before you start remember why you are pruning. It's not just a matter of cutting back and tidying up, you are attempting to improve the quantity and quality of fruit you will get in the coming year. Pruning incorrectly can have an adverse effect and damage the plants in the longer run. Here are a few tips to help you tackle some of the most popular soft fruits.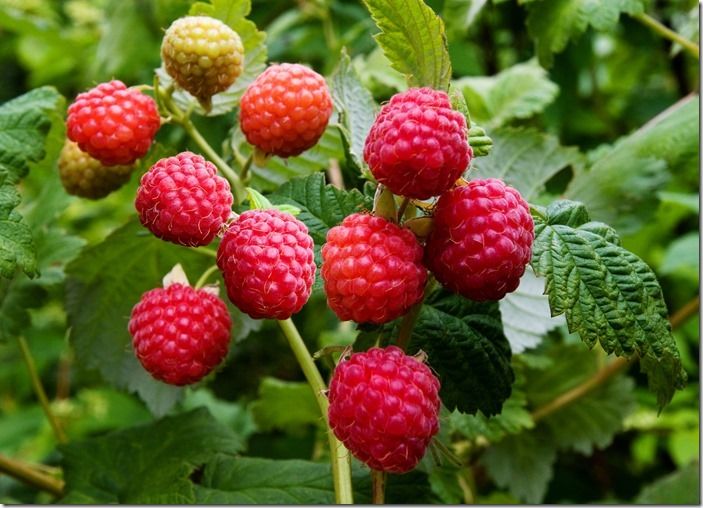 Pruning raspberries
Raspberries are pretty straightforward. Those that fruited earlier in summer will have produced new canes which started to grow from the base of the plants earlier in the season. These are the ones you leave alone, apart from tying them in for support if you grow them on posts and wires. The old canes which have fruited this year can now be cut down to soil level. The new canes to be kept are light tan in colour, the older canes are darker with the remains of flower and fruit clusters hanging on them.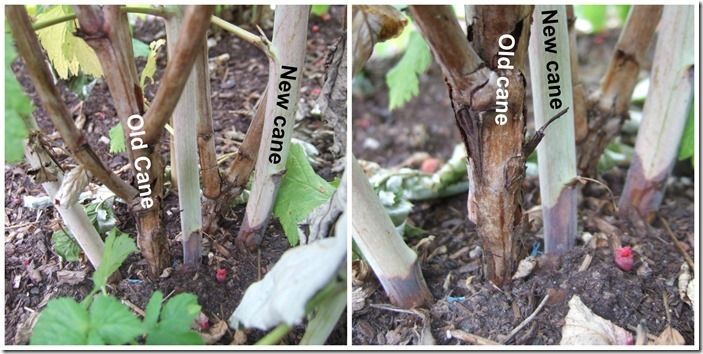 Autumn fruiting raspberries are cut right down to ground level in winter. These will produce new shoots next spring which grow flower and fruit all in the same season. If you grow these on posts and wires, tie them in as they grow. If you want to get some of the autumn raspberries to fruit earlier, leave a few canes and these will flower and fruit early. This will be at the expense of producing many new shoots from the base to fruit later in the season.
Pruning loganberries, blackberries, tayberries and their relatives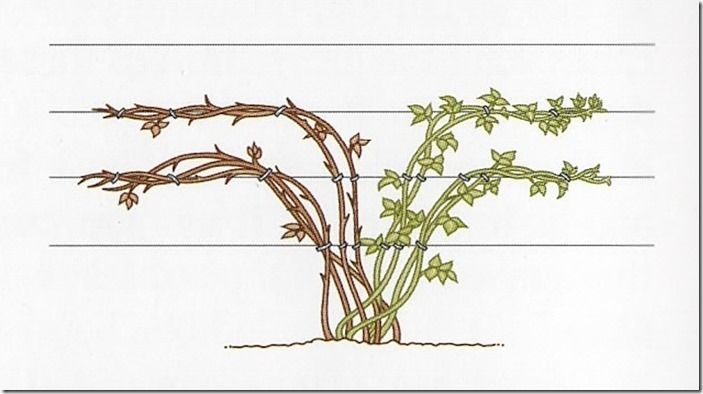 These are all pruned in essentially the same way as summer fruiting raspberries (all types of rubus). Cut out the stems that have fruited and tie in the new stems that have grown from the base of the plants. These can be long and awkward and are best hopped over and tied into wires. This makes it easier to pick the fruit and ensures maximum light to leaves and fruit. It also maintains good air circulation through the plants which is really important in wet weather when plants are fruiting.
Old canes will fruit for a second year. If plants have not grown well and produced enough new canes you can retain some of the old ones.
Pruning red and black currants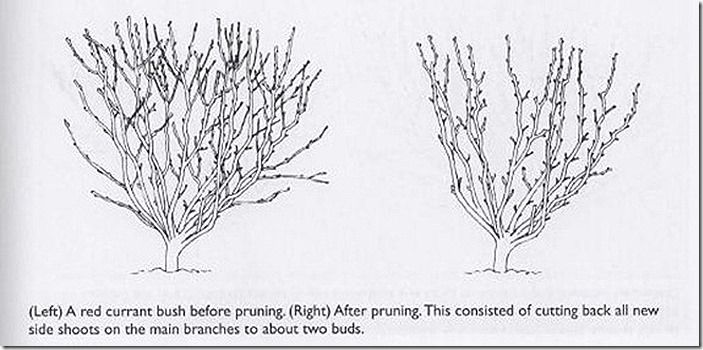 Black currants produce most of their fruit on new shoots that grew the previous year. Some gardeners do most pruning in the summer, cutting off the stems carrying fruit, leaving new shoots to grow from the base of the plants. If you prune in winter it's just a matter of cutting back some of the old shoots that have fruited, leaving the young, one year shoots to fruit the following summer. The old shoots are dark, often branched and usually have slightly peeling bark. The new shoots are tan coloured, plump with smooth bark. If you are planting new black currant bushes plant them deep to encourage more shoots from the base.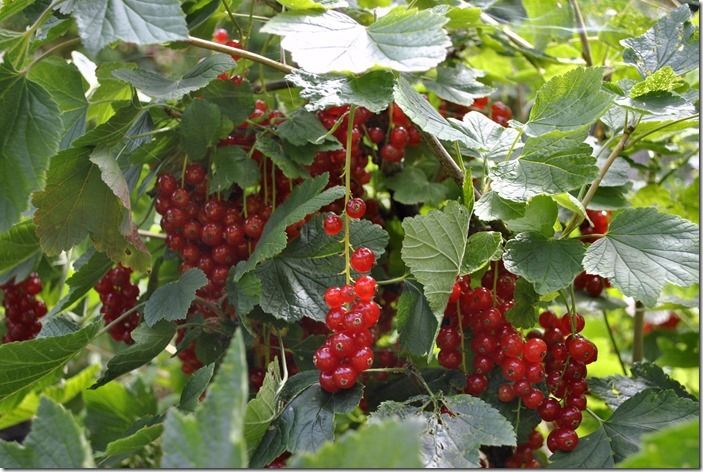 Red currants fruit on all shoots produced over the previous three years. Pruning is a matter of cutting out some of the old shoots to prevent overcrowding and to encourage some new, vigorous growth from the base. If you are growing red currants as cordons, in other words single stems against wires or on a wall or fence, pruning involves shortening back the side shoots to two or three buds to encourage the development of fruiting spurs. This is just like growing cordon apples.
Pruning gooseberries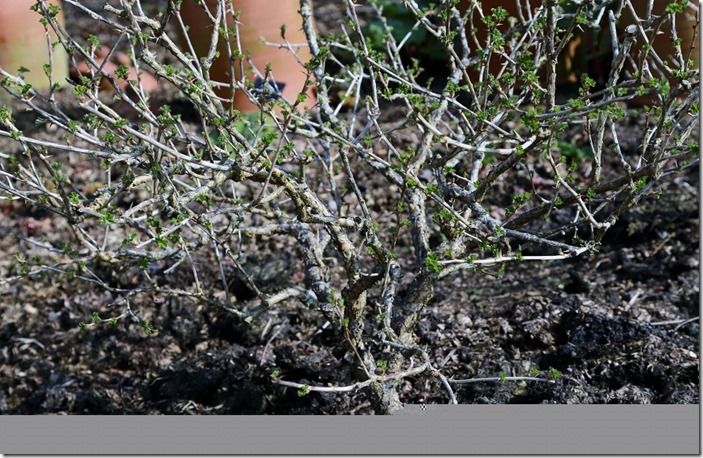 Gooseberries don't need pruning to encourage fruit production, but they do get big, tangled and impenetrable if you don't. Picking fruit from an in pruned gooseberry can become virtually impossible. In winter cut out some of the oldest stem ( again these Re usually darker and more branched. Try to open up the bush by removing shoots that cross over and conflict. Cut out any damage and straggly shoots and reduce the overall size and spread as necessary. Really you can't go wrong pruning gooseberries so don't be too cautious.
Pruning grape vines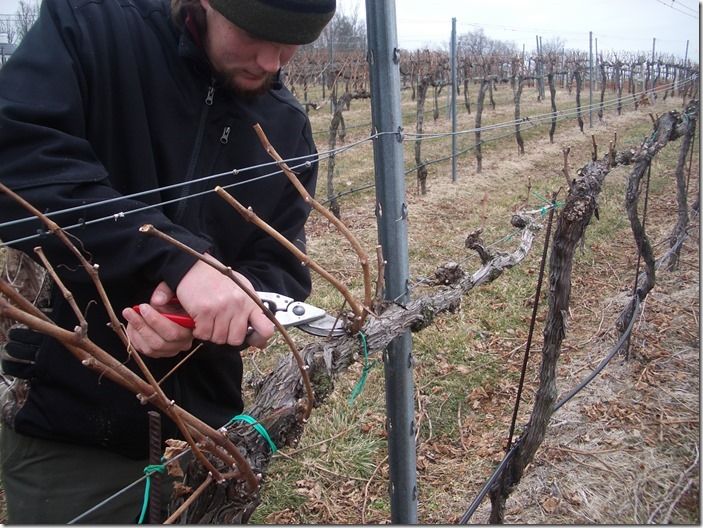 Grape vines are pruning early winter as soon as the leaves have fallen. Prune too late and they bleed, in other words they keep oozing sap which can damage the plants. Grape vines are vigorous and need to be pruned to limit their growth. You should reserve one or two main stems from which the lateral growths develop and produce fruit. So cut back the lateral shoots to one or two buds from the main stem. This may seem drastic, but it is necessary. Old vines end up with fairly thick, heavy main stems or rods, most lateral growth is light and only one year old.
Stay updated
Receive free updates by email including special offers and new courses.