Living Poinsettia Dress Marks International Poinsettia Day
Saturday 12 December 2015
Poinsettias are more than just pot plants for the Christmas and holiday season. The traditional Christmas poinsettia has been given the haute couture treatment by floral stylists, Okishima & Simmonds, in celebration of International Poinsettia Day, Saturday, 12 December.
Fashioning the dramatic ombré gown from over 300 freshly cut stems of red, variegated and cream poinsettia and styling it amongst sea of poinsettia plants, Okishima & Simmonds have re-imagined the Christmas classic.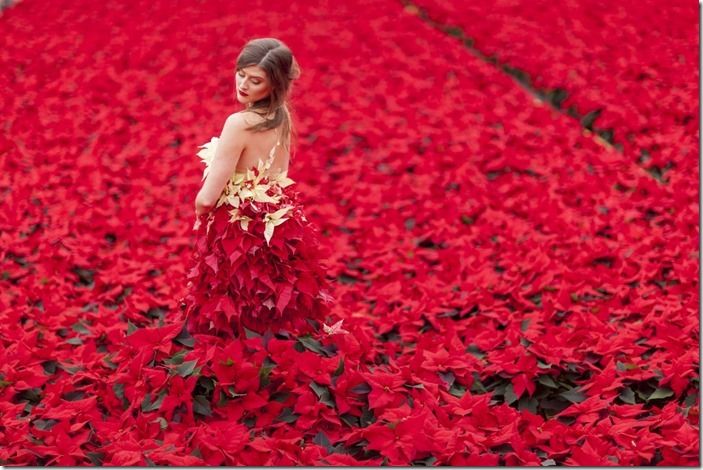 "We love to create unique designs that merge the floral world with the fashion world and International Poinsettia Day has given us an exciting opportunity to do that," says Jessica Simmonds of Okishima & Simmonds, who were commissioned on the project by Stars for Europe, the EU-wide poinsettia campaign. "We wanted the dress to flow so that it looked as though it was growing out of the poinsettia beds beneath, so used the traditional red poinsettia for the skirt and showcased other colours through the bodice."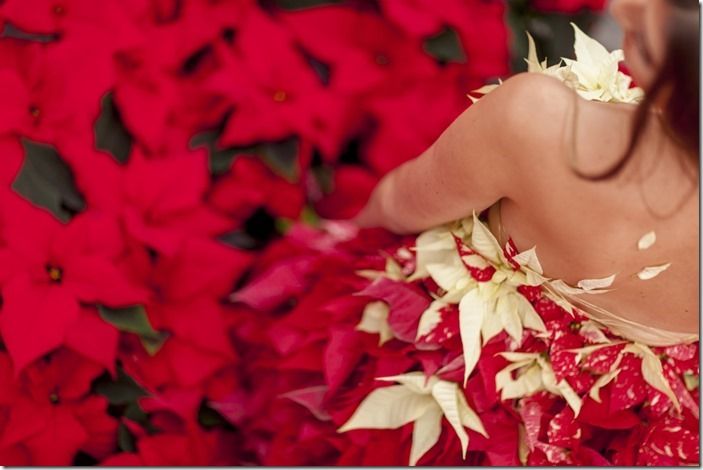 Poinsettias are as much a Christmas classic as the Christmas tree itself, and are known as 'Christmas Stars' in much of the world. In 2014, over eight million poinsettia plants were sold in the UK in just two months, an increase of 15% on the previous year, making the poinsettia the best-selling houseplant after the year-round orchid.
As well as festive houseplants in shade of red, pink, apricot and white, poinsettia make excellent cut flowers and last up to two weeks in water. The trick is to snip the stem and immediately dip it into hot water at 60˚C for 20 seconds then into cold water for 10 seconds before arranging in a vase.
What is International Poinsettia Day
International Poinsettia Day is celebrated on 12 December and marks the death of Joel Robert Poinsett, the US diplomat and botanist, who introduced the poinsettia to the United States from Mexico in 1828.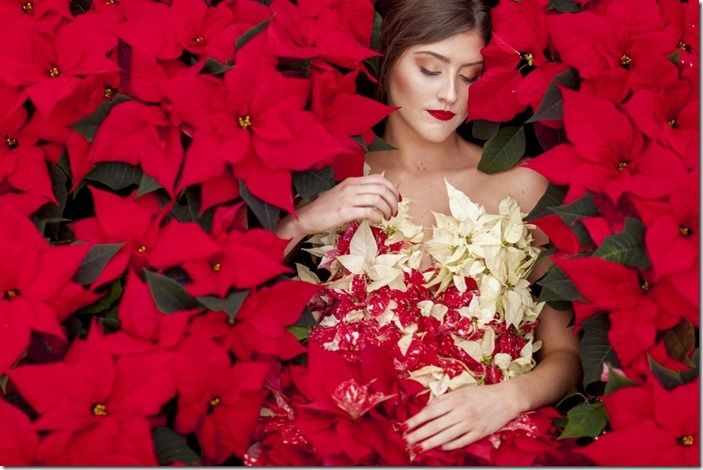 Photographs by Julian Winslow at the family-owned and managed Hill Brothers Nursery in Sussex, U.K. Hills currently produce approximately half a million poinsettias a year.
Floral stylists: Okishima & Simmonds www.okishimasimmonds.com , Make-up: Harriet Simmonds, Model: Tara Francis-Smith
Using poinsettias as cut flowers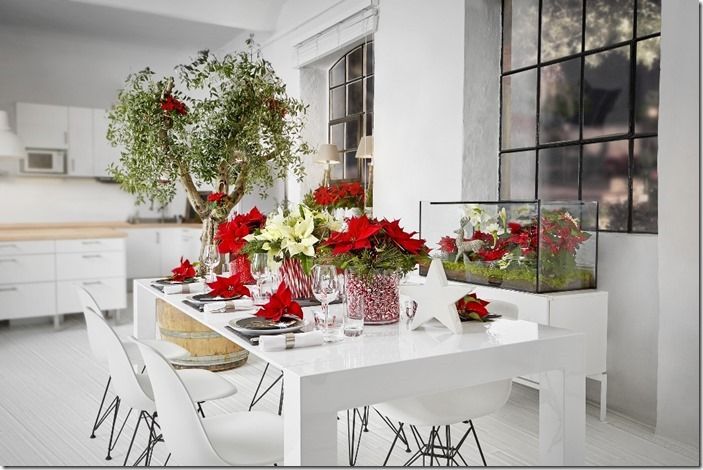 There is simple step-by-step approach to preparing your cut poinsettia for the vase.
Step 1: Using a sharp pair of scissors or knife, cut a stem of the poinsettia to the preferred length. Discard or keep the green leaves – it's a question of personal taste!
Step 2: Immediately dip the stem into a cup of hot water at 60˚C for 20 seconds to seal in the milky euphorbia sap.
Step 3: Then dip the stem into a cup of cold water for 10 seconds.
That's all there is to it. You are now ready to get creative!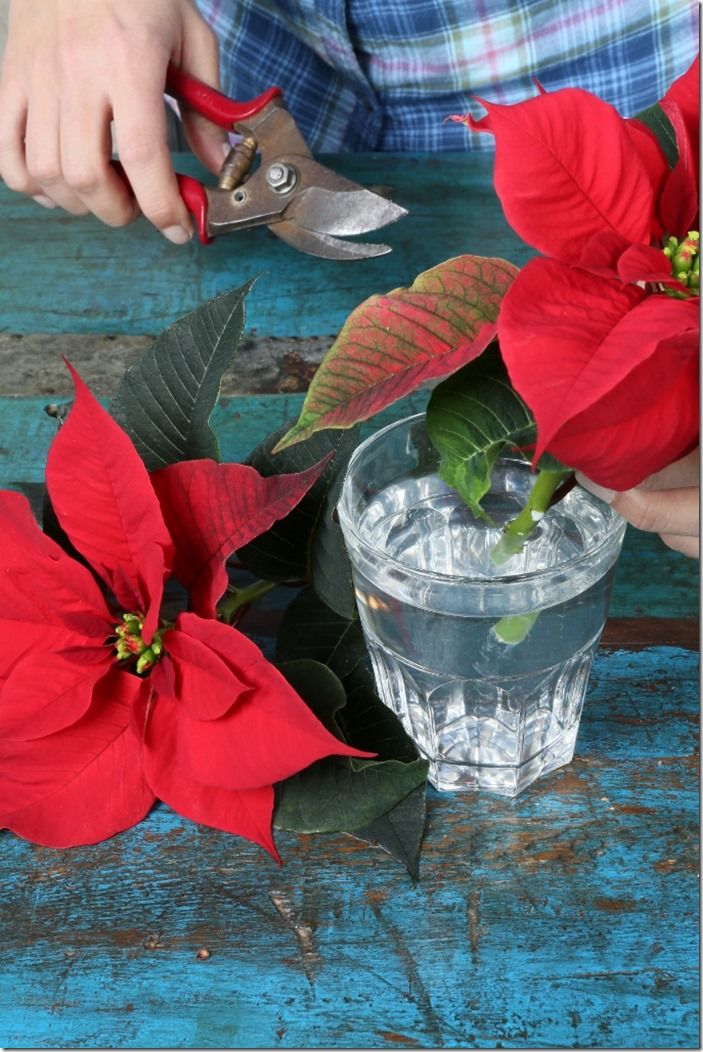 Keeping it Simple
Arranging a single stem in a vintage teacup or grouping bud vases together is a simple but elegant way to use cut poinsettia. Add twigs and ribbons if you are feeling, but keep it minimal.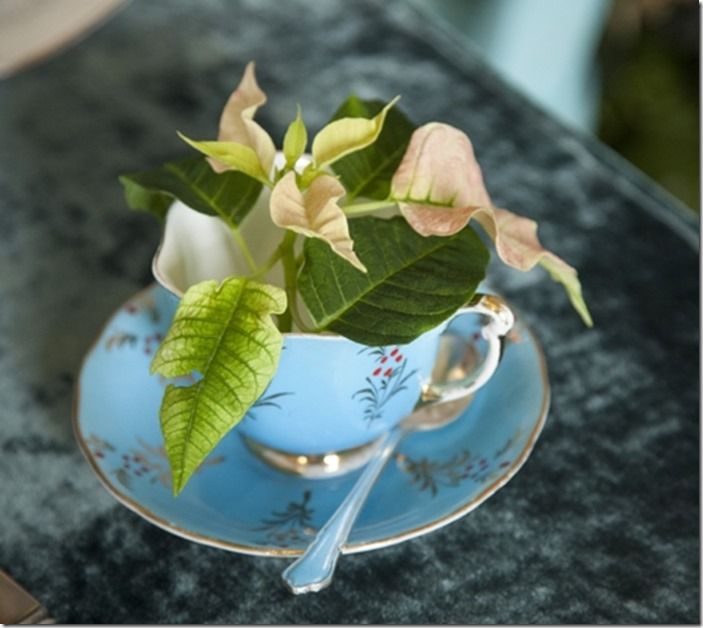 Poinsettia Table Centres
Still keeping it pure and simply poinsettia, this wreath of poinsettia is remarkably quick and easy to make. The statement colour of the poinsettia and the size of the leaf bracts means that you don't need many to cover a wet floral foam wreath ring. Be sure to get the kind with a plastic backing to protect your surfaces from water damage.
Once you've prepared your poinsettia stems, simply insert them at intervals into the foam wreath, overlapping the bracts slightly to avoid those gaps. Add candles for a wonderful table centre or hang from an internal door (poinsettia don't like the cold and drafts) as a wreath.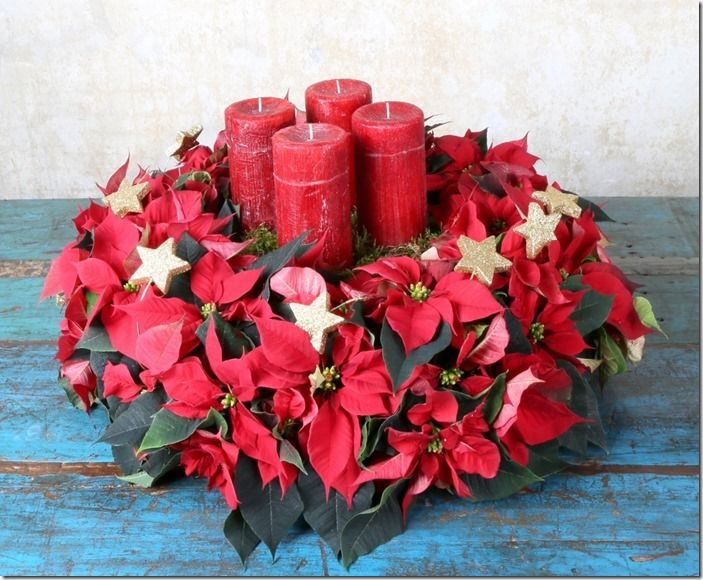 As cut flowers, poinsettia are surprisingly versatile and mix well with other flowers and foliages in larger arrangements. Hydrangeas, berries, pine and roses make excellent companion materials. Prepare your wet floral foam and simply add the cut materials as your creative juices dictate!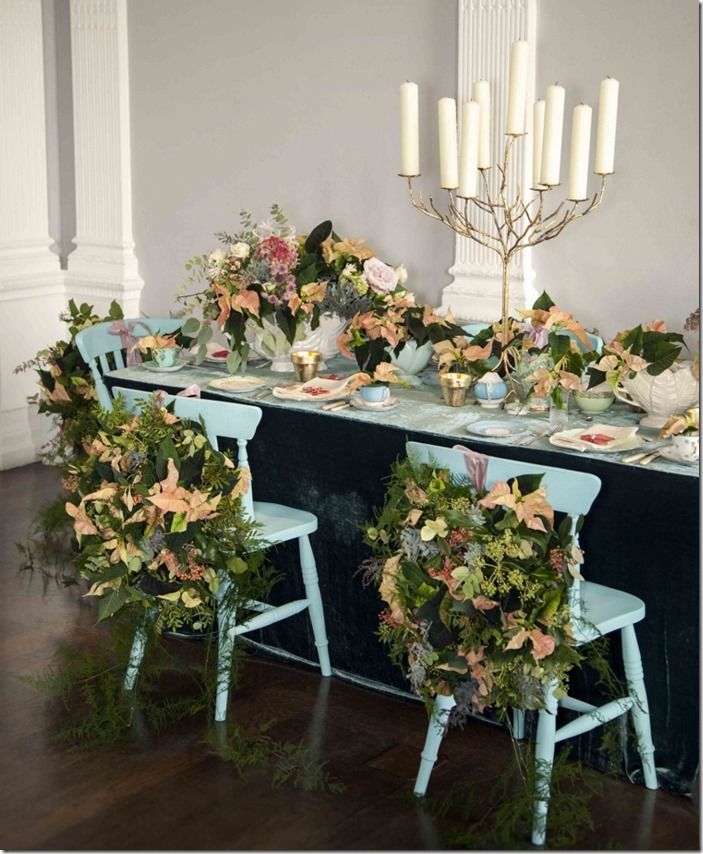 Sweet Poinsettia Step-by-Step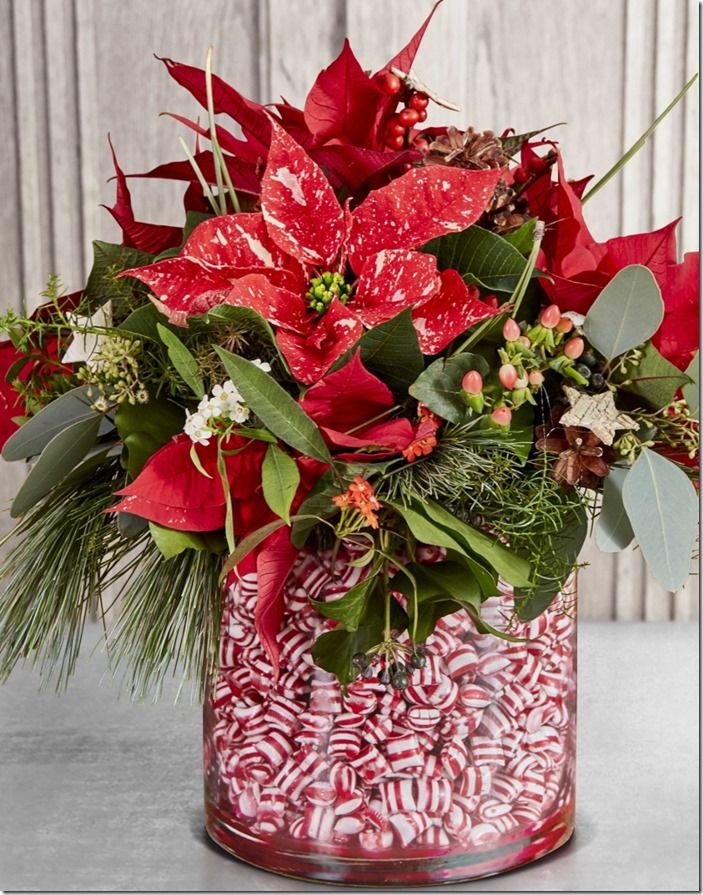 For the younger members of the family - or for those of us with a sweet tooth –these vase arrangements of cut poinsettia surrounded by red and white seasonal bonbons have an irresistible allure. And it is quick and easy to make.
For more poinsettia ideas from Stars for Europe visit www.christmas-star.info
Stay inspired
Get FREE Gardening tips and ideas from our experts in your inbox.