Last minute Christmas floral decoration ideas
By Andy McIndoe •
Most of us are short of time in the lead up to Christmas. The days pass by all too quickly; our plans to make immaculate floral decorations like those we see in the glossy magazines become more unattainable.  There isn't enough time to go out and source all the materials, let along create something wonderful.  So I thought I would share a few simple ideas with you. Things you could easily still find time to make, with whatever you have in the garden, plus a few accessible extras.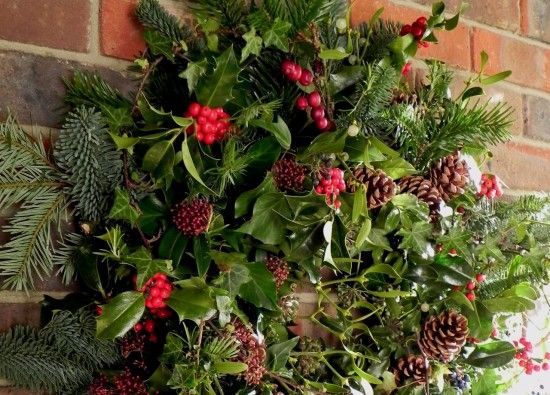 I always make my own Christmas wreath. Take a look at my blog from last year where I show you step by step how I go about it: http://www.my-garden-school.com/making-a-christmas-wreath-simple-subtle-and-effective/  I use a floral foam base, the type with a solid plastic backing container. I soak it in water containing cut flower food and then I use either offcuts from the bottom of the Christmas tree or a bunch of cut noble fir bought from the market as the foliage base.  I've made quite a number of wreaths this year and I have to say I think they look nicer before any ribbon or glittery bits are added. Simplicity and subtlety looks more effective…..and expensive.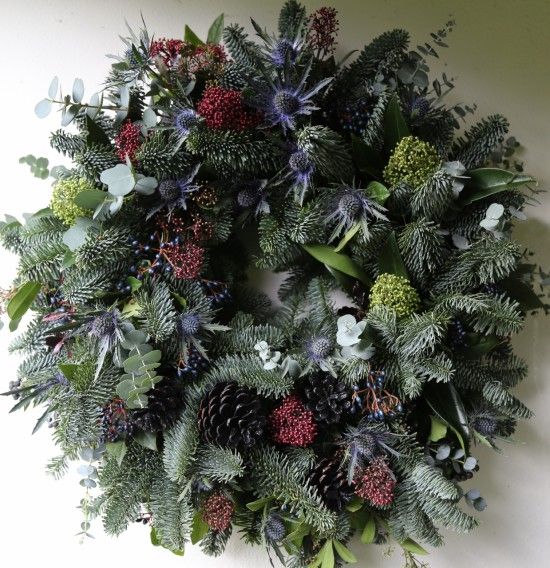 This year I added eryngiums, their steely blue thistle-like form looks great with the fir foliage.  I also tucked in a few sprigs of Pittosporum 'Tom Thumb'. Its dark purple-black shiny leaves really add depth to the composition.  Blue-black shining Viburnum tinus berries become more intense with the steely tones of the foliage. I pick up on the black with a few lacquered and glittered black fir cones.  Blue-grey eucalyptus foliage adds another leaf shape.  Then the red buds of Skimmia japonica 'Rubella' and the green buds of Skimmia confusa 'Kew Green' complete the picture.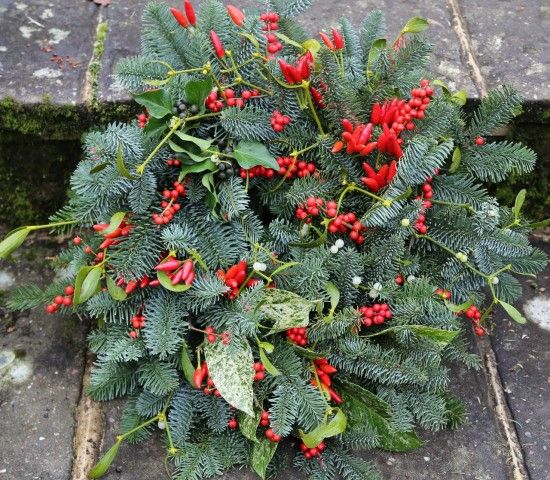 I made another wreath with exactly the same base and added sprigs of mistletoe and short stems of Ilex verticillata.  This comes on branched angular stems which can be cut into short lengths and anchored with the aid of a wire.  It is amazing how different the effect is using the bright red berries and olive green mistletoe from my more subtle previous combination.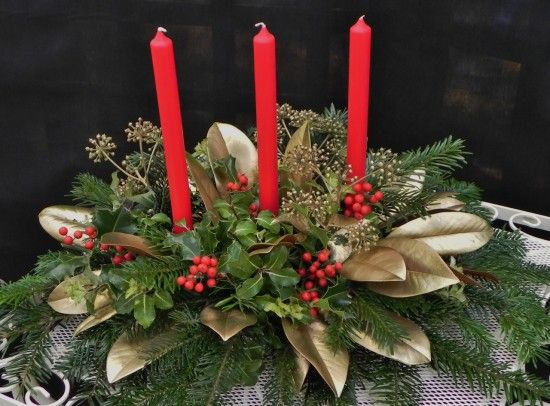 Making something to decorate the table is always another priority; granted you may end up moving it out of the way when loading up the table with turkey and all the trimmings. However, your creation will be there to adorn the table and be admired for the rest of the time.  Large leaves like magnolia and laurel lacquer well with an aerosol spray of silver or gold.  If using candles put them in those small, spiked candleholders to hold the firmly and avoid losing the length of the candle in the foam. If adding holly cut off the leafy tips to show off the berries.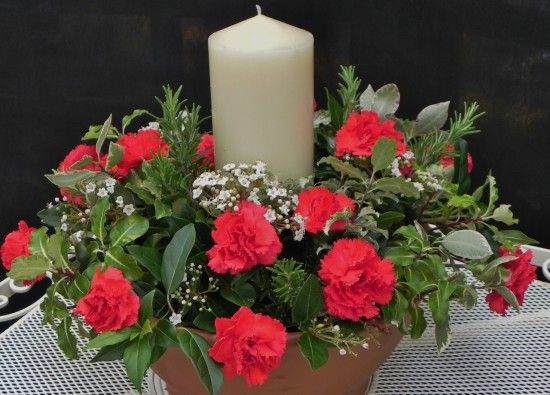 If you haven't got a suitable container consider using a terracotta flower pot or bowl. Line it with polythene and then cut a block of foam soaked in flower food to fit.  Anchor a large pillar candle in the middle with a candleholder or cocktail sticks and then smother the foam with a mound of short sprigs of cut foliage and Viburnum tinus and Skimmia japonica if you have it. A single bunch of spray carnations cut down to individual blooms makes great impact.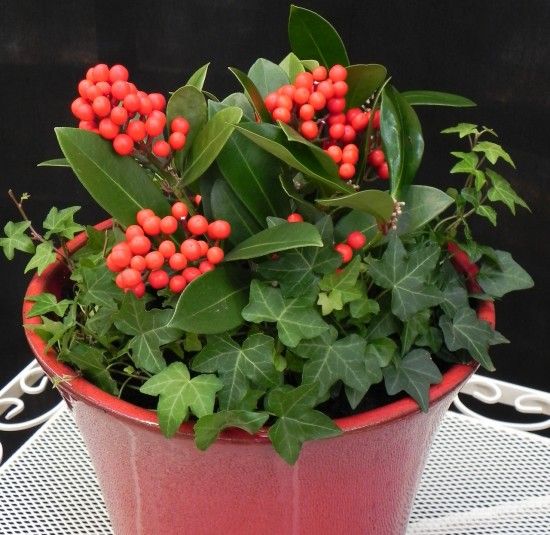 If you really don't want to do an arrangement as such buy a small shrub with bright berries and use that. Skimmia japonica 'Temptation' is one of the showiest, or Gaultheria procumbens. Put it in a shining red pot and twist a bit of ivy round it and you have something that looks contemporary, designer and wonderfully Scandinavian.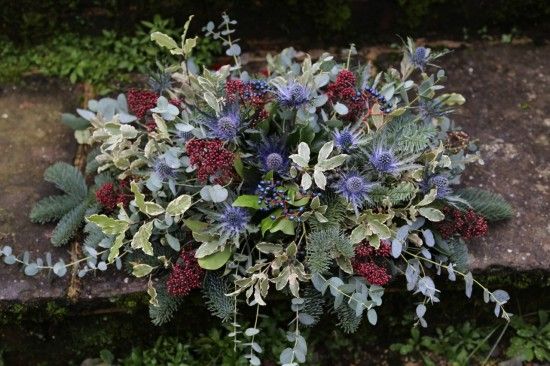 Finally a word about flowers for the cemetery. Many of us make the pilgrimage at this time of the year – but what to take? Cut flowers die quickly. House plants like poinsettias and cyclamen die even more quickly. A simple arrangement of foliage from the garden with a few eryngiums and skimmia buds makes a long lasting and beautiful tribute. I used the same materials as I did for my door wreath- I know it would have been approved of

 
Stay updated
Receive free updates by email including special offers and new courses.