Live From Chelsea Flower Show: MyGardenSchool & Shoot join Forces to Promote First Class Online Education in Gardening
By Alex N •
MyGardenSchool is exclusively offering £45.00 off Online Gardening Courses via the Shoot Marketplace as a Chelsea Flower Show Special
Chelsea Flower Show, London, UK. Two of the world's fastest growing gardening websites, MyGardenSchool (www.my-garden-school.com) and Shoot (www.shootgardening.co.uk) have joined forces to promote first class education in gardening. Just in time for The Chelsea Flower Show, the world's first online gardening school, MyGardenSchool, has teamed up with Shoot to make its online gardening courses accessible via the Shoot Marketplace. MyGardenSchool Founder Elspeth Briscoe commented: "We're passionate about educating the next generation of gardeners. This means making first class education available to you wherever you are in the world. The Shoot Marketplace gives us a perfect convenient, good value platform to reach more gardening enthusiasts who are seeking to improve their knowledge." Briscoe continued: "We have big plans for MyGardenSchool, and collaborating with other highly successful horticulture, gardening and internet brands is a core strategy for us."
MyGardenSchool is offering all Shoot members a £45 discount off four week online gardening courses as part of their membership package. MyGardenSchool has attracted some of the world's greatest gardening authors and horticulture experts to teach via this thriving global online horticulture school. Tutors include John Brookes MBE, Andy McIndoe (Managing Director of Hilliers), Michael Marriott (David Austin Roses), Noel Kingsbury to name but a few. All MyGardenSchool tutors are published authors and most are recognised on the world stage as experts in their fields.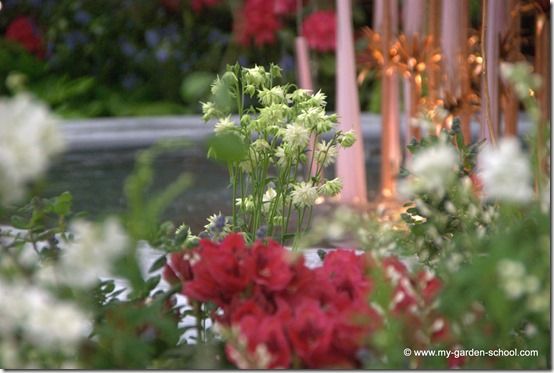 Above, The Hillier's Stand, Headed up by MyGardenSchool tutor Andy McIndoe
Nicola Gammon, Shoot Founder Comments: "Our core Shoot Community comprises over 50 000 online members plus up to 1 million unique hits per month. Our visitors tell us they are often searching to increase their knowledge (as well as to buy plants), and so the idea of Shoot Marketplace selling MyGardenSchool Courses seems a natural fit."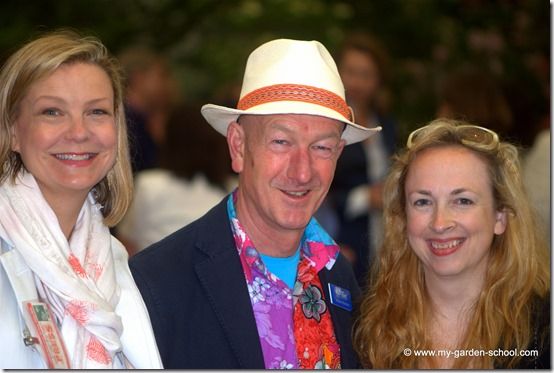 Above:  Nicola Gammon, Shoot Founder, AndMcIdnoe, Hilliers & MyGardenSchool, Elspeth Briscoe, MyGardenSchool Founder
Gammon continued: "The shop.shootgardening.co.uk platform is designed to allow many more plant specialists and retail specialists to join Shoot's online community, and support our huge and engaged gardening audience. My ambition is for Shoot to offer the widest online range of products for the gardener, and MyGardenSchool provides online gardening courses that suit Shoot's audience ranging from the complete beginner through to the professional garden or landscape designer."
John Brookes MBE, leading MyGardenSchool tutor explains the benefits of his teaching online: "The 'virtual' teaching method I use at MyGardenSchool simply works. I enjoy it because it gives me an exciting and eclectic classroom, with students from as far afield as the US, Japan, Croatia and Holland. Students love it because they can benefit from my personal tuition, and personalised garden plans, without the inconvenience, and cost (to both themselves and the planet) of having to travel to get them. MyGardenSchool enables me to teach, and for students to learn, from the comfort of our own homes. Of course this also enables us to keep costs down, which means the students get incredible value for money, and come away with a designer garden at the end of their courses, which will hopefully give them pleasure for years to come.'
About MyGardenSchool
MyGardenSchool is the world's first online gardening school where students can learn from gardening experts about how to do absolutely everything in the garden from keeping bees or hens, landscaping, design, growing vegetables and herbs, building treehouses or growing the perfect roses. And everything in between. All of our tutors are outstanding in their field (and gardens), being accomplished gardeners and acclaimed gardening writers. Gardening courses are four weeks long, and video tutorials are streamed weekly, together with course notes and assignments assessed by your tutor. You also get to chat to your tutor online, as well as your classmates, in the 'virtual classroom'. MyGardenSchool will teach you everything about gardening – virtually. But don't take our word for it - check out our course pages here: (http://www.my-garden-school.com/courses/)
The inspiration for the Shoot website stems from founder Nicola Gammon's frustrations when starting her own garden in London. "Nobody told me that I should keep a note of what I'd bought, or that there is such a thing as the right conditions for a plant! I took all the tags off the plants when I planted them – they were too ugly – so I didn't have a clue what to do at what time of the year."
Shoot holds the largest plant database in the UK with 14 000 plants listed. Its 50 000 members have the facility to create a plan of their own garden, with the plant contents listed, plus they can ask questions of online experts and through the Shoot member online forums. The Garden Media Guild's award for 'Website of the Year' is Shoot's latest accolade. Shoot was awarded Gardening Which's prestigious Best Buy for their garden design software, and won a Smarta100 award, which celebrates
Stay updated
Receive free updates by email including special offers and new courses.