More than just paving: soft lines in hard landscaping
By Andy McIndoe •
The patio, terrace, courtyard, call it what you will, is not always enhanced by choice of exterior flooring. Cheap paving or old inherited concrete abounds and provides a forbidding surface on which to relax, dine, or display your pots and containers. Some invest in stone, often imported from the other side of the planet; others opt for the least expensive utilitarian slabs which weather badly and do little to enhance the space with their colour.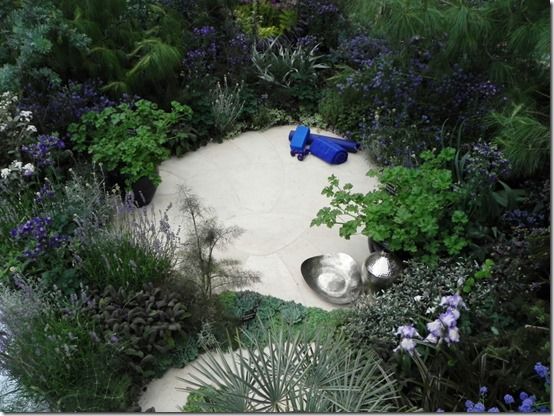 Personally I have never been fond of extensive solid areas. In my own gardens I have always chosen a combination of random sizes of paving combined with stone chippings; not small scatter prone pea gravel, a larger pebble or stone chip. I like this to be interrupted by carpet plants such as thymes and sedums. I think this makes the area softer and more interesting; I don't really like straight lines in the garden, hence the attraction of organicstone.
The organicstone range of exterior flooring brings together fluid lines, design and concrete sustainability. Their stoneislands and stonewaves offer the opportunity to transform a paved area into a two dimensional sculpture. To quote their website, "Drawn from the inspiration of organic architecture, these beautiful, free flowing forms are in harmony with nature. The designs are sympathetic with the human, body mind and spirit and with the creative freedom to express themselves through natural curves".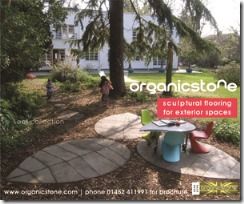 If you inherit paving with a garden, or have paving that has deteriorated over the years and no longer enhances you space the big obstacle to doing something about it is the effort involved: hard landscaping is an apt term! This is one of the big advantages of organicstone's paving shapes is that they couldn't be easier to install. They have been made specifically to make them easy to handle and to lay to achieve maximum effect.
I have used organicstone in my exhibits at RHS Chelsea Flower Show for a number of years, both for the main walkway through the exhibit and as features amidst the planting. These transform the small spaces which become the gardens within the whole Chelsea exhibit. The soft shapes blend beautifully with the planting and make the space look bigger. But how do they do that?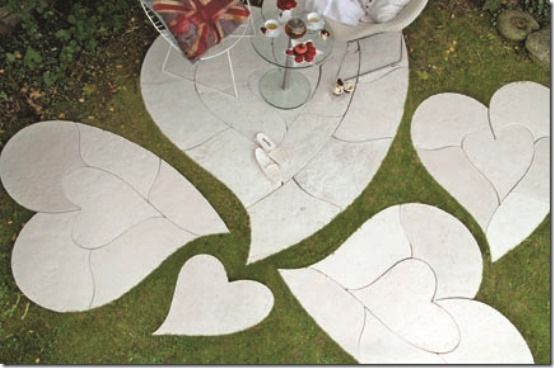 Well it's simple; soft shapes and curves do not define a space in the same way as straight lines. If you imagine a square or rectangular garden with a straight border along each of the boundaries; your eye will naturally be drawn to the corners and there will be no variation in the depth of the planting. Now imagine the same space with an oval or round shaped space in the centre. This creates deep planting areas in the corners. Your eye will travel around the space exploring; the boundary is not defined in the same way.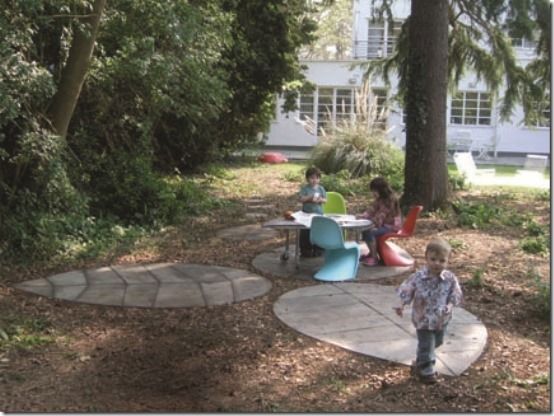 In a small garden an organicstone stoneisland is ideal to provide this space? A delta shape, or perhaps two loosely interlocking paisley islands give you a beautiful fluid space to build the planting around, deeper in the corners, giving you the opportunity to plant larger taller subjects. I like to use my stoneislands surrounded by pebbles or slate scree which then flows under the planting. This is practical and easy to maintain as well as being more attractive than bare soil. You can of course use the space between two stoneislands to showcase sempervivums, saxifrages or other alpines. As the large shapes are made up of a number of components you can leave out the central piece of the jigsaw and use this as a planting pocket: an ideal spot for a helianthemum or a cushion of dianthus.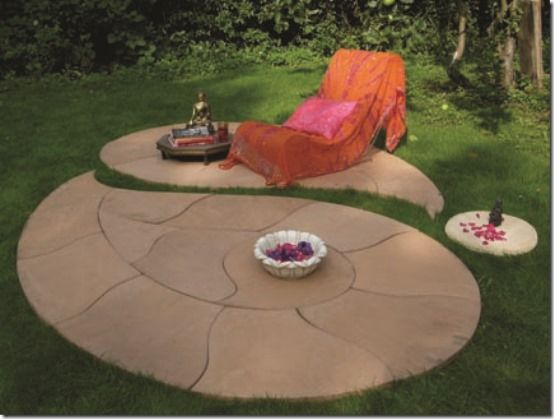 I don't want you to think that this type of exterior flooring feature is only suitable for small gardens. In a large space stoneislands can work just as successfully to break up expanses of dull space and to create focal points. The leaf shape looks stunning in the dappled shade under a tree. I love the bean shape alongside a pond with waterwashed pebbles and the leaves of hostas and rodgersias.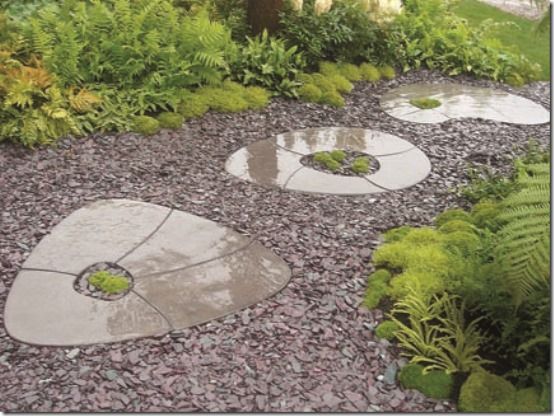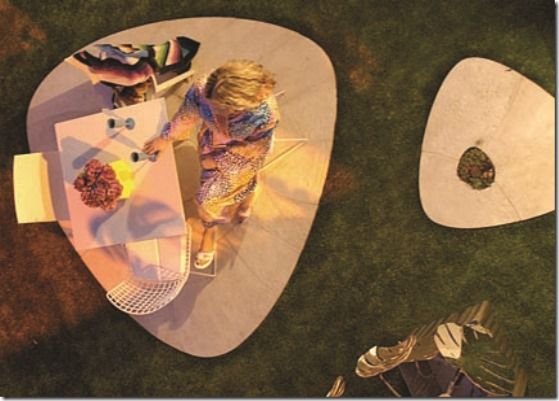 The small stoneislands make wonderful stepping stones through planting, gravel or across a lawn. Drop then in just below the level of the grass and you will be able to mow over them. I particularly like them with silver foliage shrubs and fragrant herbs where you brush through the scented foliage as you walk.
Although contemporary in style and design this type of paving will sit happily in the more traditional style of garden. Combine it with mounds of lavender, cistus and hebe and it is the ideal way to create a sunny oasis. I used the large Delta shape to create an outdoor exercise and contemplation space for 'Feel Good about Gardening' at RHS Chelsea Flower Show 2011. I surrounded the paving with soft silver and blue planting to create a sense of calm and well-being; the effect would be perfect in a coastal garden or a contemporary courtyard.
Find out more about organicstone and wonderful exterior flooring at www.organicstone.com
Paving shouldn't be boring and utilitarian; it should be a beautiful feature in your garden.
All organicstone products are hand-made in Britain with 100% recycled granite and use earth-friendly manufacturing processes.
Stay inspired
Get FREE Gardening tips and ideas from our experts in your inbox.