Plantarium 2015: The world's biggest garden plant event
By Andy McIndoe •
Plantarium is billed as 'The world's biggest garden plant event', with three hundred participants from eleven countries. It takes place in Boskoop, The Netherlands, at the end of August and attracts visitors from across Europe.
At first glance it may seem like the showcase of the Dutch nursery stock industry. Boskoop itself is renowned for its nurseries, producing hardy garden plants, primarily shrubs. However at Plantarium you will find growers and plant breeders, marketing organisations and buyers from across Europe and further afield.
Plantarium is a place to find new introductions and the hunger for new plants is immense. Breeders want to get their new plants into growers that will produce great plants that, with marketing support, will sell in quantity. Plant breeders' rights, in other words "plant patents" mean that breeders get royalties on those varieties as they are propagated, grown and sold. That's how a plant breeder makes money.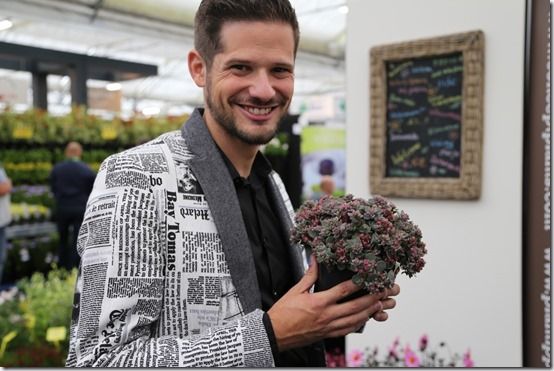 Peter van Rijssen is a specialist in royalty management of new plant breeds. He focusses on finding and promoting new varieties, and getting them into the right growers that will do a good job of growing them and then selling them.
If a new variety sells in quantity it makes money for the breeder, and everyone else involved. Peter is a marketing man. Great at getting his new plants, and himself, under the spotlight. He uses social media extensively and builds a story well ahead of a plant launch.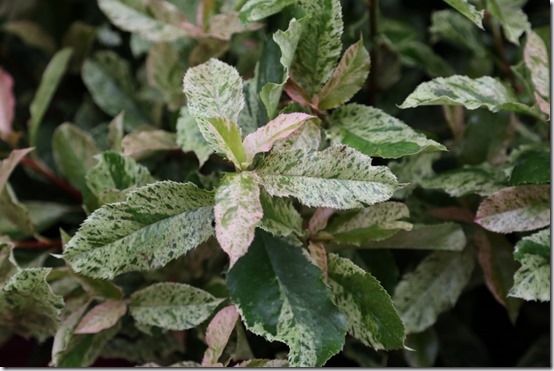 The new Photinia serratifolia 'Pink Crispy', developed by Van Oploo Tuinplanten BV, is a good example. I can already sense many turning up their noses at the name, the marbled foliage of cream and green, the pink new growth.
It may not be everyone's cup of tea, however it's going to sell and it's a great garden centre plant. The name will be remembered. Everyone at Plantarium, or who has seen any media coverage of the show, will remember the pink car and the new photinia.
It may not be a garden classic of the future, but sorry designers, this one will fly. You may turn up your nose at Salix integra 'Hakiro- nishiki'; that pink and white willow that scorches in the garden, but it sells!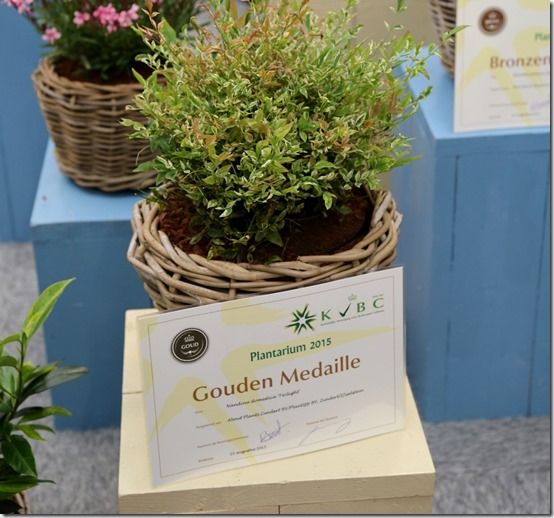 New introductions are judged at Plantarium, and of course a gold medal endorsement is a big advantage. There are plenty of variegated plants around and these are always recognisable novelties.
Nandina domestica 'Twilight' bred by Neil Marek, USA is another compact form of sacred bamboo. It's ideal for a small garden or container; great selling point. The leaves are irregularly variegated cream and green.
It is not unattractive, but looks a bit stunted and deformed. It promises a flush of pink growth in spring. For me it doesn't have the appeal of 'Obsessed', with its scarlet winter foliage, however folks seem to rate it.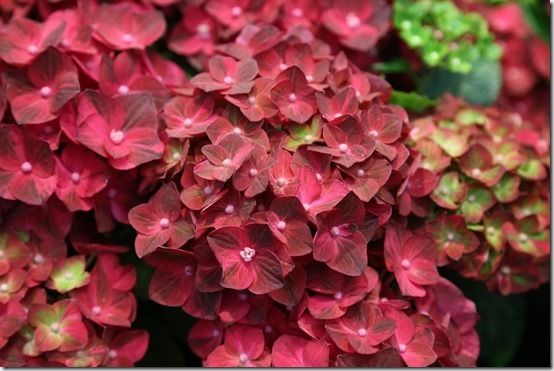 Best new plant overall at Plantarium 2015 was a hydrangea. The hydrangea is the shrub of the moment and certainly there were plenty to choose from. Hydrangea macrophylla 'Ruby Tuesday' is part of the Magical Series by De Jong Plant BV.
These are lovely hydrangeas; the flower colouring develops and changes as it matures. These are hydrangeas that flower decorators will love; a bit different, but familiar enough. 'Ruby Tuesday' is a glorious rich red; who could resist. Great labelling and marketing too which assures their place in volume quality retailers.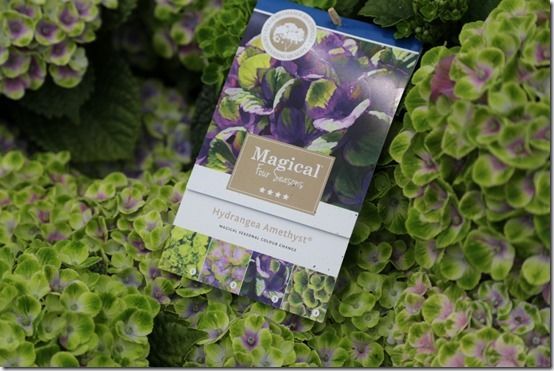 There seems no end to the amount of Hydrangea paniculata introductions, although older favourites, like 'Limelight' remain dominant.
Some new ones are horribly heavy and squat. Growers like these because they fit more on a trolley, making transport cheaper; retailers like them because they don't blow over on plant area benches.
Hydrangea paniculata 'Confetti', bred by Peter Vlasveld of the Netherlands is an exception. Pretty, very conical lacy flower heads on upright stems. I thought this plant was outstanding and I reckon this is a new introduction that will still be around in a few years.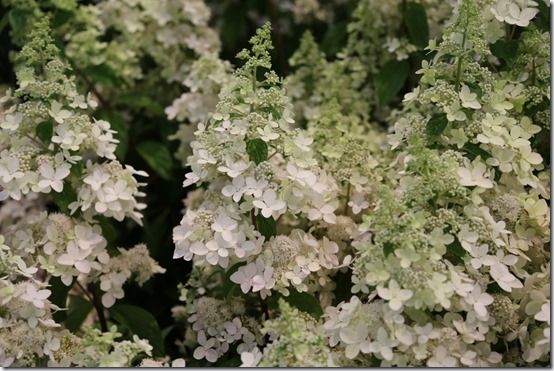 There seems to be an influx of new, dwarf and compact varieties of Berberis thunbergii. This is of course their season, when the colour becomes more intense. I am a great fan of these; they give a long season of interest and they are hardy and reliable.
Fortunately the Europeans don't share the same aversion to plants like berberis, conifers and basic evergreens that the Brits do.
I think they are good at choosing subjects that work for functional, but attractive planting schemes. Berberis thunbergii 'Orange Ice', bred by Szewzcyk Janusz of Poland is an upright, compact variety, not dissimilar to the popular 'Orange Rocket' but more striking. Great colour and well worth a try.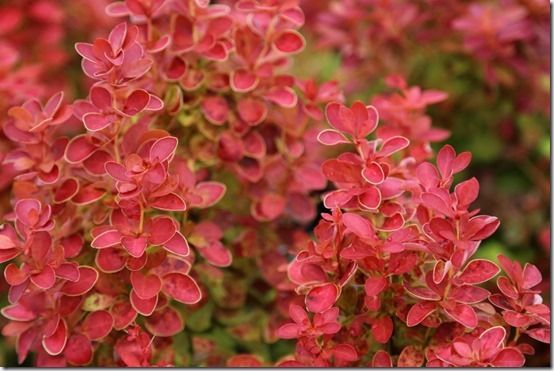 So how about "trends" at the show? Echinaceas still feature heavily. Amazing colour range and striking blooms. Sadly I've yet to see many performing well in gardens. They also rarely look like the show plants when sold because so many are sulky growers. However folks love them and don't seem to give up on them.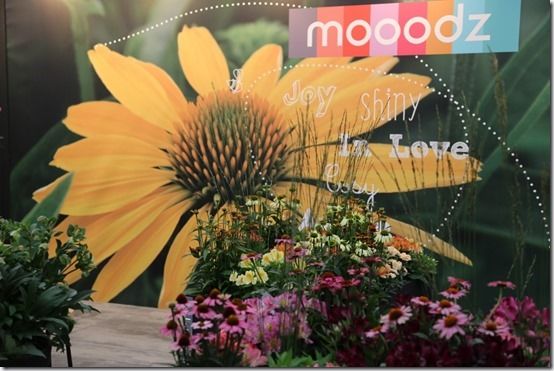 There was good colour theming and use of accessories in many exhibits at the show. This more department show look features in the new generation of garden centres.
It is appealing to the senses and conveys an idea of what works together from a visual point of view. The plant variety becomes secondary to the look.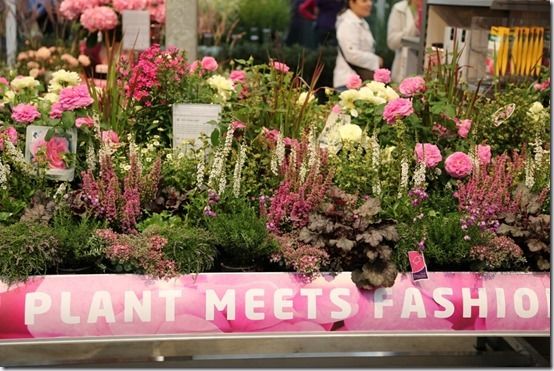 There are plenty of grasses around, especially pennisetums. These are appealing because of their soft tail-like flower heads and they don't look as scary as some of the bigger grasses.
I loved the presentation used by Alure which I thought put some fairly basic varieties into a different league. If you saw this designer approach in a retail outlet even those that hate them might find them appealing.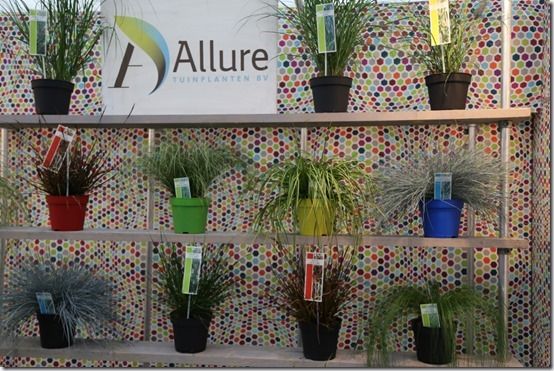 Environment and the benefits of the green environment are high on the agenda worldwide. Although this is essentially a show for hardy garden plants it was interesting to see the culinary and medicinal aspects of plants gaining greater profile.
I loved the whole concept and presentation of these organic herbs, along with organic vinegars, preserves and oils. Not a flower in sight: the other aspect of the exhibitor was grasses, but one of the busiest stands at the show.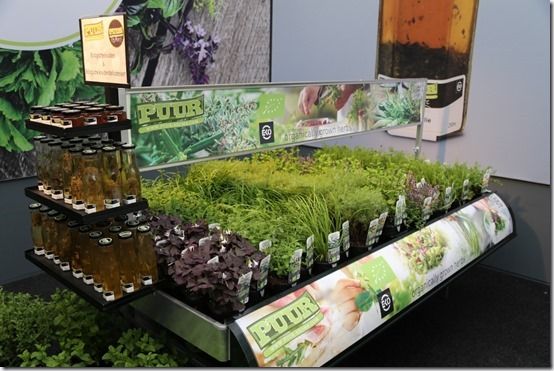 "Bee friendly" has become a major selling slogan in the promotion of perennials in the past few years. This also featured strongly with some exhibitors offering a range: a great way to re-invent. I thought this Concepts of Nature presentation was excellent and very appealing. Nothing new, but makes choice easy.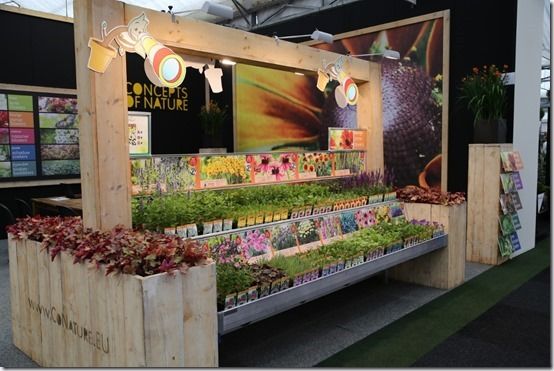 This really is a snapshot of Plantarium. If you visited do add any comments about your likes and dislikes. It would be great to hear from you.
Stay inspired
Get FREE Gardening tips and ideas from our experts in your inbox.