Planting for late summer colour – Garden Designer Kate Gould gives her views
Often when we think of a summer garden we think of a hazy blur of foxgloves, delphiniums, phlox and campanulas. These are the plants of the cottage garden, plants that thrive and bloom in early to mid summer. They are subtle pastels; delicate pale blues, dusky pinks and hints of mauve. Many gardeners feel that once these soft colours have faded, that there is very little high impact interest to be found in the garden for the rest of the year.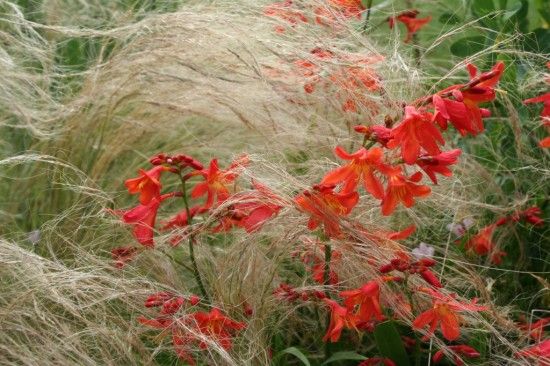 This could not be farther from the truth, providing you don't mind packing quite a punch later in the season. Late summer colour is unapologetic; orange, red, yellow and pinks of the hottest and deepest shades. This is a time when irreverence can be had with planting schemes. Think of the late, great Christopher Lloyd at Great Dixter, East Sussex, England or the red border at Hidcote Manor, Gloucestershire. When washed with low warm autumn light both can be magical even late into the evening.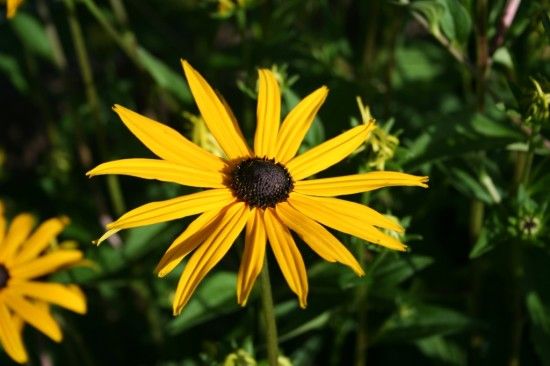 During the day the blooms of Rudbeckia var. sullivantii 'Goldsturm' are a clear bright yellow, perhaps too yellow for some, but it is a plant that stands no fuss, looks after itself and competes in the most packed of borders; a winner by any standard. As the light lessens in the evening the strong yellow becomes more discreet, warm and golden. It is also a plant that looks good early in the morning especially in late September when the first of the morning dew heralds the onset of autumn.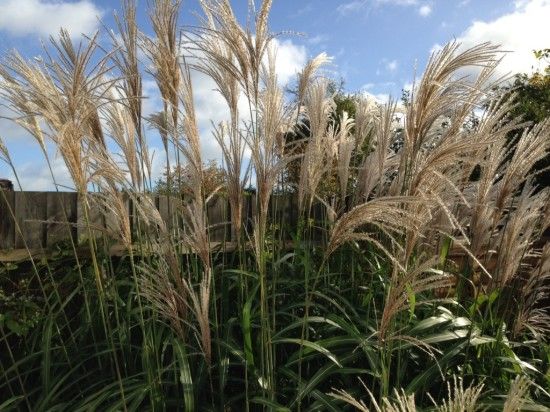 By the time the rudbeckia are in full force miscanthus and panicum, wonderful late summer grasses are pushing up their flowers and calamagrostis varieties which flowered earlier in the season have turned a beautiful toasted colour. The rudbeckia's yellow daisy bloom with a dark central cone contrast beautifully with the vertical grasses. As the yellow petals finally drop the black central cones remain as oval bobbles topping out wiry stems and even in the depths of winter still provide visual interest as well as much needed fuel for migrating and native birds that feed on the packed seed heads.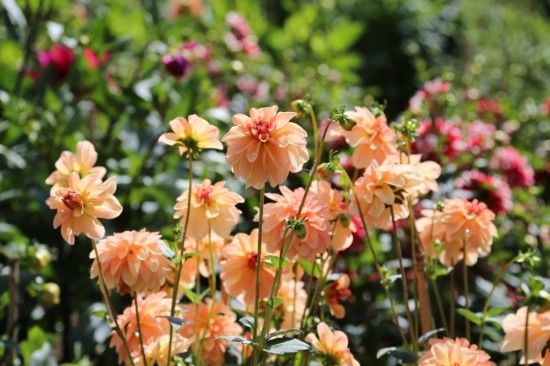 Decorative dahlias
Some love dahlias and some hate them. For many years they were seen as old fashioned and not right for the soft prairie planting schemes that were the height of elegant chic. They, like high waisted jeans and cropped tops have come full circle and are now back in fashion, although I have never gardened without them late in the season (dahlias that is, not high waisted jeans).
Cactus dahlia
Dahlias are simply fabulous plants. There is nothing quite so fleshy, voluptuous or over the top as a dahlia. Yes there are more refined types, with single blooms and believe it or not very dainty petals such as the wonderfully named Dahlia 'Honka', but I am afraid I am not so classy as that and am drawn to the deep reds and pinks that really make the garden sing. Dahlia 'Fascination' with its plum foliage and hot pink flowers combined with fiery orange Crocosmia is a personal favourite (although admittedly perhaps not everyone's cup of tea).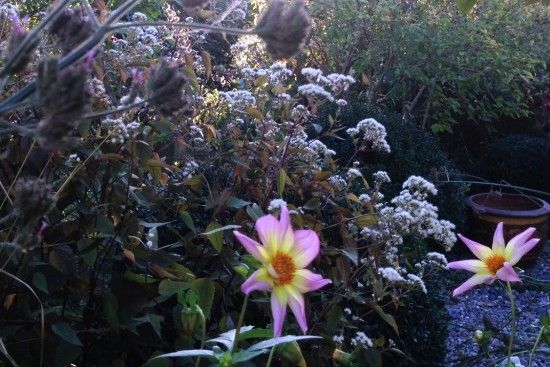 Dahlia
The late summer light that helps soften the Rudbeckia does the same for the Dahlia and the even gaudiest of planting partners are transformed into schemes that please the most pastel of pastel lovers. This is nature's gift. As gardeners that manipulate nature we plant "right plant in the right place" but nature knows what light to throw when to make the plants that we plant look at their best. Bright in the spring when blues look luminous; warm in the autumn when after a long summer the autumn glow is a welcome sepia lens that buffers the onset of winter.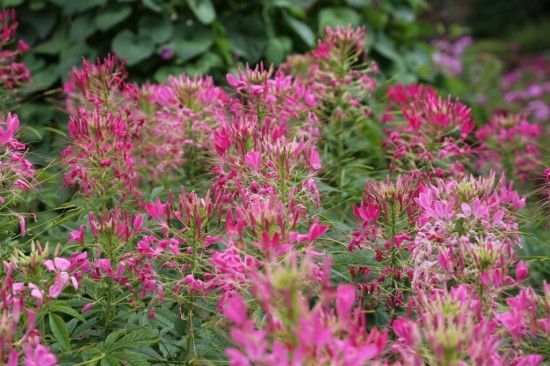 Cleome spinosa
The plants of late summer will have had to come through a lot throughout the year. They will have provided a leafy backdrop to earlier shrubs and perennials and fought their way up through more mature plants but they are worth their weight in gold and where other plants have begun to die down for the winter colourful annuals can be added; Cleome with its spiky stems and spidery blooms that dance in the merest breeze are easily raised from seed earlier in the year and continue to flower up to the first frost. Cosmos also are easy from seed and a mixed packet can result in blooms of the purest white to the darkest cerise. I often plant them in large containers where I can make sure they aren't attacked by slugs and snails and when a hole appears in the border I simply stick the pot in like a giant colourful plug.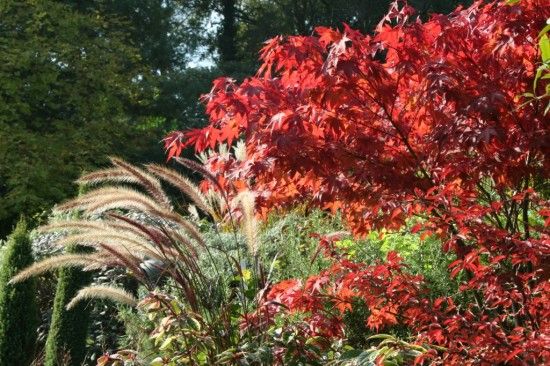 Acer and pennisetum
Colour is often considered only from blooms but foliage can be at its peak at the end of the year. Fiery red euonymus, luminous cotinus and ever beautiful acer varieties add impact at the backs of borders or in a woodland scheme where green may have been the predominant theme over the course of the year.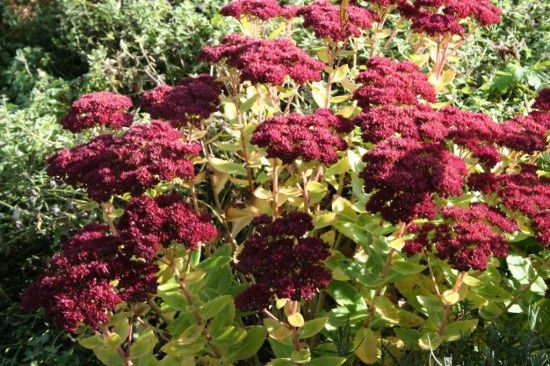 Sedum 'Herbstfreude'
Summers swan song is quite a wonder and it is well worth planning planting schemes with this in mind. Aster, strobilanthes, eupatorium and sedum all bloom very late and are not in the least challenging to grow. Set these against a backdrop of jewel-like shrubs with fiery leaves and shiny berries and you will be hard pushed to believe it is late autumn!
If you would like any design advice or a consultation regarding your garden please contact Kate Gould at kate@kategouldgardens.com
Stay inspired
Get FREE Gardening tips and ideas from our experts in your inbox.