Planting Tulips for impact: long lasting varieties and colour blends
By Andy McIndoe •
Tulips offer not only the most amazing range of flower colour and form, but also the opportunity to create some of the most striking colour combinations in the spring garden. We all have our favourite varieties and like many self confessed tulip addicts I have mine: Tulipa 'Queen of Night'  ; that dark, sleek purple black single classic which has such staying power in the garden. I grow 'Queen of Night' every year and often try it with other varieties such as scarlet-orange 'World's Favourite' or sleek soft orange 'Ballerina'. The combination of rich bright colour with deep, dark tones is arresting to say the least. However I also love it with soft gentle hues: pink, lilac, light purple and white and these combinations have become increasingly popular in recent years.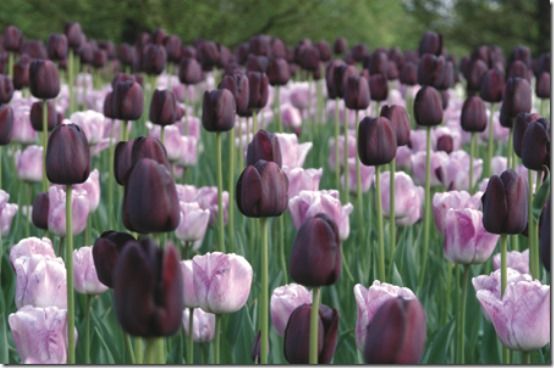 Living Colour bulbs offer a colour blend, "Moonlight Duet"  a mixture of 'Queen of Night' with 'Shirley', a white tulip flushed soft purple around the edge of the petals. Both are single, late tulips that bloom together to create a dreamy combination.
'Queen of Night' also works brilliantly with 'Pink Diamond'. I have grown this tulip for the last two years and it is now among my firm favourites. Strong stems and blue green foliage support the most elegant pale pink single blooms. I know the weather was cold here last spring but mine lasted for four weeks. For me that's one of the most important qualities in any tulip: long-lasting flowers. Perhaps it's a good moment to mention that these strong single tulips have the best chance of surviving in the open ground from year to year if your soil is well drained and climate not too cold.
Of course you could create your own colour mix and perhaps include white narcissi, hyacinths and muscari to achieve a wider colour spectrum in a mixed flowerbulb planting. When I visited the Keukenhof last spring there were many such blends, indicating a growing trend towards the meadow effect using flowerbulbs.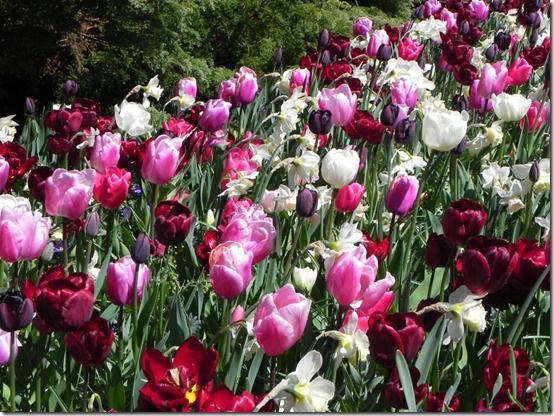 I am a lover of orange tulips, I find that they work so well in spring light and combine superbly with spring blues such as myosotis and muscari. Nothing lifts my spirits more than an impact planting of orange. I mentioned Tulipa 'Ballerina' earlier.This lily-flowering tulip is such a reliable performer and is lovely whether you plant three or four or three or four hundred in a group. I often grow a pot of them on the steps outside the conservatory. Their fine form is superb in the foreground of the garden picture. I was particularly taken by a fantastic drift of them I saw at the Floriade, Holland where they were planted around a rusting steel sculpture; an idea that would easily be translated into a garden situation on a smaller scale.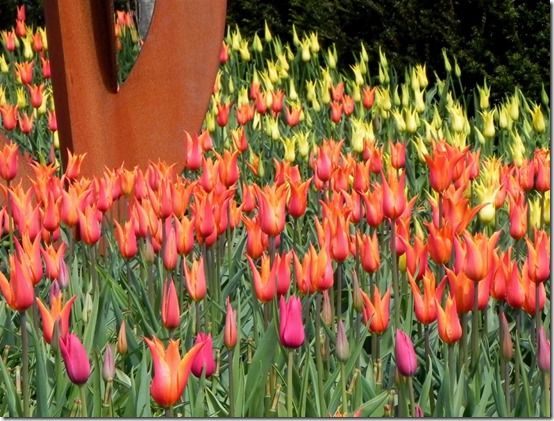 If you are looking for a sturdy, reliable, totally beautiful tulip for pots and containers then choose Tulipa 'Princes Irene' . Warm orange flamed with soft purple and grey on stout stems with blue-green leaves. It's long lasting and totally gorgeous, even if orange tulips are not your usual choice. This is the perfect bulb flower for a windy, exposed garden and again the blooms are reliably long lasting. I grow it in terracotta pots alongside caramel-leaved heucheras.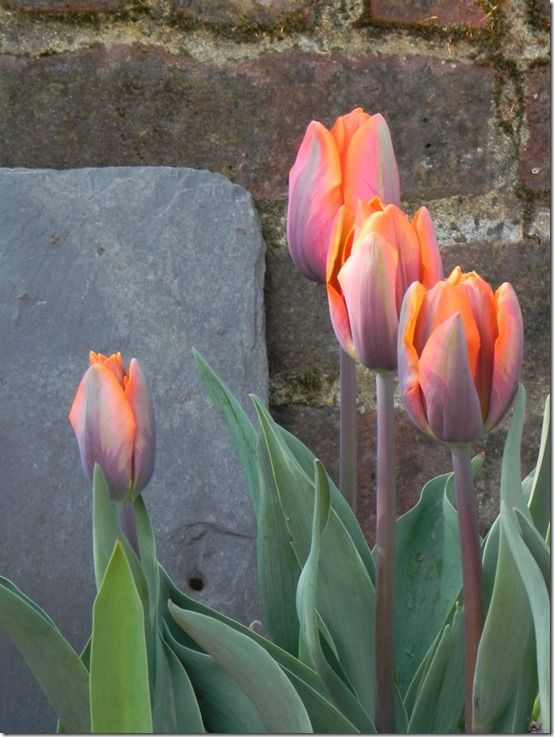 There is a double form of 'Princes Irene' called 'Orange Princess'. Living colour offer it as a stunning mixture with 'Red Princess' called Special Princess Collection. These are double late tulips, weather resistant and long lasting and scented. You can buy them as individual varieties too.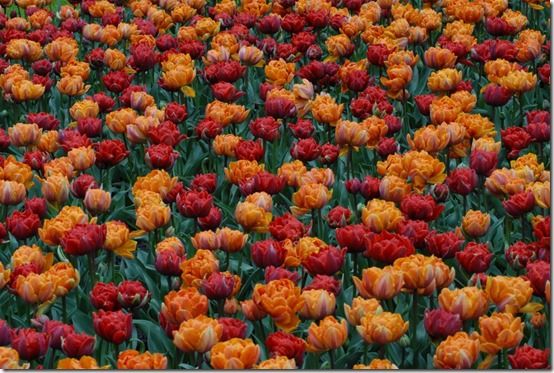 The Emperor tulips are usually earlier to flower and have large single elegant blooms. 'Orange Emperor' is one of the finest with glowing orange flowers that are particularly superb when spring sunshine filters through the petals.
This is a wonderful tulip on its own, with blue muscari or surrounding a few stunning crown imperials, Fritillaria imperialis. The variety I would choose is Fritillaria imperialis 'Rubra' with its orange red bell shaped flowers beneath a ruff of emerald green leaves. Crown imperials must be planted deep enough, with at least three times the depth of the bulb of soil over them. If you don't plant deep enough the flower stems will be short and disappointing.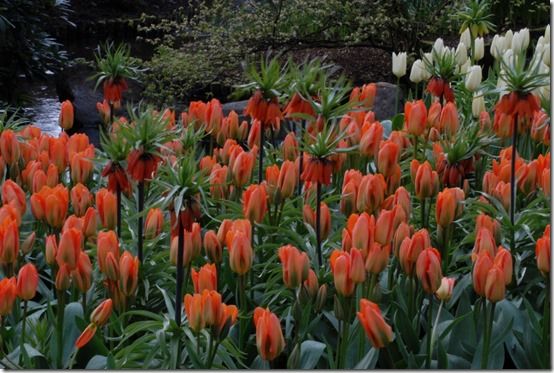 As I said at the beginning tulips never cease to amaze with their range of colour and flower form. The striped semi-double variety 'Carnival de Nice' is torn from a vase in a Dutch Master. Try growing a few in a lovely terracotta pot with velvety violas for a truly mouth watering combination. The flamed and feathered flowers grow more beautiful with age and you'll be amazed how long they will last.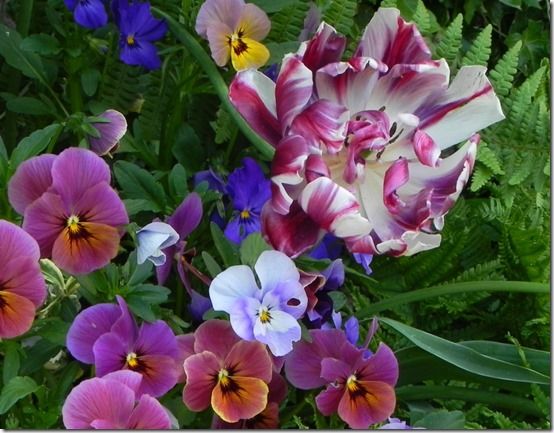 One of my greatest successes of last spring was the wonderful parrot tulip 'Green Wave' . If you've grown 'Fantasy' before this is an improved form with more beautiful, larger long lasting blooms. Again I would grow a few in a well positioned pot where you can enjoy its beauty from bud to petal fall; a period of over three weeks.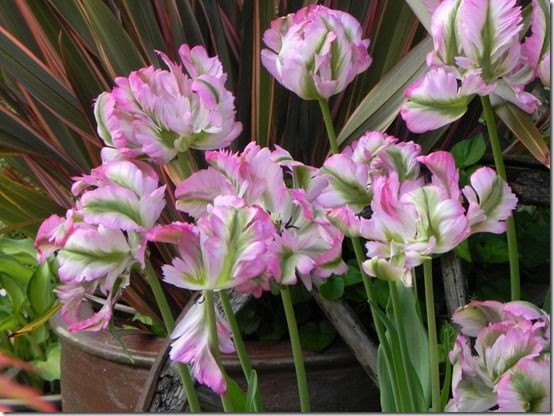 A tip: make sure you keep your tulips well watered when they are in full growth and flower in spring. Dry potting medium means short-lived flowers.
My final recommendation: Tulipa 'Cafe Noir'  delicious blackcurrant silk. I love it almost as much as 'Queen of Night': I could be a convert! I grew this tulip last year and will again this year. It's a passionately gorgeous flower; totally irresistible.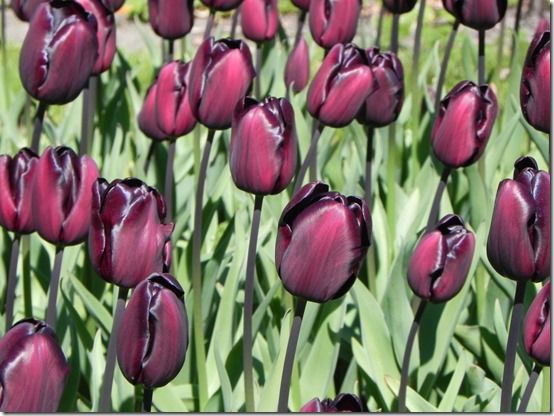 I've talked a lot about tulips; they are my guilty pleasure after all. Living Colour Bulbs offer far more than just tulips, so take a look. Flower bulbs offer so much in any garden. Modest investment can equal maximum impact so make the most of them this autumn and look forward to spring!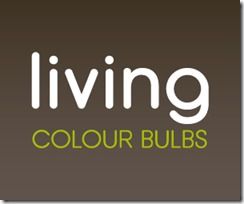 Stay updated
Receive free updates by email including special offers and new courses.