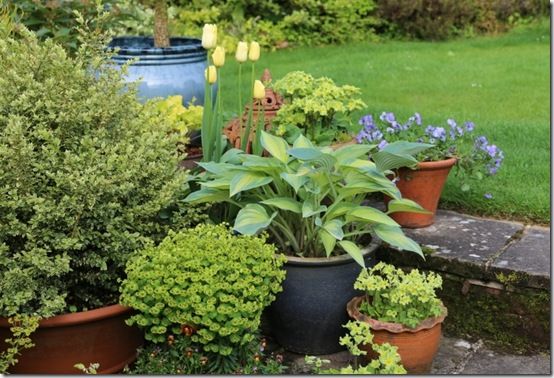 Growing a plant in a pot is a great way to showcase something unusual or to make a familiar subject into something really special. The choice of container to complement the plant makes all the difference, also where you position it. I use a great many pots around the house and terrace area; many of them permanently planted. I move them around, regroup them and give some a rest in less prominent positions, while I bring others to the fore. A few hours work can give the garden a whole new look.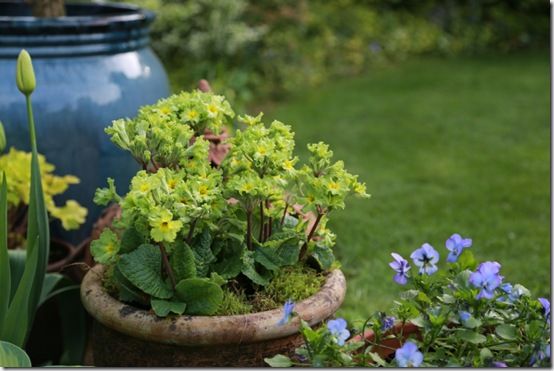 I often plant a newly acquired treasure in a pot for a while so that I can enjoy it at close quarters. Sometimes it stays potted, on other occasions it eventually finds its way into the open ground. The lovely Primula 'Francisca' is a good example. I first came across this delightful primula ar a plant fair a few years ago. It has stems carrying several flowers; a type of polyanthus. The flowers are ruffled and pleated in a wonderful shade of green with yellow eyes. They are remarkably long lasting blooming for several weeks from mid spring through early summer. My original plants are still in pots and I just put them in a shady spot when not in bloom.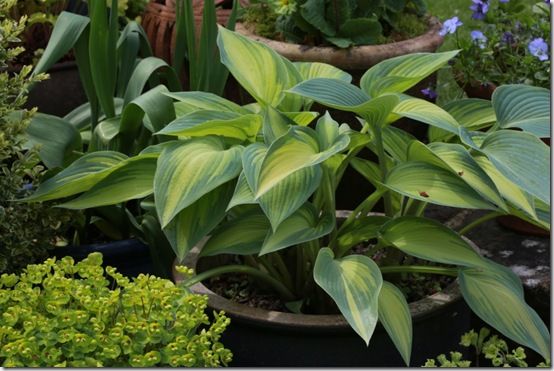 We grow a number of hostas in pots for their strong architectural foliage. It is also a good way to protect them from slugs and snails. Hosta 'June' is a favourite with blue green edged soft golden leaves. It looks great in a blue-grey pot and makes a lovely neighbour for Primula 'Francisca'. Later in the season I keep it alongside cream and green variegated buxus and often add soft blue violas.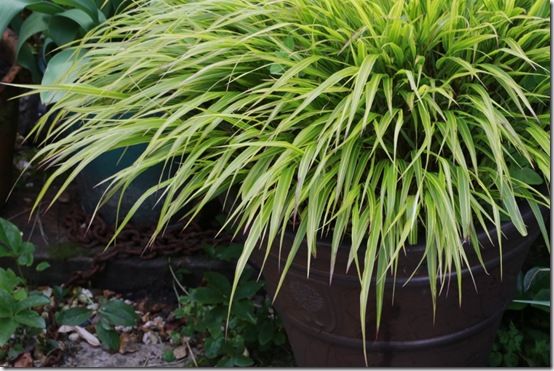 If you want one big potful of something soft and textural Hakenochloa macra 'Aurea' is hard to beat. This bamboo-like grass has soft golden yellow foliage that persists and turns parchment in autumn. It may look thin and fragile when you first buy it but it soon forms a gently moving mound which will fill a large container. Grow it in a tall conical pot for best effect.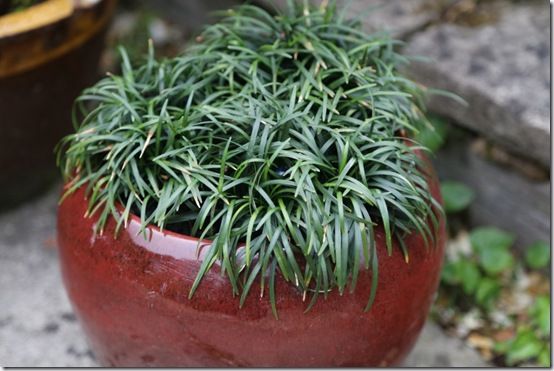 I love the dark green foliage of Ophiopogon japonicus 'Minor', this tiny grass-like perennial creates a Japanese effect in a dark red glazed globe pot. It does produce tiny inconspicuous flowers down amongst the leaves. These develop into quite large pearl-like metallic blue berries. These catch the light and surprise between the deep green leaves. This would be a brilliant choice in a minimalist contemporary garden design.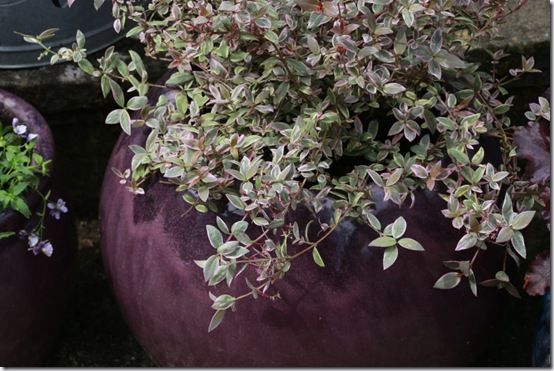 Often referred to a Mytus, because it is a member of the myrtle, family Ugni molinae 'Flambeau' is a wonderful small foliage shrub for a sheltered site in a mild climate. A fine tangle of stems carries small lilac-pink, cream and green variegated leaves. I love to use it in a galvanised container or a cream or soft green glaze. However it really is at its best in this amethyst glazed globe pot. When you get a plant and container together in a partnership like this it's pure magic.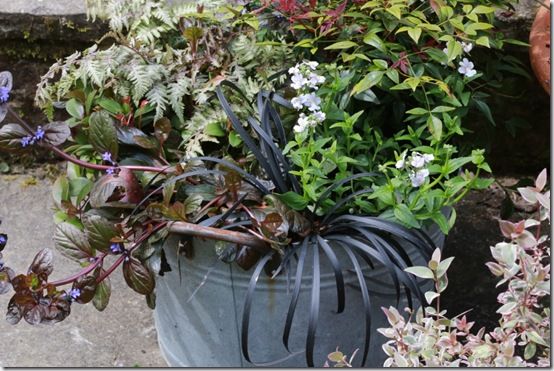 The Japanese painted fern, Athrium nipponicum 'Pictum' is in the same colour palette. It dies down in winter but soon produces its feather-like fronds in spring. It's a small fern and works well in a mixed planting. I love it with black ophiopogon and purple bugle in a galvanised pot. You can find old containers like this or buy new; you just need to knock a few holes in the bottom for drainage.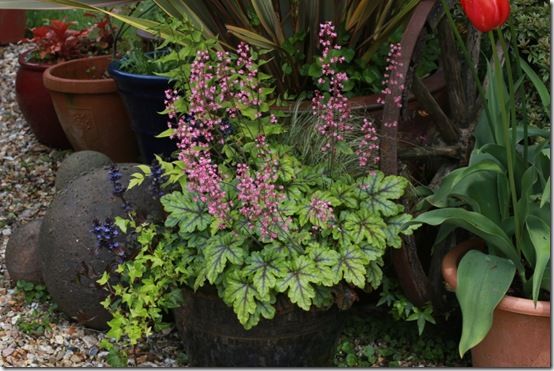 Most of the plants I've talked about are good in shade, so they are ideal for small urban gardens. Heucherellas, hybrids between heuchera and tiarella are ideal in semi-shade or sun. Many such as Heucherella 'Tapestry' have fabulous marked leaves and sparkling tiny flowers. This one looks particularly good in this deep sea-green pot.
I always feel that lily-of-the-valley, Convallaria majalis, is rather lost in the garden. I love it but unless you are prepared to pick it or lie on the ground to admire it, it is easy to miss the flowers, and the beauty of the foliage. I've crammed a couple of old terracotta pots with it in shady corners and it looks divine. The flowers are shown off to perfection and it is not so far to bend to smell its sweet fragrance.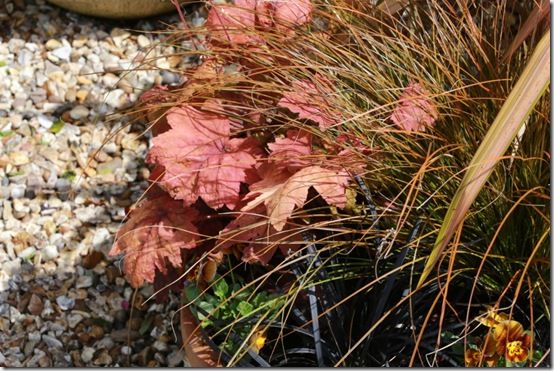 So far my choices are cool and simple, but I do love those warm sunset shades. Back in the autumn I planted a terracotta bowl with Heucherella 'Sweet Tea', Carex testacea and violas. Although I've now replaced the violas the heucherella and carex still look superb. I love the way the carex moves and the leaves of 'Sweet Tea' positively glow.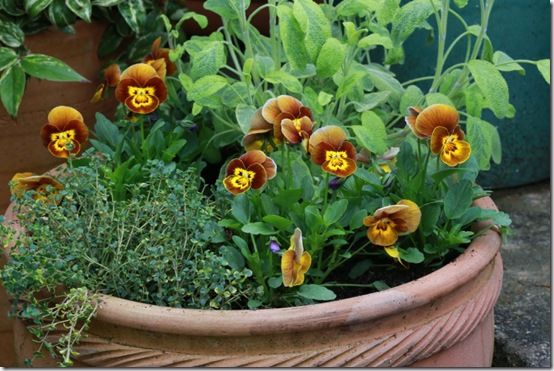 I prefer the dainty flowers of violas to the larger blooms of pansies; I think they flower for longer too. Viola 'Honey Bee' is one of my favourites. The fragrant honey and toffee coloured flowers have a hint of mauve-grey on the backs of the blooms and they fade to this shade too. I am amazed how long this variety keeps blooming for, especially if you dead-head it regularly in the early stages.
Well, there are a few ideas; I could go on with many more. I am always disappointed that gardeners don't get more creative with pots and containers: so many plants make great pot subjects and add so much to your garden.
Stay updated
Receive free updates by email including special offers and new courses.