Press Release: Perfect pots for outstanding outdoor spaces
By Alex N •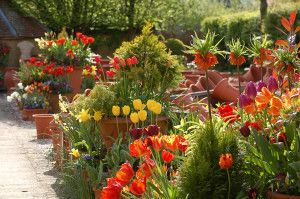 PRESS RELEASE December 2014


Perfect pots for outstanding outdoor spaces


Produce year-round perfect pots for any outdoor space with Harriet Rycroft's Container Gardening course, now bookable on the world's leading virtual gardening school www.my-garden-school.com.

From single pots to ambitious large displays, enthusiastic gardeners will learn to plant with confidence and develop adventurous and colourful palettes to impact any outdoor space. Whatever the budget, transform lacklustre gardens and withering plants into a sumptuous haven of rich colours and textures from the deepest depths of winter though to warmer times.

Students will be trained to cast a critical eye on their own outdoor space and consider their microclimates, a key factor when choosing new planting designs. Harriet will explain what makes a good container plant with a long season of interest and how to construct mixed plantings and grouped displays using annuals, tender perennials, bulbs, climbers and different types of foliage. Harriet will banish any problems that winter brings with plenty of hints and tips for filling awkward gaps to keep the seasonal interest going.

Unique to www.my-garden-school.com this four week online horticultural course offers small classes of up to 20 students at a time, weekly 1-2-1 tuition and assignments set and critiqued by Harriet Rycroft; this is the only website in the world to offer this type of e-learning. Virtual lectures are available to view in the online classroom MyClassRoom at any time, even after the course has finished, and here students can connect with Harriet and other gardening enthusiasts and horticulture professionals from all over the world.

Harriet Rycroft's Container Gardening course begins on Saturday 3 January 2014. It starts again on the first Saturday of every month and runs continuously throughout the year. The four week course costs £145.00 (approx. US$232.00) and includes:

Weekly 1-2-1 tuition and feedback from Harriet;
Weekly video tutorials allowing students to revisit lectures again and again;
Weekly assignments critiqued by Harriet;
Magazine style downloadable transcript;
Successful students will receive a certificate of completion and an online badge.  Each MyGardenSchool course is worth 2 CEUs (Continued Education Units) towards becoming a professional landscape architect with the APLD (Association of Professional Landscape Designers).

Although happiest grubbing about in gardens as a child, Harriet's school years led her to Oxford where she gained a degree in Classics and French, before working in London in the world of interior design and magazine journalism. The city is not her natural habitat but she had a small garden there, which soon became an obsession.

After moving to the Cotswolds with her husband she began to study horticulture seriously while her children were young. She built herself an apprenticeship by volunteering at Hidcote Manor Garden and fourteen years ago started working as a gardener at world-renowned Whichford Pottery in Warwickshire, the last ten of which as Head Gardener. She planned, created and maintained displays of hundreds of planted pots all year round and also helped plan and plant displays for various shows in the United Kingdom and abroad, including Chelsea Flower Show. She also lectured and hosted workshops on container planting in England, Japan, Sweden, The Netherlands and Germany.

While working at Whichford she wrote articles, contributed to books, and wrote a popular blog about her work. She recently left Whichford to concentrate on writing and talking about gardening, especially container planting, while continuing to work part time in her own and other gardens. She is currently working on a book of her own and intends to start blogging again soon. She can be found on Twitter @HarrietRycroft.

To book Container Gardening with Harriet Rycroft, see: http://www.my-garden-school.com/course/container-gardening


- ENDS -




Notes to Editors


For more information, please contact Sarah Gartside: sarah@my-online-school.co.uk

For more information about MyGardenSchool, see: www.my-garden-school.com/how-it-works

MyGardenSchool.com is the world's first virtual gardening school. Tutors are world-leading authorities in their specialist field and teach on trend and elite gardening courses. Students value the convenience of online learning and the more in-depth, interactive experience that MyGardenSchool offers. MyGardenSchool went live in 2011 and is privately owned by Elspeth Briscoe and Duncan Heather.
Stay updated
Receive free updates by email including special offers and new courses.