#RHS Rosemoor; The glorious Devon garden of The Royal Horticultural Society
By Andy McIndoe •
RHS Rosemoor – The glorious Devon garden of The Royal Horticultural Society
I was first introduced to the RHS garden Rosemoor, just outside Torrington, Devon when leading a garden tour a few years ago. My group was lucky enough to have a lecture the evening before by Chris Bailles, Curator of the Garden; Chris has since moved on to The Chelsea Physic Garden. Our visit the following day was far from a disappointment. The enthusiastic description that Chris presented was reflected in this treasure trove of plants. Garden after garden unfolds as you pass through this plant wonderland which demonstrates amazing creativity in a collection that is beautifully labelled and maintained.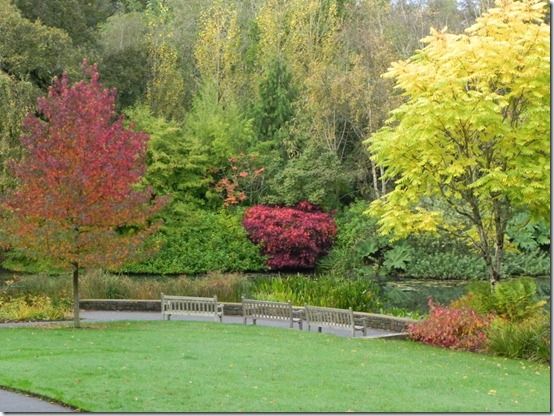 I was lucky enough to lecture at Rosemoor last summer, and enjoyed the rose gardens at their best, along with early herbaceous and Rosemoor's fantastic collection of woody plants watered by the gentle, but plentiful Devon rain. So it took little persuasion to coax me back to Rosemoor a couple of weeks ago, to enjoy the colours of autumn displayed by the fall foliage of trees and shrubs.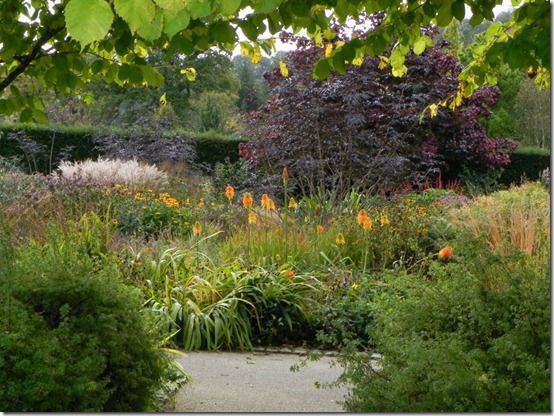 I visited on a glorious sunny day, after my trip to see the new Damien Hirst sculpture at Ilfracombe, and the tree paradise that is Marwood Hill Rosemoor was veritably glowing in the warm shades of autumn through all the layers of the planting picture. As I made my way from the car park to the entrance I came across a fine group of Crataegus crus-galli, the Cockspur thorn. This is a wonderful compact little tree with fearsome spines, healthy green foliage which colours richly in autumn, and scarlet fruits that remain on the branches well into midwinter. I love coming across a plant that I see often in pictures; one that is often recommended, but I have never consciously seen in real life, which is the case with this crataegus.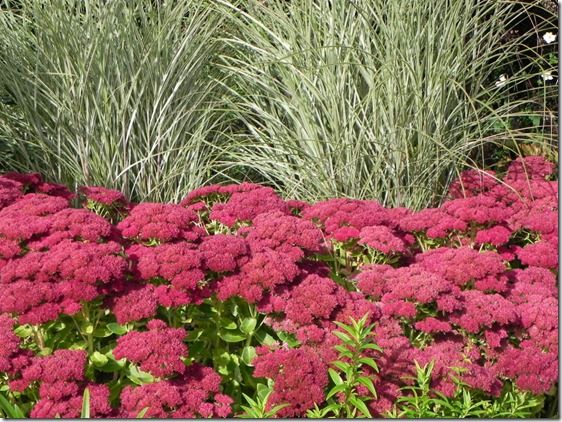 Inside the garden I wandered between the neatly clipped hedges that enclose mixed borders of perennials, grasses and shrubs. The planting is bold and well-considered. I loved the combination of chunky, deep pinky-brown sedums against a backdrop of silky, silver miscanthus.
In the winter garden the cornus, red-barked dogwoods, are planted primarily for their winter stems. However these were proving that they were certainly not one-trick ponies. The autumn colour of Cornus alba 'Sibirica' was truly sensational. I have often described this shrub as a rather boring green-leaved character with wonderful winter stems – not anymore!
The foliage garden demonstrates the diversity of foliage colour and form, and the wonderful effects that can be achieved by putting plants together. The volume of colour here was quieter than elsewhere, with more golden notes and less shouting reds; perhaps a little more symphonic. A series of vertical slabs of blue-grey slate stood proud against a golden leafy background. I must admit I adopted this idea for Chelsea Flower Show and the "natural sculpture" is now in my garden in Hampshire.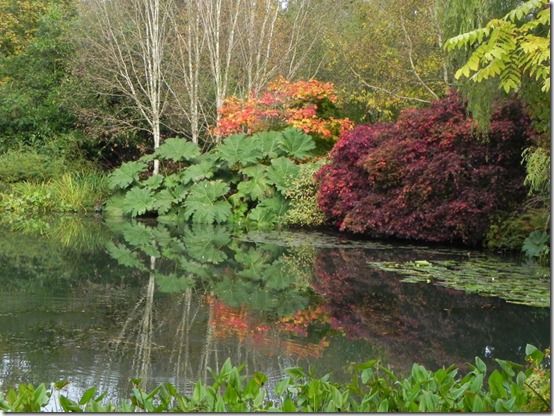 The lake is always one of the unmissable features of Rosemoor, and this must be its most beautiful season; the fall foliage colours reflected in the cool-still waters. Japanese maples, varieties of Acer palmatum, liquidambar, birches and cornus were just some of the star performers. The massive leaves of Gunnera manicata were still standing green and proud, so far untouched by frost.
A wonderful ravine pathway, through bamboos and ferns, guides the visitor to Lady Anne's Garden, the arboretum and further treasures on the other side of the road. The woody treasures here are too many to mention however I was particularly possessed by a fine Viburnum furcatum. This is a large shrub with magnificent leaves; a native of Taiwan I believe. The effect of its fall foliage was truly stunning, in subtle shades of flame, orange and crimson – I want one!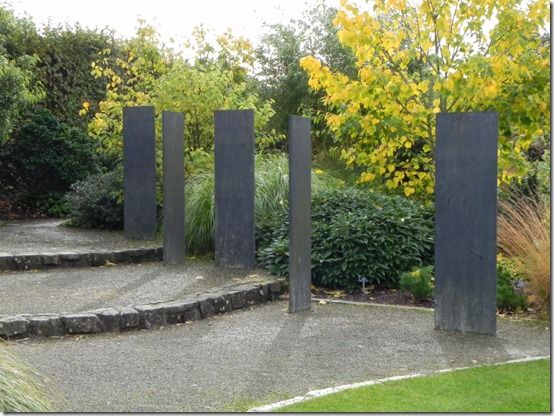 The terrace around the house, sheltered by a logia demonstrated the mildness of this climate. Pots of nerines exploded in exotic colour and a lemon tree laden with fruit basked in the autumn sunshine. In one of the borders the lovely velvet-leaved Hydrangea aspera Kawakamii Group put on a fine display of fluffy, filigree, lacy blooms of pink and purple-blue. The flowers seem almost unseasonal, but continue well into late autumn.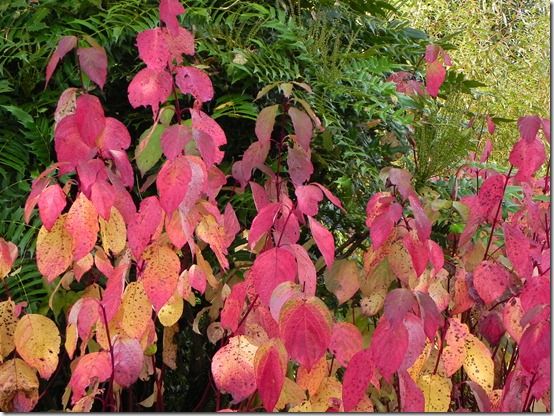 Rosemoor is a garden that you leave always with the thought that there is more to see. Two or three hours is a brief visit that leaves areas of the garden unexplored. Although Rosemoor is beautiful in the autumn, and the fall foliage is truly spectacular, do not think you have missed seeing the garden at its best. I am looking forward to a return visit in winter to see those red-barked dogwoods, and the wonderful collection of plants for winter interest. The winter garden showcases many of these, but the interest extends throughout Rosemoor, and that mild Devon climate is kind to fragile winter blooms.
Since Rosemoor I have visited RHS Wisley, the Royal Horticultural Society's garden in Surrey; but more of that another day. I would love to hear your garden recommendations wherever you live. Which American gardens excel in Fall and Winter? Which European gardens should we be heading to in the next few months? I would love to know of any "must not miss" treasures here in the UK.
Stay inspired
Get FREE Gardening tips and ideas from our experts in your inbox.