The Autumn Lawn and The Compost Pile
For most garden owners the lawn occupies the largest area of the garden, but the area which gets the least attention.  Many lawns at this time of year are full of dead grass and crying out for autumn lawn care.  I certainly include myself in this group!  We have a large green space which looks reasonable for most of the year; yes there's lots of fine grass, but there is plenty of deep green clover too which I've grown to accept.  I garden on very well drained sandy soil, the sort that nutrients are washed out of by rainfall.  When we first took on our plot twelve years ago I worked hard to improve the lawn that autumn, by scarifying, aerating, applying a lawn dressing and an autumn lawn fertiliser. I promised myself that I would apply an autumn lawn care programme every year, but it hasn't really happened, so its time to make amends!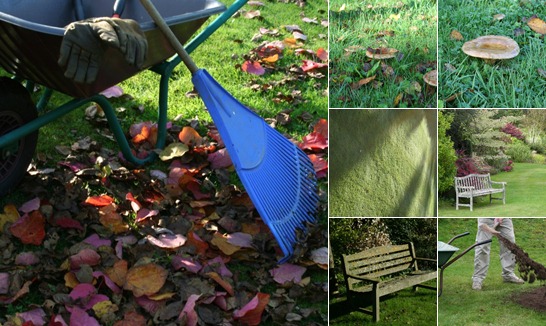 The Autumn Lawn & The Compost Pile
VIEW SLIDE SHOW
DOWNLOAD ALL
Successful autumn lawn care is not just about throwing on a few handfuls of granular fertiliser to try and wake up dead grass; it's really about improving growing conditions and good cultivation. Approach it from this angle and you will see the benefits. In fact aerating and scarifying dead grass can do more to improve the health and appearance of your lawn than feeding, especially if you follow up with a generous application of lawn dressing.
As grass grows a layer of dead grass, moss and horizontal grass rhizomes develops close to the soil, beneath the top layer of lush green leaves. As this gets thicker it forces the grass stems to elongate weakening them.  This layer of dead grass is called thatch and is removed by scarifying the lawn.  On a small fine lawn this can be achieved using a spring-tine lawn rake.  However, for a bigger area it might be worth hiring a powered lawn scarifier. Either way by scarifying at this time of the year the grass plants have the best chance of producing side shoots which thicken the lawn by spring.
Because grass is used as a surface to walk upon, play upon and needs regular mowing the ground in which the grass grows becomes compacted.  On heavy soil especially this means that the air space is squeezed out of the soil and air and water struggle to reach the grass roots.  This may also cause poor drainage so that water hangs around on the soil surface under the grass in winter.  This encourages moss and liverwort to colonise the ground competing with the grass.  This is where aerating the lawn comes in: spiking the lawn with a fork, walking over the lawn with spiking shoes, or removing plugs of soil with a hollow-tine lawn aerator rectifies this.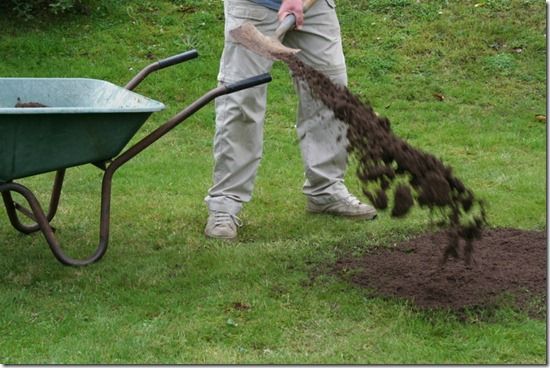 Lawn Dressing
Ideally after scarifying and aerating your lawn you apply a lawn dressing. This consists of finely screened loam with sand and peat. It is an ideal growing medium and fills the holes made during aeration.  Therefore fine, good quality growing soil finds its way straight to the grass roots. You need to apply at least a litre of lawn dressing to each square metre of lawn, so a 25 litre bag covers a maximum of 25 square metres.
It is well worth applying an autumn lawn fertiliser and mosskiller as part of your autumn lawn care programme. Moss builds up over winter when there is plenty of moisture hanging around on the surface of the lawn.  Killing off as much as possible in autumn reduces the problem.  It may seem an odd idea to feed the lawn in autumn, however autumn lawn fertilisers are formulated to strengthen the grass making it more weather resistant and encouraging root development.
Finally my two most important tips on autumn lawn care:
Ignore any advice to put your mower away in the autumn.  Gardening articles and programmes often declare the last cut of the season sometime in October. Grass continues to grow in milder areas right the way through autumn and winter, and it is advisable to cut whenever the grass is dry enough and the weather is mild.  Do not cut too short; set the blades higher than you would in summer. The other big advantage of mowing in autumn is that it saves you having to rake up all those leaves which land all over the grass, keeping light from the grass and trapping moisture.
Look After Your Compost Pile.  Collecting leaves from the lawn for your compost pile is essential. They are a valuable ingredient for your compost pile and you need to make the most of them.  You can collect them and use them in layers between green waste, such as grass cuttings, on the compost pile.  Alternatively, if you have loads of fallen leaves, pack them into polythene sacks, moisten them if dry, and tie each sack at the neck.  Stack them away in a corner, or behind the shed, and leave them to rot (this can be separate from your compost pile).  In around a year you will have bags of lovely leaf mould to use as mulch on beds and borders.
For other advice on your lawn throughout the year including what to do with your grass clippings in your compost pile why not join me on my Online Lawns Course – the next one starts on 6th October.  I want you to look at your lawn in quite a different way in future, not just as a green space but as a major part of your garden design.
Stay updated
Receive free updates by email including special offers and new courses.