Summer bedding showcase; report from the trial grounds
By Andy McIndoe •
Many gardeners colour their summer garden with seasonal bedding plants. Most will plant a few pots, maybe a hanging basket, or fill in the gaps in beds and borders with flowering and foliage plants designed to deliver a display in the summer months. Even if you haven't got a garden you can enjoy a window box or a pot on the doorstep brimming with summer colour. Those of us that have been gardening for a few years will remember simple annuals like alyssum, clarkia and godetias that we bought as a packet of seeds that we sowed directly where they were to flower. Other bedding plants were sold in late spring and early summer, often lifted directly from the seed tray and wrapped in paper to take them home. The selection was limited: red salvias, blue lobelia, mixed antirrhinums and maybe a few pink petunias. How the bedding world has changed!
Bedding today is big business globally. Bedding plants deliver flowers and quick colour: just what gardeners crave. They are also widely used in commercial schemes, parks and gardens and to bring colour and life to urban spaces. The demand has driven the quest for new varieties, weather and pest resistant varieties and a much wider palette of colour and texture. Most growers but from plug suppliers: these are the producers of tiny young plants that are despatched early in the season to grower nurseries who produce for retailers and commercial contractors.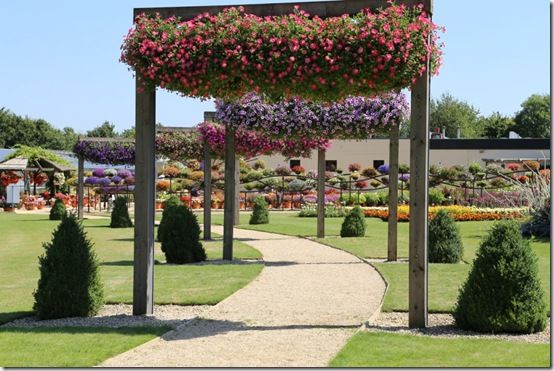 On the hottest day of the year last week I visited the trial grounds of Ball UK, one of the biggest names in the bedding business. They hold a summer showcase over several weeks where growers come to choose the varieties they will grow the following year; some growing to sell, some for schemes in gardens, towns and commercial projects. Journalists and photographers also visit en masse to find out what's new and see the trends for the coming year. This is a really important aspect of the summer showcase for Ball; the media introduce the plants to the gardeners.
The trial grounds are just a mass of colour. Wandering through them is a great way to compare the performance of varieties, especially after a few days of searing heat which they've experienced this summer. In the display areas containers abound showing pot and basket plants in different contexts. So what took my eye?
Firstly lots of herbaceous perennials have found their way into the world of bedding: digitalis, althaea, echinacea, diascia, and a host of others. I was particularly taken by some fine agastache, that prairie perennial I mentioned last week. Its spikes of deep blue flowers were a magnet for bees and butterflies. I'm on the lookout for those anyway in preparation for my Gardening for wildlife course which is launched later this year.
Throughout the trial grounds you notice how single flowered plants are so attractive to pollinators. Two blocks of zinnias illustrated this beautifully: the double ones were left along while the single flowered ones were swarming with bees. I suppose I hadn't really considered how important this group of plants is to bees and butterflies. We should all plant more of them: great for colour and great for wildlife.
In the covered display area plants for pots and baskets are the focus. I think lobelia has come a long way. New varieties last longer and keep blooming; the old varieties always seemed to be spectacular early in the year, but they ran out of steam by mid summer. A display of Lobelia Waterfall varieties was just soft globes of delicate flowers in shades of blue and lilac. Who couldn't love them?
In contrast the Portulaca Tropical varieties just shout warm sunshine. Displayed in tall terracotta planters their silky blooms in wild tropical shades would transform any sunny patio into a sundrenched terrace. I soon found myself yearning for a rum punch.
Pelargoniums in all their various forms and colours are as popular as ever. Pots of double zonal pelargoniums (geraniums) display an amazing colour range. Personally I always think they look better from a distance than they do close-up. Their flowerheads are so long lasting there are always dead blooms tucked away in the centre of each flowerhead which makes them less appealing on close inspection.
I do love the jewel like Angel Eyes Pelargoniums. These are really mini-forms of the lovely Regal pelargoinums that are always better on a sunny windowsill than they are outdoors. Given a sunny position and a dry summer Angel Eyes are far freer flowering and sit more happily with other container subjects such as verbena.
Talking of miniature forms these are a strong trend in the world of petunias. The past couple of years have seen numerous black petunia varieties and these are now teamed up with lime green ones. I think this is a stunning combination but once you've done it maybe it's time to move on. A bit like slate grey hellebores I love the idea of them and like them close up but they don't seem to contribute much in the garden. The new Petunia Littletunia varieties ( horrid name!) I really like and they look as if they will be very floriferous and more weather resistant.
There is a strong trend towards designer mixtures using more than one variety. I know these are already very popular in the US and they are a growing trend here. These use two or three varieties of different plants with similar habit and similar flower shape: callibrachoa, diascia and bacopa are a good example. The overall effect is light and pretty. Look out or more of these in the next few years.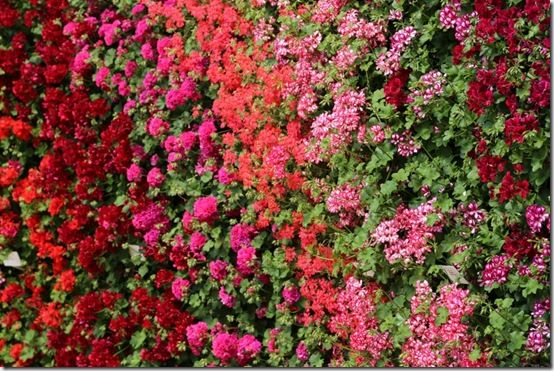 Finally I must say the big impact at Ball were the flower walls. Bedding plants used vertically to great effect. Trailing pelargoniums in vertical stripes, a spectacular sunburst of begonias and a wonderfully pop-art display in orange, red, yellow and blue – ZAP! Is it a gimmick or is it a trend. Green walls have had huge interest. Will these displays of vertical colour that require higher maintenance and careful irrigation catch on?
One thing is certain summer bedding is here to stay and it's not standing still. No other group of plants is so prolific in terms of new introductions. Correct botanical nomenclature? Forget it – bedding moves too fast for that = 'Littletunia' it is I'm afraid!
Stay inspired
Get FREE Gardening tips and ideas from our experts in your inbox.