Best New Plants at Chelsea Flower Show 2015
By Andy McIndoe •
Chelsea Flower Show is the perfect place to launch new plant varieties to capture media attention. As a grower a new plant is a main news story in the run up to the show: a way of attracting both press and visitors at the Show itself. 
The Plant of the Year competition run by the RHS is the ultimate goal for many. Shortlisted plants make it onto the podium and are voted for by following presentations by the growers to RHS plantsmen.
A result of a Chelsea launch may result in a plant that becomes part of our gardens for years to come. Alternatively you may never see it again.
Some fade into oblivion, only to be replaced by another variety that looks incredibly similar the following year. A Chelsea plant launch can result in immediate demand and sales. Maybe the stock isn't available until next season, by which time we have forgotten all about it.
Rather than reviewing a long list of new introductions (believe me there are many) I decided to highlight the ones I would grow in my garden and use as part of my planting palette.
Rosa Desdemona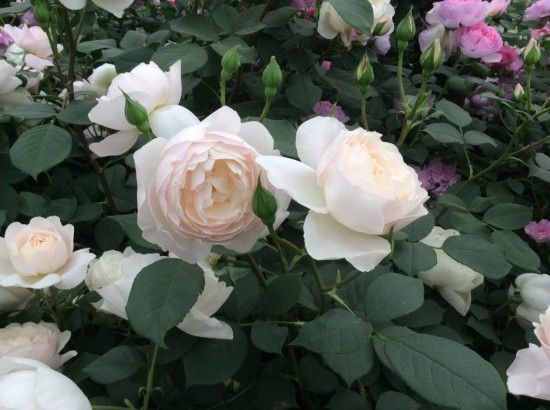 A lovely new musk hybrid rose from David Austin Roses. Incurved petals; gloriously cupped blooms of white flushed with the palest peach-pink when young.
The scent is strong and captivating: described as a myrrh fragrance. Described as healthy and with a long flowering period and great repeat power this is bound to be a long-term favourite. Great name: everyone loves a tragic heroine, particularly a beautiful one.
Clematis Corinne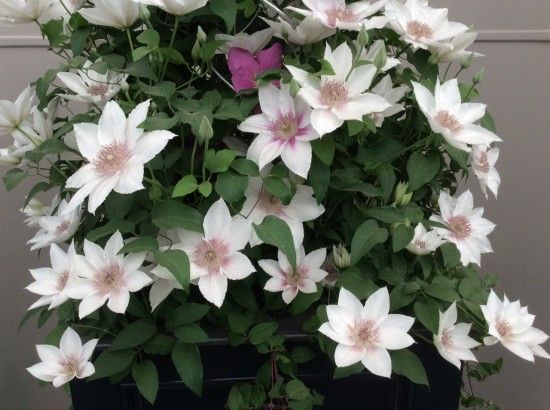 Ray Evison's clematis are always some of the most magnificently staged plants at RHS Chelsea. He shows them off to display their individual beauty.  
Clematis Corinne is a wonderful new compact variety growing to 4-5ft in height with almost white blooms with pointed petals streaked with deep lilac pink.
Good for a container and excellent for shade to lighted dark foliage. The flowers have long flower stalks so are ideal a long-lasting cut flowers. Great selling point: the flower arrangers will love it!
Rehmannia 'Walberton's Magic Dragon'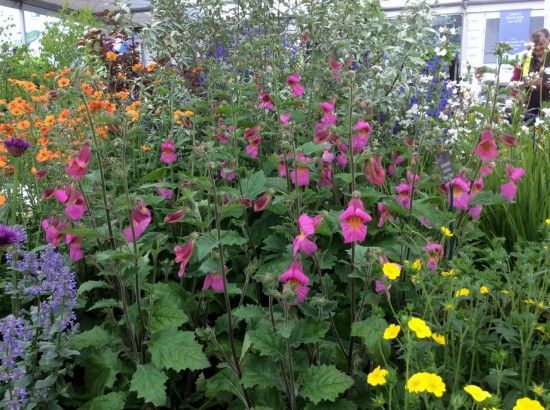 Rosy Hardy always has some good new plants for perennial lovers. Rehmannia 'Walberton's Magic Dragon' is an unusual perennial, originally hailing from China.
It is best in part-shade; we've all got plenty of that. It has spikes of large foxglove-like flowers with prominent lobes: deep cerise-pink, orange in the throats.
Exotic in appearance and striking in colour it could be an interesting plant to grow. I want to partner it with Physocarpus 'Diable d'Or'
Verbascum 'Firedance'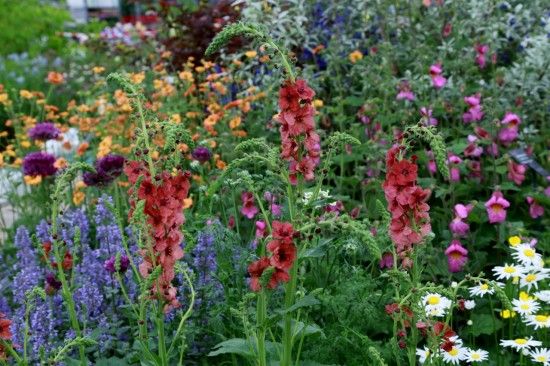 Rosy's other introduction, Verbascum 'Firedance' is a wonderful perennial for the front of a sunny, dry border, alongside gravel or paving, or to plant rising above blue geraniums.
Terracotta-rust flowers on 60cm spikes: warm, mellow and glowing. I love these sunset colours so this one is a winner for me.
Dianthus Tequila Sunrise
I think many gardeners are rather sick of neat, tidy compact plants which look good in a pot. When I saw Dianthus Tequila Sunrise in the Plant of the Year competition I was delighted.
It is tall, delicate with fine grey-green leaves and stems and large apricot flowers up to 5cm across. This would be great to grow for cutting and has a simple elegance that so many plants of today lack.
Plant of the Year 2015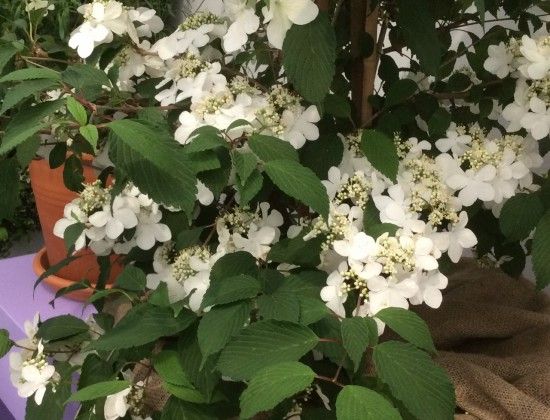 I couldn't write about new plants without commenting on Plant of the year 2015. Viburnum plicatum f. tomentosum Kilamanjaro Sunrise. Good to see a shrub winning again. 
This is a narrow form of Viburnum plicatum, offering an easier to accommodate form than the ever popular Viburnum plicatum 'Mariesii'. Lacecap white flowers. Good foliage with the promise of a second blooming in autumn and fall foliage colour.
We will see. It looks a lot like Viburnum plicatum 'Summer Snowflake' which as so popular for a few years and then fell off the radar. Maybe this will do better. Would I grow it? Yes, I like anything with a light habit and white flowers.
So those are my favourites and tips for long term success. What are your thoughts? What did I miss – do tell me.
Stay updated
Receive free updates by email including special offers and new courses.