The gardening glove that fits like a glove: win a pair!
By Andy McIndoe •
I never used to wear gardening gloves, mainly because I didn't like working in them. I found them awkward and difficult and I found myself taking them off to do anything I needed to feel. As the gardening season got under way in early spring I considered frozen fingers, rough skin and split fingertips a rite of passage. When gardening was particularly high profile a few years ago I was delighted to read that soil under the fingernails was attractive. Mine usually contained enough compost to sow a packet of seeds but I wasn't really convinced that they made me irresistible.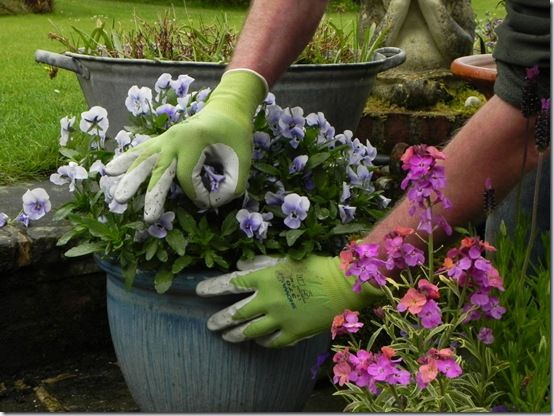 If I was pruning roses, digging out nettles or grubbing brambles I would relent and find a pair of gloves lurking in the garage. You know the sort: stiff and unforgiving, rigid from last time's soil and sap. I would promise myself they would soften up in use, but not before those rigid internal seams had lacerated my fingers. The other problem, even with new gloves was they never fitted. I have quite small hands and gardening gloves were always far too big and completely the wrong shape.
In winter I found that as soon as my gloves got soggy at the fingertips my fingers went numb quicker than they did if I didn't wear them. Why did those gardening gloves have such an affinity
for water? My habits changed when I discovered Showa gloves. These are gloves that fit like a second skin. I buy a medium glove (UK size) which is a perfect fit and totally comfortable. They are entirely flexible with elasticised backs and latex palms and fingertips which are waterproof. But the best thing is that you can feel everything, so it's just like working without gloves, but your hands stay clean and in one piece.
The ones I use most are the Floreo 370 multi-purpose gloves. They have a nitrile coating which gives fantastic grip; perfect when pruning. Don't worry that your hands will become too hot and uncomfortable in warm weather. They have a breathable nylon lining so you could wear them all day and I often do. Staging at RHS Chelsea Flower Show is a good example; if I don't wear gloves my hands are not a pretty sight when the show opens.
These gloves are the most like a second skin in the range. They are brilliant when you are weeding pots and containers. We have around a hundred permanently planted pots and they do get infested with violet seedlings and other awkward little weeds. With these gardening gloves you can get into those awkward corners and get those weeds out by the roots.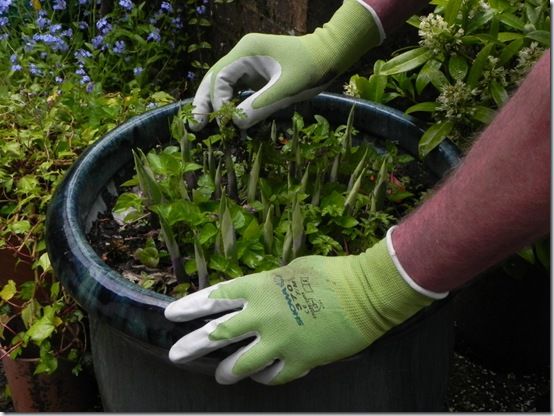 The same is true of tenacious weeds in among clumps of herbaceous perennials. Sometimes it's just not possible to get a trowel under a weed to dig it out; you just have to get in and under it with your fingertips.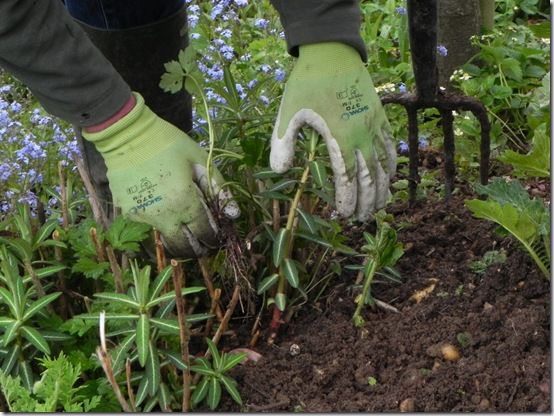 Other tedious jobs include dead heading seasonal bedding plants, such as pansies and violas. These bloom for longer and stay in better condition if you do go over them and remove flowers before they produce seeds. These gloves give you the fingertip grip that makes this job easy.
The same is true if you are gathering salad leaves. I grow mine in pots outside the conservatory so they are sown quite thickly. To avoid damage to the crop I need to be able to pick as close to the base of the leaf stalk as possible without damaging the neighbouring leaves.
Showa Floreo 370 gloves are waterproof at the fingertips, however sometimes it's worth having a more waterproof glove. The Showa 600 PVC is a comfortable cotton glove coated with PVC; it's great for weeding on a wet day. I use it for dredging blanket weed and duckweed out of the rill and scooping leaves off the surface in autumn.
For heavier work the Showa 310 glove gives superior grip with its heavier rough latex palm. I tend to wear this glove more in winter or when I'm grubbing out tough perennial weeds such as brambles and nettles. However if I was talking mature brambles or pruning rambler roses then I might resort to leather gauntlets.
Because my wife and I both garden all the time we have quite a number of pairs of gloves on the go in the conservatory ready to grab on our way into the garden. We avoid arguments over who is wearing the wrong gloves by choosing different colours. However mistakes happen, but it's not the end of the world because these gloves are so easily washable, either in a bowl of soapy water or on a short, cool programme in the washing machine.
Enter our competition to win a pair!
If you haven't tried Showa gloves yet then here's your chance: If you are already a convert here's your chance to get another pair. Showa have fifty pairs to give away.
The first 50 people to like SHOWA on their Facebook page (www.facebook.com/showaUK) And to send a personal message to SHOWA stating 'I like Showa gloves and MyGardenSchool' will receive a free pair of Showa 370 Gardening Gloves.
The lucky winners will receive a personal message in response from Showa via Facebook. Good luck; don't delay!
Stay inspired
Get FREE Gardening tips and ideas from our experts in your inbox.