Honoured with Veitch Memorial Medal by the RHS.
Earlier this year our acclaimed expert Andrew McIndoe was honoured with Veitch Memorial Medal by the RHS.
The Veitch Memorial Medal may be awarded annually to persons of any nationality who have made an outstanding contribution to the advancement of the art, science or practice of horticulture.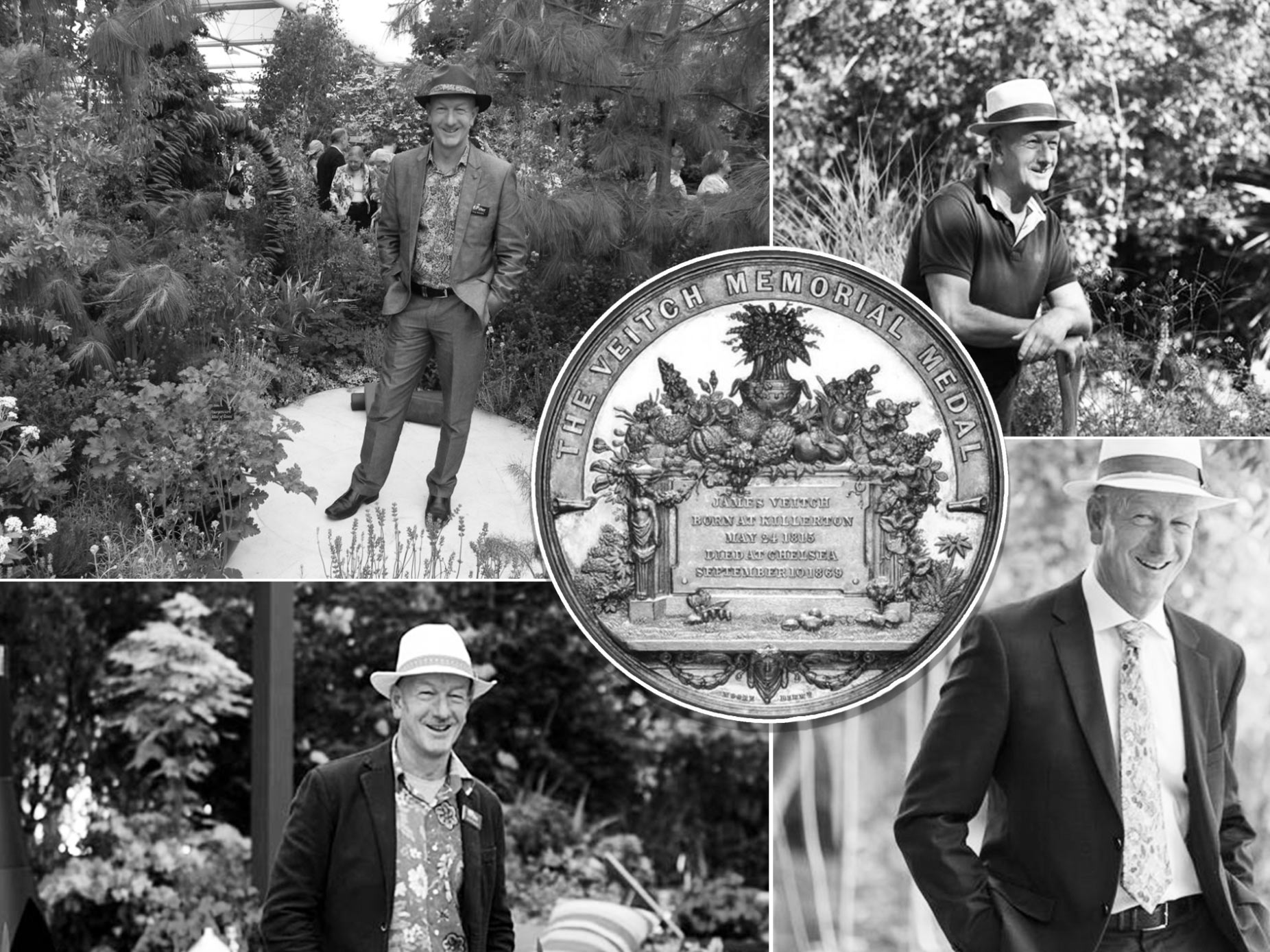 He is not only a celebrated gardener but also a writer, broadcaster, designer and former Hillier Director, Andrew McIndoe, has been awarded the prestigious Veitch Memorial Medal, one of the highest accolades in the world of horticulture. Sir Nicholas Bacon, President of the Royal Horticultural Society, presented Andy with the Veitch Medal at the prestigious RHS Awards ceremony in London, on Wednesday 22 February in recognition of his outstanding contribution to the advancement of the science and practice of horticulture.

"I am delighted and overwhelmed to be awarded the Veitch Memorial Medal by the RHS," said Andy McIndoe. "During the past forty years, I have had so much pleasure sharing my love of plants and gardens with novice gardeners and experienced plantsmen alike. I consider myself very fortunate to have had the opportunity to help others on their career path in this wonderful industry and to encourage those that enjoy gardening as a pastime. The RHS is an amazing organisation which brings us all together, and I am honoured to be part of it."
Andy has had a lifelong fascination with plants. He studied horticulture at Bath University before joining the world-famous Hillier Nurseries & Garden Centres of Romsey in 1978, working his way up from manager of the Winchester garden centre to become the first Managing Director from outside the Hillier family. Andy designed a staggering 25 Gold medal-winning gardens for Hillier at the RHS Chelsea Flower Show in as many years, and has lectured worldwide, written nine gardening books and contributed to countless gardening broadcasts and publications.
Since stepping down from Hillier in 2015, and now aged 60, life for Andy is busier than ever. He runs a thriving and varied business as a garden designer, book author, radio presenter, garden writer and horticultural consultant, and gives gardening courses, lectures and tours Europe-wide.
Andy is a trustee of Greenfingers, the charity that creates gardens for children's hospices.
In the summer months, Andy and his wife, Ros, also welcome groups to their stunning two-acre naturalistic garden at Sandhill Farm at Sherfield English in Hampshire.
We are thrilled he added MyGardenSchool to his repertoire; both as an investor and expert tutor.
Find out more about Andrew's MyGardenSchool Courses

Stay updated
Receive free updates by email including special offers and new courses.