Summer bedding – some tasty seasonal treats
The sunny summer weather has been good for those seasonal bedding plants and certainly mine have put on a mass of growth and produced plenty of flowers.  There is such a wealth of varieties in this palette of plants and new ones come on the scene in profusion every year.
I have to say I have my favourites that I grow every year, even if I do keep an eye on the changing fashions. I suppose this group of plants can respond faster to new trends quicker than others: after all bedding is disposable, so gardeners can be influenced by what comes before them with each new gardening year.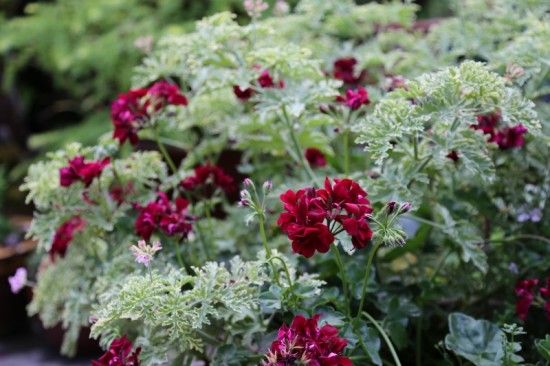 I love scented geraniums: those pelargoniums with aromatic foliage. I usually grow Pelargonium graveolens 'Lady Jane Plymouth'. It has sage green and cream variegated intricately divided leaves and small bright pink flowers.
This year I've teamed it up with a glorious dark red training geranium: the colour of blackberry jam. This also looks delicious with Heuchera 'Plum Pudding' in a bowl on the wall.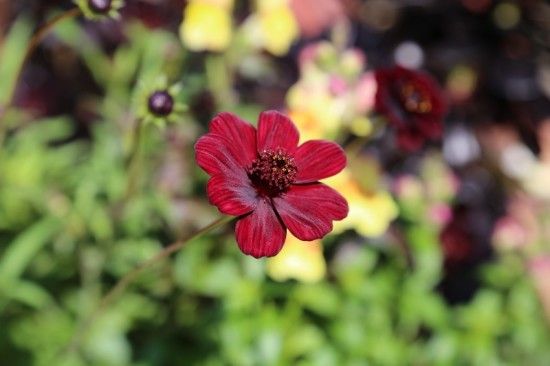 There is a bit of a foodie trend happening in the garden at the moment. I grew the chocolate cosmos, Cosmos Chocamocha in a pot last year. Because of the mild winter it survived (it dies down in winter) and is now producing plenty of long-stemmed chocolate-red flowers with dark centres.
If you sniff them the blooms do smell of chocolate, especially on warm days. I grow it for the colour more than the scent but there is no doubt that the name and the promise of a whiff of chocolate add to its commercial appeal.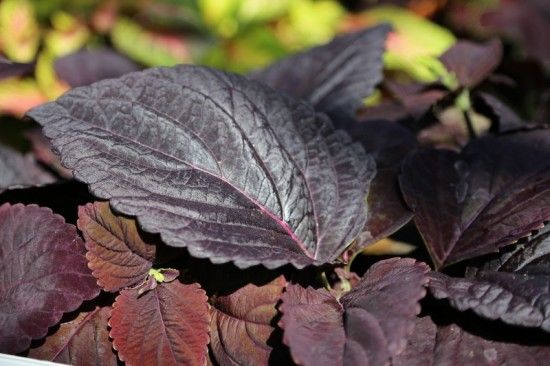 Plant nomenclature is a funny thing and seasonal bedding plants do not play by the rules. Usually their classification is too complex so the name a breeder gives is how the plant is likely to be known. The cultivar names can be all important in securing their popularity. 
I visited a bedding trial ground recently and found lots of varieties with names appealing to the senses. Some of the new coleus are particularly creative. Coleus Dark Chocolate looks good enough to eat with its rich, dark delicious leaves. I thought how good it could look with my cosmos.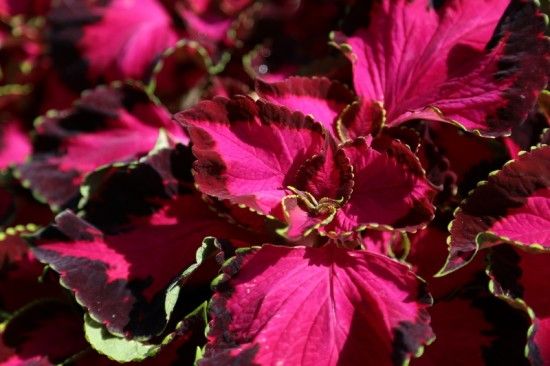 Coleus Chocolate Covered Cherry is also quite delicious with leaves the colour of a red berry coulis surrounded by a chocolate casing.  This one would look good with my black cherry coloured trailing geraniums.
The leaves do look soft and rather fragile so it would certainly want a sunny, sheltered position and I suspect would fare better in the conservatory.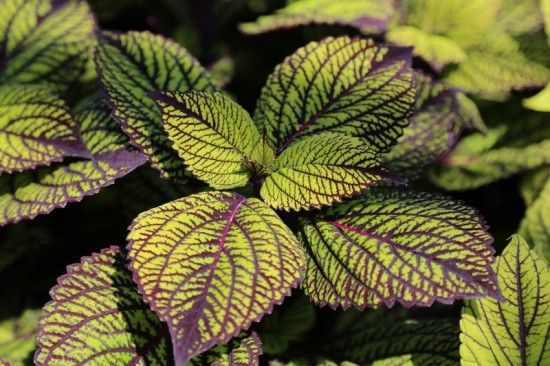 Coleus Fishnet Stockings is certainly named to appeal to the senses. This is one plant that once encountered will not easily be forgotten.
It is undeniably attractive with its delicate webbed foliage pattern. But I bet you remember the name long after you've forgotten what the plant looked like.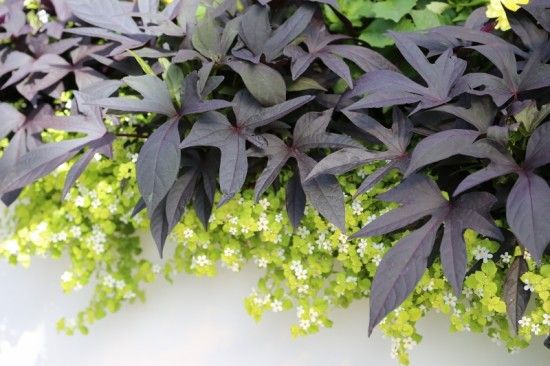 While we are on the subject of dark leaves I have noticed a lot of purple-black ipomoeas in pots and containers this year. If like me you think of ipomoea as the bright blue morning glory them think again.
There are lots of other species and cultivars including several which are widely used as seasonal foliage plants. The clumsily named, but stunning Ipomoea Bright Ideas Black is a fantastic choice for contemporary cutting edge container planting designs.
I loved it here partnered with the tiny delicate golden leaves and pure white flowers of this bacopa.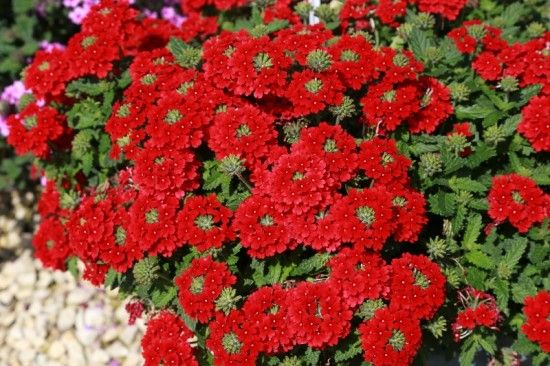 Good trailing seasonal bedding subjects are always sought after for hanging baskets and containers and for colourful summer ground cover. A new generation of verbena look very promising: rather unfortunately named 'Endurascape'.
These form a mat of soft green foliage. Smothered with flowers. The red is exceptional and bound to be popular when it reaches the market.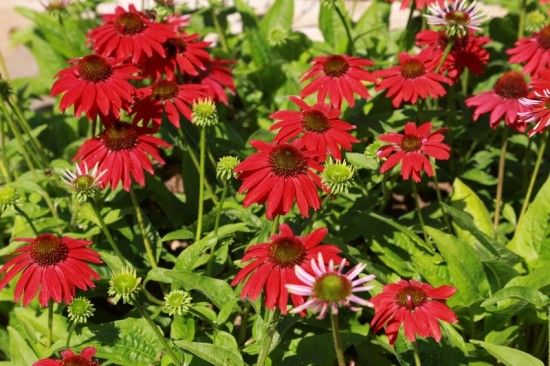 Red flowering bedding seems to retain its foothold despite the prevalence of soft pastels in the plant palette. The past few years have seen the dividing line between seasonal bedding and herbaceous perennial becoming more blurred. More and more seed raised perennials are offered alongside more traditional bedding plants.
Many new colour breaks have appeared in subjects like echinaceas. Normally thought of as purple-pink and white reds, yellows and oranges are now the order of the day. Echinacea Sombrero 'Salsa Red'is a good example.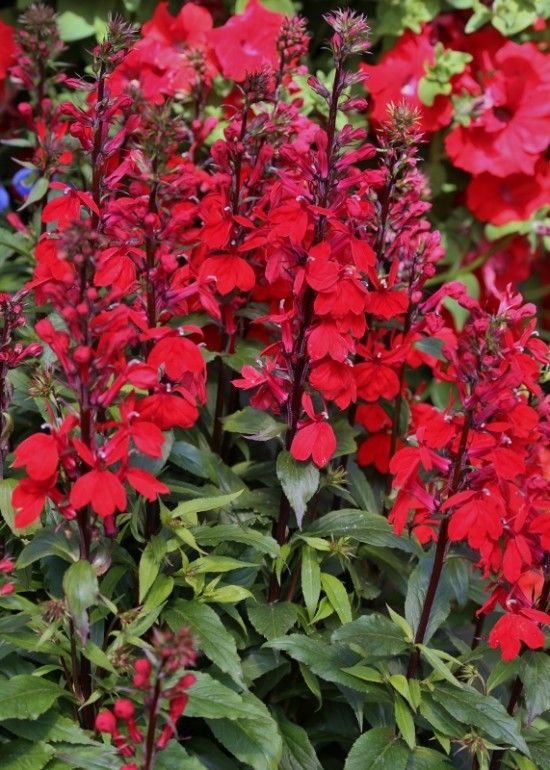 The taller varieties of lobelia offer a vibrant colour range. Their strong upright stems make them good accent plants and the colours are hard to miss. In the perennial world the scarlet-flowered Lobelia 'Victoria' is well known for its dark red foliage and flaming flower spikes, Seed raised equivalents are now widely available to add colour to hot schemes of subjects like crocosmias, heleniums and rudbeckias.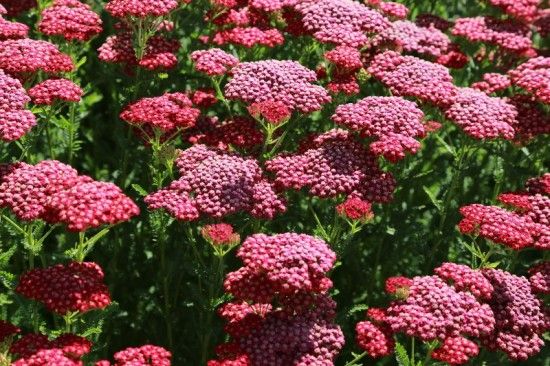 Achilleas are another group of perennials where seed raised varieties are entering the world of seasonal bedding. There are some great colours and they do have a wonderful texture in a planting scheme.
The 'Vintage' series is particularly good; again maybe the name adds to their appeal I particularly liked Achillea 'New Vintage Red'. I could see this in a border with soft silver and lilac and maybe the dark red pincushions of Knautia macedonica.
Stay updated
Receive free updates by email including special offers and new courses.