The Significance and Legends around Christmas Plants
The Holly and The Ivy

[caption id="" align="aligncenter" width="658"]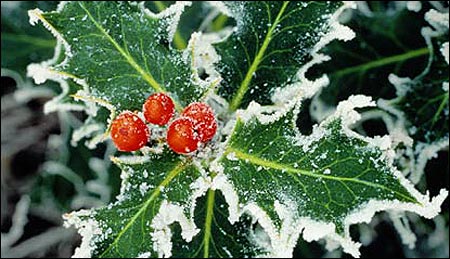 Holly and the Ivy[/caption]

Traditional Christmas carols celebrate the holly and the ivy, but their use as winter decorations predates the Christian festival. The Romans believed that holly's prickly leaves drove away evil spirits while the Ancient Britons felt that ivy protected them against goblins.

The Christmas Rose

[caption id="" align="aligncenter" width="660"]
Helleborus niger.[/caption]

Helleborus niger. The Christmas rose is, ironically, not even a rose but a member of the buttercup family.  It gets the common name, Christmas rose from its resemblance to wild roses with its large flat flowers on short stems, it produces white and occasionally pink flowers standing around 9-12 inches in height. Its natural habitat can be found up in the mountainous regions of Switzerland, Bavarian Germany, Austria, Northern Italy and Croatia but can grow in any well drained garden soil and is hardy even in the most shaded of areas. It is a true Christmas plant as it flowers in the depths of winters to early spring but don't be going off looking to pick it as it is highly poisonous and even touching it can cause skin irritations.

The Christmas rose is another plant that is steeped in history, tradition and folklore. The plant is heavily associated with Christianity and the birth of Christ through a little Sheppard named Madelon. The legend goes that Madelon was tending to here sheep one cold and wintry night, three wise men and a group of Sheppard's passed by her snow covered filed bearing gifts for the Christ Child, the wise men with frankincense, gold and myrrh and the Sheppard's bearing fruits, honey and doves. Madelon became saddened that she didn't have any gift for the newborn kind, not even a simple flower and began to weep. An angle looking down saw Madelon tears and came down to here aid and brushed away the snow to reveal a beautiful white flower with tips of pink, our Christmas rose.

A lovely legend of the spirit of Christmas for a beautiful flower.

Christmas Radishes!




The most unusual plant that is used at Christmastime is the radish. The Noche de Rabinos or Night of the Radishes has been celebrated December 23rd for over a century in Oaxaca, Mexico. They use a special type of radish that grows 2' long and can get up to 10 lbs. They cut and carve them to make religious or cultural figures, especially those pertaining to Christmas.

Mistletoe




Some say the custom of kissing under the mistletoe derives from a Norse myth which decreed that no harm should befall anyone standing beneath this plant and that they should receive only tokens of affection.

Mistletoe is an incredibly interesting plant in both how it survives and the vast amount of legend and folklore that surrounds it. From the earliest times mistletoe has been regarded as a magical and sacred plant in European culture being thought to give protection against poison, grant life and fertility, and as a mild aphrodisiac. Bringing mistletoe into the home is the survival of traditions from the ancient Celtic druids, the Greeks and many other pre-Christian cultures. In the Middle Ages and later, mistletoe was hung above the entrances to doors, stables and from the ceiling to prevent the witches and other evil spirits entering the home. The traditions of kissing under the mistletoe is another story entirely but can be traced back to the Greeks.

Kissing under the mistletoe can be first associated with the Greek festival of Saturnalia and later with primitive marriage rites in the belief that it could bestow fertility. In Scandinavia mistletoe was seen as a way of making peace between enemies or fighting spouses would kiss and make up. In the late eighteenth century the kissing ball, a ball of mistletoe, trimmed evergreens, ribbons, and ornaments would be hung up and any young lady who stood underneath it could not refuse to be kissed. If the lady received a kiss it could blossom into a deep romance or a long lasting friendship. However if the lady remained unkissed she could expect not to marry the following year. In modern times a lot of these traditions have been lost, but the fun and festive nature of catching someone of guard under the mistletoe is rather humorous. One meaning that still has some significance is that a kiss under the mistletoe between two loved ones is a promise to marry as well as a prediction of happiness and long life, so be aware couples!

Pointsettia




 

Best selling Christmas Flower, Euphorbia pulcherrima. The Christmas Flower, also known as the Christmas Star, poinsettia, noche buena or Atakurks Flowers is one that epitomises the Christmas feel, with its lush red bracts and deep green leaves it has all the colours associated with any bouquet you'll see from any florist this Christmas period  For a last minute Christmas Gardening Gift - buy a gardening course voucher!
Stay inspired
Get FREE Gardening tips and ideas from our experts in your inbox.