Top Ten Safety Tips for Gardening with Children
By Alex N •
The best way to enjoy your garden is to relax in it, and to enjoy the beauty of these incredible outdoor rooms with family and friends. It's amazing how many parents and carers will fully safety proof their indoor environment; but neglect their outdoor space. If, like me, you have young children – it's important you can relax with the knowledge of knowing that they are safe in the garden too. Or at least educate yourself in what the potential dangers are in the garden. I love my children to help me in the garden (in fact we have just planted all our vegetable beds together), and many people I find are overly cautious about letting their children be free in their gardens.
1. Soft play surfaces rather than gravel
If your children have bikes and scooters – they will struggle on gravel. Soft play surfaces come in all shapes and sizes these days – and can still give you a designer looking garden. Some good examples of safe materials for a child friendly garden include bark, grass, increasingly astroturf (check with the maker) and rubber play surfaces. Especially under swings and climbing frames where there is a potential for children to take a tumble so avoid stone and gravel
2. Poisonous plants
Euphorbia, Giant Hogweed Heracleum mantegazzianum and others are potentially dangerous to the skin. I heard a story only recently from our pre-school – where two boys were playing by some ponds, and came back with a rash the next day. A full day later they were covered in blisters. Many of the umbel type weeds that grow by water have photosensitizing furanocoumarins, contact human skin in conjunction with sunlight, it can cause phytophotodermatitis - a serious skin inflammation.
Common plants causing skin irritation or dermatitis
Bull nettle (Cnidoscolus stimulosus)
Spotted spurge (Euphorbia maculata)
Trumpet creeper (Campsis radicans)
Poison oak (Toxicodendron pubescens)
Poison ivy (Toxicodendron radicans)
Wood nettle (Laportea canadensis)
Indoor Plants
Common and cultivated plants causing internal poisoning to various degrees upon ingestion of indicated parts. Be especially careful of anything that looks tasty – especially children who have experienced picking fruit themselves will be tempted by berries
Aroids (Dieffenbachia, Monstera, Leaves
Philodendron, Spathiphyllum)
Mistletoe (Phoradendron serotinum) Berries
Poinsettia (Euphorbia pulcherrima) Milky sap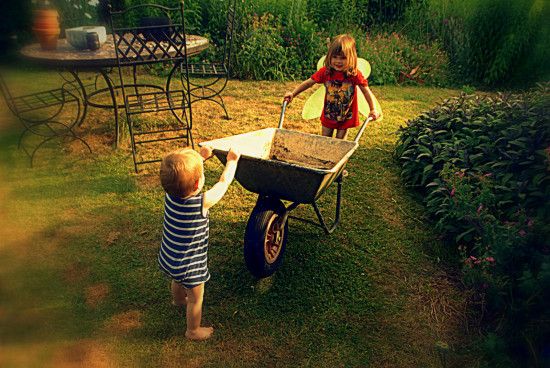 Outdoor Plants
Trees
Black cherry (Prunus serotina) All parts, except ripe fruit flesh
Black locust (Robinia pseudoacacia) Inner bark, twigs, young leaves, seeds
Mulberry (Morus spp.) Unripe fruits and milky sap
Shrubs and bedding plants
Azalea (Rhododendron spp.) All parts
Boxwood (Buxus spp.) Leaves
Caladium (Caladium spp.) All parts
Cardinal flower (Lobelia cardinalis) All parts
Castor-bean (Ricinus communis) Seeds
Heavenly-bamboo (Nandina domestica) Berries (potentially)
Hollies (Ilex spp.) Berries, when eaten in quantity
Hydrangea (Hydrangea spp.) Bark, leaves, flower buds
Jimsonweed (Datura stramonium) All parts
Lantana (Lantana camara) Unripe fruits
Lobelia (Lobelia spp.) All parts
Madagascar periwinkle (Catharanthus roseus) All parts
Mountain-laurel (Kalmia latifolia) All parts
Oleander (Nerium oleander) All parts
Pokeweed (Phytolacca americana) All mature parts
Rhododendron (Rhododendron spp.) All parts


3. Sandpits


Cover sandpits to avoid cats – cat faeces are surprisingly dangerous for small children, and potentially lethal for babies


4. Shrubs rather than Herbaceous Perennials


Avoid roses, grasses with sharp edges, spiky plants. Pyracantha is a shrub to avoid as it can have particularly viscous spikes as well as tempting berries

5. Gates


Lockable for security to keep them in and strangers out

6. Swimming Pools


Swimming pools are particularly dangerous for under twos. Who are attracted by the water, and have had fun in there previously. The rules are simple, don't ever leave access open and children unsupervised near pools in ponds. This is more of a hazard in Europe and parts of the US, where use can be sporadic.

7. Ponds

It should be noted that the number of children who drown in ponds is on average 5 per year in the UK. Less than in the bath and 100s less than on the roads. Nevertheless safety is a an issue to be taken seriously. Rigid mesh or a grille can be used to create a secure cover for a garden pond. The mesh must be firmly secured and regularly checked for signs of deterioration. The mesh or grille needs to be able to support the weight of a child and should remain above the surface of the water at all times. Any mesh must have a grid size of no more than 80mm x 80mm - this size ensures against entrapment.

8. Fencing


Fencing off the pond is only a partial solution and can often lead parents into a false sense of security.

If the pond is fenced it must be of such a height and design that makes it secure, preventing access by young children. You must consider your duty to trespassers. Is the pond reasonably safe for persons who may intentionally or unintentionally trespass into your garden?

9. Paving and Steps


Check paving is fitted properly, especially on steps and that they are replaced as soon as cracks appear or they work loose. They can be a major trip hazard, which could prove very nasty if they result in a head injury. Steps should be no higher than 150mm according to sensible building regulations – internal staircases are up to 200mm, garden steps need to be shallower and wider. If you live in an older property this is something you should be aware of for young children

10. Outside Lighting


Use LED rather than halogen lighting (which can burn). LEDs don't have any heat in them so if children are likely to be playing near them they are a safer bet – hot lights can burn little hands
Stay updated
Receive free updates by email including special offers and new courses.