Topiary: Trendy Or Twee?
They say that the art of topiary flourishes in affluent times. That may have been the case long ago but it never seems to have fallen from favour more recently. Trendy designer gardens are positively bristling with it, combining it with minimalist, contemporary and naturalistic.
I suppose the tendency to trim and train is really in our genes. When the range of plant material available to the gardener was more limited we created our gardens by trimming, shaping and controlling a limited range of suitable plants.
We used them as vegetable masonry, a green alternative to stone which we set against a natural landscape.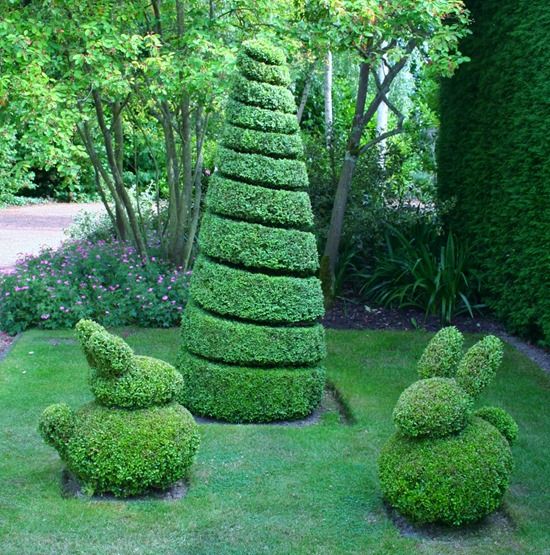 This craving for control has never left the gardener. You only have to see what he does to the natural habit of shrub: given half a chance he's out there with the shears or hedge trimmed, snipping away to mould them into nice, tidy twiggy, balls.
Any break for freedom is cut away; to him that's what gardening is all about. If the garden is on a larger scale you get in the gardener: armed with hedge trimmer to tidy it all up. You mow the lawn regularly, why not treat the rest of the planting the same?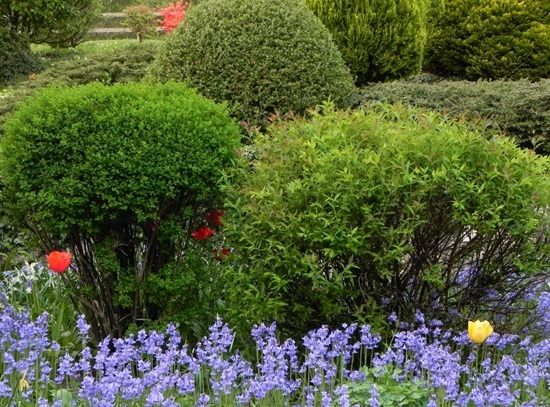 In urban settings, where space is limited, topiary, especially boxwood and bay, are natural choices. They are ideal to create low-maintenance greenery. Neatly trimmed they have almost become a status symbol. Standard bays and boxwood balls and cones grace many a city doorway.
Neat boxwood balls line up in window boxes and survive in shady courtyards. Even those who have escaped to the country seem to manage to take a little of Belgravia or Manhattan with them.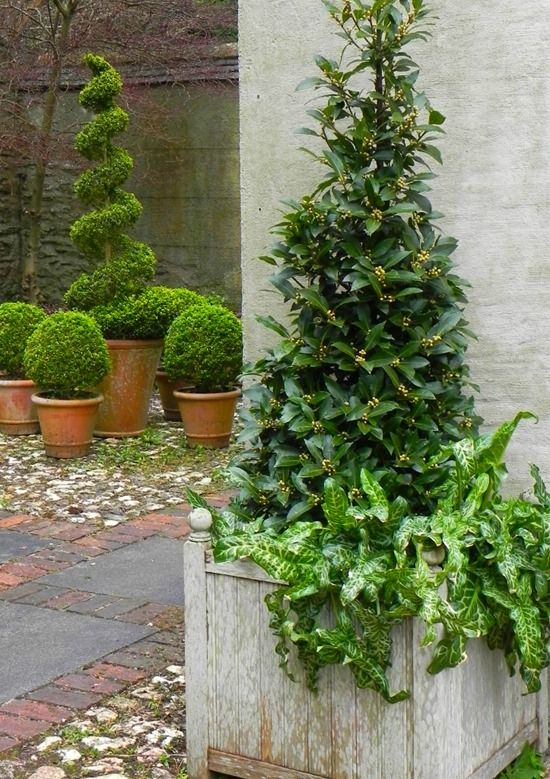 Garden designers find topiary hard to resist. It's a great way of bringing structure into show gardens, or is it just an easy answer to the question "what will this look like when the flowers disappear in winter?" "Of course you will have the evergreen structure delivered by the topiary", comes the reply.
Usually with the addition of "I've added the box balls as a foil for the surrounding meadow or prairie planting". Just don't ask how you are going to maintain and trim the topiary. That's such a dreary detail that should never bother an artist!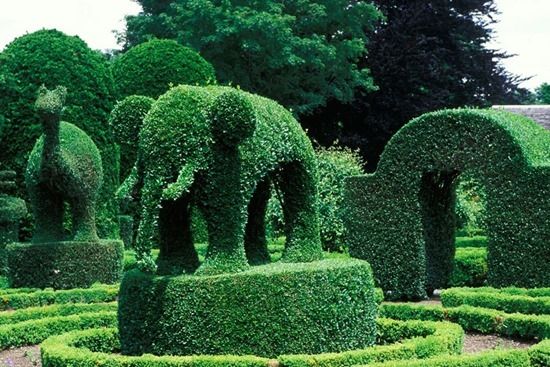 One thing is certain, we are fascinated by the whole concept of topiary, the more outrageous the better. The internet is littered with pics of amazing sculptured evergreens from across the world. Giants, elephants, abstracts, you name it man has had a go at trimming it.
Nurserymen have risen to the challenge by creating whacky "topiary" using faster growing subjects such as Ligustrum delavayanum trained and sculpted on wire frameworks. You can buy a golfer, a racing car, a butterfly; all manner of naff subjects that make a greener alternative to the garden gnome.
In most cases, after a hard winter, a spell of drought and a healthy amount of neglect they will be quite unrecognisable anyway.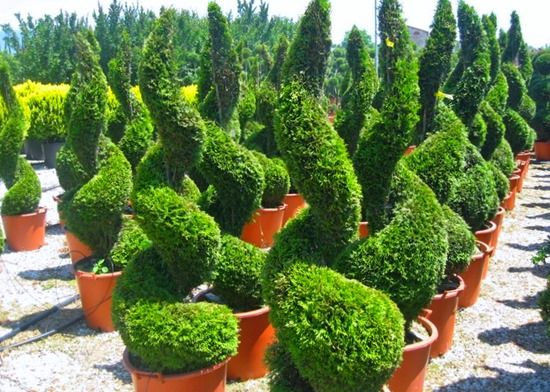 Generally topiary is expensive to buy because of the time it takes to grow and produce. This has led to the rise in popularity of faster growing subjects such as Cupressus macrocarpa and x Chamaecyparis leylandii. I can feel some readers already starting to shake in fear.
The cupressus spiral has become very popular with those wanting instant pretentious gardens. I have to admit they can look good and are ideal for simple wedding marquee decoration jobs, but they are high maintenance if you use them in a garden.
Be prepared to trim every couple of weeks otherwise they soon look like a dishevelled lavatory brush.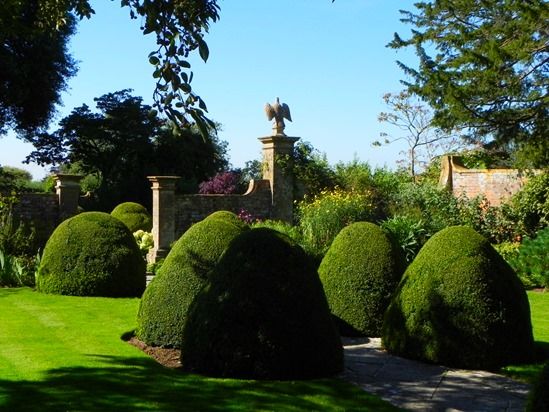 How far all of this is from the classic, simple box and yew topiary that still makes such a bold statement in some of our great gardens. My advice would always be keep that in mind if you are considering topiary in your own garden. Choose something that you are likely to be able to maintain.
Put it in an appropriate setting or container and don't overdo it. A boxwood ball surrounded by black ophiopogon in a simple pot gives an overused classic a clever twist that would work in any garden.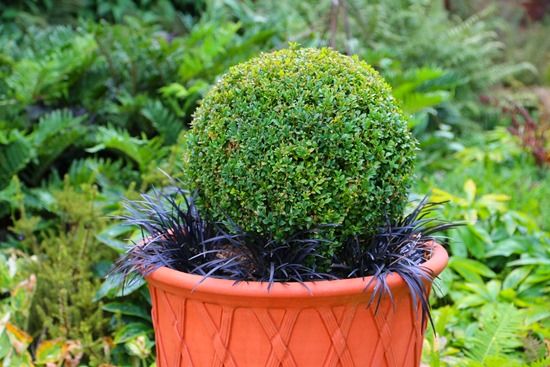 Also do consider how you are going to maintain your topiary. Topiary shears, sort of shear shears, take some getting used to but they do give control and avoid cutting long facets on a sphere: a danger with long-bladed shears.
If you can't cut through the foliage and stems with topiary shears then you've left it too long to trim if your topiary is mature and shaped.
If it's something you are training you may need shears and secateurs. If you are thinking of shaping something from scratch patience and thought is required. Your chances of creating a peacock from that overgrown cherry laurel in the hedge are remote.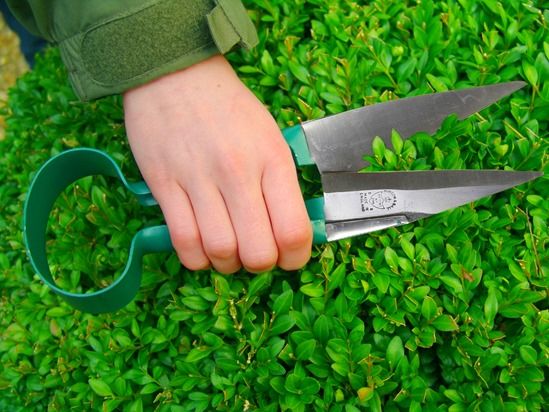 So what do you reckon? Is it trendy or twee, naff or fab? Let's hear your views on the manicured, trimmed and trained.
Stay inspired
Get FREE Gardening tips and ideas from our experts in your inbox.