Wedding flowers - decorating the reception venue
By Andy McIndoe •
[caption id="attachment_9414" align="alignleft" width="550"]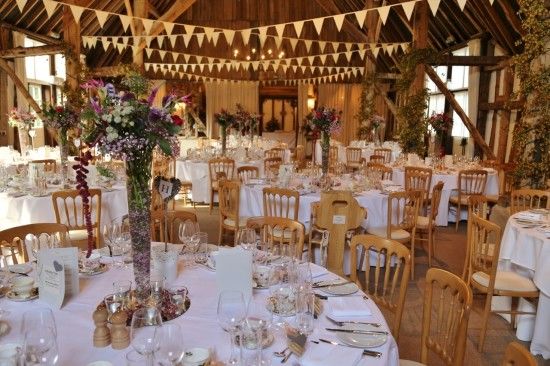 Wedding flowers: Dining Room[/caption]

Following my last post on floral decoration – 'Decorating the Church' I thought I would share my recent reception venue decoration design. This reception was in a wonderful converted barn complex used as a function venue. Oak beams, high ceilings, wooden floors and exposed brick are all features to take into consideration. The setting is rural so I wanted to maintain a country feel but with an air of sophistication and elegance. I also think it is important to maintain a colour theme through the whole event, but vary the flowers and style sufficiently to give the reception a different look from the church.

[caption id="attachment_9415" align="alignleft" width="550"]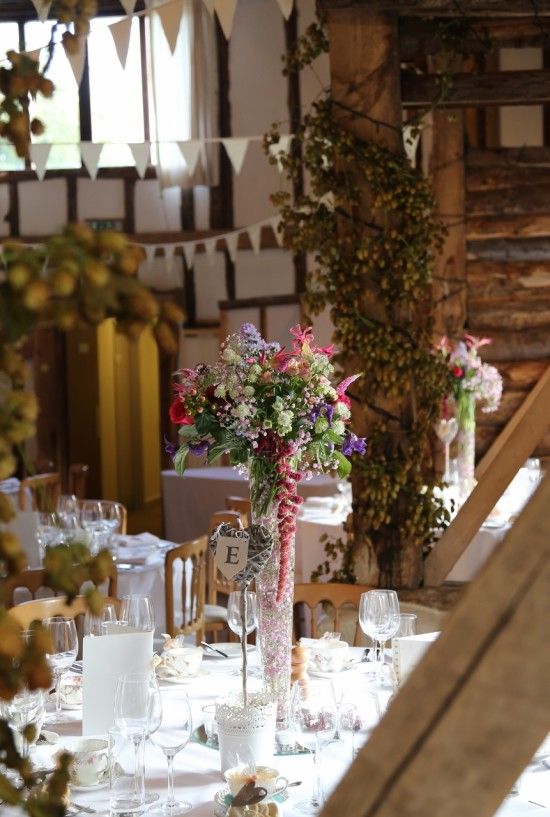 Wedding flowers table setting[/caption]

I always think that one of the first challenges is to imagine an empty venue with 120 guests in it. You want the flowers to be seen, so height, scale and impact are important. Of course you can add details, but make sure they are not completely lost. Flowers on the tables are obviously going to be looked at for the longest time if the reception is a sit down affair, which this was. However they should never be an obstruction to conversation across the table. Low flowers are easily lost amongst a sea of glasses, bottles, place names and table labels.

[caption id="attachment_9416" align="alignleft" width="550"]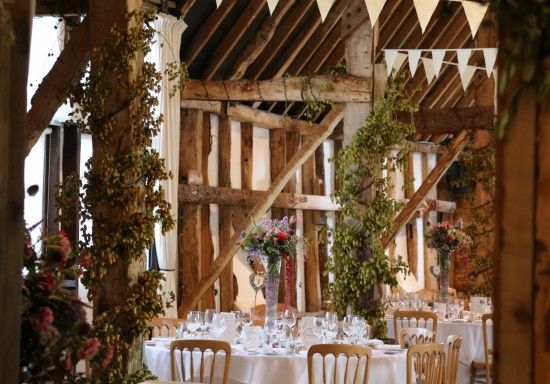 Wedding flowers: Hops[/caption]

Although the oak beams are mellow, I decided to soften then further with hop vines; these are just wonderful when in season. They are aromatic and the green-gold colour is just beautiful and would be link between the flowers and the building. They are an effective way of decorating upright columns and poles, but there is one drawback for the decorator. You have to remove the leaves before you use them. Four metres of hop vine takes quite a bit of time to clean up ready for use. When you are doing eight of them, never underestimate how long it will take. I take no credit for doing it and applaud the patience of my helpers! It is important to get them in shape before you take them inside the venue, otherwise there is a lot of cleaning up to do.

[caption id="attachment_9417" align="alignleft" width="550"]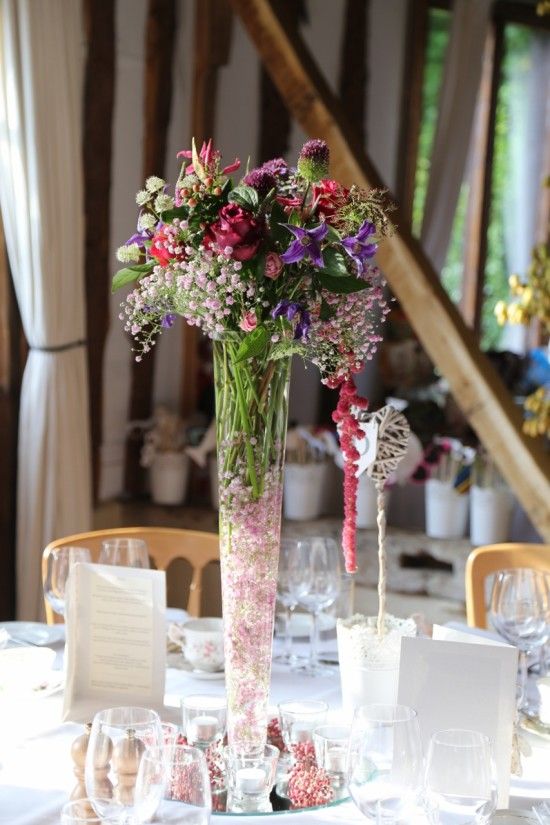 Wedding flowers: Pink gypsophila[/caption]

For the table centres I chose tall, slender, conical lily vases to take the flowers well above the seated guests' eye line. These were positioned on circular mirrors with tea lights in simple glass jars. The mirrors reflect the light up onto the flowers. We filled the vases with sprigs of pink gypsophila before carefully filling with water and flower food. This is trickier than it sounds, involving stacking one sprig on top of another, stems down and flowers up, working gradually up the vase. You can really only do this the day before at the earliest, otherwise the water starts to go cloudy. For the flowers I used a variety of country garden blooms: roses, astrantia, clematis, nerines, hypericum berries, alliums, and a little gypsophila to continue the feel of the flowers in water through the arrangement. I used the spray rose 'Splash Sensation, rose 'Blue Berry and the bright cerise-pink rose 'Tacazzi'. The latter is a beautiful, glowing lipstick shade with high centred, fragrant blooms. It really lifted the arrangements and worked superbly with the nerines.

[caption id="attachment_9418" align="alignleft" width="550"]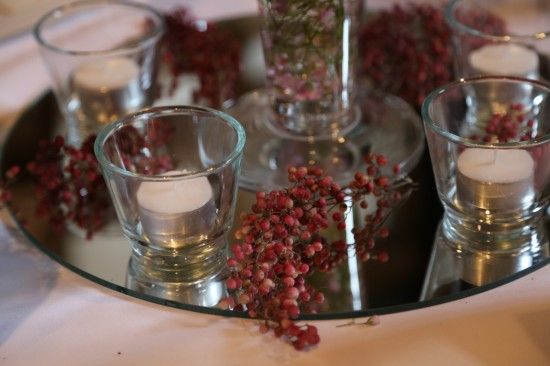 Wedding flowers: Pink peppercorns[/caption]

I said I wasn't going to bother with too many small details, but I did add small bunches of pink peppercorns between the tea lights on the mirrors. I felt this softened the reflective glass and took the colour down onto the table.

[caption id="attachment_9419" align="alignleft" width="550"]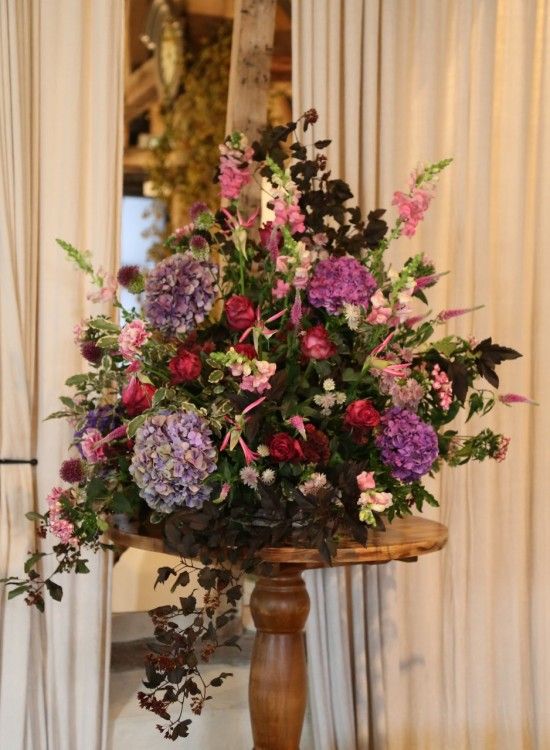 Wedding flowers: dining entrance[/caption]

We finished the dining room with two large arrangements on pedestal tables. These were extravagant, elegant, rich and luxuriant. I chose the wonderfully fruity Rose ' Blue Berry' this is large- flowered with wonderfully strong stems. It gave the arrangements depth partnered with the purple-copper foliage of Physocaepus 'Diable d'Or'. In these two compositions I included antirrhinums, clematis and alliums to give that country house character I was looking for.

[caption id="attachment_9420" align="alignleft" width="550"]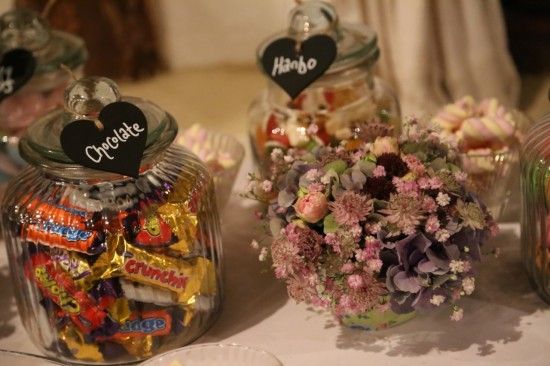 floral cupcakes[/caption]

Another small detail were the floral cupcakes for the sweetie table. These are so effective and so simple to do.  You buy the floral foam cupcakes ready-made. You just remove the coloured floral wrapper temporarily, soak the foam and then smother it with flower heads. I particularly liked the hydrangea florets in these, and the astrantias.

[caption id="attachment_9421" align="alignleft" width="550"]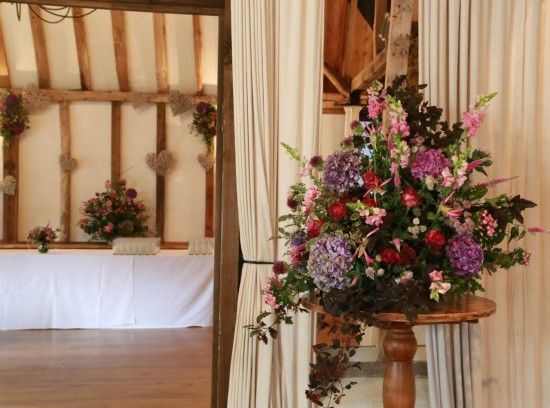 flowers for hallway[/caption]

The two large pedestal table arrangements framed the doorway back into the entrance hall. This is used for band and dancing later so flowers need to be high and out of the way. We framed the doorway with foliage and flowers on the beams carried in floral foam cages. I used long-lasting subjects here: a few hydrangeas, the spray roses, steely-blue eryngiums and green wheat. Olive foliage, pittosporum and Viburnum tinus were used as the base. All are long lasting and would easily survive if the foam dries out. We used two large basket arrangements on the shelf behind the bar along with wicker hearts on the wall.

[caption id="attachment_9422" align="alignleft" width="550"]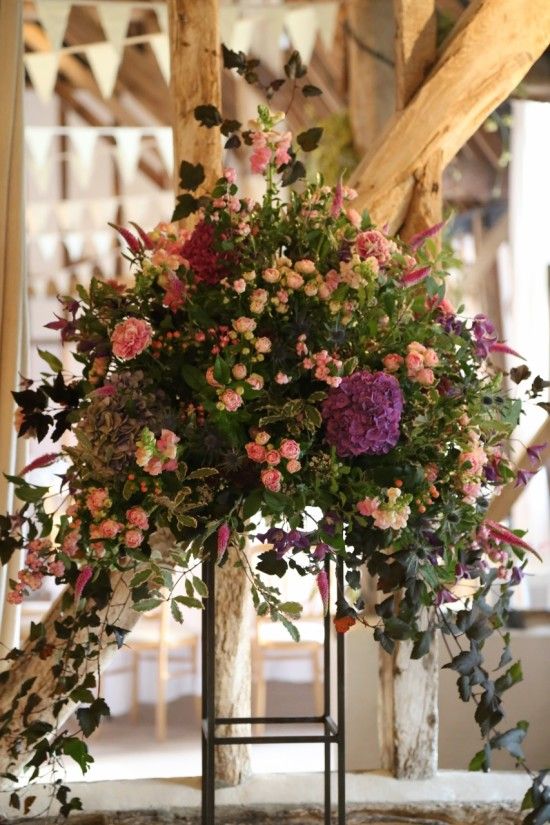 floral pedestal in the entrance hall[/caption]

One very large pedestal arrangement in country house style greeted guests at the doorway on arrival.

[caption id="attachment_9423" align="alignleft" width="550"]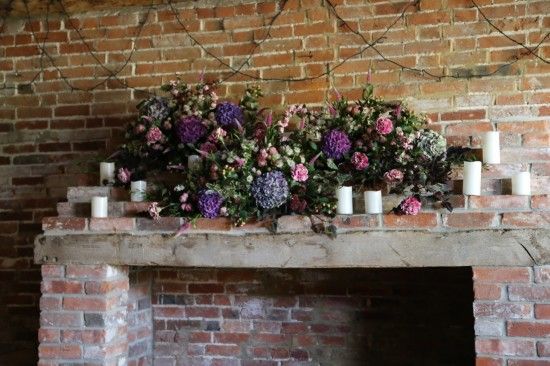 flowers for the fireplace[/caption]

The quiet sitting room has a large brick fireplace with a stepped chimney breast. I used three long trays similar to those used for the church windows. An informal composition of foliage and flowers made a wonderful focal point in the room. In this arrangement the stars were the Hydrangea 'Glowing Alps' and Carnation 'Antiqua'. I used the carnation in a number of the larger arrangements but it seemed to work particularly well in this situation.

[caption id="attachment_9424" align="alignleft" width="550"]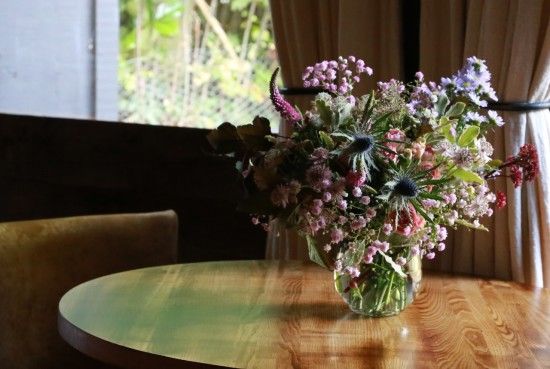 flowers for occasional tables[/caption]

On the small occasional tables we just used small glass posy vases filled with eryngiums, spray roses, astrantias, veronica, sedum and gyp.  I like using these at weddings. They are a great way to give some of the guests a few flowers to take home with them as a memento of the day.

This wedding was a great pleasure to do. The flowers were a really important part of the whole event. When you surround people with flowers like this they can't help but have a good time and a very memorable one. I do wish more people would think of the flowers first, rather than considering them as an add on after everything else.
Stay inspired
Get FREE Gardening tips and ideas from our experts in your inbox.