Welcome to RHS Wisley: Jamie Butterworth reports on his first few weeks as a student
By Andy McIndoe •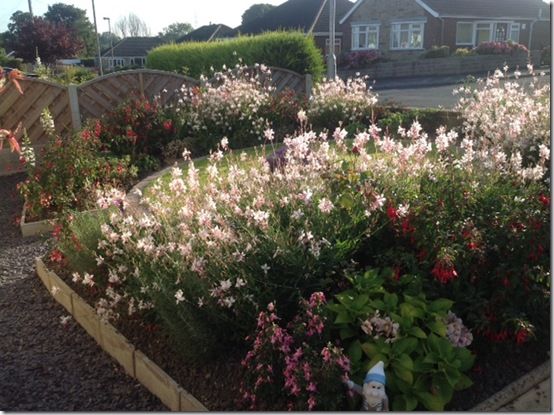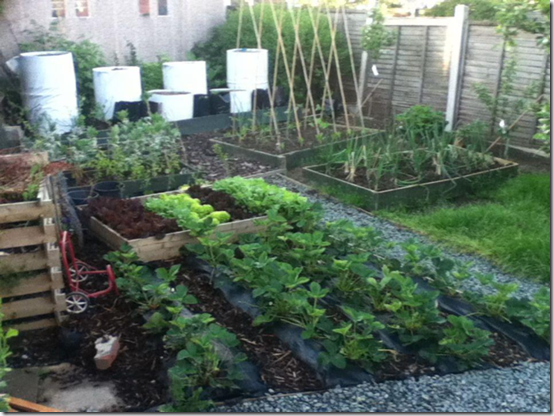 After an incredible, whirlwind of a month, I have finally found time to sit down and put pen to paper and write this blog. A brief introduction to me, my name is Jamie Butterworth, I am 19 years old, and I have previously studied a Level 3 diploma in Horticulture at Askham Bryan College in York. I have had a passion for plants and all things gardening since the age of 9, At the age of 16, I became a finalist on BBC`s Young Gardener of the Year. And in May of this year, I had the incredible opportunity to work alongside Andrew Mcindoe and the Hillier team on their Gold winning garden `Risk`, at The RHS Chelsea Flower Show.
Currently, I have the amazing privilege of being able to study and work at RHS Wisley, the Royal Horticulture Societies flagship garden, on their prestigious Wisley Diploma in practical Horticulture. This genuinely is a dream come true for me, and in all honesty, I am still pinching myself on a morning to make sure I am still here.
Through this blog, I want to share with you what I am doing at Wisley, what's looking good at the moment, and what's happening here, along with seasonal tips that can help you in your own garden. I want to give you an insight into the gardens, and hopefully inspire you to get out into your own garden.
Throughout the duration of my course, I will get moved about from department to department, giving a taste of all the different aspects and teams. At present I am working with the woodland team. The woodland team is responsible for looking after a huge section of the gardens, the team of 6 staff looks after the Pinetum, Arboretum, Battleston Hill (Woodland), the prestigious Queen Mother's Broad Walk, and the Mediterranean Terrace. As you can imagine this is a large area to look after and a heck of a lot of plants to maintain.
What's looking good at the moment?
This has to be the best time of year to be working on the woodland team. Everywhere you look you are greeted by an explosion of autumn colour, from subtle yellows to glorious ruby reds; the colour is quite simply breath taking. From acer to quercus, nyssa to liquidamber, we are spoilt for choice. In addition, it's not only the foliage that is taking centre stage, but also the masses of incredible jewel like berries that can be found on shrubs and trees throughout the garden. The berries and fruit seem to perfectly punctuate the borders, and as well as giving us something to admire they also give birds and wildlife something to feast upon.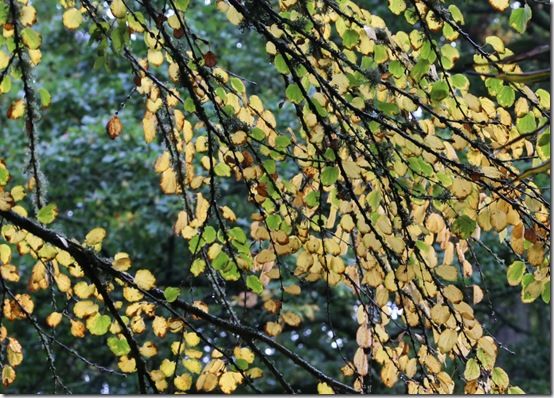 Here is a list of my personal top five favourite shrubs for autumn interest, all of which can be grown in your garden.
1. Enkianthus campanulatus – This is a deciduous shrub that has the most incredible small elliptic leaves, turning gradually from a butter yellow through to a bright red. In addition this plant also boasts clusters of creamy bell shaped flowers during the spring.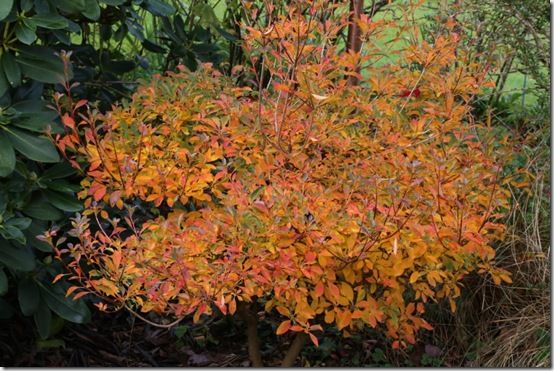 2. Acer palmatum `Bloodgood` - This is just one of the many acers that produce a stunning display in autumn, but this happens to be my favourite, purely due to the intensity of the colour, as you can see in the picture. It is a deciduous tree, and throughout the summer, the foliage is a lovely deep purple before turning this stunning red.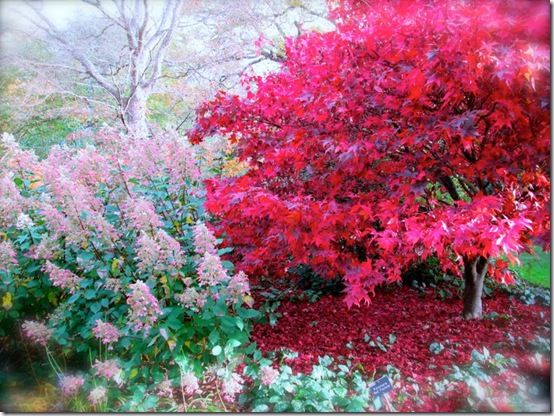 3. Viburnum betulifolium – This viburnum is not grown for it foliage, but rather for the masses of bright red berries that it produces. Unlike most autumn berries the birds do not tend to steal these, leaving them on the tree for us to admire.
4. Cercidiphyllum japonicum – This is personally my favourite of all for autumn interest, not only does it have beautiful coloured, yellow foliage. But as the leaves begin to fall the starch within them turns to sugar, which on a dry day, smells just like a candy-floss stall at a fairground. The burnt sugar smell truly is incredible and no words I could write here could possibly do it justice.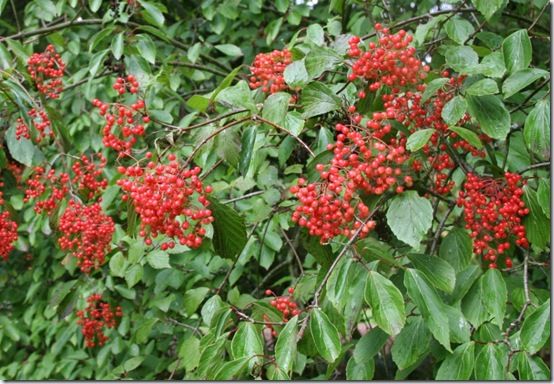 5. Vaccinium corymbosum (Blueberry) – The blueberry bush may seem an unusual plant to select as one for autumn interest. However, this year in particular, the foliage can look incredible, turning to a burnt red, rusty colour. It also has the additional obvious benefit that you also get a crop from the plant, so it aesthetically pleasing and productive, perfect!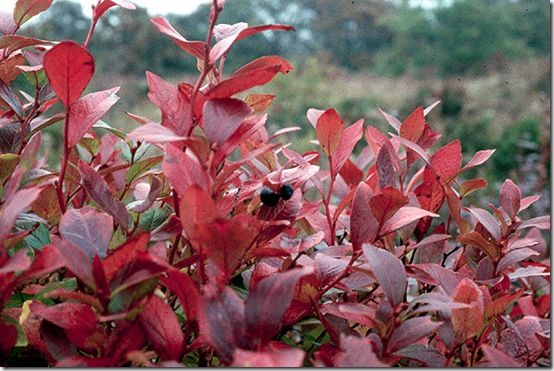 What are we doing now?
Currently, one of the main jobs we have been carrying out in the gardens is lifting and dividing perennials. This is one of the most rewarding jobs you can do as a gardener, not only are you improving the health of the plant and giving it a new boost of life, you are also getting numerous plants for free, and is there really anything better than free plants? Now is the ideal time to be doing this, especially for summer flowering perennials. Spring flowering perennials such as Iris are best left until after flowering to be split.
One group of plants that we have been dividing is the hostas. These have a tendency to become quite congested, and respond brilliantly to being divided. To do this, carefully lift the plants out of the ground using a spade, and remove any foliage that has died back or snapped, leaving just the healthy growth. It is important to retain some foliage as the plant will need these to photosynthesize.
The next step is to divide the plants in two, using a sharp knife or a spade. If the clump is particularly large, you can then keep splitting the clumps until they are manageable size; ideally you are looking for clumps with five to six shoots in them. Once divided, simply plant out as soon as possible; where you want the plants, ensuring you adequately space them apart (Roughly 40 to 60cm apart). Plant the new divided sections back to their original depth, with the shoots showing just above the soil level. Water in well, and then leave them to it.
I hope that you have enjoyed this blog post, and many thanks for taking the time to read it, I greatly appreciate it. In my next blog post, I will be taking you on a tour around the winter wonderland that is RHS Wisley, looking at winter interests, and architectural plants that provide structure throughout the winter months. Jamie.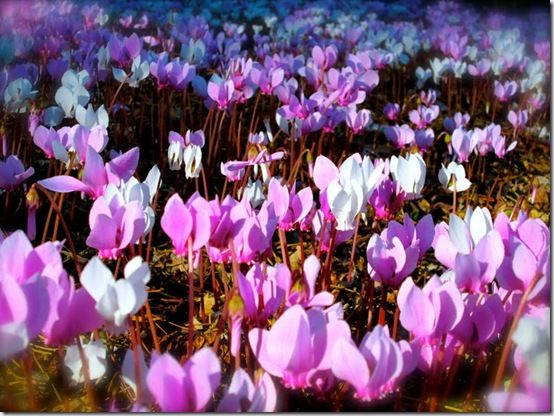 Andy: who says the horticultural industry isn't attracting young people? Jamie is a great example of an enthusiastic, passionate young horticulturist with a great career ahead of him. Here at MyGardenSchool we wish him all the best and look forward to hearing more from him about his time at wisely in the near future.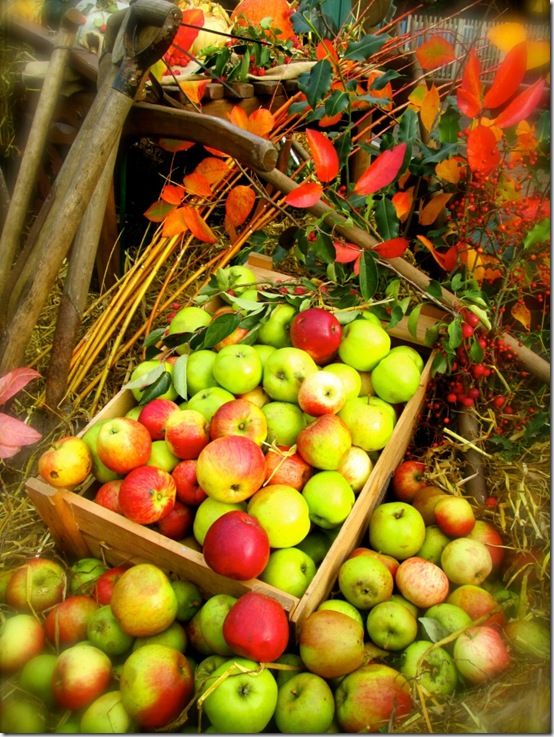 Stay updated
Receive free updates by email including special offers and new courses.