How to Choose Patio Furniture.
The sun comes out and you've decided to invest in some new garden furniture, but how do you decide what to buy? Garden furniture is not something we buy very often, so the decision can be a difficult one.
Most of us have tackled buying furniture for the house: it always costs more than we would like to pay, but it is an essential. It has to be right: comfortable, good looking and in keeping with the décor and living environment we have created.
For some reason we expect garden furniture to cost less, even though it has to stand up to the rigours of the climate. We also expect it to last for many years, if not a lifetime.
Miraculously both of these expectations can be fulfilled as some garden furniture offers exceptional value for money compared to interior furnishings. Even inexpensive furniture can last for many years, if you choose wisely at the outset.
Considerations: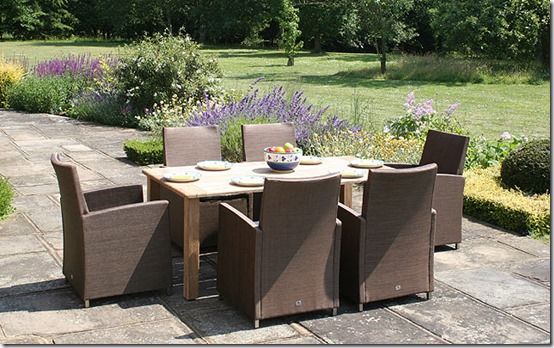 Price.
We all have a budget: what we are prepared to spend on a purchase. You do get what you pay for. Usually better quality, more expensive furniture, will be made from more durable materials and will last longer.
How many people will use it? This is an important consideration if buying a patio set. Choose one to seat the maximum number of people that are likely to use it: six-seat sets often cost little more than those that seat four.
A larger table will be more comfortable to dine at when there are only two or four people and will accommodate six when necessary.
What will you use the furniture for?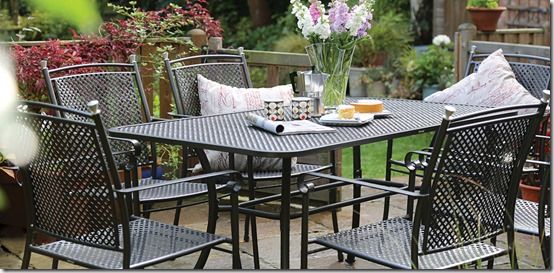 Make sure what you choose fulfils your requirements: is it for dining at, drinking at or just relaxing? If you are unlikely to eat in the garden, choose a small patio set that you can use for early evening drinks or the occasional snack and invest in some comfortable garden chairs to relax in.
What will it look like in the garden? This is key, particularly if you look at it directly from the house. Most of us spend more time looking at the garden than we do living in it.
Your garden furniture should be a very important part of the garden picture, so get it right. Just like any other feature in the garden the furniture should be in keeping with the style of the house and garden.
Will the furniture be in the garden all year round?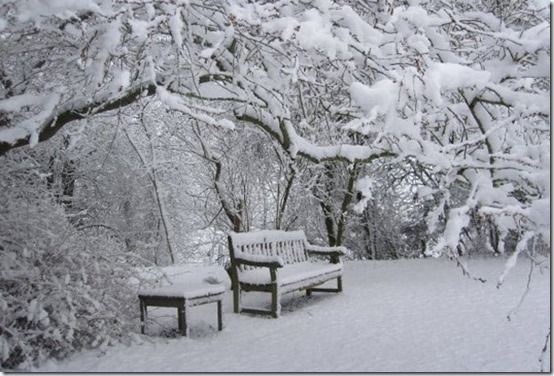 Decide whether you want your furniture to be a permanent feature in the garden, or whether you will pack it away for the winter. Perhaps you only intend to put the furniture out in fair weather. In either case storage, weight and ability of the furniture to fold are all important.
How about comfort? For many this is the most important consideration. Chairs that are wide enough and high enough; shaped seats and higher shaped backs; tables that are the right height for the chairs.
Relaxers that are easy to recline in and get out of all make a difference as to whether using your garden furniture will be a pleasure or an endurance.
Wood, Metal, and Resin: what's the best choice?
All materials are excellent in their way and all can look good in the right setting.
When garden furniture consisted of a few folding chairs with padded cushions the fabric was the most important consideration: we chose the prettiest; now it is the basic structure of the furniture that is all important.
Solid resin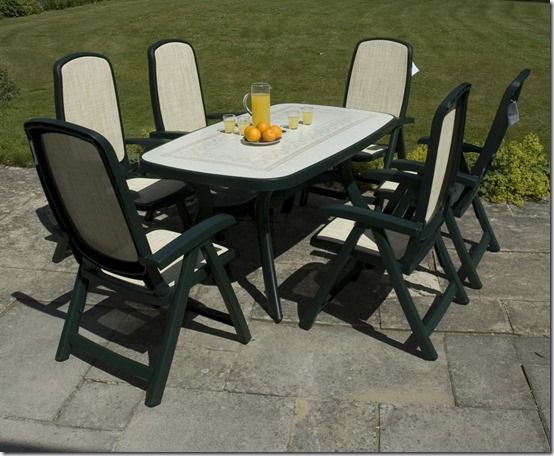 Today plastic resin is comparatively inexpensive. It suits a modern garden setting and looks good against a house with contemporary furnishings. Chairs are light and usually stackable; however they may be blown around and damaged in windy situations.
Resin is easy to clean and requires no maintenance. Resin furniture can look out of place in the garden during winter as it rarely looks like a permanent garden feature. It is not a good choice in traditional settings.
Resin weave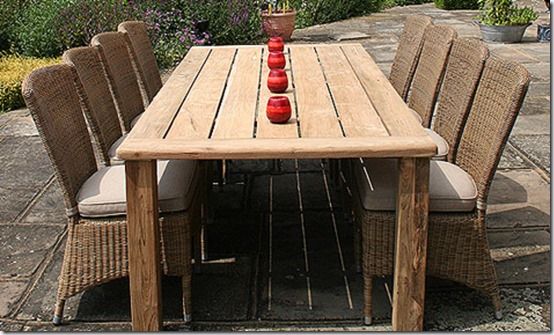 This has been the major growth area in the garden furniture over the past few years. Basket weave chairs, sofas and tables made of resin 'rattan'. Quality and colour varies enormously; but the best is comfortable, durable and easy on the eye.
Original designs were rather exotic in appearance. Modern designs suit both traditional and contemporary settings. Choose an elegant set and team it up with weatherproof cushions and a teak table and it will look superb.
Metal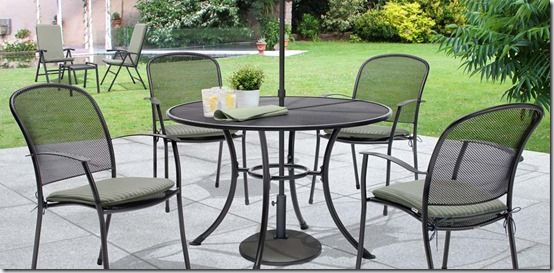 Both cast aluminium furniture and wrought steel have a transparent quality that makes them sit well in the garden throughout the seasons. The dark colour of the frames, whether green, black or pewter looks classically elegant in traditional gardens and the more modern designs suit contemporary settings.
Metal furniture is usually cold and uncomfortable without cushions but these are easily dropped into place when the furniture is used.
Dining furniture looks good in metal. Cast aluminium requires no maintenance apart from touch up paint if chipping has occurred. Quality wrought steel furniture is rust resistant and will give many years of service.
Wood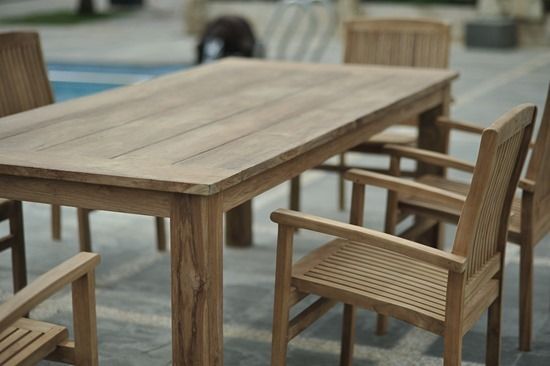 If you can afford it buy Teak or Iroko. Both are durable hardwoods and will last a lifetime. Annual treatment with teak oil will preserve their golden colour; alternatively leave them to weather to a silver grey.
Iroko is more suitable for the construction of heavier, chunkier furniture that looks the business in larger gardens. It makes a superb traditional bench. Teak is more versatile and makes lighter prettier furniture; folding styles are popular in recent years.
Tropical hardwoods are also very durable and will give long service in the garden. They offer exceptional value for money and are a good choice for those on a more limited budget or for those planning to change their furniture in a few years.
If oiled annually the colour will be preserved, left untreated the results are not as pleasing as those achieved with teak or iroko.
Always look for FSC certificated timber which is taken from managed plantations.
My final tip: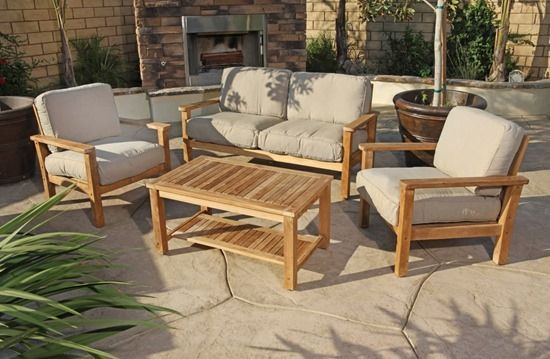 As with everything fashions change. New styles and designs are always tempting for those wanting the look of the moment. Remember: classic style endures and if in any doubt it is always the best choice.
Stay updated
Receive free updates by email including special offers and new courses.