7 Gardening Tips for Spring Colour in Pots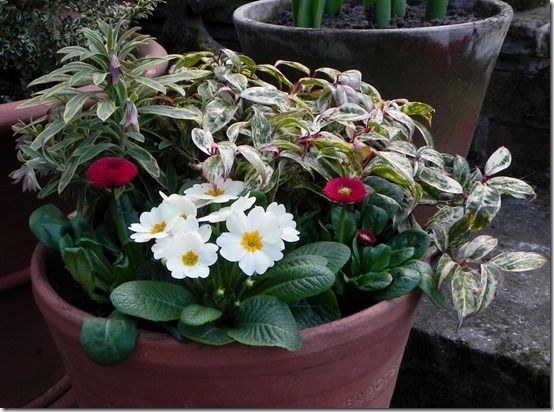 Colourful primroses, violas, bellis and a host of other spring beauties are already colouring the benches in garden centres and nurseries.
We all crave colour and we love anything that gives an instant impact in the garden. For just a few pounds you can transform your outdoor space ready for a new gardening season.
Primroses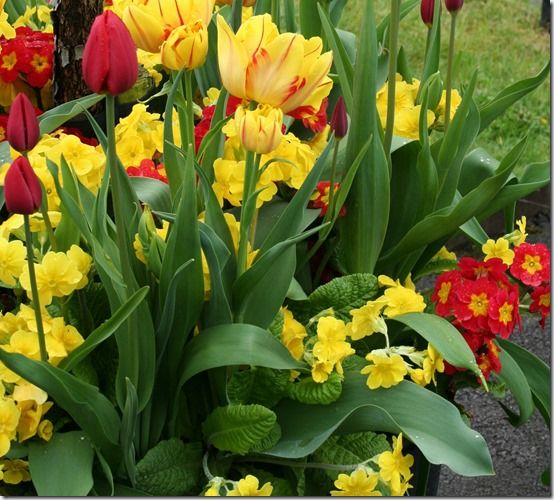 Much work has been done in the hybridisation of primroses in recent years; they are virtually unrecognisable from the simple mixed blobs of colour that were on offer a few years ago.
One thing hasn't changed: they still offer great value for money. Raising any members of the primula family from seed isn't easy.
Seed of new hybrid strains is expensive and germination can be tricky. If you want a few plants to inject a bit of colour into pots and the doorstep or patio I would always opt for plants in flower, rather than trying to grow my own.
The difference between a primrose and a polyanthus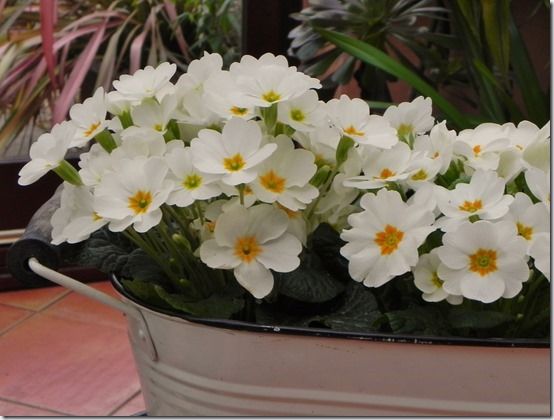 Both are varieties of primula. A polyanthus has strong flower stems, each carrying a number of blooms which make up a showy flower head.
They are usually tough plants that are used for bedding schemes and to add colour to beds and borders. They are often hardier than the hybrid primroses.
Primroses have one flower to a stem, like the wild primrose. They produce lots of flowers and offer a greater variety of flower colour and form, including double and semi-double flowered varieties.
Caring for primroses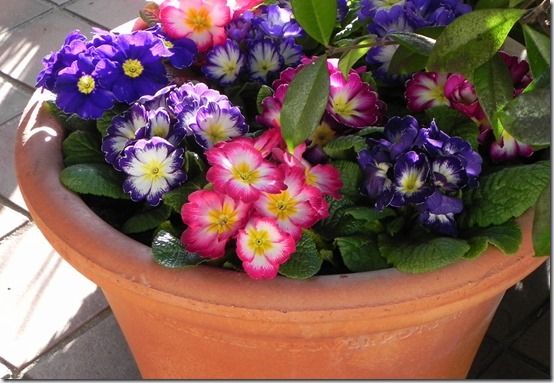 Although they are grown in a protected environment primroses do not like to be indoors in a hot room.
However they are happy for a while on a cool, light windowsill or a cold conservatory or porch. In any case they cost less than a few cut flowers so I like to bring a few indoors in a trough or bowl and enjoy them at close quarters.
Choosing colours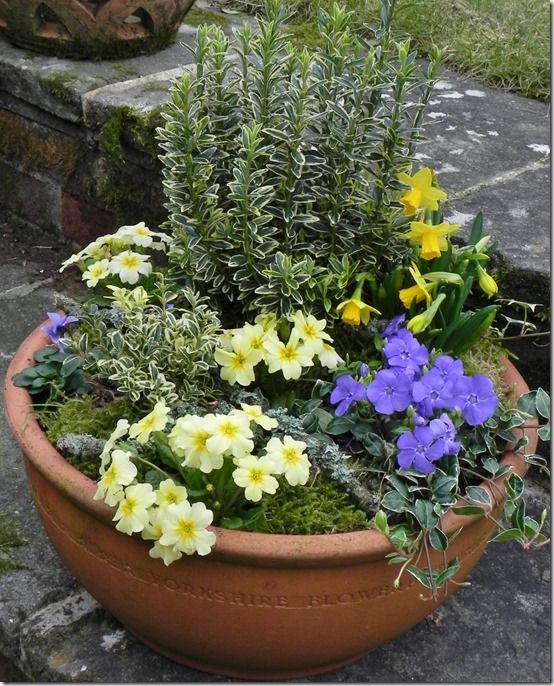 Faced with a great array of colours to choose from the tendency is to play safe and pick one of each that catches the eye. If you are planting these together in a pot beware.
One of each of five or six colours can create a spotty, fragmented effect. Limiting your colour palette will have much greater impact. You do not necessarily have to have them all the same: choose shades of a colour, or two colours that work together.
There are a number of varieties that are really improved forms of wild primroses. I think these lend themselves to naturalistic planting combinations with moss, twigs, violets and periwinkles.
Put a few of these magic ingredients together and it is easy to create your own spring landscape. There are some super plants of Vinca minor, lesser periwinkle available early in the season.
You can use these in pots and then plant them our as ground cover under trees when you replant your containers for summer.
Mixing primroses and violas with other plants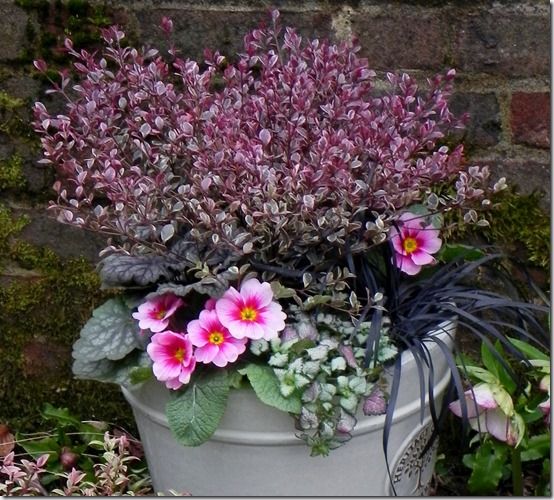 Primroses, violas and pansies are also brilliant to just tuck into the edge of pots and containers to add a little flower detail.
Pick up on the colours of the foliage and use the flowers as a highlight. I chose rich salmon-pink primroses to highlight the pinky-orange growing tips of Euphorbia 'Ascot Rainbow'. These colours are also in the coprosma it is planted with.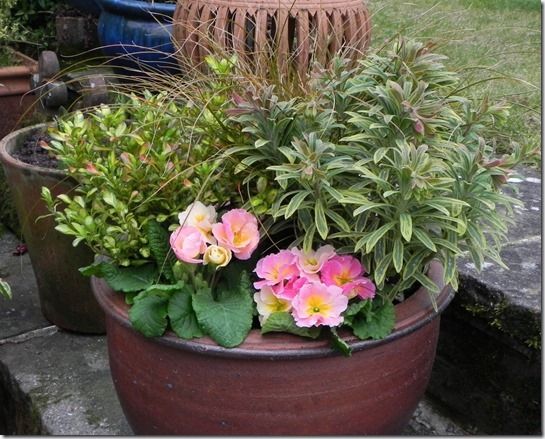 I picked up the pink tones of the foliage of Lophomytrus 'Magic Dragon' with a bold pink primrose with dark eyes.
Later on I could replace this with a cerise pink verbena that will go on flowering through summer. So the permanent planting stays the same and I just freshen up the seasonal highlights. This is an economical and effective way of planting your pots.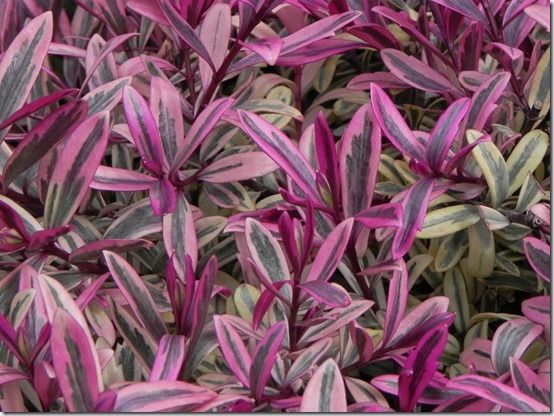 Both the coprosma and the lophomyrtus are somewhat tender so they are ideal in sheltered situations on a porch or close to the walls of the house. Hebes with similarly colourful foliage are worth looking out for from now on.
These are ideal in pots and containers and are a great foundation for a planting schemes. I often use subjects like hebes as individually potted subjects and then create the planting scheme by grouping pots together.
Choosing violas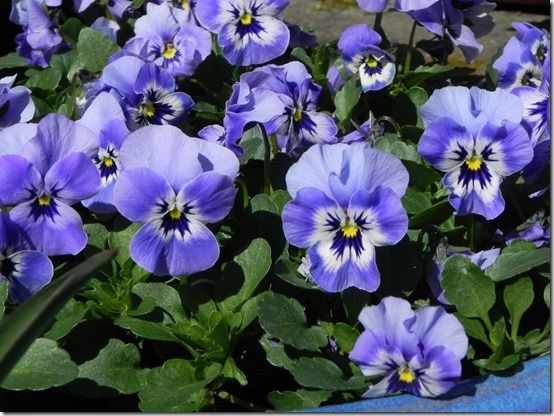 This is where those little pots and containers come into play. Many of us have acquired them as part of sets of inexpensive glazed pots.
Individually they are cheap and a great way to add another dimension to the planting on your patio grouped around larger pots, or along the top of a wall.
In summer they can be difficult to manage as they dry out quickly, however in spring, when the weather is cooler, they look delightful planted with a single viola or bellis plant.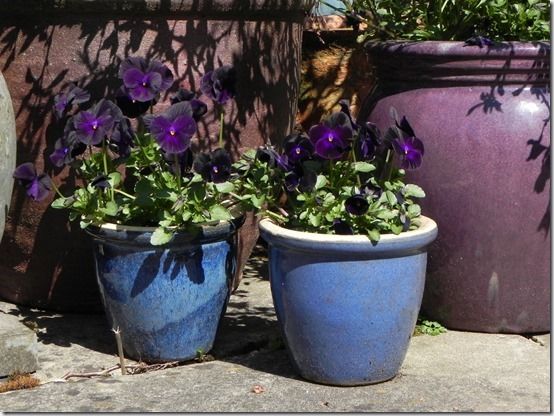 Personally I would always choose violas over pansies. I love their cheery little smiling faces, their amazing colours and their habit.
They are far more weather resistant and in my experience they have more staying power. Because even small plants flower they give you the opportunity to be instantly creative with colour.
For simple impact choose a shade that matches or compliments your pot.
Final tips
Even in spring pots and containers need watering regularly; don't forget to check. Add a handful of controlled release fertiliser when you plant your pots.
This makes sure nutrients are available when your plants need them: more flowers and healthier growth. Use a good quality growing medium best results: less watering and longer lasting.
Further Study
Container Gardening A 4 week online gardening course from author and former head gardener of Whichford Potteries Harriet Rycroft
Stay updated
Receive free updates by email including special offers and new courses.