Why The World Needs More Gardening
By Alex N •
There are differing views on this.  But these are mine (I am under 40 btw).  And having investigated and listened to some pretty well respected authorities on this globally, this is a more serious post than I ever intended it to be.
In its broadest terms, gardening is the practice of growing and cultivating plants as part of horticulture.  The Royal Horticultural Society (UK) state that horticulture is the science, art, technology and business of cultivating ornamental plants, fruit and vegetables for human use. It is practiced at all levels from individuals at home, to the activities of multi-national corporations.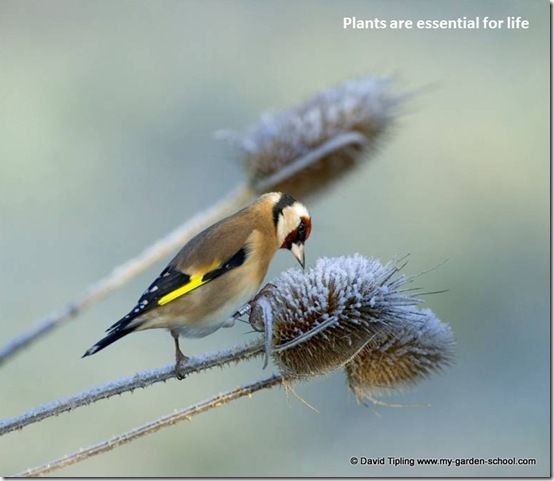 Why we need gardening: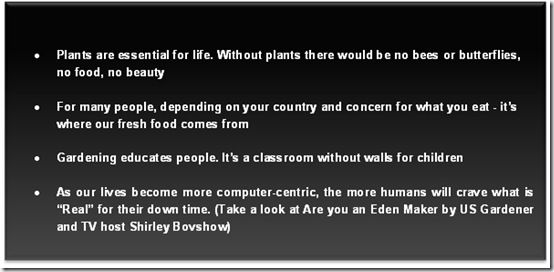 Horticulture Matters
Gardening is serious business. Yet it seems that the gardening 'industry' itself seems to be hitting some kind of crossroads. A global crisis even.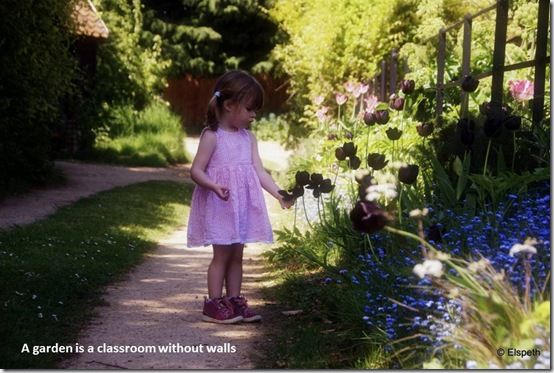 This Spring, a crisis report on horticulture was delivered to the UK Government by The Royal Horticultural Society (RHS) in the form of a report called 'Horticulture Matters'.  The report calls for the British Government to take action on closing the skills gap the horticulture industry.  Good.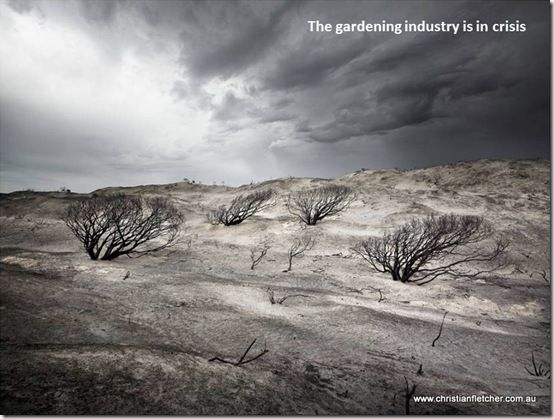 I was expecting a weighty yet heartfelt strategy report (I work in strategy for internet companies).  And yet the opening sentence of Horticulture Matters report is "Gardeners have the best jobs in the world".
I am totally supportive of  this initiative (actually I'm passionate about it – hence the post).  And  I genuinely want to be involved in changing the perception of gardening worldwide (hence co-founding MyGardenSchool).  But I don't think it will be done making such subjective (even childish?) statements as the first sentence of that report (sorry Alan).
Surely a heavy hitting report for Government needs to opened with a more heavyweight statement.  Something with integrity.  I may sound bit serious and worthy – and I am sticking my neck out here, but I do actually think this is a very serious topic.  And for horticulture to be respected in the way other industries are – it needs to up its game in terms of how it articulates and presents itself.  Later on in the report (once you get past the opening statement) – it transpires that over 90% of businesses blame the current skills shortage on Horticulture's poor image.  I'm not surprised.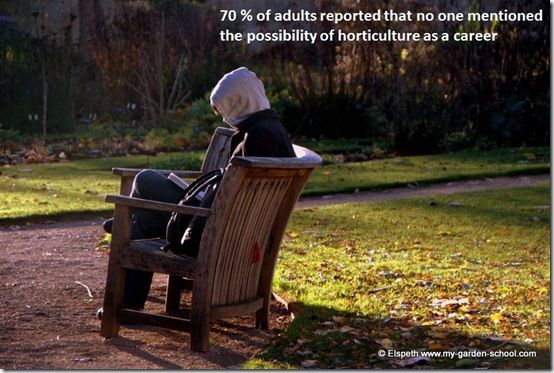 This is not personal – but a global crisis for the horticulture or gardening industry is not about makeover programmes or celebrity.  Gardening is a fundamental part of how we nurture our planet.  It affects our eco-systems, our food chains, our economies, our education and our personal wellbeing.  Let's not belittle that.  You would not see a report presented to Government from any other industry with an opening gambit that it's 'the best job in the world'  Because it clearly isn't.  That's a somewhat ridiculous,  subjective statement.  I realise this is a 'Forward' but first impressions count.  This is about the brand of gardening.  Gardening is an increasingly important job in my opinion, for a multitude of reasons, and it deserves to be analysed and lobbied with the same intellectual prowess as is driving and influencing other industries.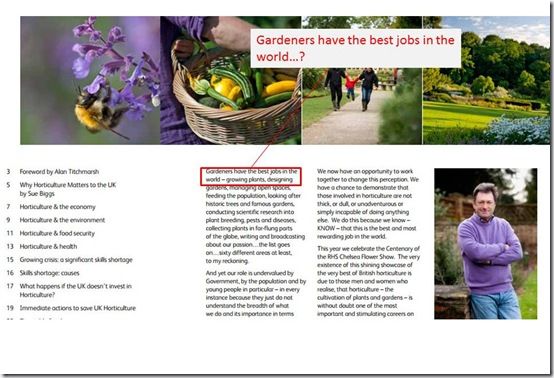 Once you get beyond the first statement I might add – the report does in fact live up to expectations.  It's excellent and I think it's exactly what we need.  It's just a shame the forward kind of cheapened the punch I think.  This list for example – is pretty telling and insightful stuff.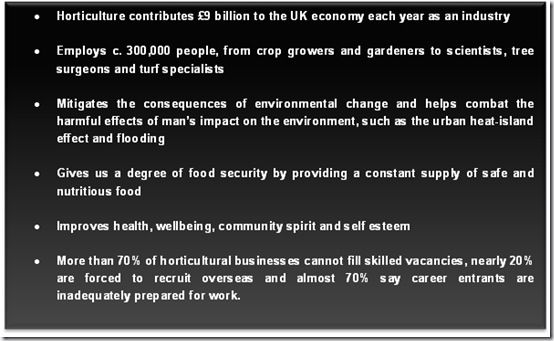 I think Ken Thompson's Telegraph article also raises some valid points.  Young states:  "The RHS survey further revealed that 70 per cent of 18-year-olds do not think gardening is a career to be proud of, while 79 per cent of those aged 40 or over hold exactly the opposite opinion. Of course there are many young gardeners, but for the most part it seems that gardening, like classical music and crown green bowling, is something that creeps up on people of a certain age. At a time of massive youth unemployment, and with the British horticultural industry lamenting the increasing lack of skilled home-grown job applicants, this is bizarre. Quite apart from the damage to the industry, there's the human cost that comes from (as the survey also found) the 70 per cent of adults who reported that no one mentioned even the possibility of horticulture as a career when they were leaving education."
Sue Biggs, Director General of the RHS, spearheading the Horticulture Matters report, said growing concern across the whole industry about the skills crisis has galvanised this unified call for Government action. "We've brought together Britain's leading horticultural organisations to create this report,' she said.  "We are unanimous in the belief that there must now be urgent action to save British horticulture and it must happen now. Our report calls on the Government, employers and those in the education system to take action to safeguard the critical role that horticulture plays in Britain today.
"This report isn't an unrealistic wish list of measures. It already includes pledges of investment and commitment from the industry. But if the skills gap is to close, Government has to play its part, too."
This is all great stuff (yes I am allowed to use such colloquial language – such is the culture of blogging -  I would not, however use such informal lingo in a Government report).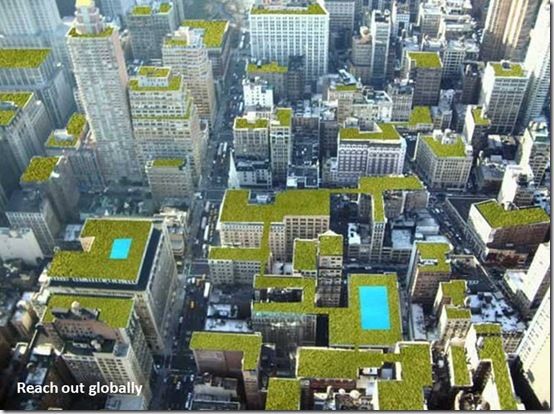 And I suppose my other comment on the report is that this should be a global initiative; not a singularly British one.  Whilst the UK is absolutely a centre of excellence for gardening, we are increasingly a global world in terms of communications and passion-led change.  Why not make this a global initiative?  There are some incredible gardeners and horticulture professionals in all corners of the globe.  And they're no longer inaccessible or difficult to unite thanks to the internet.
Gardening does matter.  And I believe the world's perception of this profession will change quite dramatically over the next couple of decades. But the British horticulture industry needs to be very aware of the steps needed to reform the 'brand' of gardening.  And to live and breathe the seriousness of this messaging to the world.  I hope I can help that.  Let's see…
Your comments are welcome and appreciated (including Alan Titchmarsh and Sue Biggs)..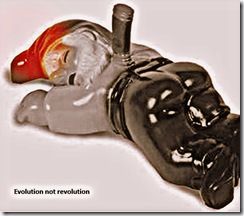 PS In other industries constructive criticism is perceived as an important part of the development and evolution process.  It helps progression and to push boundaries.  Hopefully the horticulture industry is growing up to understand this too.  I think there is room for more fierce debate about the changes needed in the gardening industry.  This unavoidably includes a shift in brand perception.  I believe this is an evolution; not a revolution – and can still be done whilst gardening maintains its 'genteel' roots.
Stay updated
Receive free updates by email including special offers and new courses.