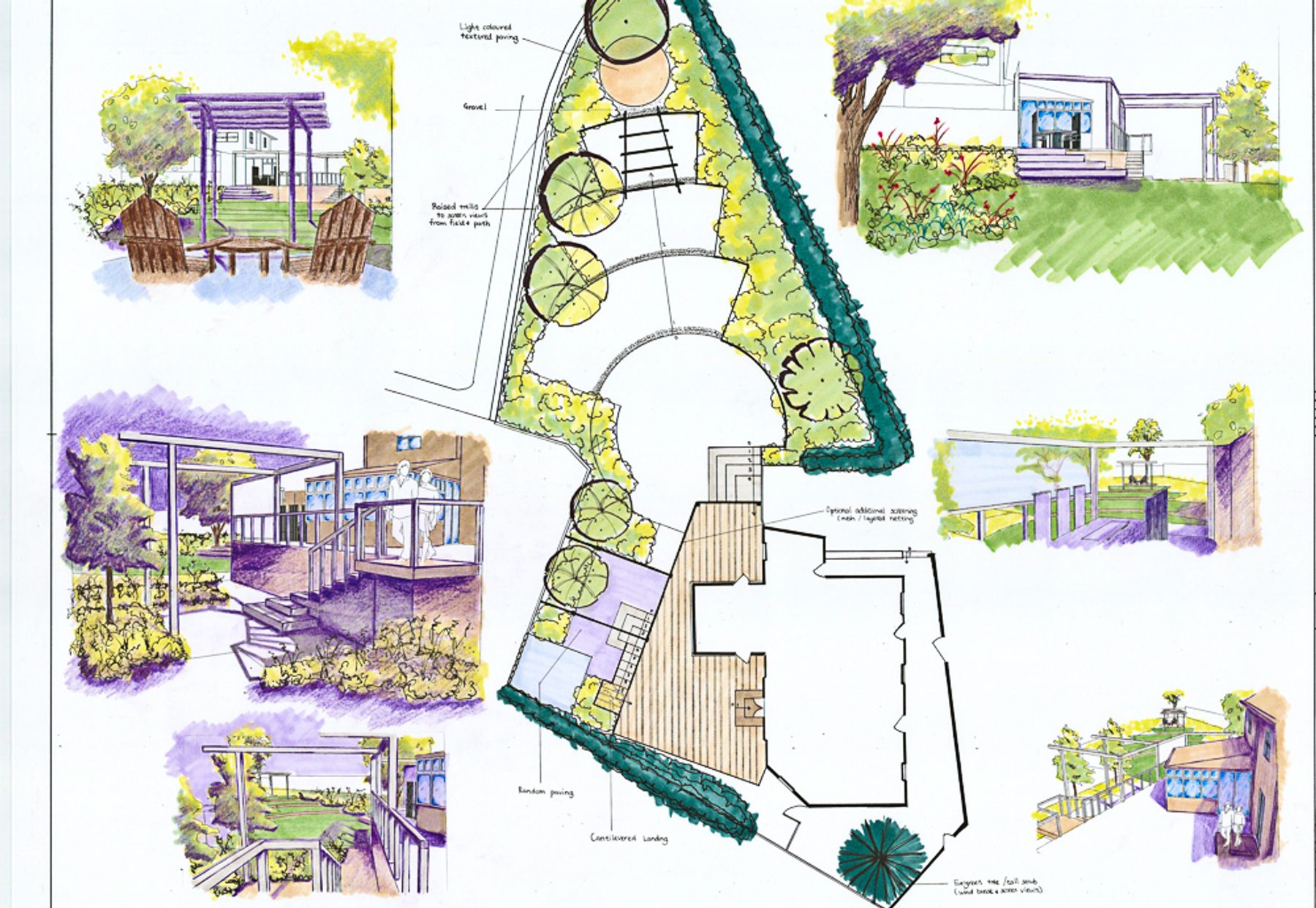 Hand Rendering for Landscape & Garden Designers
Learn to give your designs a stunning artist's finish
Architectural Rendering Online Course
How our courses work▲ TOP
You're going to love learning with us!
After you buy, you can start the course whenever you're ready
You'll have 4 weeks to complete 4 lessons, study at your own pace
You'll likely need 2 1/2 hours per lesson, but you can study whenever it suits you
You'll get expert critique from your tutor Jo Chance (you'll be able to ask them questions too)
We'll pair you up with a group of like-minded classmates from around the world
You'll have access to the classroom, content and your classmates for life
You'll also gain certification
More questions? Take a look at our frequently asked questions.
Watch a short preview▲ TOP
About the course▲ TOP
Suitable for Designers from All Disciplines and Amateurs

Many clients are still wowed by hand drawn drawings or those that are made to look hand drawn. Hand rendering can soften drawings and even make computer generated images look more personal.

'Painting is Jo's passion'. An Art Foundation course and a First Class degree in Fine art at Brighton college of Art allowed her to start developing her creative ideas early on.

During the mid 80's and early 90's she worked in New York, Madrid and London designing for both the fashion and furnishing industries. This global design experience enabled her to establish a successful freelance design studio in London.

Having worked in the commercial world for a number of years Jo's interest in the arts turned increasingly back to painting, to the point where she now devotes all her time to creating contemporary images.

The exploration and manipulation of a wide range of media is an integral part of the development of Jo's work – 'there are times when the creative process resembles alchemy more than art'. Her love of colour continues to be another recurrent theme, the palette often being limited to evoke an intensity of mood. Jo's abstracted landscapes and figurative paintings hang in a number of prestigious hotels and spas around the world. She is a successful exhibitor during, the renowned Oxford Art Weeks, shows her work in a range of galleries across the country and has a growing group of loyal collectors. She has been invited on many occasions to give presentations and demonstrations of her work.
Remember, if you're a self-employed professional you can set these courses off against tax as 'Continued Professional Development'.

Lesson Plan▲ TOP
Each lesson starts with a 30 minute video from your expert tutor, which you can watch whenever you like.
After each lesson, practice what you've learned with an assignment and receive personalised feedback from your tutor. Each of which should take no longer than 2 hours.
1. Introduction to Basic Drafting (Pencil technique and shading)

2. Plant Rendering Techniques (Marker pens and watercolour pencils)

3. Planning and Rendering a landscape plan

4. Introduction to Rendering with Marker pens

Materials and requirements: Graphic Marker pens A range of colouring pencils Access to a scanner or digital printer This course advocates Graphic Markers as the most appropriate and effective rendering medium. Chartpak is is the brand I use as I find the colours good for plant rendering. (if you find that these are not available locally you can order online, they cost approximately $6 or £4 each. If you already have a set of Graphic Marker pens use those and or assess the colours as you progress through the course (if this seems too big an investment) The colours are as follows: Chartpak Colours GROUP COLOUR COLOUR NUMBER Those with a * = basic set of nine colours Basic Grey Basic Grey 1 P 226 Basic Grey 3 P 228 Basic Grey 4 P 229 Warm Grey Warm Grey 1 P 191 Warm Grey 3 P 193 Warm Grey 6 P196 Cool Grey Cool Grey 1 P 181 Cool grey 3 P 183 Cool Grey 6 P 186 Greens/Blue Willow P 120 Grass Green P 122 Evergreen P 20 Slate Green P 18 Celery P 126 Prussian Blue P 6 Blues/Purples Violet P 94 Indigo P179 Light Violet P 215