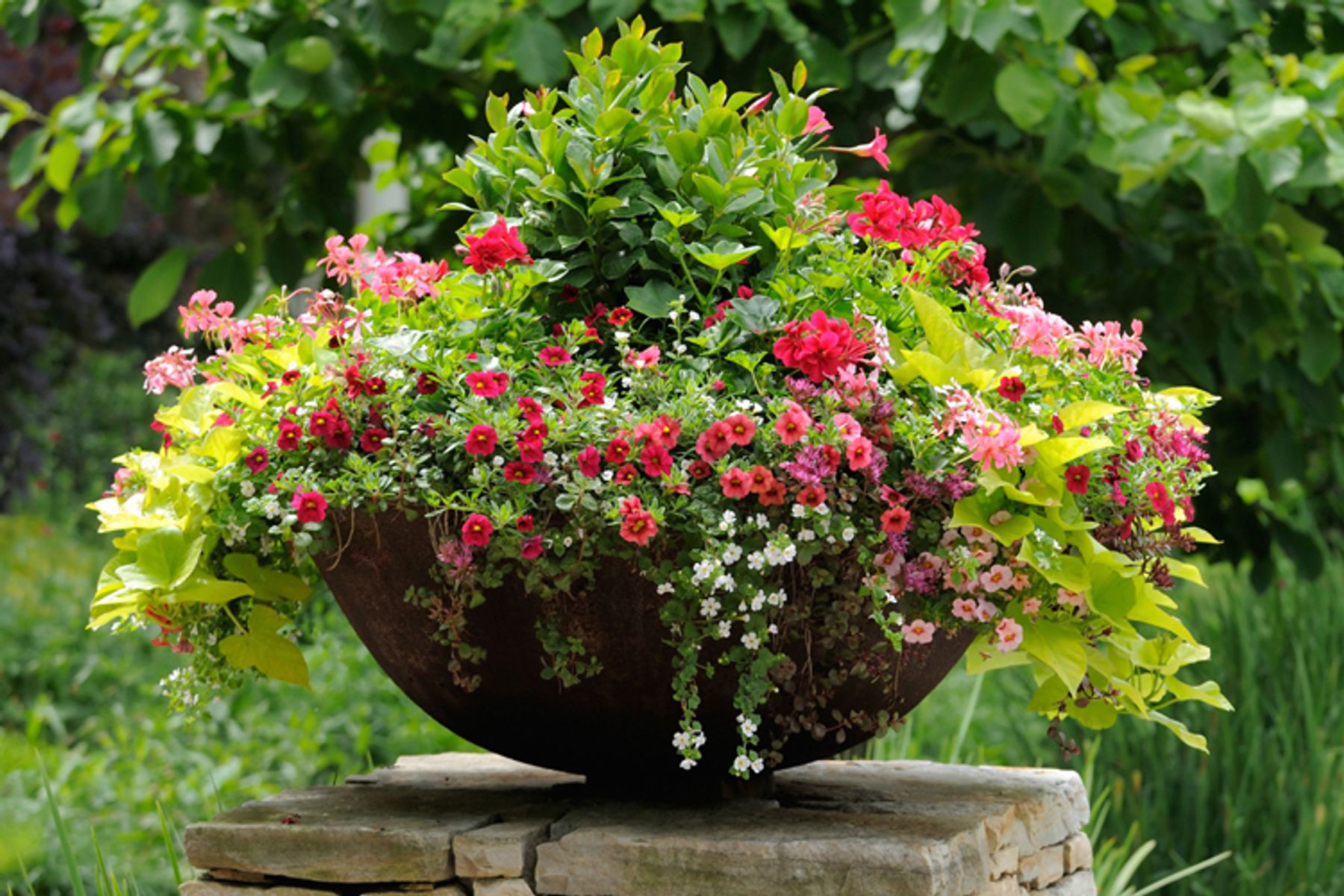 Container Gardening
Make the most of your pots on balconies, roofs or in country gardens
Container Gardening Online Course
Suitable for All Abilities


Most people with even the tiniest outdoor space of their own end up planting a few containers, but often the results are disappointing and the plantings end up becoming neglected. Even experienced gardeners can feel stumped for ideas to make their pots more interesting. This course aims to help enthusiastic gardeners to look afresh at the way they use containers and give them the inspiration they need to create displays which really earn their keep within any garden, large or small, looking good for a long time and providing the cherry on top of the gardening cake.

You will be encouraged to think about your objectives in creating a container display of any size, and given guidance on the principles and practice of establishing healthy plants in well-positioned pots, combining them effectively and caring for them. There will be hints and tips for filling your pots generously with plants without necessarily spending a fortune and we will discuss choosing plants for different sites and at different seasons. There will be plenty of examples to sow the seeds of planting ideas in your mind, whether for single pots, groups or more ambitious large displays.



This course will help you to use containers with confidence and to develop an adventurous and colourful palette of plants in order to bring variety and enjoyment to your garden.


Lesson Plan
Each lesson starts with a 30 minute video from your expert tutor, which you can watch whenever you like.
After each lesson, practice what you've learned with an assignment and receive personalised feedback from your tutor. Each of which should take no longer than 2 hours.
1. Enhancing Your Garden with Containers.

In this lesson we will consider your objectives: the wheres and whys of container planting, how to think about choosing and positioning your containers so they no longer look abandoned and unloved but perform a real function in the garden. We will consider the context, style, proportion and size of your pots and how to arrange them, singly, in pairs, in groups or banks and what this can achieve. This lecture will give you the confidence to assess the containers you already have, or those you can see around you, with a critical eye, and to decide what it is you really want to get from your own. You will learn to make your work relevant to the site as a whole, and you will begin to develop ideas for directing attention with planted pots. You will start to approach planning your displays more systematically, so that less time and effort is wasted, and to think positively about the practical implications of what you are doing.

2. Principles of Success With Container Gardening

In this lecture we will look at container planting more from the plant's point of view and discuss practical considerations when considering aspect and microclimates, be that exposure to wind or rain and temperature fluctuation. We will talk about how the way your containers are arranged and how what they are made of can make a difference to how much your plants are affected by these factors. We will cover maintenance in order to establish plantings quickly and keep them looking good, including dead-heading, support, growing media, drainage and irrigation. We will talk in general terms about what makes a good container plant, and begin to discuss the construction of mixed plantings and grouped displays, with regards to form, habit, texture and colour of your plants and the value of taking inspiration from a Key Plant. You will learn to assess your site with a view to selecting plants which will be happy to grow in containers there, and be able to avoid some of the pitfalls that come with container growing. You will begin to be able to spot a good container plant with a long season of interest and to think about different ways of using it. You will have a clearer idea of priorities as regards establishment of your plants and maintenance of your displays and will start to think about ways to make this maintenance easier and more effective.

3. Planting Pots for Winter Interest & Spring Joy

This lesson will focus on the colder half of the year, giving ideas for useful types of plant in winter-to-spring plantings. We will talk about some of the practical problems that this season brings and talk about constructing plantings which will look good all the way through to sunnier times. We will talk about spring bulbs and succession planting, with plenty of hints and tips for filling awkward gaps and keeping the seasonal interest going. We'll be encouraged to focus on details by the sparser days of winter and we'll discuss examples of successful combinations and colour schemes which can lift your mood in the short days of early spring. By the end of this lecture you should be able to think about creating a container planting in four dimensions – including time - you will begin to be able to plan a planting which will look good from October to May, and will soon have the confidence to scale this up to bigger groups. You will have grasped some of the principles in physically constructing a planting which includes bulbs, perennials and bedding plants and maintaining it while it develops. You will be able to think creatively and practically about combining plants and placing your pots and will have plenty of ideas for dressing them while waiting for some plants to perform.

4. Summer Luxuriance

Now is the time to let rip – this is the season when you can throw caution to the winds and experiment with combining many different types of plant. At this time of year growth and development will be fast and exciting. We will touch on ideas for growing and sourcing your plants, discuss different plants for different places and different pots, using annuals, tender perennials and climbers. We will be thinking about foliage as well as flowers, and combining plants with different habits, textures and colours and creating effective displays. We'll also talk about summer maintenance jobs, including irrigation. After this lecture you will be confident enough to select your own palette of plants, and have good ideas both for putting them together and for keeping them growing happily and healthily. You will be able to identify useful plants when out shopping and, if you don't do so already, you may be inspired to try growing a few plants from seed and cuttings for your summer displays. You will have the confidence to make changes to your displays and to experiment with form and colour.
How our courses work
You're going to love learning with us!
After you buy, you can start whenever you're ready
You'll have 4 weeks to complete 4 lessons, study at your own pace
You'll likely need 2 1/2 hours per lesson, but you can study whenever it suits you
You'll get expert critique from your tutor Harriet Rycroft(you'll be able to ask them questions too)
We'll pair you up with a group of like-minded classmates from around the world
You'll have access to the classroom, content and your classmates for life
You'll also gain certification
More questions? Take a look at our frequently asked questions.