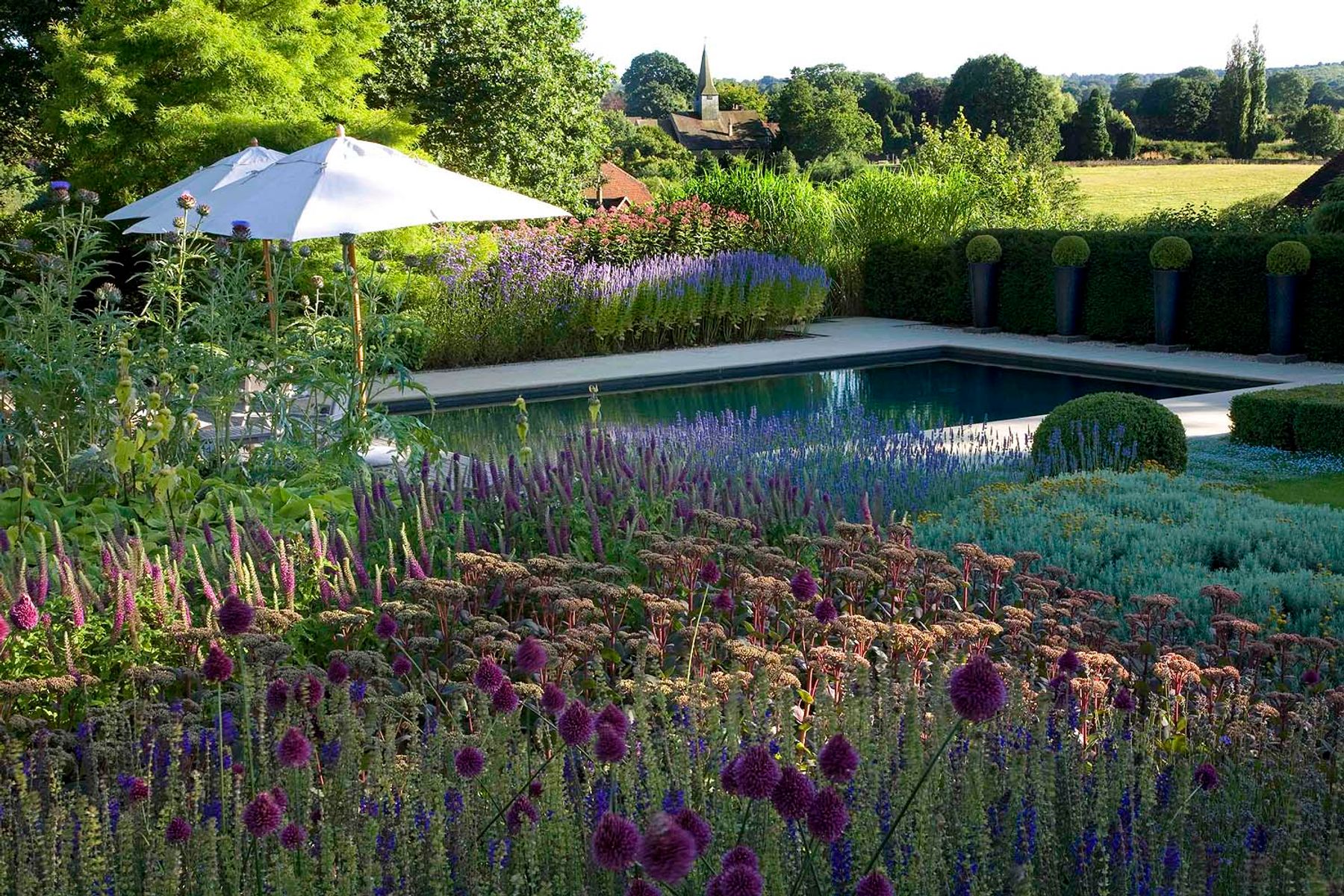 An Introduction To Garden Design
How to Design and Plan a Garden From Scratch
An Introduction to Garden Design Online Course
How our courses work▲ TOP
You're going to love learning with us!
After you buy, you can start the course whenever you're ready
You'll have 8 weeks to complete 8 lessons, study at your own pace
You'll likely need 2 1/2 hours per lesson, but you can study whenever it suits you
You'll get expert critique from your tutor Hilary Thomas (you'll be able to ask them questions too)
We'll pair you up with a group of like-minded classmates from around the world
You'll have access to the classroom, content and your classmates for life
You'll also gain certification
More questions? Take a look at our frequently asked questions.
About the course▲ TOP
Garden design is all about organising and shaping spaces and it covers many different elements. This eight week course aims to take you logically through the various stages of planning a garden. You will learn how to assess the site site, the soil and the surroundings and how to measure the site and draw up a site survey plan. This will help you to understand the advantages and restraints of the site. The next stage is to create a checklist of requirements and to identify the resources, time and skill that can be devoted to a new garden. This then gives rise to the design brief.
Using a given brief, you will then be taken through the design process, experimenting with different abstract patterns on paper that will inspire a variety of alternative designs for a garden. By shading some areas of the pattern you will create positive and negative spaces, or mass and void which will give the garden its character. The mass will become the planting and the voids may become the patio, lawn or water. Once you have decided on a pattern that you think will work, this can then be combined with a grid that relates to the house so ensuring that the garden will sit comfortably within the site. You can then refine this design theme, drawing it to scale, and creating a preliminary garden layout plan. You will then learn about the range of hard landscape materials and how to select ones that are appropriate for the particular site. We will consider the addition of features such as a pergola or water and where to site a garden shed. Hedges, trees and areas of planting are also indicated on the plan. At the end of the course you should have the skills that will enable you to design your own or someone else's garden.
Lesson Plan▲ TOP
Each lesson starts with a 30 minute video from your expert tutor, which you can watch whenever you like.
After each lesson, practice what you've learned with an assignment and receive personalised feedback from your tutor. Each of which should take no longer than 2 hours.
1. Lesson 1

An introduction and briefing on the garden design process I'm going to take you through, to enable you to bring your ideas to fruition in both a practical and creatively rewarding way. In this lesson we are going to look at the equipment and basic drawing skills that you will need if you are going to draw your garden design on paper. Your final layout plan needs to be neat, clear nd well organised so that it can be used as a working document, either by you or a contractor.

2. Lesson 2

In the first lesson I explained that garden design is all about creating geometric patterns on a grid, so in this lesson I am going to take you through the process of choosing and using a grid that relates to a particular house and site. The patterns that you have worked on so far have been developed for an isolated abstract space. Gardens however are rarely isolated – they are usually connected to a house or other building which they should relate to and be developed from.

3. Lesson 3

In the last lesson we looked at creating geometric patterns on a grid and how these shapes then become the basis for the garden layout plan. In order to ensure that your finished garden design is really successful, there are a few principles or rules that you need to think about when designing any garden or outdoor space. All good design is built around these basic principles and you need to try and consider them as you develop your design.

4. Lesson 4

In the last lesson we went through the stages that are involved in developing a preliminary garden layout plan when you have to make decisions about where the patio, paths, lawn, water and other structures are to be sited and how much space they will take up. To develop your plan further you now have to be more specific so for each of the elements you need to decide on the type of material that is going to be used and refine all the dimensions.

5. Lesson 5

Before you can produce an accurate layout plan showing your design for a real garden, you will need to carry out a full assessment of the site and produce an accurate scale drawing of the existing site, called a site survey.

6. Lesson 6

In this lesson we are going to consider how water, steps and structures such as a pergola or overhead beams can add interest and atmosphere to your garden design.

7. Lesson 7

In this lesson we consider the importance of boundaries and how the design and materials that you select should fit in with both the location and the design and theme of the garden.

8. Lesson 8

In this last lesson we look at the extra items such as furniture pots and sculptures that you can use to furnish and enhance the layout of the garden. You will also learn how to to finalise your garden plan so that it clearly expresses and communicates your ideas to you, your family and the contractor.